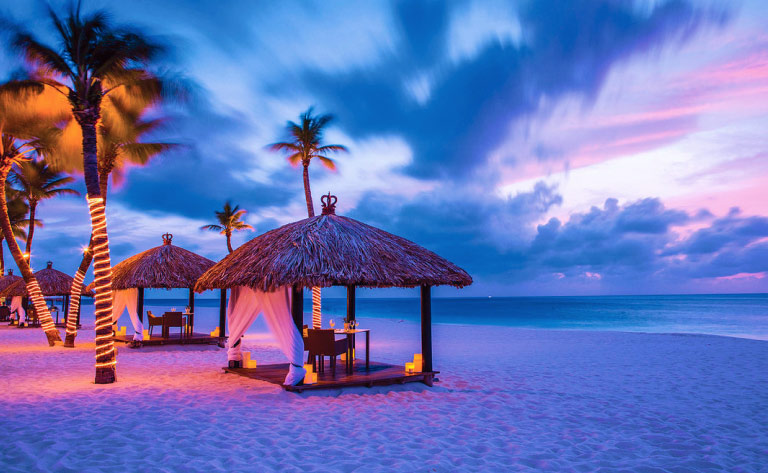 15 Best Honeymoon Destinations Outside India on Budget in 2022
Posted on By Blog Admin
Your first vacation with your new spouse does not have to be expensive to be special. You have been telling each other how nothing else matters as long as you are together; it is time to prove it is true. Luxurious accommodations at world-class resorts and the best flight seats to exotic places that make for your dream honeymoon are still possible on a tight budget.
With just the right amount of research and customization, you can go on a fairytale vacation to the honeymoon destinations outside India on budget.
If the much-awaited big fat Indian wedding has blown your savings, or you just want to enjoy the simple pleasures of life, you can choose from the many affordable honeymoon destinations.
Whether you are dreaming of sun, sand, and whiling in hammocks along the beach or a vacation filled with adventure spent amidst the wild, we have a variety of trip ideas for you!
Get more for less in budget-friendly honeymoon destinations and spend a memorable few days with the love of your life in the kind of surrounding your heart desires.
Read on to discover the most amazing destinations for a pocket-friendly honeymoon that won't break the bank.
Best Honeymoon Destinations Outside India on a Budget in 2022
Maldives


Honeymooning in Maldives is an epic honeymoon destination. The island nation made up of two hundred islands which are all different in their own unique ways. With over two hundred inhabited islands, the unique Maldivian lifestyle has a fair bit of culture, cuisine and craft.
Average cost
The cost of flight to the Maldives will depend on the airlines, how much in advance the ticket was booked, peak or non-peak seasons, and the type of resort you choose. Flying Squirrel Holidays provides customised Maldives tour packages from India for couple  made according to your budget and preferences.
The average cost for a honeymoon in the Maldives would be somewhere around INR 40,000.
Visa Requirements
As an Indian national you can avail visa on arrival in Maldives.
Things to do in Maldives
Tread the soft white sands of Maldives as you walk hand in hand with your partner. Letting the gentle waves lap your feet. Immerse yourself in the tranquility, with just you and the boundless blue horizon and nothing to distract you. There is no better place for romance other than the Maldives.
Indonesia


Indonesia is the world's largest archipelago that promises you memories to cherish for a lifetime. While Bali is an expensive destination for a honeymoon, there are other islands in Indonesia that go rather easy in their pockets.
Average costs
The islands offer many budget-friendly hotels with average costs ranging from INR 2,000 to INR 5,000 a room. Airfare can also be adjusted according to your budget; the average cost would be around INR 40,000. Dining is not that expensive either. The Approximate Expenses for a couple of honeymooning in Indonesia would be around INR 46,000.
Visa Requirements
Visa on arrival is also available for Indians in Indonesia.
Things to do in Indonesia
You can enjoy Romantic drives in the serene surroundings of the island landscape; indulge yourself in the most soothing Thai massages, experience some really thrilling watersports on the beaches, go swimming in the blue waters, and also get to explore the island on a boat.
Vietnam


Vietnam is one of the natural wonders of the world and can be the perfect destination for a blissful honeymoon for couples on a budget. You can avail of reasonably priced flight tickets if you book well in advance. You can get tickets for approximately INR 25,000.
Average Cost
Reasonably priced and world-class accommodation can also be found easily in Vietnam. A couple can spend a beautiful few days in Vietnam at the approximate cost of INR 44,000.
Visa Requirements
Visa on arrival is available for Indian travellers in Bali.
Things to do in Indonesia
You can choose from a variety of activities offered in Vietnam like boat rides in Hoi An, exploring Ho Chi Mihn, camping at the Phong Nha Ke Bang National Park and much more.
Philippines


A beautiful honeymoon destination outside India, there are a number of unexplored islands and beaches in Philippines if you wish to travel on a budget.
Average Cost
Stay at beautiful resorts that are reasonably priced and explore the delicious street food in Philippines. Approximate expenses for a honeymoon would be around INR 36,000.
Visa Requirements
You can apply for a visa for Philippines with Flying Squirrel Holidays Visa Facilitating Services and get hassle-free visa processing for your honeymoon.
Things to do in Philippines
You can explore the spectacular beaches and also try out some exciting adventure sports for couples. There are lots of cultural sites to visit for you if you are a history enthusiast. The beautiful country will mesmerize you with its many natural wonders.
Taiwan

Taiwan happens to be often overlooked as a romantic destination; however it can be found that the country offers once-in-a-lifetime experiences for honeymooning couples.
Average Cost
You can enjoy the beautiful sights of Taiwan on a budget as finding reasonably priced hotels as well as local delicacies is not that difficult here. The approximate cost for honeymooning in Taiwan would be somewhere around INR 80,000.
Visa Requirements
You can apply for a free visa to travel to Philippines if your passport is valid and you have an onward or return air or ferry ticket. Leave the formalities of visa processing to Flying Squirrel Holidays' expert visa facilitators and travel with ease.
Things to do in Taiwan
You can indulge in sightseeing, explore the wildlife found in Taiwan, go shopping in the vibrant street markets hand in hand with your spouse, visit the very popular natural Hot Springs and also go on cultural tours.
Nepal


The glorious natural beauty of Nepal makes for the perfect setting for a romantic getaway. To add to this, the many exciting activities to be enjoyed in Nepal can make every moment of your honeymoon in Nepal utterly unforgettable.
Average Cost
The best part of travelling to the Land of Buddha for your honeymoon is that you can also get here by train or by road. Nepal is a paradise for honeymooning on a budget. Hotels are also quite reasonably priced in Nepal as well.  What's more, you will also be saving on visa fares!  A honeymoon in Nepal would cost between INR 30,000 to INR 75,000 on an average.
Visa Requirements
Indians do not need visa to travel to Nepal. However, you must carry your identity cards and documents.
Things to do in Nepal
Nepal is an adventure hub and full of many heart-pounding activities to offer for young couples. The typical mountainous Nepal terrain houses a plethora of adventure sports like rock climbing, trekking, paragliding, white water rafting and so much more.
Bhutan


Nestled in the eastern Himalayas, Bhutan is also called 'the land of the Thunder dragon'. With many monasteries, tranquil and abundant lush green surroundings and the warmth extended by the locals, Bhutan is the perfect offbeat destination for a fabulous honeymoon.
What is even better, Bhutan has very few visitors around the year owing to its pledge to sustain nature, and so it is the place for a perfect romantic break that you have been waiting for.
Average Cost
The country is located close to India and flights here are extremely reasonably priced. You can also travel to Bhutan by road. Therefore airfares are saved big time in travelling to Bhutan making it very budget-friendly for honeymooners. The approximate expense for a couple honeymooning in Bhutan is around INR 38,000.
Visa Requirements
Bhutan is among the one of the two countries countries Indian can Travel Without Passport and Visa.  However, it is advisable to carry a valid Indian passport as well as an identity card issues by the Election Commission of India.
Things to do in Bhutan
There are lots of activities in Bhutan for honeymooning couples, the best one being getting lost amidst the abundant nature in each other's company. Visit the many natural marvels in the country including Haa Valley also known as the "Hidden Land Rice Valley". Explore numerous monasteries and ancient temples in Paro Valley, Thimpu, Trongsa, Bumthang, Punakha and much more.
Cambodia


Besides being a destination with really favourable weather conditions, the place is also great for a honeymoon on a budget. You can discover some really beautiful white sand beaches, secluded tropical islands, and the most romantic sunsets over the Gulf of Thailand and wild jungle retreats in Cambodia otherwise known as a backpacker's haven.
Average Costs
Airfares may cost you anywhere between INR 25,000 to INR 30,000. Hotel accommodations can be found at reasonable prices as well. Approximate expenditure for a weeklong honeymoon in Cambodia can range anywhere between INR 50,000 to INR 60,000. Expect to spend somewhere around INR 45,000 honeymooning in Cambodia.
Visa Requirements
Cambodia does require a visa and You can consult Flying Squirrel Holidays for visa consultancy services to Cambodia for a hassle free visa processing.
Things to do in Cambodia
You can go on a nature trail and explore the scenic beauties of the natural bounty in Cambodia. Visit the world-renowned Angkor temple, go kayaking in the blue waters, trek to mountains and also take a fascinating trip to the Monkey Forest.
Sri Lanka


Sri Lanka has been garnering an increasing amount of interest as a honeymoon destination in recent years, being one of the most beautiful places in the world. The island nation has a lot to offer to tourists from ancient temples to palm-lined beaches to wild safari adventures and a jaw-dropping train journey that is known all over the world.
You can opt to stay in a hotel on a high-altitude tea plantation and enjoy the spectacular views of Ceylon to make your honeymoon extra special.
Average Cost
Beautiful Sri Lanka is an ideal honeymoon destination for budget travellers. Transportation rates are assuredly affordable with scenic train routes and accessible bus networks taking you everywhere you will need to go.
The approximate expenses for a couple in Sri Lanka would be around INR 60,000.
Visa Requirements
You will need to apply for a visa to travel to Sri Lanka. Flying Squirrel Holidays will take care of all the visa facilitation services and the travel formalities so that you can just enjoy the beautiful country with your beloved.
Things to do in Sri Lanka
Trinconalee Beach is perfect for some relaxing beach time; you can also trek up to  Sigiriya Mountain. Travel over tea estates in Nurweya Eliya, get the opportunity to go walking on the picturesque beaches in Arungam Bay and also spot leopards in the Yala forests.
Best Honeymoon Destinations Outside India on a Mid-Budget in 2022
If you are looking for affordable destinations for your honeymoon, we have all the answers. There are a lot of options for you to explore that are absolutely affordable. All of these destinations cater to pockets of different budgets. Whatever your preference is, each has plenty to offer. Take a look!
Singapore


If you are looking to add some spark to the beginning of your new life together, a marvelous tour in Singapore is a great idea. From stunning, clear beaches decked up in pretty lights, to contemporary architecture and art, it's an absolute joy-ride for newlyweds.
Average Cost
Flying Squirrel Holidays will curate the perfect Singapore city tour for your honeymoon to fit your budget. Our expert team with years of experience can strike the best deals for you so that you can enjoy the beautiful experience without any worries. The approximate expenses of honeymooning in Singapore is somewhere between INR 54,000 to 1,90,000.
Visa Requirements
Indians need to apply for Singapore visa prior to their arrival. The good news is, Flying Squirrel Holidays will help you apply and secure visa hassle-free in just a couple of days.
Things to do in Singapore
Celebrate your love by taking a trip to the hilltop destination of Faber Peak. You can schedule a lovely candlelit dinner to surprise your spouse with a specially decorated Cable Car ride. Enjoy thrilling rides at the Universal Studios, Singapore.
Watch the fireworks, or go for a lazy stroll around the streets of the vibrant cities. You can also have the opportunity of playing with dolphins and have a fun-filled experience at St. Jon's Island.
A Singapore trip is incomplete without a river cruise, or you can opt to board a historic bumboat at the Marina Bay.
Dubai


Enjoy a memorable honeymoon in Dubai with you better-half. Create really romantic memories with your spouse while exploring this spectacular global city.
Average Cost
Plan your honeymoon with Flying squirrel Holidays and discover with us, a memorable and romantic experience that is also affordable. Honeymoon expenses for a couple in Dubai are approximately INR 25,000 to 50,000.
Visa Requirements
Get your visas for travelling to Dubai with the expert team at Flying Squirrel Holidays for the best deals and easy processing.
Things to do in Dubai
Book a yacht tour surrounded by iconic landmarks of the Arabian Gulf. Whether you enjoy adventure water sports or love partying and nightlife, there are too many options to pick from in Dubai. Relax on the beach or catch a dolphin show, stroll through a garden surrounded by millions of exotic flowers and also get the opportunity of experiencing the unique desert safari of Dubai.
Balkans

Get away to Balkans on your honeymoon with your new spouse and trust Flying Squirrel Holidays to get the best deals for you. Whether you are after cultural explorations or discovering romance in the beautiful Balkans, our specially curated tour plans will walk you down the street of Athens and mesmerize you with the unique vibe of Dubrovik.
Flying squirrel Holidays will curate the perfect holiday for you keeping in mind all your interests and preference for a perfect honeymoon that will stay forever etched in your memory.
Average Costs
The average expenses for a couple honeymooning in the Balkans ranges between INR 84,000 to 1,50,000.
Visa Requirements
Indians need to have a visa prior to arriving in the Balkans and Flying squirrel Holidays visa facilitating services can help you in every step of the way.
Things to do in Balkans
The Balkans comprises of many beautiful countries like Greece, Macedonia, Bulgaria, Romania, Yugoslavia, Albania, and Bosnia Herzegovina which have so many places for you to explore with your new spouse.
Budapest


Budapest makes one of the best honeymoon destinations outside India  and comes loaded with a plethora of experiences that are loaded with fun. You can enjoy the brilliant nightlife of Budapest and also experience fun-filled cultural and historical sightseeing tours. Head to Budapest with your love, and experience an amazing honeymoon to remember throughout your lives.
Average Cost
The average costs for a honeymoon in Budapest range between INR 60,000 to 80,000.
Visa Requirements
You will need to have a Schengen Visa to travel to Budapest. Flying Squirrel Holidays Visa Facilitating Services will hand hold you through all the steps to avail your visas with ease before your honeymoon in Budapest.
Things to do in Budapest
Stroll through the gardens of Szent Park along the fountains and rose bushes or spend and a fun-filled time at Clark Adam ter during teatime. Plan your trip during the Budapest festivals to have an unforgettable experience with your loved one. The city is known for great shopping hotspots and world class dining experiences.
Italy


Italy is a honeymooner's paradise and can be an affordable trip destination if you know the where's and what's of this spectacular country.
Average Cost
A holiday with Flying Squirrel Holidays will ensure an unforgettable experience for you with your loved one at affordable rates and the best deals available. The average costs for a couple honeymooning in Italy ranges between INR 1, 20,000 to 2, 00,000.
Visa Requirements
Tourist visa is required for travelling to Italy, get in touch with us for a hassle-free processing.
Things to do in Italy
The attractions in Rome and other culturally rich cities around Italy are endless. You just can't get enough of Italy. Explore cities like Venice, Rome, Milan, Naples, and Bologna for an absolutely unforgettable first trip after your epic wedding.
Turkey


Turkey is counted amongst the most fantastic international honeymoon destinations outside India and can be affordable as well. Turkey has an inviting and vibrant nightlife, numerous shopping destinations, heavenly resorts, spectacular natural wonders, and beautiful harbours.
Average Cost
The average costs for a honeymoon in Turkey is between INR 2,00,000 to 2,50,000.
Visa Requirements
You will be required to apply for e-visas prior to your arrival in Turkey.
Things to do in Turkey
Visit Antalya, Cappadocia, Istanbul, Konakli and more and have the most perfect honeymoon you could imagine. When in Turkey, you must take your loved one on the epic hot air balloon ride. Indulge in an exotic Turkish couple's spa if you are looking for some solace and relaxation after a hectic wedding.
You can also get a chance to dine in caves!
Explore the many scenic beauties of this country on your dream honeymoon in Turkey. Don't miss this golden opportunity to romance in the surreal Turkish landscapes for your honeymoon.
Finding the right honeymoon destination outside India to fit your budget is the cherry on top of a perfect cake of wedding bliss.
Discover lesser known destinations across the world for an ideal post-wedding getaway before officially beginning their new life together, with Flying Squirrel Holidays, awarded International tour operator. We will customize your travels according to your budget and your interests. Spend the fairytale honeymoon with your spouse with a worry-less mind. It is all taken care of with Flying Squirrel Holidays.