DIFFERENT TYPES OF SPORTS HOLIDAYS
Tennis Holiday
Tennis is a popular sport in Dubai. The city is known for hosting many sporting events and among them, the Dubai Duty-Free Tennis Championships is very popular. The event seessome of the famous tennis players like Roger Federer, Rafael Nadal, and Novak Djokovic take the courts to fight for the title.
The Championship is organised and owned by Dubai Duty-Free and held under the patronage of His Highness Sheikh Mohammed Bin Rashid Al Maktoum, Vice President and Prime Minister of the UAE and Ruler of Dubai.
You would get the golden opportunity to watch top tennis stars playing live.And not just that, you can also take the same courts as your favourite stars,and play and improve your tennis skills. While in the city, you can enjoy the beautiful sights of Dubai.
Golf Holiday
Dubai is a perfect location for all golf lovers and offers world-class courses designed by the legends like Thomas Bjorn, Ernie Els, Nick Faldo, Colin Montgomerie, and Greg Norman.
The city is home to some marvellous golf courses that offer a beautiful setting, spectacular fairways, verdant landscapes, warm hospitality, and all modern amenities. Some of the renowned courses are Emirates Golf Club, Jumeirah Golf Estates Courses, the Els Club Dubai, the Arabian Ranches Golf Club, Trump International Golf Club, and the Address Montgomerie Dubai.
Top golf courses in Dubai are Emirates (Majlis) Golf Course, Emirates (Faldo) Golf Course, Jumeirah Golf (Earth) Course, Jumeirah Golf (Fire) Course, and Arabian Ranches Golf Course.
In your golf holiday, you would get the opportunity to play on the courses designed by the legends and explore the fantastic city of Dubai where you get to visit the iconic Burj Khalifa, Jumeirah Beach, Dubai Mall, and many more.
Swimming Holiday
Swimming can be best learned or enjoyed in Thailand. A guaranteed fun is awaited for you at Thanyapura Health & Sports Resort in Thailand. There's a Tree Club where you can enjoy swimming along with various camps and activities.
On this fitness holiday, you can get access to a 50m Olympic swimming pool where you can improve your swimming techniques with the help of qualified instructors. Other than that, you can explore the beautiful cities of Thailand and visit the gorgeous sites.
Horse Riding in Portugal

Head to Portugal if you want to learn or practice horse riding. EPIC SANA Algarve in Portugal is the place where you can learn horse riding that is available for the whole family. You get to learn horse riding near the lovely Praia de Falesia.
After your training, you can also indulge in a gourmet meal. Stunning views, rich history, art and culture, and friendly people, make Portugal a wonderful destination to visit. Some of the must-visit places in Portugal are Madeira, Porto, Ericeira, and Algarve, etc.
Surfing in Morocco
Travel to Morocco to hit the water and learn surfing. Paradis Plage offers surfing lessons for all ages so that you can make the most out of your holiday. Surfing is an exciting activity to learn. You will be instructed by surfing experts and they offer the best surfing courses. In your package, you get to enjoy your favourite sport and enjoy some magical attractions of Morocco like Meknes, Rabat, Tinghir, Dades Valley, Rose Valley, and much more.
Skiing in Germany
If you love skiing, you should visit Germany to attend the popular Four Hills Tournament where you can enjoy yourself both as a spectator and participant in the event. If you are planning to visit Germany, a city tour is a must.
Germany is studded with history, culture, and natural beauty and consists of some amazing attractions that should not be missed like Museum Island, The Berlin Wall, The Rhine, The Black Forest, and more.
Scuba Diving in the Bahamas
The Bahamas is an ideal place to learn scuba diving. They include more than 600 islands spread across 800 km/500 miles of ocean. There are several courses offered and you will be trained by professional scuba divers.
The Bahamas is a relaxing and beautiful place to learn diving. While learning scuba diving, you get to enjoy the island's historic wrecks and diverse marine life.
Football in Manchester, England
Manchester United FC is the first thing that comes to mind when you think of Manchester, which is the city's most popular football club. Do visit the National Football Museum if you're in Manchester.
It lets you test your skills and you can enjoy watching memorabilia including the 1966 World Cup Final Ball. Also, a guided tour of the Etihad Stadium is an absolute must!
In our sports holiday package, you can enjoy your favourite sport along with the joy of travel, where you can visit Dubai and watch live tennis matches or play golf in the world-class courses.
Get in touch with us at +91 3340525777 to book your sports holiday with us now!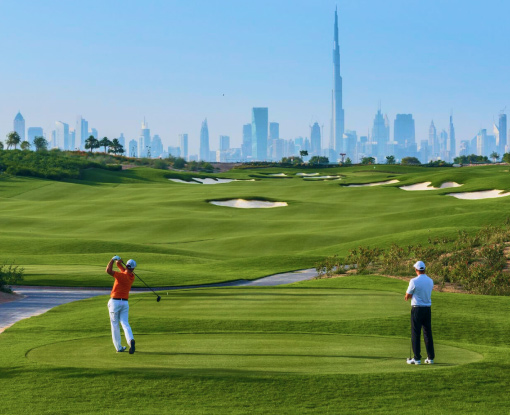 Golf Holiday
Dubai is home to some splendid golf courses that will give you the perfect chance to swing your clubs. A golf holiday in Dubai with your family and friends can be a great opportunity to not only share the love for the game but also shop and discover the city which has a lot more to offer than just golf. Dubai is a perfect golf destination to spend the mornings on ro...
Read more
Tennis Holiday
Apart from being known for its high rise buildings and vibrant nightlife, Dubai is becoming popular for its sporting events. The city serves as the host of some of the world's most acknowledged sporting events like the Dubai Rugby Sevens and the Dubai Cup, the Dubai Desert Classic Golf Tournament, and an international annual horse racing event. One of the most popul...
Read more