Angkor Wat Tour Complete Guide
Posted on By Blog Admin
What's great about Angkor Wat?
The Angkor Vat temple complex in Cambodia's Seam Reap province is like stepping into another world, straight out of a dream into a realm of truth and beauty. The Angkor Wat temples were built during the 12th century by Emperor Suryavarman II as an homage to the Hindu God, Vishnu, but it became a Buddhist temple by the end of the 12th century. Carved in stone, it is said to be the largest religious monument in the world, its name translating as the "temple city" in the Khmer language.
Angkor Wat was declared as a World Heritage Site in 1992. While you decide and visit the stupendous temple you must read our Angkor Wat tour guide to get the intricate details about the temple.
Flying Squirrel Holidays provides customized Cambodia tour packages from India so whether you want to go solo, in a small group tour or a private tour with your loved ones, this tour guide will give you all the essentials of a customized holiday to see Angkor Wat in Cambodia.
Angkor Wat Facts
You would marvel at the beautiful Hindu vernacular architecture at Angkor Wat. Not only this, but you would also be amazed at the fact engineering marvels in housing, sanitation, and irrigation began even at a time when the world was still developing.
Besides Angkor Wat, you can also visit the Angkor Thom and Bayom temples that are close to each other. These are equally appealing with a rich cultural heritage.
Since the Angkor Wat temple has been instrumental in promoting both the Hindu and Buddhist religious cultures, UNESCO has declared it as a World Heritage site in 1992.  
One interesting aspect of the Angkor Wat temple is that its premises face the west instead of the conventional eastern side. This offers you the opportunity to witness spectacular sunsets, framed for a lifetime. 
The temple walls are decorated to narrate ancient mythological stories with morals. 
Tuk tuks are a great way to go around the temples.
Can I wear flip flops to Angkor Wat?
Yes, flip flops or open sandals are ideal for exploring temples in Cambodia. Slip-on/slip off quality is handy when you need to take shoes off at the door of the temples.
How many days do you need for Angkor Wat?
Two-three days are enough to visit Angkor Wat temples and to get a hint of the history and architecture of the Khmer empire.
Is Angkor Wat tour expensive?
The cost of the private tour depends on various factors like the cost of entry into the complex, transportation, hotels, and food. The package including all these services can be customized based on your budget.
How much is a tour guide for Angkor Wat?
The average price for a full-day tour guide is $ 30 per day.
How to Reach Angkor Wat from India
Being a popular tourist destination, the temple of Angkor Wat remains packed round the year. So the moment you plan the trip, you also start looking for the routes to reach the tourist spot. You can reach Angkor Wat through the province of Seam Reap in Cambodia. Seam Reap is also known as the gateway to Angkor Wat and other tourist attractions. 
However, direct flights to Siem Reap are available only from Singapore and Bangkok. You can take a connecting flight via these two cities from all major airports of India.
How to Apply for a Visa to Cambodia
You can apply for an e-visa to travel to Cambodia.
A single tourist entry visa account is what you need for any future visa application.
Fill up the form and pay securely with Mastercard or VISA.
Download the e-visa as a pdf from your account.
For more details, visit:
https://www.evisa.gov.kh/
Alternatively, get in touch with us.
Best Time to visit Angkor Wat
Cambodia is warm year-round. The best time to visit Angkor Wat is between November and March. 
Although this is not the usual tourist season, you get to enjoy a slightly cooler and drier season. June to October is busy because tourists love the charm of the ancient city during the monsoons. Connect with us anytime to plan your trip; we will guide you through the rest.
The Best Temples Angkor Wat 
The temples of Angkor Wat have been a mystery to many while for others, It's art and architecture have inspired many to recreate marvellous structures round the world.
The Angkor archaeological park complex consists of over 1000 temples. These ranges from extremely magnificent structures to simpler, more uninteresting ones. We have shortlisted the best of the lot for you. As you read on, we can virtually take you through the famous and the best temples of Angkor Wat.
1. Ta Phrom
The first on our list would be Ta Phrom.  Ever since this temple featured in a Tomb Raider movie, tourists have been flocking in during the packed season. But on a closer look, you will understand why this temple is every bit worth the fame. From tree roots entwined on man-made structures to dimly lit long corridors invoking mystery, Ta Phrom has it all.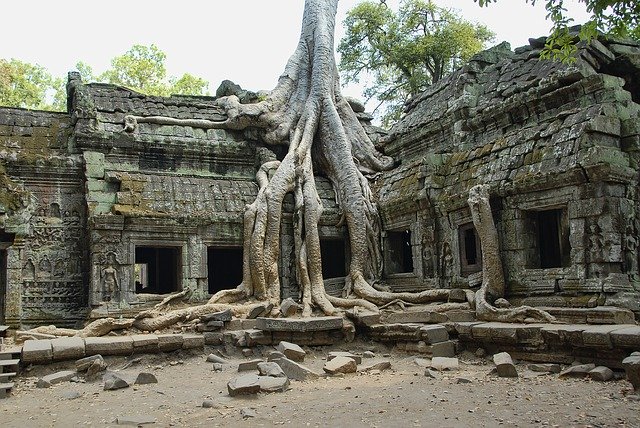 2. Prasat Kravan
Red-brick domed towers standing tall amidst the blue of the sky, Prasat Kravan is a small but dainty relic of the past. History says that it was a 10th-century masterpiece and is still upright.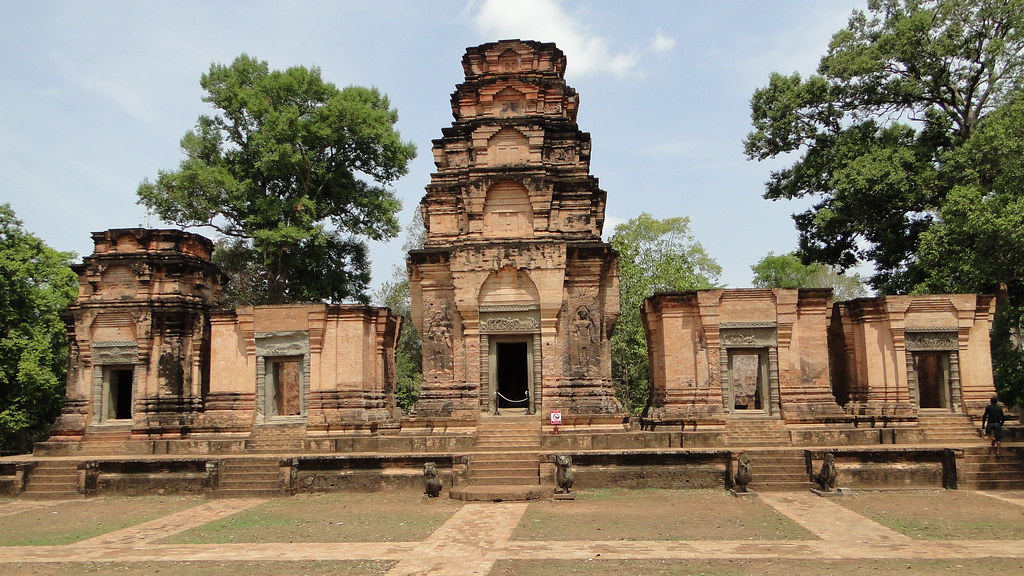 3. Ta Som
 An enthralling view of giant tree roots embracing the entire temple can be witnesses at the Ta Som temple. Though smaller in size, this quaint temple has been restored and now visitors can access it from all four directions. You need a temple pass at Ta Som and you can stay at the temple premises for a duration of 30-60 mins.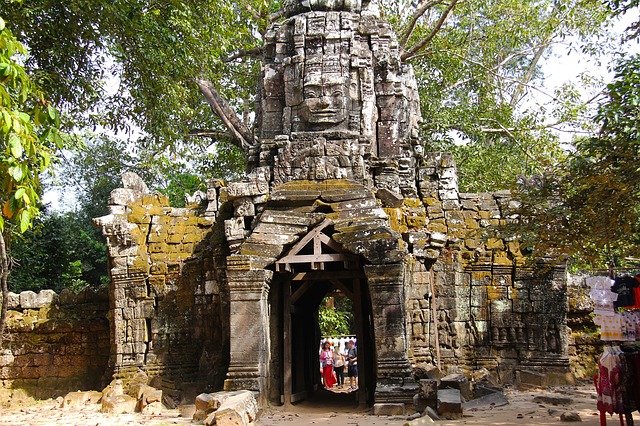 4. Neak Poan
This temple can be accessed through a long wooden corridor, in the centre of a man-made lake. 'Neak Poan' translates to 'intertwined serpents' in the local language, in keeping with the aura of mysterious Angkor Wat. Quite picturesque, tourists arrive here to click photographs amidst the lush greenery.

5. Preah Khan
 One of the most prominent temples you cannot afford to miss is the enchanting Preah Khan temple.  The word 'Preah Khan' means 'sacred sword' and throughout the structure of this temple, you would find sacred Hindu sculptures. From Lord Gaduda with snakes to Shaivaite phallic symbols, you feel like you are being transported to an ancient historical era here. Preah Khan is open to visitors from early morning 5 AM to 6 PM each day, throughout the year. You can enter the premises with a temple pass and spend a duration of 1-2 hours.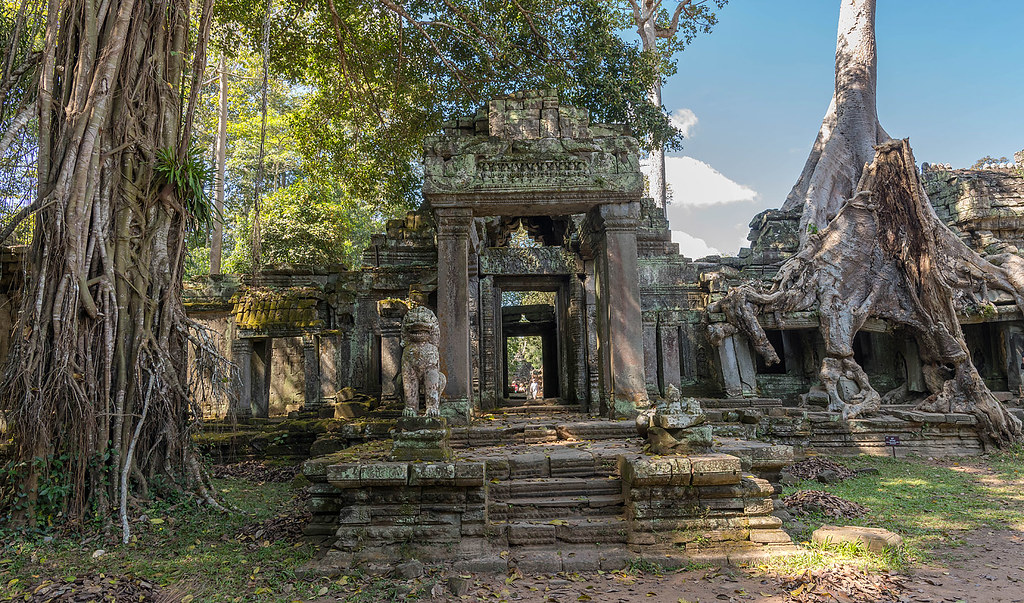 6. Bayon and Baphuon
Your trip to Angkor Wat would not be complete without paying a visit to these two temples, specially Bayon. The temple peaks are decorated with giant stone sculptures resembling Hindu deities. 
Don't forget to check out the gigantic Buddha sculpture between the two temples.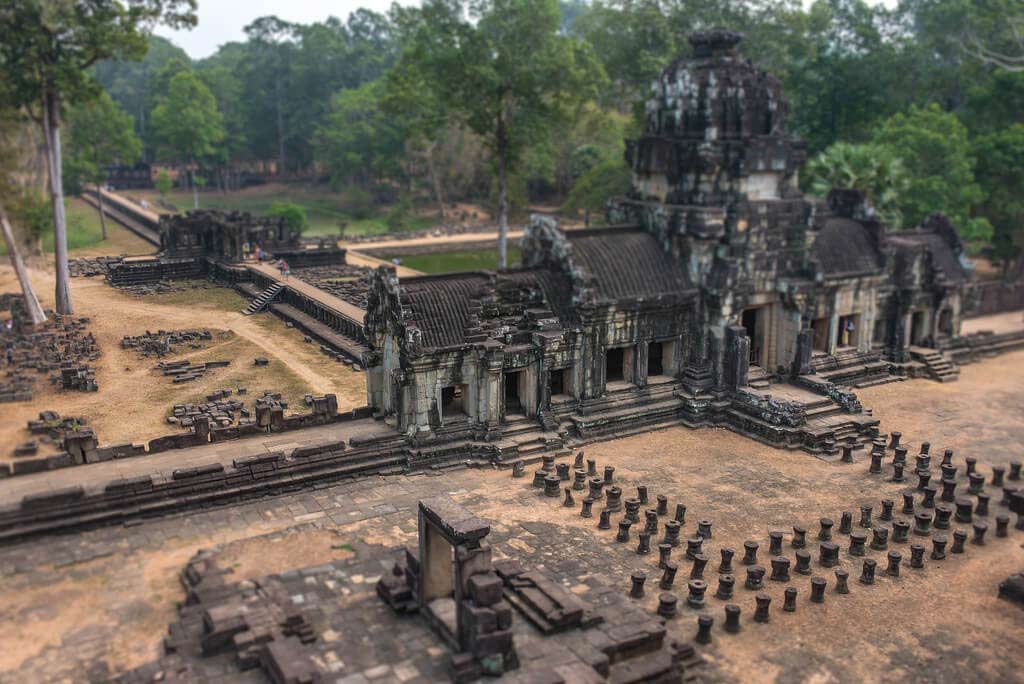 7. Roluos Group of Temples
Situated 12 km to the east of Siem Reap, there are 4 temples in the group. They are named as Bakong, Preah Ko, Lolei and Prasat Preah Monti.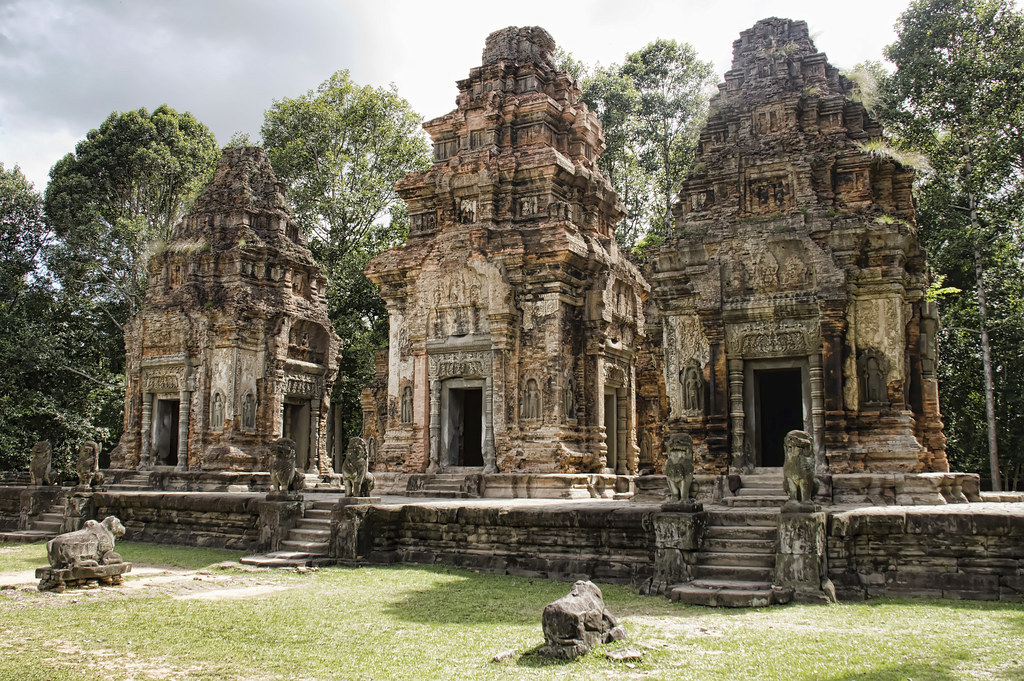 8. Wat Athvea
4 km to the South of Siem Reap lies the small, quaint temple of Wat Athvea. Wat Athvea can be best visited in the afternoons. But if you like to see the ensemble of the old temple and new pagoda is the best.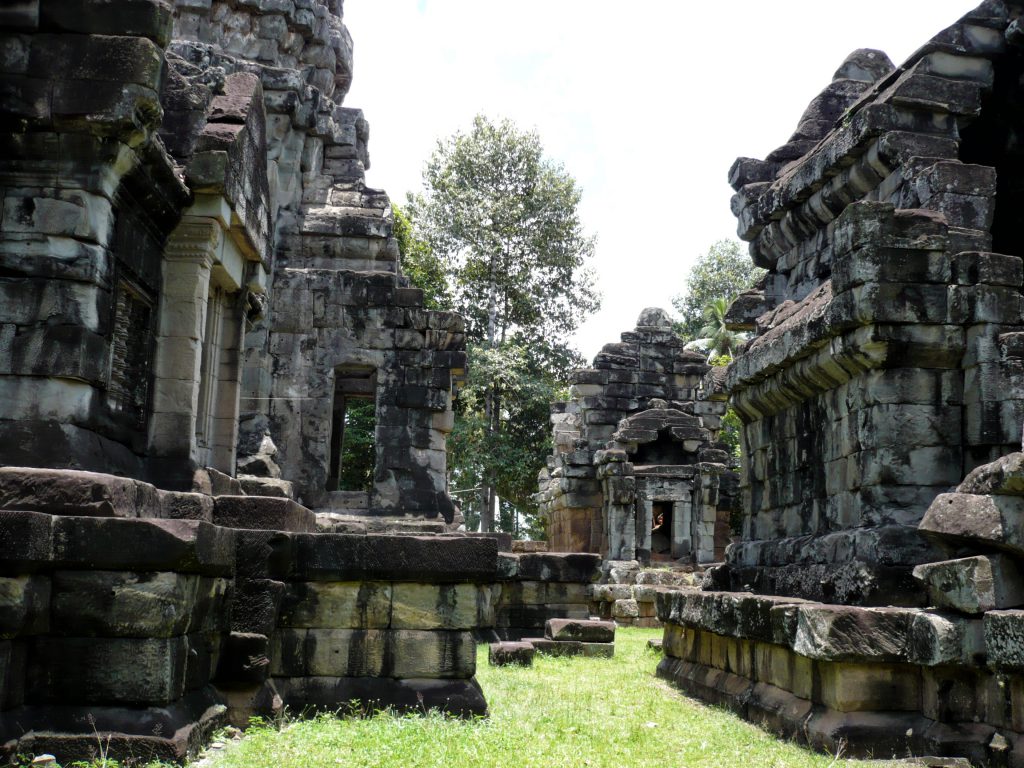 9. Phnom Krom
Overlooking the beautiful floating villages, Tonle Sap lake and the picturesque countryside of Seam Reap, the temple of Phnom Kron offers you an unforgettable view of nature. Like the other temples in the vicinity, the temples of Phnom Krom remain open round the year from 5 AM to 6 PM. However, tourists have to leave the area by 5.30 PM as a rule.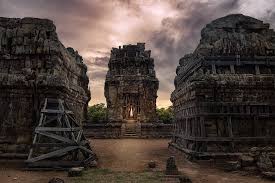 10. Angkor Wat 
Last but never the least, the Angkor Wat is among the most famous and colossal among all.  From magnificent porches to long corridors, from beautiful wall carvings to intricate inner chambers, Angkor Wat has got the glory. You would lose yourself in an intricate maze of religious history and myth once you arrive here. Just be careful of the mischievous monkeys here who could unwittingly tug at your scarf or want some food.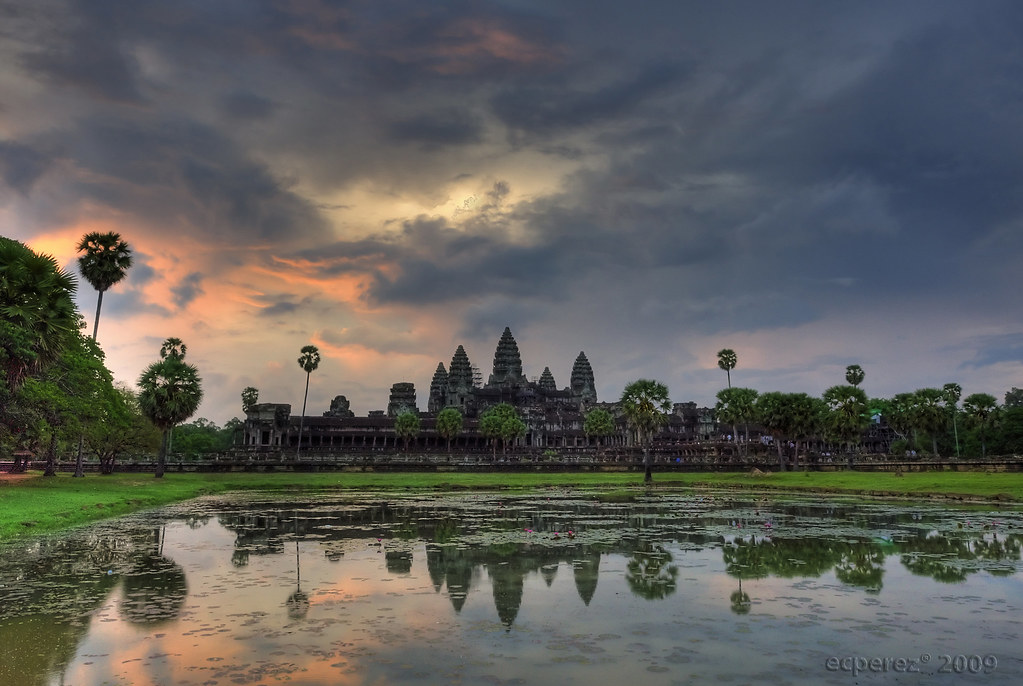 Where Can You Stay in Ta Phrom- our top picks
Le Trèfle Angkor Hotel- Prices start from approximately INR 2,500/ night
J7 Hotel Rates range around INR 6000/night approximately 
Shintana Saya Residence – Prices start from approximately INR 9,000/ night  
Hotel de la Renaissance– Prices start from approximately INR 18,000/ night
Anantara Angkor Resort and Spa- Prices start from approximately
INR 27000/night 
Angkor Wat Itinerary
Since it would be impossible to cover all the 1000 temples at one go, we have here a three-day itinerary to help you cover the temple structure in the best possible way.
Day 1:
Stop 1: Angkor Wat Temple- A view of sunrise at Angkor Wat
Stop 2: Ta Phrom Temple
Stop 3:  Bantea Kdei Temple
Stop 4: Back to Angkor Wat via Prasat Kravan

Day 2:
Stop 1: Watch the sunrise at Pre Rup Temple
Stop 2: Ta Som temple
Stop 3: Neak Poan temple
Stop 4: Preah Khan Temple
Stop 5: Shopping at Seam Reap markets  and pubbing
Day 3: 
Stop 1: Bayon Temple
Stop 2: Roluos Groups of Temple
Stop 3: Lunch at Siem Reap
Stop 4: Wat Athvea
Stop 5: Phnom Krom
Must-Try Dishes
Before you leave Siem Reap, don't forget to try out these finger-licking delicacies. And thank us later  
1. Prahok- This is a local delicacy made of dried fish processed with salt, sugar, garlic and pepper. Prahok is served with rice.
2.  Green Mango Salad- Available at many eateries as well as in roadside stalls, green mango is mixed with lemon juice, salt, sugar, garlic, pepper, herbs and fish sauce.
3. Kralan- Sticky rice with shredded coconut
4. Nom Banh Chok – Rice Noodles cooked with herbs and spices and meat.
5. Sweet Khmer Cakes
Checklist for travel:
1. Before booking ticket,  check and compare flight fares and timings 
3. Ensure your passport has 6 months validity with at least 1 blank page
4. Check for the kind of Visa you would need to travel to Cambodia. 
5. If you are on medication, ensure you are carrying adequate stock of the same during your journey.
6. Last but not the least, we advise you to have travel insurance done, for any emergency during your tour.   
We hope this Angkor Wat tour guide helps you to plan your dream tour to Cambodia.  We can customize your Angkor Wat Itinerary according to your budget and preferences. So why worry? Visit Cambodia and discover the wonders of Angkor Wat with Flying Squirrel Holidays. With us, "it's taken care of."