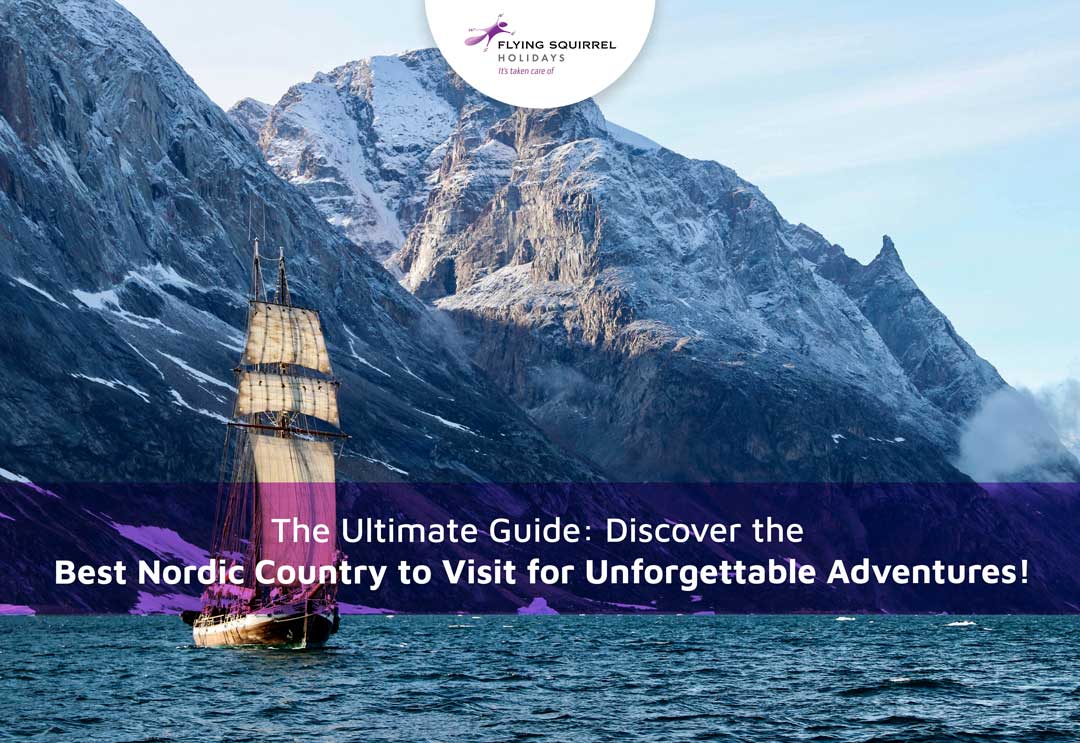 The Ultimate Guide: Discover the Best Nordic Country to Visit for Unforgettable Adventures!
Posted on By Blog Admin
Jewel of the North: Which is The Best Nordic Country to Visit?
The Nordic Countries are breathtakingly beautiful regions of the world, filled with stunning landscapes, rich cultural heritage, and unique experiences that are unlike anything else on Earth. Therefore it is a tough call to decide which is the best Nordic Country to visit out of them all. There is something special in each of them. From the rugged beauty of Norway's fjords to the pristine wilderness of Finland's Lapland, this guide will help you to decide which is the best Nordic Country to visit for yourself. At Flying Squirrel Holidays, we have had the pleasure of exploring this incredible region in depth, and I can confidently say that it is a place that should be on everyone's travel bucket list.
One of the most striking things about the best Nordic Countries to visit is the sheer natural beauty of the landscape. Norway's fjords, with their towering cliffs and crystal-clear waters, are nothing short of awe-inspiring. The Northern Lights, which can be seen from various parts of the region during the winter months, are a true wonder of the natural world. And the forests, mountains, and lakes of Finland, Sweden, and Denmark are simply stunning, with endless opportunities for hiking, biking, and outdoor adventures.
But the Nordic Countries are much more than just a pretty face. This makes choosing the best Nordic Country to visit difficult. The region is steeped in history and culture, and there are countless fascinating attractions to explore. In Norway, for example, visitors can visit the Viking Ship Museum in Oslo or explore the old trading town of Bergen. In Sweden, the medieval old town of Stockholm is a must-see, while Finland's capital, Helsinki, is a hub of modern design and innovation. And in Denmark, the picturesque town of Aarhus is home to some of the country's most significant cultural institutions, including the ARoS Art Museum and the Old Town open-air museum.
Something to consider when deciding which is the best Nordic Country to visit is the season when you will be travelling there. One of the most unique experiences that the Nordic Countries offer is the chance to witness the midnight sun or the polar night. In the summer months, the sun never sets in the far north of the region, creating an otherworldly landscape that must be seen to be believed. And during the winter months, the polar night descends, plunging the region into complete darkness and creating the perfect conditions for witnessing the Northern Lights.
Of course, no visit to the Nordic Countries would be complete without experiencing the incredible food and drink that the region has to offer. From reindeer meat in Finland to smoked salmon in Norway and Denmark's famous pastries, the Nordic Countries are a food lover's paradise. And for those who enjoy a good drink, the region is home to some of the best craft breweries and distilleries in the world, with everything from Nordic-inspired gin to award-winning craft beer on offer.
In short, the Nordic Countries are a region that has something for everyone. Whether you're an avid outdoor adventurer, a history buff, or a food and drink enthusiast, there is no shortage of incredible experiences to be had. And with its friendly locals, world-class infrastructure, and stunning scenery, it's easy to see why this part of the world is quickly becoming one of the most popular travel destinations on the planet. So what are you waiting for? Start planning your trip to the best Nordic Country to visit today!
Read More: All you need to know about Northern lights tour from India
Some of the Best Nordic Countries to Visit
Sweden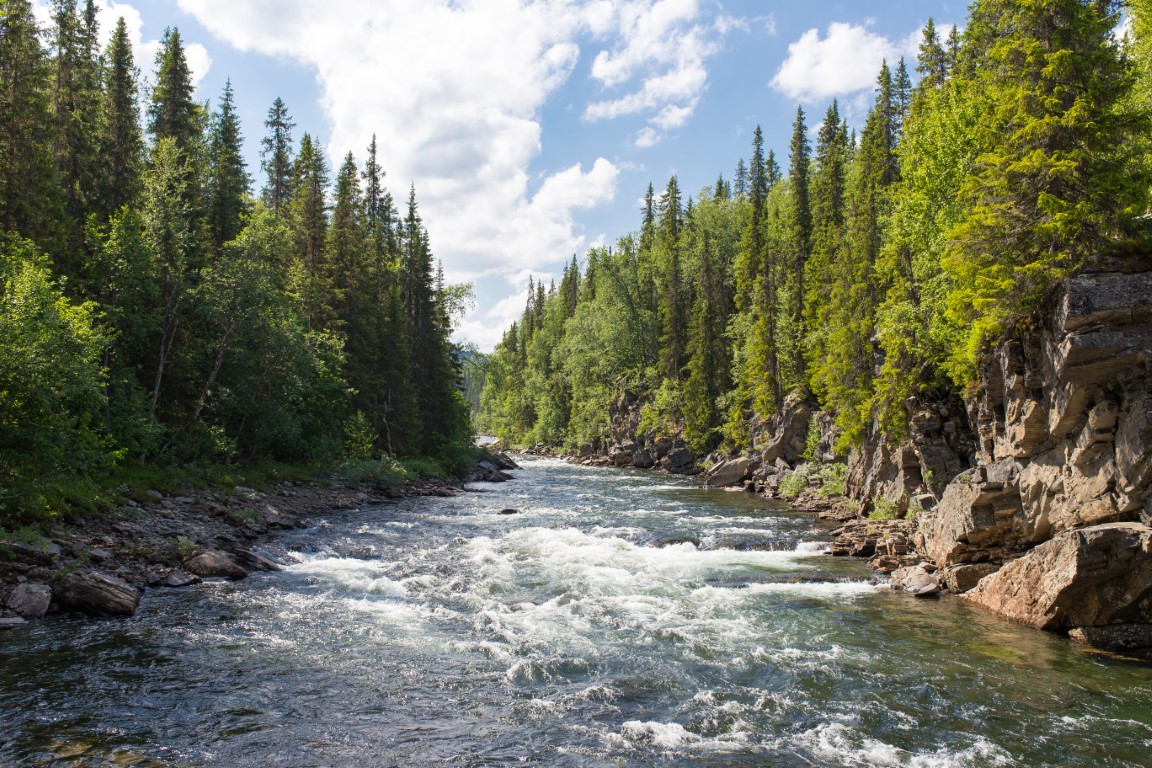 At Flying Squirrel Holidays, we highly recommend Sweden as a destination for travelers seeking an immersive cultural experience, outdoor adventures, and indulgent relaxation.
Here are some of the top things to do in Sweden
Visit Stockholm: Stockholm, the capital of Sweden, is a must-see destination for any traveler. Known as the "Venice of the North," Stockholm is built on 14 islands, each with its own unique charm. You can explore the old town of Gamla Stan, with its winding streets and colorful buildings, visit the Royal Palace, or take a boat tour of the archipelago. 
Experience the Northern Lights: The Northern Lights, or Aurora Borealis, are a spectacular natural phenomenon that can be seen in Sweden's northernmost regions. The best time to see them is from September to March, and there are several tour operators that offer guided trips to see this stunning display.
Go skiing in Åre: Åre is Sweden's premier ski resort, with 89 slopes and 42 lifts. It offers a range of skiing options, from gentle slopes for beginners to challenging black runs for advanced skiers. In addition to skiing, there are also plenty of other winter activities, such as ice fishing, snowmobiling, and husky sledding.
Explore the Swedish countryside: Sweden's countryside is dotted with picturesque villages, forests, and lakes. One of the best ways to explore the countryside is on foot or by bike. There are several popular hiking trails, such as the Kungsleden trail, which runs through the Swedish Lapland, and the Skåneleden trail, which runs through the southern part of the country.
Relax in a Swedish spa: Sweden is renowned for its spas, which offer a range of relaxing treatments, such as massages, saunas, and hot tubs. The most famous spa in Sweden is the Yasuragi spa, which is located on the island of Hasseludden, just outside Stockholm. Other popular spas include the Grand Hôtel in Stockholm and the Varbergs Kusthotell on the west coast. Swedish massage has gained popularity through its implementation in the sporting world. For those interested in health and wellness, this should put Sweden at the top of your list for the best Nordic Country to visit.
Visit the Vasa Museum: The Vasa Museum in Stockholm is one of Sweden's most popular tourist attractions. It houses the Vasa, a 17th-century warship that sank on its maiden voyage and was salvaged in the 1960s. The museum provides a fascinating insight into Sweden's naval history and the technical skills of the shipbuilders of the time.
Go on a food tour: Sweden is known for its innovative cuisine, which blends traditional ingredients with modern techniques. There are several food tours available, which take visitors to markets, food halls, and restaurants to sample some of Sweden's best dishes, such as meatballs, pickled herring, and lingonberry jam.
Sweden offers a wealth of experiences for luxury travellers, from cultural attractions and outdoor adventures to relaxation and indulgence. As a luxury travel agent at Flying Squirrel Holidays, I would be delighted to help you plan your perfect Swedish itinerary.
Finland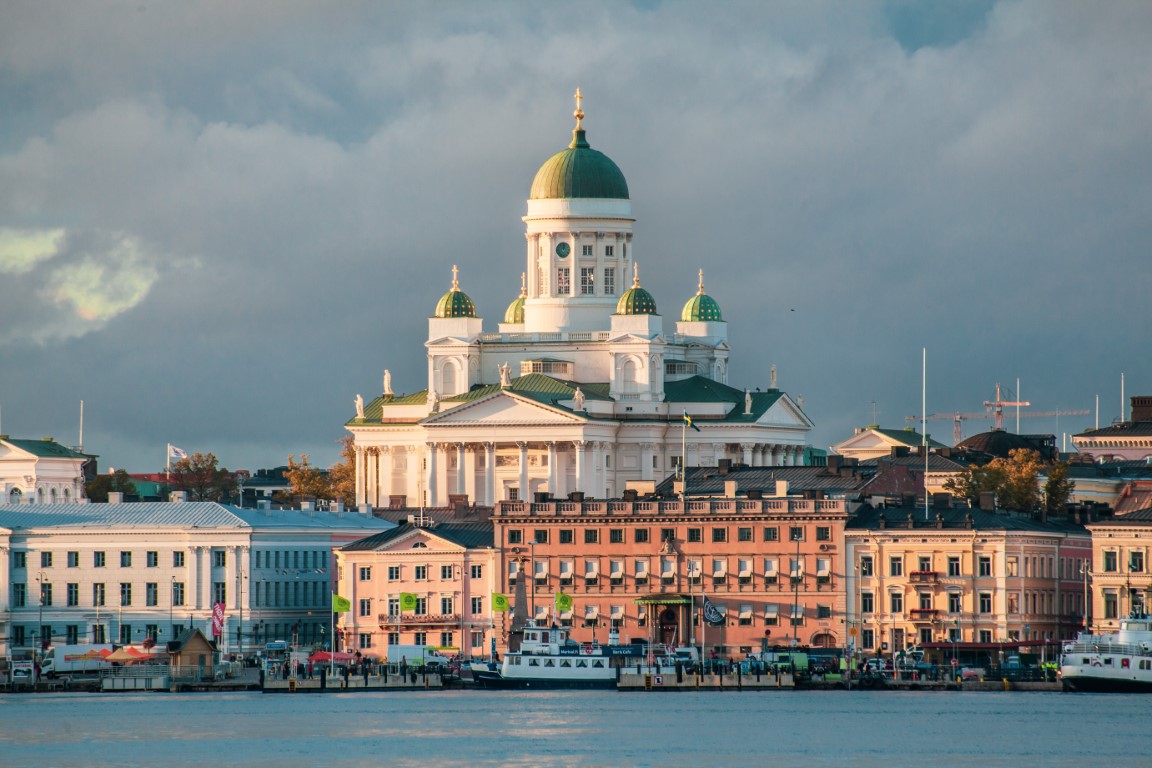 As we focus on creating exceptional travel experiences, Flying Squirrel Holidays highly recommends Finland as a destination for those seeking a unique and memorable vacation. Finland is a land of stunning natural beauty, fascinating culture, and unforgettable experiences, making it an ideal destination for those who want to get off the beaten path and explore a truly unique part of the world.
Here are some of the top things to do in Finland
Aurora Hunting: Finland is known for its spectacular Northern Lights, and aurora hunting is a must-do activity for anyone visiting the country. The best time to see the Northern Lights is between September and April, and the best places to view them are in Lapland, which is located in the far north of the country. We highly recommend staying in a glass igloo or ice hotel for a truly immersive experience.
Husky and Reindeer Safaris: For animal lovers, husky and reindeer safaris are a must-do activity in Finland. Visitors can go on a guided tour through the snow-covered forests and fields while being pulled by these friendly and energetic animals. It's a unique way to experience the wilderness of Finland and to connect with nature.
Finnish Sauna Experience: Finland is the birthplace of the sauna, and the Finnish sauna experience is a must-do activity. Visitors can take a traditional Finnish sauna, which involves sitting in a hot, dry room for several minutes before taking a plunge into an ice-cold lake or snowdrift. The experience is invigorating and rejuvenating, and a great way to relax and unwind after a day of exploring.
Snowmobiling: Snowmobiling is another popular activity in Finland, and there are many different tours and experiences available. Visitors can take a guided snowmobile tour through the countryside, taking in the stunning views and scenery of the Finnish landscape. It's a thrilling way to experience the winter wonderland of Finland and get the adrenaline pumping.
Skiing and Snowboarding: Finland has many excellent ski resorts, making it a great destination for skiing and snowboarding enthusiasts. The most popular ski resorts in Finland are Levi, Ylläs, and Ruka, all of which offer excellent skiing and snowboarding opportunities. There are also many other winter sports activities available, such as ice-skating, ice-fishing, and snowshoeing. The wealth of activities makes Finland the best Nordic country to visit for those who need to feel that rush of adrenaline.
Helsinki City Tour: Helsinki is the capital of Finland and a must-visit destination for anyone travelling to the country. Visitors can take a guided tour of the city, which includes visiting famous landmarks such as the Helsinki Cathedral, Senate Square, and the Sibelius Monument. Helsinki also has many excellent restaurants, bars, and shops, making it a great destination for foodies and shoppers.
Finnish Food and Drink: Finland has a unique and delicious culinary tradition, and visitors should take the opportunity to sample the local cuisine while in the country. Traditional Finnish dishes include reindeer meat, smoked fish, and hearty stews, and visitors should also try the local beers, ciders, and spirits, such as the famous Finnish vodka.
Santa Claus Village: Santa Claus Village is a must-visit destination for anyone travelling to Finland with children. Located in Rovaniemi, Santa Claus Village is a winter wonderland where visitors can meet Santa Claus, take a reindeer or husky ride, and shop for traditional Finnish gifts and souvenirs.
These are just a few of the many amazing things to do in Finland. As a luxury travel agent, Flying Squirrel Holidays can help you create a customized itinerary based on your interests and preferences, ensuring that your trip to Finland is a truly unforgettable experience
Denmark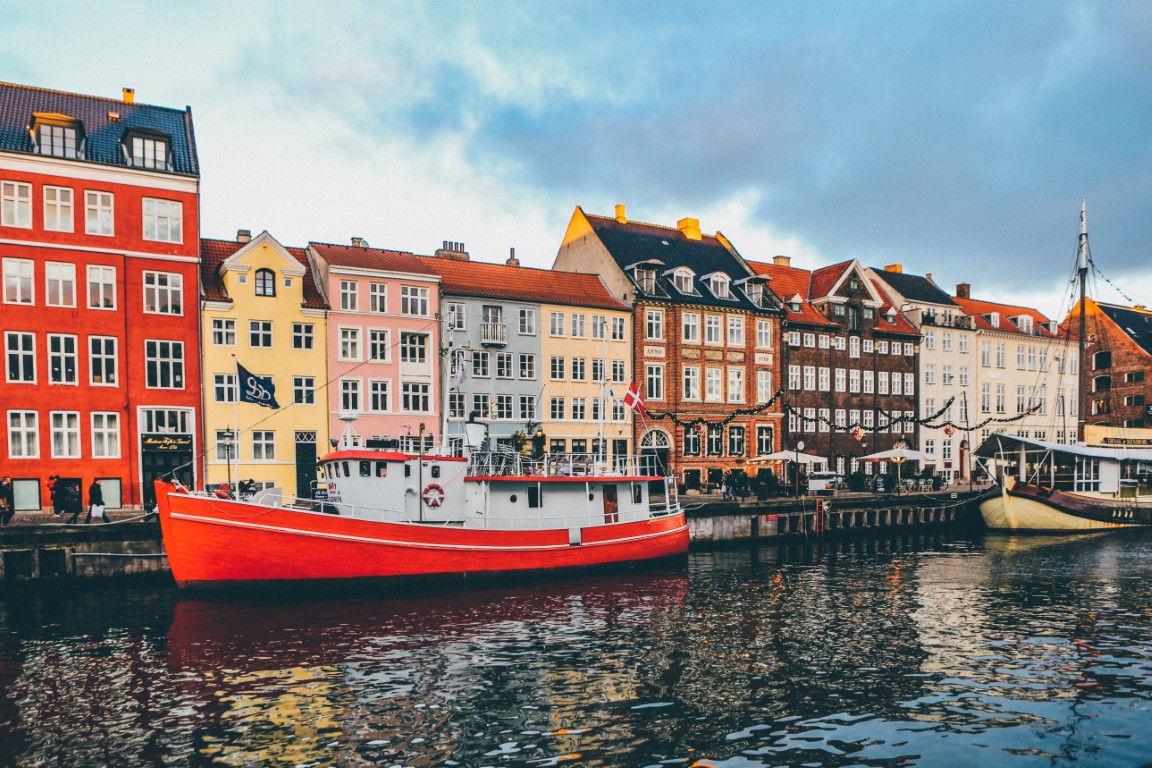 Flying Squirrel Holidays recommends Denmark as an ideal destination for discerning travellers seeking a unique and authentic experience. Denmark is known for its stunning landscapes, charming cities, rich history, and culture.
Below are some of the top things to do in Denmark that we recommend to our clients:
Explore Copenhagen: Denmark's capital city is a bustling hub of art, culture, and history. Visit the iconic Little Mermaid statue, walk through the picturesque Nyhavn harbor, and visit the Amalienborg Palace, the official residence of the Danish royal family. Also, check out the Tivoli Gardens, which is the second-oldest amusement park in the world and offers an array of thrilling rides and entertainment options.
Discover Danish design: Denmark is renowned for its clean, minimalist design aesthetic, which is evident in the country's architecture, furniture, and fashion. Visit the Danish Design Museum in Copenhagen, which showcases the country's rich design heritage, or shop for unique design pieces at the trendy boutiques in the city's fashionable Frederiksberg district. If you love learning about other cultures, this makes Denmark the best Nordic Country to visit for you.
Experience the food scene: Denmark has a thriving culinary scene, with an emphasis on fresh, seasonal, and sustainable ingredients. Sample traditional Danish dishes like smørrebrød (open-faced sandwiches), pickled herring, and rødgrød med fløde (a type of berry pudding). You can also try out Michelin-starred restaurants like Geranium and Noma, which are ranked among the best in the world.
Visit historic sites: Denmark has a rich history that spans back to the Viking era. Explore the Viking Ship Museum in Roskilde, where you can see five Viking ships that were excavated from the nearby fjord. Also, visit the Kronborg Castle, which is known as the inspiration for Shakespeare's Hamlet, and the Frederiksborg Castle, which is the largest Renaissance castle in Scandinavia.
Experience the great outdoors: Denmark is home to stunning natural landscapes that are perfect for outdoor enthusiasts. Take a bike ride through the countryside, hike in the Mols Bjerge National Park, or visit the Jutland peninsula, where you can explore the North Sea coast and see the unique sand dunes at the Råbjerg Mile.
Enjoy the Danish way of life: Danes are known for their "hygge" lifestyle, which translates to a feeling of coziness and contentment. Embrace this Danish philosophy by taking a leisurely stroll through the city's parks, sipping coffee at a cozy café, or relaxing at one of the country's many saunas and spas.
At Flying Squirrel Holidays, we can help you plan the perfect luxury trip to Denmark, tailored to your specific interests and preferences. From five-star accommodations to exclusive tours and experiences, we can ensure that your trip to Denmark is an unforgettable one.
Norway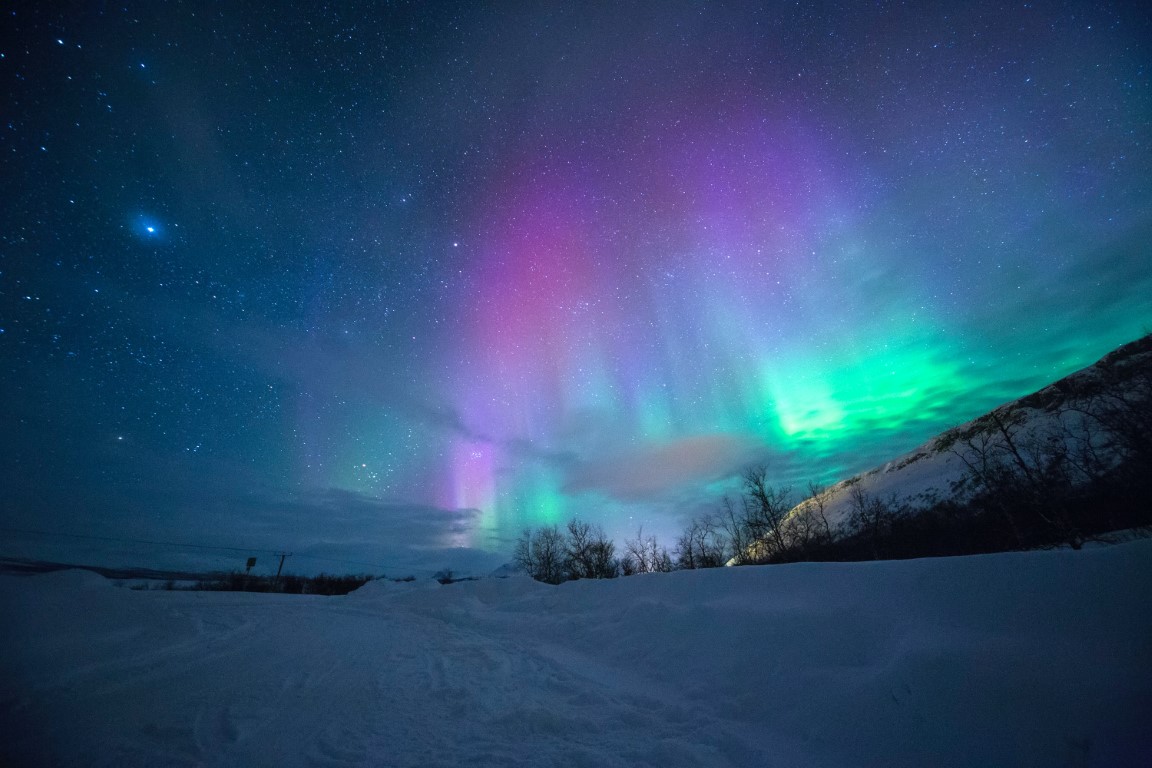 Norway is a stunning country that is known for its natural beauty, rich history, and unique culture. From its breathtaking fjords to its charming cities, Norway has something to offer every type of traveller.
Here are some of the top things to do in Norway:
Explore the Fjords: The Norwegian fjords are world-famous for their stunning beauty, and they are a must-see for any traveler visiting Norway. You can take a scenic cruise through the fjords to experience their natural beauty up close. The most popular fjords to visit are the Geirangerfjord, Sognefjord, and Hardangerfjord. The stunning beauty of these ethereal passages makes Norway the best Nordic Country to visit for nature lovers.
Northern Lights: Norway is one of the best places in the world to see the Northern Lights, also known as Aurora Borealis. You can witness the natural phenomenon from various locations such as Tromsø, Alta, or the Lofoten Islands. It is a breathtaking sight to see the colourful light show in the dark sky.
Visit Oslo: Oslo, the capital of Norway, is a charming city with a rich cultural heritage. There are many museums, galleries, and historic sites to visit, including the Viking Ship Museum, the Munch Museum, and the Oslo Opera House. Additionally, Oslo is known for its excellent culinary scene, offering world-class restaurants with local delicacies.
Outdoor Activities: Norway is a paradise for adventure enthusiasts. There are many opportunities for hiking, skiing, kayaking, and mountain biking. You can hike in the Jotunheimen National Park, go skiing in the Trysil Ski Resort, or go kayaking in the Geirangerfjord.
Visit Bergen: Bergen is a charming city on the west coast of Norway, surrounded by mountains and fjords. The city has a rich maritime history, and it is home to many cultural attractions, including the Bergen Aquarium, the Hanseatic Museum, and the Bergen Art Museum. The city is also known for its lively music and arts scene.
Wildlife Watching: Norway is home to a diverse range of wildlife, including polar bears, whales, elk, and reindeer. You can take a wildlife safari to see these magnificent creatures up close. The most popular destinations for wildlife watching are Svalbard, the Lofoten Islands, and the Dovrefjell National Park.
Visit the Stave Churches: Norway has a unique cultural heritage, and one of the most interesting aspects is the Stave Churches. These churches are made of wood and date back to the Middle Ages. There are many Stave Churches throughout the country, including the Urnes Stave Church, which is a UNESCO World Heritage Site.
In conclusion, Norway is a country full of natural beauty, adventure, and culture. As a luxury travel agent for Flying Squirrel Holidays, I highly recommend including Norway in your travel itinerary, as it will offer a memorable experience for all types of travellers. Whether you want to witness the Northern Lights, explore the fjords, or indulge in local cuisine, Norway has something for everyone.
Greenland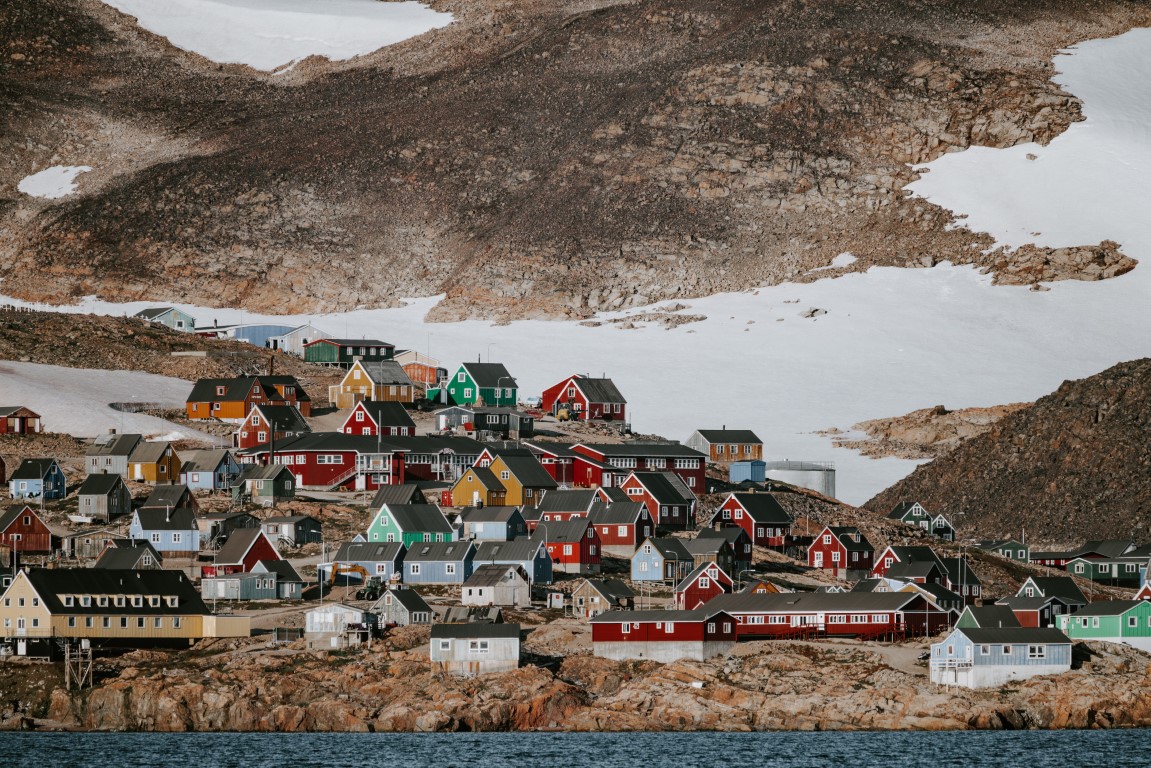 Greenland is the world's largest island, with pristine landscapes, towering icebergs, and unique cultural experiences. It is an excellent destination for luxury travelers seeking adventure, scenic beauty, and remote wilderness.
Here are some of the top things to do in Greenland:
Experience the Northern Lights: Greenland is one of the best places in the world to see the Northern Lights, also known as Aurora Borealis. Witnessing the spectacular display of colorful lights dancing across the sky is a once-in-a-lifetime experience that should not be missed. The best time to see the Northern Lights is from late August to mid-April, and the best places to witness the phenomenon are the Kangerlussuaq and Ilulissat regions. If this awe-inspiring celestial display is what you want to see, then Greenland is the best Nordic Country to visit for you.
Explore the Ice Sheet: Greenland is home to the world's second-largest ice sheet, covering over 80% of the island's landmass. Exploring the ice sheet on a guided tour is an unforgettable experience. Visitors can hike, dogsled, snowmobile, or even take a helicopter ride over the ice sheet. It is an excellent way to witness the breathtaking views of the Arctic wilderness and glaciers.
Visit Ilulissat Icefjord: Ilulissat Icefjord is a UNESCO World Heritage Site and one of the most popular tourist destinations in Greenland. It is home to the Sermeq Kujalleq Glacier, which is the fastest-moving glacier in the world, producing massive icebergs that float down the fjord. Visitors can take a boat tour to see the stunning icebergs up close and even hike on the nearby trails for a closer look.
Whale Watching: Greenland's waters are home to various whale species, including humpback, minke, and fin whales. Whale watching is a popular activity in Greenland, and visitors can take a guided tour to see these majestic creatures in their natural habitat. The best time to go whale watching in Greenland is from June to September.
Visit a traditional Inuit village: Greenland is home to several small Inuit villages that have preserved their traditional way of life. Visitors can take a guided tour of the villages and learn about the Inuit culture, traditions, and way of life. It is an excellent way to experience the local culture and interact with the friendly locals.
Hot Springs: Greenland is home to several natural hot springs, which are perfect for relaxing after a long day of exploring. The Uunartoq hot springs are the most popular and accessible, located on an island in the south of Greenland. Visitors can soak in the warm, mineral-rich water while enjoying the stunning views of the surrounding mountains and glaciers.
Greenland offers a unique and unforgettable travel experience for luxury travelers seeking adventure, scenic beauty, and remote wilderness. As a luxury travel agent for Flying Squirrel Holidays, I can tailor your trip to include these experiences and more, creating a personalized itinerary that meets your travel preferences and interests.
How much does it cost to travel to the Nordic Countries?
The Nordic countries consist of Denmark, Finland, Iceland, Norway, and Sweden, and the cost of travel to these countries can vary widely depending on the season, mode of transportation, accommodation, and activities you choose.
The average cost of a round-trip flight from India to one of the Nordic countries can range from INR 35,000 to INR 75,000 or more, depending on the airline, the time of year, and how far in advance you book your ticket.
Accommodation costs in the Nordic countries can also vary depending on the type of lodging you choose, the location, and the time of year. Budget-friendly options such as hostels and guesthouses can cost anywhere from INR 1,500 to INR 4,000 per night, while mid-range hotels can range from INR 6,000 to INR 12,000 per night. Luxury hotels and resorts can cost INR 20,000 or more per night.
Food costs in the Nordic countries can be high, with restaurant meals costing anywhere from INR 1,500 to INR 5,000 or more depending on the type of cuisine and the location. However, there are also many budget-friendly options such as street food and supermarkets.
Activities and tours in the Nordic countries can also vary in price, but there are many free or low-cost options for exploring the natural beauty and cultural attractions of these countries.
Overall, the cost of travelling to the Nordic countries can range from INR 70,000 to INR 2,50,000 or more per person, depending on your travel style, preferences, and budget. It's important to do your research, plan ahead, and be flexible to get the most value for your money. 
What is the best time to visit the Nordic Countries?
The Nordic Countries include Norway, Sweden, Finland, Denmark, and Iceland. The best time to visit these countries depends on your specific interests and the activities you plan to do. 
Generally, the summer months (June to August) are the most popular time to visit, as the weather is milder and there are longer daylight hours, making it easier to explore the beautiful natural landscapes.
However, if you're interested in seeing the Northern Lights, the best time to visit is during the winter months (December to March) when the nights are longer and the skies are clearer. It's important to note that during the winter months, temperatures can drop well below freezing, so it's important to pack appropriate clothing.
From Kolkata, you can expect a long flight with multiple layovers to reach the Nordic Countries, and flight prices can vary significantly depending on the time of year. It's a good idea to research flight prices and availability in advance and book your tickets accordingly.
At Flying Squirrel Holidays we ensure you get the best deal and have a smooth transition to your dream destination. From premium accommodations to recommended restaurants, we try to cover it all for you to have a memorable experience. 
Why Choose Flying Squirrel Holidays to Travel to the Nordic Countries?
Your Nordic vacation will be a seamless blend of luxury, comfort, and unparalleled experiences with Flying Squirrel Holidays. From the moment you step foot in this picturesque region, you'll be immersed in a world where fairy tales come to life. Let us be your guide as we unlock the secrets of Norway, Sweden, Finland, Denmark, and Iceland.
Our expert travel planners have meticulously curated an array of handpicked destinations and activities to cater to your every desire. Picture yourself standing beneath the shimmering Northern Lights, feeling the rush of adrenaline as you dog sled through the Arctic wilderness, or savouring mouthwatering Nordic cuisine in a cozy cabin surrounded by snow-covered mountains. With Flying Squirrel Holidays, every moment will be a masterpiece.
Not only do we offer a range of carefully crafted itineraries, but we also pride ourselves on our personalized approach. Our team will work closely with you to understand your preferences and tailor a vacation that exceeds your expectations. Whether you're a nature enthusiast, a culture connoisseur, or an adventure seeker, we have the perfect Nordic experience waiting for you.
Furthermore, Flying Squirrel Holidays ensures that every detail of your trip is taken care of, from accommodation in charming boutique hotels to seamless transportation between destinations. We have established strong partnerships with local suppliers to ensure that you receive the highest level of service and gain authentic insights into the Nordic way of life.
Don't miss the opportunity to discover the Nordic countries in all their splendour. Let Flying Squirrel Holidays be your ticket to an extraordinary vacation filled with lifelong memories. Our experience will ensure that you go to the best Nordic Country to visit for you. Trust us to create an experience that will leave you yearning to return to the land of fjords, Vikings, and ethereal beauty. Your Nordic adventure awaits!