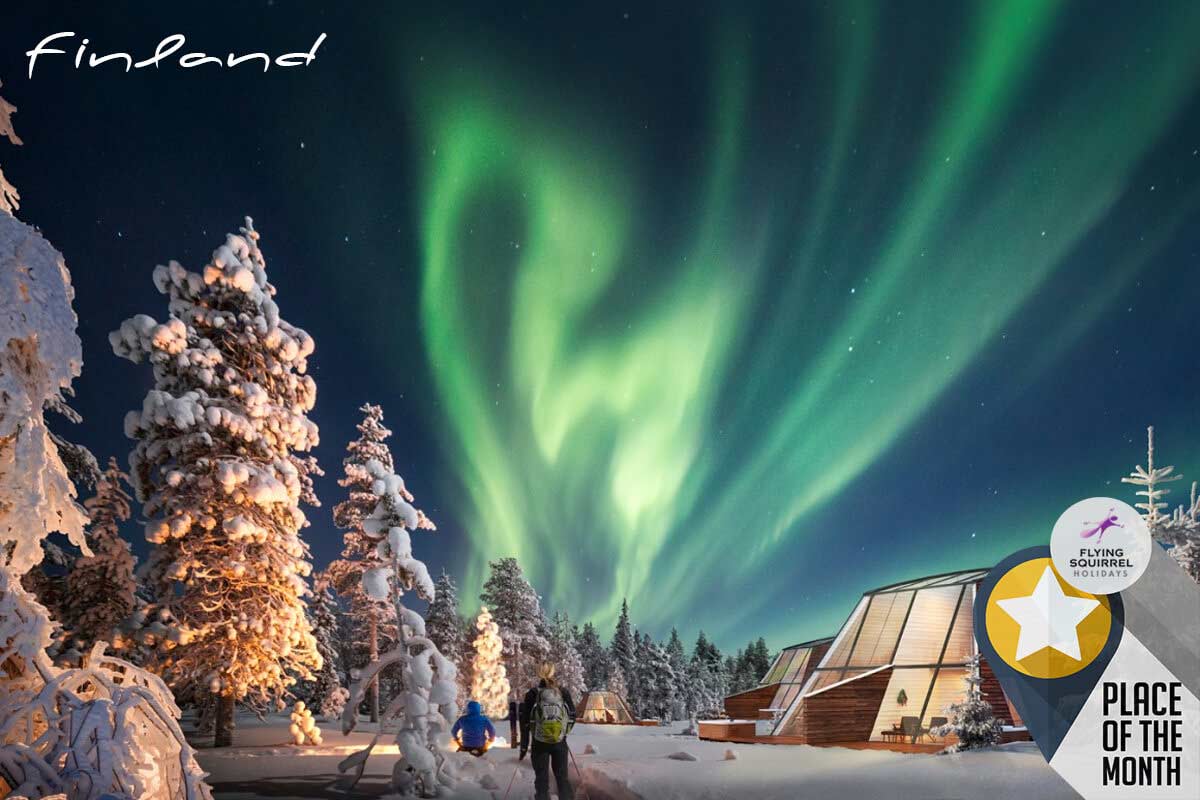 All you need to know about Northern lights tour from India
Posted on By Blog Admin
A Picturesque natural phenomenon
Chasing the northern lights or experiencing the aurora borealis in the polar latitudes on a dark freezing night is a once-in-a-lifetime magical experience. It's as if the heavens open up and celestial lights flash across the skies leaving you mesmerized. The colours most often associated with the aurora borealis are pink, green, yellow, blue, violet, and occasionally orange and white. Long winter nights are good to experience the auroras, but not necessarily the best time for a northern lights tour. In March and September near the equinoxes, the Earth's magnetic field lets solar particles interact with the atmosphere, creating the aurora seasons!
Which month is best to see the Northern Lights?
The winter season is the best time to witness the Northern Lights and November to February are the best months in most countries.
Best Places to see Northern Lights
The best places where you can witness the Northern Lights are:
Alaska- Coldfoot, Fairbanks and Barrow.
Sweden- Kiruna, Sky Station in Abisko and Jukkasjarvi.
Finland- Rovaniemi, Luosto and Nellim.
Iceland- Reykjavik, Thingvellir, Threngsli, Seljavallalaug Pool and Hvammsfjordur.
Norway- Lofoten Islands, Alta and Andoya.
Greenland- Kangerlussuaq, Nuuk, East Greenland, Disko Bay.
Russia- Kola Peninsula, Arkhangelsk, Naryan-Mar, Novaya Zemlya, Taimyr Peninsula and Yamal.
Read More: The Ultimate Guide: Discover the Best Nordic Country to Visit for Unforgettable Adventures!
What is the best location to see the northern lights?
Fairbanks, Alaska is the best location for witnessing the Northern Lights as it has the perfect location and weather. Other amazing countries where you can see Northern Lights are Finland, Russia, Norway, Greenland, and Iceland.
How much is the cost of the Northern Lights Tour Package from India?
The price of the tour packages of the Northern Lights starts from INR 1, 90,000 per person.
Where can I see the northern lights?
Here are some of the top destinations for a Northern Lights tour
1. Fairbanks, Alaska

Experience arctic wilderness in the wonderful Denali National Park in Fairbanks where you can watch the beauty of the northern lights.
When to go to Alaska?
Late August to mid-April the best time for travelers.
2. Tromso, Norway

The best place to chase the northern lights is the village of Ersfjordbotn, 12 miles from Tromso, the Lofoten Islands and the far northern towns of Alta, Nordkapp, and Kirkenes.
When to go to Norway?
Mid-September to late March is the best time to travel to Norway for Indians.
3. Lapland, Finland

How about living in a glass igloo and making the most of the travel experience of the Northern lights in Santa's Hotel Aurora in Luosto. This quaint resort town is about 70 miles north of the popular town of Rovaniemi. It is nestled within the pleasing landscape of Pyhä-Luosto National Park.
When to go to Finland?
Between September to March is the best time to travel to Finland.
4. Orkney, Scotland

A few places to see the spectacular light show include the Wideford Hilltop, along the coast in Birsay or on the beach at Dingieshow.
When to go to Scotland?
Anytime between the end of autumn to Easter is a good time to visit Orkney.
5. Yellowknife, Canada

Head up to the Wood Buffalo and Jasper National Park to watch this natural phenomenon.
When to Go to Canada?
Mid-August to late April is the best time for Indian tourists.
6. Reykjavik, Iceland

For optimum viewing, away from light pollution, head to Öskjuhlið. The best spot is by the Grótta lighthouse, on the Seltjarnarnes Peninsula
When to go to Iceland?
September to April is the best time to chase the aurora borealis in Iceland's northern lights tour from India.
Top 5 Northern Lights Cruises for Tourist
Quite a few cruise lines offer Northern Lights sailings with stopovers at Arctic Circle hotspots to chase the Aurora. Here are some of the most recognized Northern Lights cruises handpicked by travel experts:
1. Viking Cruises in search of the Northern Lights
The cruise takes you to several Aurora hotspots in Norway including Stavanger, Bodo, Tromso, and Alta offering some of the chances of seeing the northern lights.
2. Olsen's Northern Norway
This 14-night sailing includes nights at Arctic Norway, Tromso and Alta. There will be plenty of opportunities to spot the Norwegian Fjords as well, as a bonus.
3. P&O Cruises' Norway and the Northern Lights
This 12-night cruise takes you to some of Norway's gorgeous spots including Andalsnes, Tromso, Alta and Stavanger for best views of the northern lights.
4. Hurtigruten's 100% Aurora Guarantee cruises
Hurtigruten offers a 100% Aurora Guarantee – if you don't see the Northern Lights during your trip, you get another voyage for free. The guarantee runs across 12-night sailings.
5. Cunard's Norway and Northern Lights
Sailing from Southampton this cruise will take you to Alesund, Tromso, and Narvik offering breathtaking views of the Northern lights and Norwegian Fjords.
Northern lights Tour Package From India – Itinerary
Here are two special handcrafted itineraries for your northern lights holidays, one from Finland and the other from Norway:
1. Finland Northern Lights Holidays
You begin your holiday in Helsinki with a panoramic sightseeing tour of the city. Explore the historical center with Senate Square, the Presidential Palace, City Hall, the Parliament building, Finlandia Hall, and the Opera House. The 1-hour 45-minute tour is an audio-visual experience, where you get to listen and look around. There are also sound effects to bring the sights to life and tie them in with the history of the city. Some of the highlights include the beautiful Senate Square, the historical Presidential Palace, Uspenski Cathedral, City Hall, the Opera House and Finlandia House. The next highlight of the trip is a train ride to Rovaniemi, where you visit the ski resort at Ounasvaara.
Go for the Snowmobile Safari
Experience a thrilling husky ride and learn about the life of the husky farm.
In the evening, go for an Aurora sighting tour.
While you are here, you can opt for the Santa Claus tour.
Discover the wonder of meeting the ever-delightful Santa and his delightful elves!
Spend a couple of hours in Santa's Post Office
Shop around a bit and enjoy a lovely lunch.
Enjoy local travel to the reindeer farm and enjoy interacting with the small group of lovely reindeers.
Go on a reindeer sleigh ride, take part in a special "Crossing of the Arctic Circle" ceremony.
After an amazing fulfilled day, drive back to where you started from on a special snowmobile before getting back to the city by bus.
Your special prize will be a "Crossing the Arctic Circle Certificate" given to you at the end of the safari. Spend the night at a hotel in Rovaniemi.
In Finland, you can choose to stay at an Igloo hotel where you get to enjoy spectacular views of the Northern Lights from the comfort of your Glass Igloo.
2. Norway Northern Lights Holidays
Begin your holiday in Oslo.
Visit The Vigeland Park and the sculpture museum that houses the works of Gustav Vigeland.
If you are keen on learning more about the history and culture of this country and the Vikings, visit the Fram Polar Ship Museum, Kon-Tiki Museum, Norsk Folkemuseum, and the Viking Ship Museum.
Norway in a Nutshell tour is also a good way to discover the country and one of its attractions is a ride on the famous Flåm Railway and a fjord cruise on Aurlandsfjord and Næroyfjord.
You can go for a snowshoeing tour up in the mountains near Flåm and later cruise on Aurlandsfjord and Næroyfjord.
As part of this holiday explore the Bryggen, an iconic row of colourful wooden houses along Bergen's old Hanseatic Wharf.
Go on a funicular up to the top of Mount Fløyen, to enjoy a view of Bergen and the Seven Mountains.
For lunch or dinner, head down to the Fish Market for some super fresh seafood.
Fly to Tromso. Go for cross-country skiing or dog sledding. At night, if the weather cooperates, sign up for your first Northern Lights tour!
While you are here, visit the Arctic Cathedral, an iconic building in Northern Norway.
The Fjellheisen aerial tramway up above Tromsø should not be missed to get the best view in the city.
Check out the Polar Museum, which offers a fascinating look into Arctic trapping and hunting and the early polar explorers.
For an afternoon adventure, go on a Tromsø Beer Safari, which includes tasting some local beers.
Go for a snowmobile safari up in the Lyngen Alps, an Arctic fishing adventure, a Sami culture and a lovely reindeer experience, that will teach you a lot about Norway's native reindeer herders.
After a week and a half of seeing Norway's winter highlights, it's time to head home.
15-Days Travel Itinerary for Iceland and Norway
Day 1: Arrival at Oslo Welcome dinner at the hotel
Day 2: Oslo
Stop 1: Visit the National Theatre (home to Ibsen's famous plays)
Stop 2: The Parliament
Stop 3: Visit the Royal Palace (the residence of Norwegian monarchy)
Stop 4: Trip to the Frogner Park to witness sculptor Gustav Vigeland's amazing artistry
Stop 5: The City Hall (famous for the Nobel Prize ceremony award each year)
Day 3: Oslo, Heddal, Vemork and Telemark
Stop 1: Visit the medieval aged wooden church at Heddal Stave Church.
Stop 2: A guided trip to the UNESCO heritage site of Vemork (celebrating the heroism of Telemark heroes)
Stop 3: A stroll through the villages of Telemark
Day 4: Telemark, Låtefoss, Hardangerfjord, Bergen
Stop 1: From Telemark towards the lush green Hardangervidda mountain plateau
Stop 2: Twin waterfalls at Låtefoss
Stop 3: Go across Hardangerfjord by ferry for fruit orchards at Steinstø
Stop 4: Towards Bergen after lunch
Day 5: Bergen, Voss and Stalheim
Stop 1: Explore the colourful Bergen
Stop 2: Exploring the beautiful Voss by Lakeside, riding the Flåm train towards Stalheim
Stop 3: Arriving at Stalheim
Day 6: Stalheim, Sognefjord, Nærøyfjord, Fjaerland, Loen
Stop 1: Cruise at rivers Sognefjord and Nærøyfjord
Stop 2: Visit the Norwegian Glacier Museum and watch a panoramic movie
Stop 3: Spend some time at the Lake Jølster and the spectacular Våtedalen Valley at Fjaerland
Stop 4: From Nærøyfjord, Back at Loen
Day7: Loen
Take an adventure ride on the cable car, Loen Skylift above Mt. Hoven
Day 8: Loen, Geirangerfjord, Dalsnibba, Lom, Lillehammer
Stop 1: A cruise over lake Geirangerfjord
Stop 2: Watch Mt. Dalsnibba from the Geiranger Skywalk
Stop 3: Visit the Stave Church at Lom
Stop 4: Arrival at Lillehammer, the host for the 1994 Winter Olympics
Day 9: Lillehammer, Eidsvoll, Oslo
Stop 1: A guided trip about Norway's cultural history at Lillehammer. Trip to Maihaugen, the Open-air museum here
Stop 2: Drive towards picturesque Eidsvoll Return to and celebratory dinner at Oslo
Day 10: Towards Reykjavik, Iceland
Arrival at Reykjavik from Oslo
Day 11: Reykjavik, Thingvellir, Geysir, Gullfoss, Kirkjubæjarklaustur
Stop 1: Visit the Rift valley at Thingvellir
Stop 2: Hot springs at Geysir. Bread tasting (made from the heat of geothermal springs) at a restaurant here along with other local delicacies
Stop 3: Trip to Gullfoss waterfall
Stop 4: Back at Kirkjubæjarklaustur
Day 12: Kirkjubæjarklaustur, Skaftafell, Jökulsárlón lake
Stop 1: Skaftafell National Park
Stop 2: Explore Jökulsárlón lake (Site for a James Bond Movie)
Day 13: Kirkjubæjarklaustur, Skogafoss, Seljalandsfoss, Hellisheiðarvirkjun, Reykjavik
Stop 1: Drive alongside the scenic Skogafoss-Seljalandsfoss waterfall
Stop 2: Geothermal power station at Hellisheiðarvirkjun
Stop 3: Back at Reykjavik
Day 14: Reykjavik
Stop 1: Whale watching
Stop 2: Trip to Blue Lagoon
Stop 3: Special Dinner at Hotel
Day 15: Departure from Reykjavik
Customized tours for other Northern Lights
Northern Lights tour package from india can also be conducted from other destinations as well. We offer customized tours for the following destinations:
1. Russian Northern Lights
You can spend 2 nights in Moscow, 2 nights in Murmansk, and 2 nights in St. Petersburg chasing the northern lights.
2. Icelandic Northern Lights
A holiday in Reykjavik for 4 nights would be great to chase the Northern Lights.
3. Canada
Northern Lights
Head to places such as Yukon for 2 Nights, Alberta for 2 Nights and Yellowknife for 2 Nights for your Northern Lights trip to Canada.
We recommend:
Make sure you carry a decent camera when you go on a Northern Lights tour. Watching the lights through a long-exposure camera setting will give you a greater chance of a better sighting.
The weather conditions can be too cold during your holidays so ensure you are well protected.
If you miss witnessing the Northern Lights on your first day, do not be disheartened as you will get plenty of opportunities during your trip to chase the lights.
Cool facts about Northern Lights:
Did you know that Aurora is the Roman goddess of dawn and Boreas is the Greek term for the north wind? We, therefore, have the name Aurora Borealis.
No two light displays are the same, the color and patterns of the Aurora are always differing.
Northern Light can also be viewed in Canada, Scotland, Russia, and Alaska.
There are also the Southern Lights which offer a similar visual display and can be chased from South Georgia island, New Zealand, and the Falkland Islands.
Studies have shown that other planets also have their own Auroras. Astronomers have seen lights on Saturn, Uranus, Neptune, and Jupiter.
Visa Applications for Norway and Iceland
Visa Application for Norway
You will require a Visitor's Visa which permits you to stay for 90 days in Norway and other Schengen countries.
Visa Fees
The visa fee is 80 Euros for adults. Children under six years do not pay a fee. Children from the age of 6-12 years shall pay a visa fee of EUR 40
Visa application for Iceland
For Iceland trip too, you would require a Schengen Visa.
Visa Fees:
The Visa fees are 60 Euro.
For more details regarding visa application to the Nordic countries, please get in touch with us.
Northern lights trip cost from India
Exclusively customized all-inclusive northern lights holidays start from INR 1.9 lakhs per person on a twin-sharing basis.
Cost for Hotels in Norway for Indians
Thief Spa- Avg. Price: INR 25, 750/ night
Bergen Børs Hotel- Avg. Price: INR 13,800/ night-
Hotell Refsnes Gods – by Classic Norway Hotels- Avg. Price: INR 10, 600/ night
Clarion Hotel Admiral- Avg. Price: INR 10,500/ night
Radisson Blu Plaza Hotel- Avg. Price: INR 9500/ night
Cost for Hotels in Iceland for Indians
Hotel Rangá- Avg. Price: INR 23,500/ night
Hotel Keflavik- Avg. Price: INR 20,180/ night
Ion City Hotel- Avg. Price: INR 15,300/ night
Hilton Reykjavik Nordica- Avg. Price: INR 10,050/ night
Radisson Blu Saga Hotel, Reykjavik- Avg. Price INR 7200/night
This winter, gift your family the once-in-a-lifetime experience of the Northern Lights tour from India.
FAQs
Frequently asked qustions about Norway tour
1. Is Norway Expensive?
Norway is considerably expensive since it is a wealthy country. But this country offers you great services to make your experiences memorable.
2: How many days should I spend in Norway during a trip?
To tour Norway, your trip timeline should depend on your budget and schedule. Take a note of the places you'd like to travel and fix your approximate budget. The rest will fall in place accordingly.
3: Are credit cards widely used in Norway?
Visa and MasterCards are accepted and in use throughout Norway.
4. How many hours of daylight will I find?
In Winter, the Southern part of the country which includes Oslo and Bergen gets about six hours of sunshine. In warmer June, hours of daylight increases to 19 hours. Further down South, hints of some sunlight lingers on, even during midnight in summer.
As you travel more towards the North however, the difference between Winter darkness and Summer sunlight becomes even more stark. Tromsø and Alta are two cities in the Northern end of Norway where you will see almost no sunlight from end to November to the middle of January while from May-end to mid-July you will find 24 hours of sunlight.
In Spring and Autumn, you will find that daylight and darkness will be spread more evenly, pretty much like most other countries of the world.
5: How is the food like in Norway?
Since Norway has been a fishing economy for years, you will be able to find an abundance of seafood there. You will find an abundance of cod, salmon and crabs to delight your tastebuds in Norway.
Apart from that, you will love the simple Norwegian fare of waffles and sandwiches at any place in the country.
Frequently asked qustions about Iceland tour
1. How cold does it get?
Temperature is bearable throughout the year with only a moderate rise or fall. Snowfall in Winter is intermittent only in parts of Reykjavík and the far North.
2. Do Icelanders speak English?
Most Icelanders currently speak fluent English, so it will not be difficult for you to communicate with them.
3. What kind of currency is used in Iceland?
The currency used is the Icelandic króna. You can exchange your currency at banks, airport and currency exchanges. There are plenty of ATMs throughout the country and Visa and MasterCards are accepted everywhere.
4. When is it daylight in Iceland?
If it is summer, you would hardly see sunsets in Iceland, and there is daylight almost throughout. Spring and Autumn mean that there are more hours of daylight while in winters there are only 5-6 hours of daylight.
Embassy
Embassy Details of India in Iceland
Address: Tungata – 7, Reykjavik, Iceland.
Tel : 00354 – 5349955,
Fax: 00354 – 5349959
Embassy Details of India in Norway
Address: Niels Juels Gate 30, PO Box 4055 AMB, 0244, Oslo, Norway
Chancery Phone No. (+47) – 2411 5910 (General)
Fax No. (+47) – 2411 5912 (General)
Consular Section Phone No. (+47) – 2411 5916 / 2411 5914
Fax No. (+47) – 2411 5929 (Consular Section)
Get in touch with us
So, if you are all set to make plans for your next trip in Scandanavian countries, get in touch with one of the best International travel companies specializing in customized holidays at connect@flyingsquirrelholidays.com and share your travel plans.