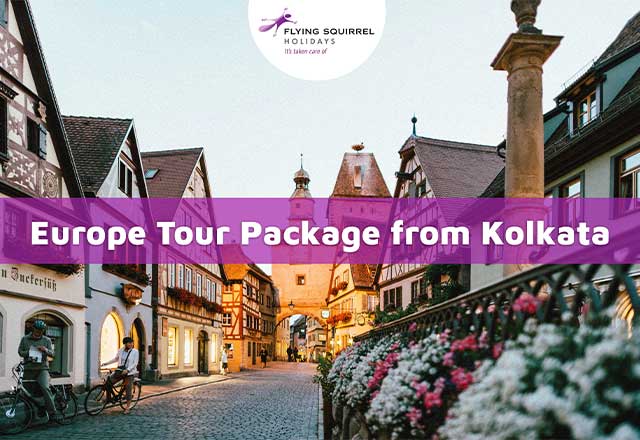 Europe Tour Package From Kolkata
Posted on By Blog Admin
Discover An Ever Enchanting Europe Tour Package from Kolkata
Are you thinking of planning a holiday in Europe? Discover the best Europe tour packages from Kolkata, including lively cities, heritage sites, shopping markets, lovely countryside, and inviting culture. Planning the perfect few days in far-off European countries may seem tricky, but the holiday specialists at Flying Squirrel Holidays have the right plan for you. 
Experience the magic of the perfect Europe tour 
If you want to experience a magical voyage through the most historical destinations around Europe, you have come to the right people. Book 7, 15 or 21 days Europe tour package from Kolkata for a reviving vacation. This Europe tour package from Kolkata takes you across some of the most celebrated European countries, including the United Kingdom, Italy, the Netherlands, Germany, Austria, France.
Exploring these amazing destinations with your loved ones will be an experience to cherish and Flying Squirrel Holidays will make sure you have a seamless holiday planned.
 On a 7-day Europe tour package from Kolkata, you will get an opportunity to visit the most iconic places in all of Europe. On a 15-day Europe tour package from Kolkata, you will get more time to explore the magnificent cities, delve deeper into the rich culture and heritage, and take in the true essence of each place you visit. On a more extended 21-day Europe tour package from Kolkata, you will get to visit the most beautiful countries and cities of Europe at your own pace and have a well-rounded experience of the wide variety of destinations and cultures. 
Whatever the duration of the Europe tour, Flying Squirrel Holidays will curate the best holiday for you. We will plan and design your itineraries to match your Europe tour budget as well as your interests.

Revel in the Romance of the fantastic destinations with Europe Honeymoon Packages from Kolkata
Europe's cities are full of romance and old-world charm, making it a perfect destination for honeymooners. There are endless possibilities for you in our Europe honeymoon package from Kolkata with your loved one by your side. 
Florence in Italy is a place of wonder and magic place for young couples with its quaint small-town charm and winding cobblestone streets. It is famous for Renaissance art and architecture and has many famous historical places, such as the Duomo.
 The Amalfi Coast in Italy offers remarkable landscapes with quaint cliff-side towns and sweeping ocean views. 
In Greece, Santorini is another magnificent destination for honeymooners to enjoy the legendary sunsets, go hiking along the caldera or swim in the Aegean Sea. 
Couples looking for some party and a fantastic nightlife scene on their honeymoon will find Mykonos ideal. It also offers the other charms of the Greek isles like pristine beaches, the picture post-card whitewashed architecture, several ancient ruins and the delicious Greek cuisine.
 In France, the unmatched beauty of Paris is perfect for honeymooners. Couples can delight in the charming pleasures of the city, sipping lattes on a cosy café found at every corner of the streets, strolling along the pathways along the Seine, picnicking near the Eiffel Tower and having a perfect sunset at the Tuileries or Luxembourg garden.

Reinvent Quality Time with your loved ones with Europe Family Tour Packages from Kolkata
Europe is the perfect destination if you are looking for a fantastic vacation with your entire family. It is filled with heritage museums, stately places, beautiful gardens, and old squares. In our specially curated Europe family package from Kolkata, there are many attractions and activities for you to do as a family. 
We take you to Portugal on this holiday, where Algarve is blessed with mild and sunny weather. You will find golden beaches to laze on here and sparkling waters to swim in. It is also one of the best dolphin-watching destinations in Europe. Go on a safari tour or visit the hidden beaches of Benagil caves, highlights of the trip that you don't want to miss. 
In Greece, there are several places to visit with your family. Athens promises great history and cool evenings at the Plaka. You can plan a full-day cruise to Hydra or a fun full-day trip to Meteora with several cultural activities you can indulge in with the whole family. If you want to visit an island in the Ionian Sea, head to Corfu. This Greek island enjoys glistening sunshine all year round and a very pleasant climate. 
You can visit Catalan architect Antoni Gaudí's iconic creation in Barcelona, the Sagrada Familia or the Port Aventura theme park with kids. There are many places to see in Barcelona, it is an exceptional destination for families to visit in Spain. 
Brittany is one of the most beautiful regions in France. You can enjoy the pleasant climate, walk along the beautiful beaches, relax with your loved ones, and enjoy some good food and French wine. You can visit Quimper, taste the authentic macaroons of France and enjoy shopping in Brest. 
What's enchanting about our Europe Tour Package from Kolkata?
An extended vacation in magical Europe takes you across the celebrated countries – England, Netherlands, Switzerland, Austria, France, Germany, Italy and other exciting destinations. Exploring these unique places with your loved ones is an experience to cherish. So, if you are planning a honeymoon trip, a pre-wedding adventure with your friends, or a beautiful few days with your family, check out our Europe tour packages from Kolkata, and you are in for a treat!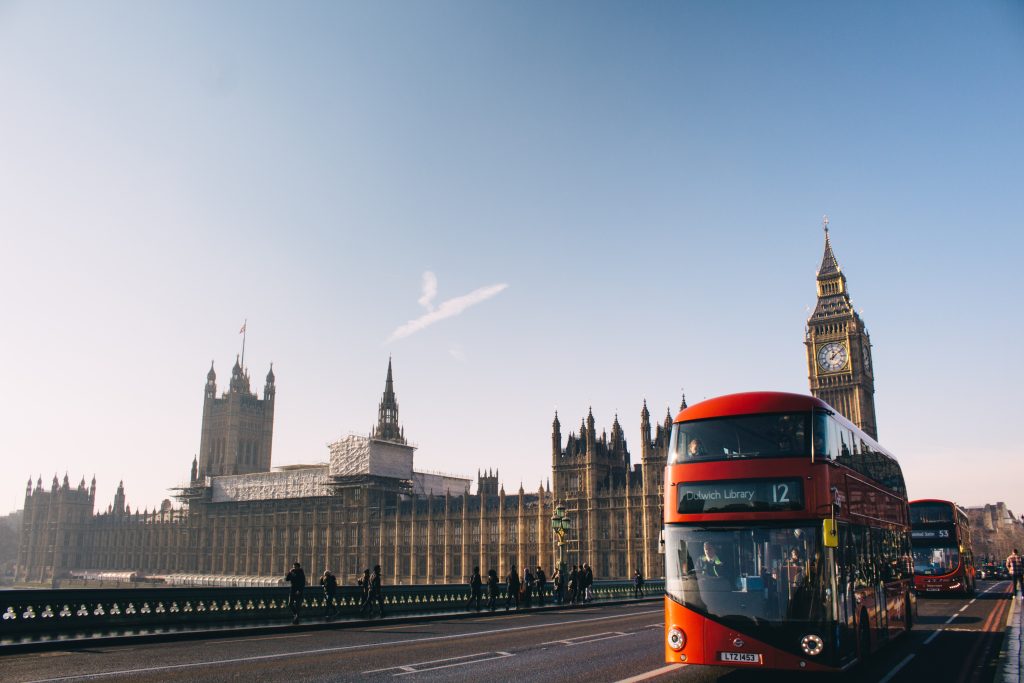 Uncover the Splendour of England, Scotland, and Wales with our UK Tour Package from Kolkata
With amazing destinations like England, Scotland, Wales, and Northern Ireland as its constituent nations, the United Kingdom is a centre of global culture, with a vast spectrum of tourist attractions, natural vistas, and historical wonders. Our specially curated UK tour packages from Kolkata let travellers visit from the enigmatic city of London to the Giant's Causeway in Northern Ireland and fall in love with its amazing sculpted landscapes.
Other highlights of UK tour packages from Kolkata include the Edinburgh Castle in Scotland and its beautiful islands and the mesmerising charms of Wales- 'the land of castles,' with more than 600 fortresses.
The largest country of the UK is England, which presents a vast coastline and a long list of cultural attractions to explore. In its capital city, London, the Tower of London, St. Paul's Cathedral and Buckingham Palace are some of the must-visit places. Manchester is another major city in England that offers an endless variety of exciting shopping and dining options.
The best way to explore the unique cultural destination of the city of Birmingham is while cruising through the network of canals. Cardiff, the capital city of Wales, offers excellent insights into the Welsh culture and attracts many tourists each year. 
Offering the endless prospect of enticing explorations in various destinations and unique adventures, a trip to the United Kingdom can be an opportunity to discover the most delicate features of Europe. 

Taste the Essence of Europe with our Italy Tour Package from Kolkata
Italy, a picturesque country along the Mediterranean coastline, is famous for its food, fashion, history and culture. It is a trendy destination among tourists from all around the world. The Italy tour packages from Kolkata presents an opportunity to find what makes this place so desirable. 
Rome is one of the most prominent cities of Europe, renowned throughout the world for its arts, architecture, and culture. Here you can explore the Colleseum, Pantheon, and Trevi Fountain and feel the pulse of the mighty Roman empire that ruled the European Continent for several ages.
From Rome, you can take a trip down to the historical Pompeii to see how this ancient city was laid to ruin after the eruption of Mt Vesuvius, burying streets and homes in a stream of molten lava, ash and rock. Covered with chariot tracks, the charming cobbled streets of Pompeii lead to bathhouses, frescoed villas, marketplaces and ancient amphitheatres where gladiator battles took place. 
Another great highlight of your Italian tour in Cinque Terre on the Ligurian coastline. Here, candy-bright coloured houses cling on to cliffs that plunge into a sea of turquoise blue, and it's one of the most photogenic places in the whole of Italy. 
Venice in the north of Italy is ancient and dotted with canals and old historical homes. The crumbling pastel-coloured palazzi, Renaissance art, masked carnival parades and singing gondoliers here give you the essence of romantic Italy in a nutshell.
Flying Squirrel Holidays Italy tour packages from Kolkata are planned to give you an all-around experience of the beautiful Tuscan country and let you gather the most precious moments in life.

Explore the most Desirable destinations of Europe with our Amsterdam Tour Package from Kolkata
 The capital of the beautiful Netherlands, Amsterdam is one of the most popular tourist destinations in Europe.
With a wide range of attractions, our tailor-made Amsterdam tour package from Kolkata will ensure that you get the best taste of this magical town. Dotted with the most eminent universities and academies in the world and several museums and theatres, Amsterdam is a great place to explore the cultural heritage of Europe.
There are around 6,700 buildings that date back to the 16th and 18th centuries, making Amsterdam a place that is a feast for history lovers. The unique attractions of Amsterdam include beautiful canals, numerous houseboats and many picturesque bridges that link the surrounding islands to this magnificent city. 
Some highlights of this city's attractions include the Royal Palace of Amsterdam belonging to the prestigious Royal Family of the kingdom of the Netherlands. 
The Amsterdam Bos is an artificial forest located in the North-Western part of the city. It is a great place to enjoy blissful evenings in the beautiful city. 
Don't miss the Van Gogh Museum in Amsterdam that exhibits the work of the famous painter's lifelong work and art pieces. 
Oude Kerk is the oldest surviving building in the city, located in the dam Square and holds an important place in Dutch history. 
Cycling through the numerous bike paths is ideal to get the true sense of this magical city's character. Holidays in Amsterdam also guarantees thrilling nightlife and plenty of partying. Whether you are looking for a big night out in the famous Red Light District or a fun evening in a laid-back bar, Amsterdam has it all.
Our specially curated Amsterdam tour package from Kolkata give you the perfect experience of this fantastic city. Amsterdam is the quintessential destination for a break in a bustling city offering elegant architecture, culturally rich museums, and many historical monuments.

Marvel at glorious Europe with our Germany Tour Package from Kolkata
Germany is so much more than beer, sausages, food, football and more. The vibrant art, fantastic music scene, spectacular landscapes, picturesque forests, great cathedrals, and castles that look like paintings are unlike anything found in any other place in the world. Our specially curated Germany tour package from Kolkata will let you explore many attractions, lovely cities, and landscapes in stunning Germany.
It is a complete country package with everything a tourist might be looking for. Whether you want to explore the beautiful German countryside, the pale cliffs of the Jasmund National Park, the peaks of the Bavarian Alps or the fairytale castles of the Rhine, with our Germany tour package from Kolkata, be rest assured to experience the best highlights of the country.
Europe Tour Cost from Kolkata
Your Europe tour expenses from Kolkata will depend on a number of factors like the duration of your stay, the class of accommodation and travel, a number of people travelling, and the destinations you would like to visit. A Europe tour for 10 days would cost somewhere around INR 300,000, a 14 days trip costs up to INR 350,000, and a 21 days trip would cost up to around INR 450,000 on a twin or triple basis.
These holiday packages will be including 4-star accommodation, meals, sightseeing, city tours, a private Europe tour guide, entry fee charges, and transfers. 
Top Europe tour operators in Kolkata: Flying Squirrel Holidays
In our Tailor-made Europe tour package from Kolkata 2022, you will journey across the most beautiful countries of France, Italy, Germany, Greece, Switzerland, and many more. 
Based out of Kolkata, we are a team of holiday specialists who understand the passion for seeing new places among the people of the 'city of joy'. We share the same love for travel and create a joyful travel experience with the "Kolkata enthusiasm" found nowhere else in the world.
Our passion is the reason why the people of Kolkata have so loved us over the years. Flying Squirrel Holidays, among the leading European tour operators in Kolkata, will take care of all the details of your travels so that you can enjoy the experience of a beautiful holiday.
Whatever your need, we will deliver. From your Europe tour visa to the overall Europe tour budget, with all your preferences in mind we will design your Europe holidays according to your interests. 
You can choose from our tailor-made Europe tour packages from Kolkata and go for either a seven days Europe tour package, 15 days Europe tour package or an even longer holiday in magnificent Europe.
Plan a trip to the enchanting lands of Europe with us to get the best the continent has to offer. Spend some precious moments on the iconic Eiffel Tower, enjoying the charms and delights of Paris or go skiing on the sublime Alps in Switzerland, walk along the cobblestone streets in Rome, indulge in shopping at some of the world's most famous markets or savour the scrumptious local fare in each country. 
Now, all you have to do is choose which of these enchanting destinations in Europe you want to explore and start planning your holiday with us.
Every other detail of your journey will be taken care of by Flying Squirrel Holidays. 
We have an expert team with years of experience in getting the best deals for your plans and ensuring hassle-free, seamless travels.
Connect with us at +91 3340525777 or write to us at connect@flyingsquirrelholidays.com