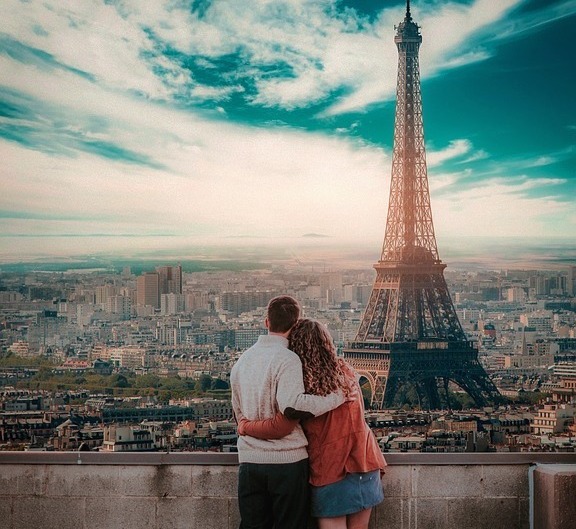 Paris Honeymoon Packages from India for Love Birds
Posted on By Blog Admin
What's special about a Paris Honeymoon?
Paris undoubtedly scores above most global destinations, when it comes to featuring on a honeymooner's bucket list. And this is not surprising considering the fact that Paris houses the most majestic and classic architectures and natural landscapes perfect for a wonderful tailor-made Paris honeymoon package. From walking hand in hand in the Louvre Museum to cruising down the Seine River or just sipping some latte in a street-side café, you can be smitten by the romantic Paris.
How much does it cost for a honeymoon in Paris?
The Cost of honeymoon in Paris depends upon the kind of unique experiences you want from your holiday. It also depends upon the type of hotels you choose, the restaurants you dine in, and the length of your stay. While customizing your package, you will get to know the complete cost of your honeymoon in Paris.
Things to do on your honeymoon in Paris
Paris city tour is a dream destination for couples. From awe-striking romantic attractions to splendid fashion culture, the city will definitely take the two of you by surprise.
Places to visit with your lover for a Honeymoon:
Visit The Louvre
Temple Of Love
Notre Dame Cathedral
Luxembourg Garden
Wall of 'I Love Yous'
Ile Saint Louis
Eiffel Tower
River Seine
Moulin Rouge
Wine Tours
Which season is Paris the most affordable?
Paris is the most affordable during winters between December to February as these are considered to be the off season with limited tourists around and there is a significant drop in the prices as well.
What is the most romantic thing to do in Paris?
Paris is known as the 'city of love'. The most romantic thing to do in your Europe tour is to visit the Eiffel tower as it is the best spot to confess your feelings to your loved one. Make sure you are here in the evenings so that the beautifully-lit tower and the stars above can make the atmosphere a perfect one to profess your love.
Is Paris expensive to dine out in restaurants? Paris is quite expensive for dining. If you are having a 3-course meal it will cost you as much as INR 3,000. The main dish in a decent restaurant comes to around INR 1,300-1,500.
Best Time to Plan a Paris Honeymoon
While you can plan a Paris honeymoon any time of the year, the best time is between June and August. With long hours of sunshine each day, you can plan your itinerary safely to explore all the idyllic locations, though you might find some of the popular spots really busy with a good amount of waiting time.
How to Reach Paris from India?
You can reach Paris from the Indian cities of Chennai, Mumbai, Delhi, Hyderabad, Bangalore, and Kolkata.
The common airways operating flights to Paris from India are Air France, Air India, Emirates Airlines, Etihad Airways, Qatar Airways, Turkish Airlines, etc.
Top places to include in Paris honeymoon packages from India
Paris oozes romance in all her corners. From enjoying a bird's eye views from tower tops to strolling across Seine river bridge and escaping for a day at Versailles, there are lots to do while you celebrate your Paris honeymoon.
We are shortlisting the best romantic places to visit in your Paris Honeymoon tour package:
Eiffel Tower-Take the stairs to reach the top of this tower of love. You need to climb 360 steps to reach the first level and reach 340 more for the second level. Elevators are also available to reach up. Also, you can laze out on the grassy space near the foot of the tower. Entrance ticket for lift (valid to 2nd floor) – €11
Entrance ticket to the top – €17
Tower Timings
June to September, 9 AM to 12.45 AM
Rest of the year- 9.30 to 11.45 PM Stairs close down by 6 PM in winters.

Temple of Love, Versailles– Temple of Love is a beautiful island in the middle of a lake. Take a boat ride to reach this picturesque garden and renew your vows of love.
There is no entry fee here.

Luxembourg Gardens– A garden filled with abundant greenery, the Luxembourg Gardens has fountains, blooming flowers and statuettes adding to the serenity of the place.

Cruising on Seine river– Don't miss cruising on the river, lit up with the reflection of numerous lights. You can also opt for a 3-course meal during the cruise and applaud the French delicacies. Also take a walk along the bridges across the Seine, hand in hand, staring at the sunset.

Parc Des Buttes Chaumont– This 19th-century park with tall trees, waterfalls and bridge where you can spend some quiet moment, away from the bustling crowd. There's no entry fee involved.

Arc de Triomphe– An enormous monument at the western end of Champs Elysees, Arc de Triomphe is a tribute to Napoleon's victories. You can reach the top by climbing through long, narrow, winding staircases and the view from the top is worth all the effort. The fee to climb to the top is about £12 for each.

Champs Elysees– This is a beautiful tree-lined avenue, perfect for a romantic stroll with your loved one, leading towards the Arc de Triomphe. Nearby lie many restaurants and cafes, theatres and shops where you can spend some quality time together.

Moulin Rouge-If you are in the mood for foot-tapping music and finger-licking food, then it will be destination Moulin Rouge for you.

A world-famous 19th-century cabaret hall with sumptuous food and exquisite decor, Moulin Rouge is famous among tourists from around the world.
Tickets start from about €105 on weekends.



Versailles Palace– About 20 km southwest of Paris lies the 18th century built Palace of Versailles. Gilded chambers with elegant chandeliers and walls embedded with mirrors add to the majesty of this royal residence. Audio guides around the palace act as a great source of information about this monument.

Louvre Museum– If there is one place in Paris that preserves the greatest artistry from around the world, it is none other than the Louvre museum. From Roman-era sculptures to Da Vinci's Mona Lisa, this huge museum is a tourist's favourite.

Montmartre- A village famed for its bohemian culture, Montmartre it is the venue for quite a few festivals, each year. Don't miss out on visiting the vineyards in rue St. Vincent and if you are present there in October, you would witness the grand Autumn wine harvest festival!

Their quaint artisan cafes have a variety of cake, pastries and pies, adhering to the French goodness.
Before you leave, do visit the highest point of Paris, Basilica of the Sacré-Coeur. Ride a tram or go hiking up the peak from where you both can capture the bird's eye view of the nearby areas and even the Eiffel Tower!
Bordeaux (Day Trip)
Take a day trip to the beautiful city of Bordeaux from the cacophony of the cityscape. These are the places you can visit for a day trip at Bordeaux:
Place de la Bourse- Iconic 18th century City square with a fountain and lakes

Bordeaux Cathedral- 11th-century catholic church

Place den Quinconces- The largest city square in 1820

Grand Theatre de Bordeaux- Ancient opera hall

Pey Berland Tower- A climb atop this gothic bell tower offers a scintillating view

Basilica of St. Michael- Landmark gothic church built around 14th century
Cite du Vin- The Cité du Vin is a museum which also hosts exhibitions, shows, movie projections and academic seminars on the theme of winery development in Bordeaux

Pont de Pierre- A bridge connecting the right and left banks of the Garrone river
Musee d' Aquitaine- A museum that preserves the art, architecture and sculptures of Ancient Bordeaux to the present day
Calihau Gate- The ancient city gate of Bordeaux
Paris by Night Tour
The 5 popular night trips to Paris are:
Seine river cruise and visiting Eiffel Tower at night.
Night tour of Paris in Big Bus.
Dinner at Eiffel Tower, Seine river cruise and watching a show at Moulin Rouge by Minivan.
Dinner at Eiffel Tower, Seine river cruise, gourmet meal in a heated bubble dome, hotel pickup and drop by Minivan.
Paris by evening with champagne which includes Seine river cruise, light show at Eiffel Tower with live narration in French and English.
Lido de' Paris is a popular dinner theatre where you can head for cabaret dance performances and sumptuous food.
Luxury Shopping
Galeries Lafayette– You can shop from all famous French brands here.
Marche aux Puces de Saint Ouen– A famous flea market here, you can shop for antiques, famous paintings and jewellery.
Hotels in Paris
Shangri-La Hotel, Paris- Avg. Price: INR 80, 800/night
Hôtel Le Walt, Paris- Avg. Price: INR 19, 602/night
Hotel Maison Fl- Avg. Price: INR 17, 750/night
Hotel Splendide Royal Paris- Avg. Price: INR 57, 176/night
Le Parisis- Paris Tour Eiffel- Avg. Price: INR 10, 000/ night
Hotel Le Relais, St. Charles- Avg. Price: INR 8000/ night
Sample 7 Day Relaxed Paris Itinerary
Day 1: Arrival at Paris
Stop 1: Taking a local tour post-check-in
Day 2: Tour of Latin Quarter and Marais
Stop 1: Walk across the bank of Seine river

Stop 2: Trip to the Notre Dam Cathedral

Stop 3: Hôtel de Ville (city hall), Fountain of the Innocents and Palais Royal

Trip to the Louvre Museum

Back to the hotel
Day 3: Tour of Champs Elysees and Eiffel Tower districts
Stop 1: Visit the Tuileries Garden, one of the oldest garden in the city

Stop 2: Visiting the Grand Palais and the Petit Palais (glass-domed structures, built-in 1900)

Stop 3: Travel towards the Alexandre III bridge

Stop 4: Stop at Place de Trocadero (this offers a great view of the Eiffel Tower)

Stop 5: Eiffel Tower visit
Day 4: Tour of Versailles & Bordeaux
Stop 1: Guided Tour for Palace of Versailles, Le Notre Gardens and visit
Mary Antoinette's estate, Petit Trianon

Later, fly to Bordeaux

Overnight at Bordeaux
Day 5: Bordeaux and Wine Museum Tour
Stop 1: Take a guided tour of Bordeaux and the Wine Museum

Stop 2: Visit the main market of Bordeaux, Marché des Capucins

Stop 3: Enjoy your lunch at L'Estacade

Stop 4: Shop at St. Catherine, the longest street in France

Stop 5: Visit The Museum of Wine and Trade
Day 6: Flight back to Paris, Tour Montparnasse and Night Paris Tour

Flight to Paris

Stop 1: Tour Montparnasse for a majestic sunset and view the city of lights

Stop 2: Night Tour of Paris
Day 7: Departure
Departure from Charles De Gaulle Airport
Must-Try Cuisines in Paris
French Croissant– A flaky and buttery pastry, croissant gets its name from the shape 'crescent'. Praline, almond paste, chocolate is stuffed inside the dough before baking, which gives each variant a distinct taste and flavour.
Macarons- A delicious meringue-based confectionery made out of egg whites, sugar and almond meal, colourful macarons make for exciting desserts.
Couscous- made from semolina grains, this is a simple dish mixed with spices, vegetables and meat as per taste.
Considered a comfort food in Paris, it was nominated as Parisians favourite dish back in 2006.
French Baklava– Though Baklava originates from the Middle East, in France, this is consumed as a French toast with a traditional Baklava filling and then dipped in honey syrup.
Souffle- Having it's the root in ancient 18th century France, souffle is a traditional egg-based baked dish.
Quiche- Quiche is a kind of tart made of pastry crust, filled with cheese, meat, vegetables or seafood.
Creme Brulee– Creme Brulee or Crema Catalana is a caramel dessert consisting of a rich custard base.
Meringue- made from whipped egg whites and sugar, and lemon, meringues are crisp, sweet and light cookies.
Sole Meunière- This is a French favourite. Crispy, lemony and buttery, this is a fish recipe having a unique taste.
Pot-au-feu- The ultimate French winter delight, this is a delightful beef and vegetable stew.
Baguette- Don't miss grabbing these unique rectangular loaves while you eat out. Add some butter or cheese to the bread for additional taste.
Hachis Parmentier– Often described as a French version of shepherd's pie, this is an interesting two-layered dish of ground beef and mashed potatoes.
Gabor– A delicious southwestern stew made of ham, cabbage and other vegetables, garbure is pure French comfort food.
Travel Tips to Paris
Learning a little French can you travel with ease.
Beware of pickpockets in crowded areas. If possible, carry your valuables in a theft-proof purse.
Please note that many of the museums in Paris are either closed on Mondays and Tuesdays. Adjust your trip itinerary accordingly.
Museums closed on Mondays:
Musee d'Orsay
Musee Rodin Versailles
Museums closed on Tuesdays:
Louvre Pompidou Centre
You can purchase the 4-day museum pass and the 3 days Paris Visite pass to help you avoid queues and rush while travelling.
Once you purchase your Paris Visite Pass from the ticket booth at the metro stations, it will metro, bus, RER and Montmartre cable cars.
Adjust your schedule just in order to avoid hectic trips. For example, you might consider covering two main sites of Day 1 on that day and keep time for another on the next day. (Among Eiffel Tower, Arc de Triomphe and the Louvre, you might schedule Louvre trip for the next day)
Indian Embassy in Paris
Embassy of India
13-15 rue Alfred Dehodencq
75016 – Paris, France
Tel: 00 33 1 40 50 70 70
Checklist for Trip to Paris
A wallet – This is for safekeeping your passport and driver's license. If you need a visa, ensure you have it with you in advance
Money– Two credit cards; the other to be used as a backup in case one doesn't work there. Carry some cash too, which you can withdraw from the nearby ATMs
Travel Insurance– Carry a copy of this with you.
Essential Medicines– Carry enough of your essential medicines that would last you through the trip.
Chargers– For your cellphone, laptops.
Are you ready for a romantic escapade?
There could not be a more romantic place to spend a lovey-dovey holiday with your significant other. Pack your bags for that trip of a lifetime to Paris.
For your customized Paris honeymoon package, all that you need to do is to shoot us a mail at connect@flyingsquirrelholidays.com or call us at +91 3340525777.