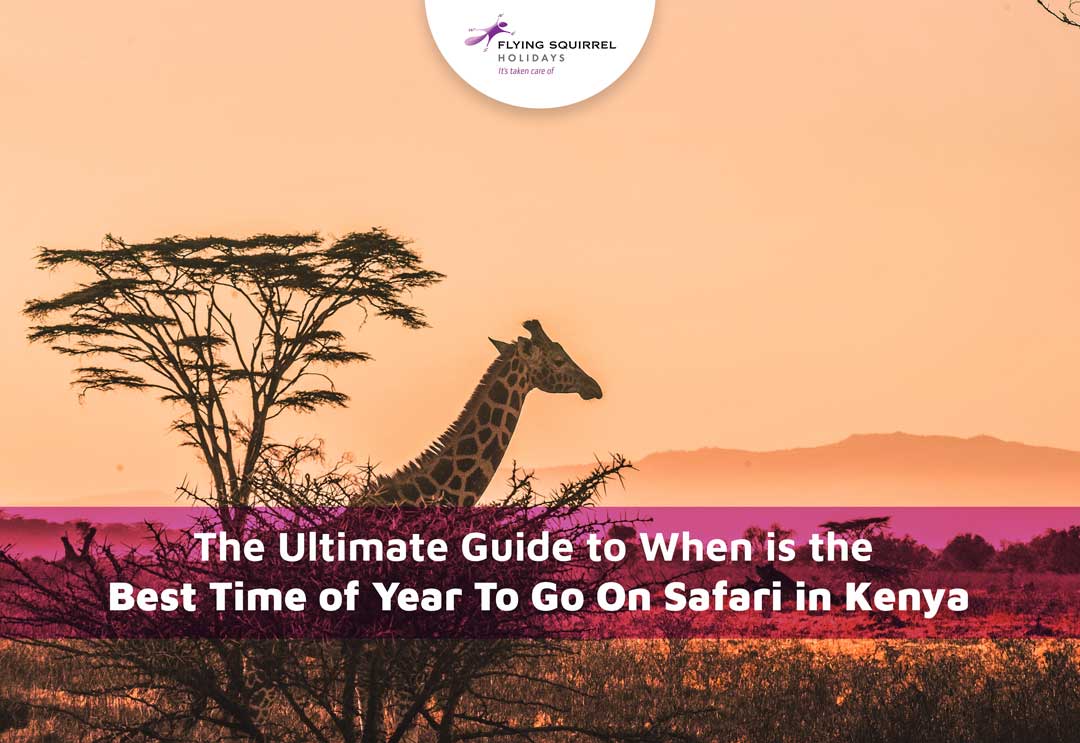 The Ultimate Guide to When is the Best Time of Year To Go On Safari in Kenya
Posted on By Blog Admin
Overview of Kenya's Climate & Natural World
Kenya is a country of great beauty, with an abundance of wildlife and adventure. However, there are some key factors to note when it comes to deciding what is the best time of year to go on safari in Kenya. It has a tropical climate that is characterized by two distinct rainy seasons, the short rains in October-November and the long rains from March to May. The temperatures range from 25°C to 35°C throughout the year. 
Kenya is home to some of Africa's most iconic wildlife, including lions, elephants, rhinos, cheetahs and giraffes. Its national parks and reserves offer incredible game drives and safaris for visitors to explore the amazing natural world. Whether you're looking for a relaxing holiday or an adventure-packed safari experience, Kenya is the perfect destination for you! One of the best time to visit Kenya is during the long rainy season when wildlife is more active and vibrant.

Best Time of year to go on Safari in Kenya – Dry vs Wet Season
Deciding the best time of year to go on safari in Kenya is not a straightforward task. While you might prefer the dry season, exploring Kenya's rich wildlife during the wet season has its own unique advantages.
The rains in Kenya lead to a rich vegetation that consequently favours animals to graze freely. This makes for a great experience as tourists are able to catch glimpses of rare species of birds that visit only during this time of year. By October the rains subside and there's a great opportunity to revel in nature's beauty.
For travellers looking for game viewing opportunities without getting their feet muddy, planning a safari in the dry season is ideal as most areas remain accessible and sightings are easier due to scant foliage cover. On the flip side, ithe days can be hot and humid so make sure you carry adequate supplies of sunscreen and drinking water when planning
Read More: The Best Places To Visit In Africa In September
The Animal Migration Cycle and What You Should Know Before You Book a Safari Trip

If you want to witness the great migration, then a safari trip might just be your answer! The annual migration of animals from the Serengeti in Tanzania to the Masai Mara in Kenya is an unforgettable experience. With millions of animals travelling in large herds, you'll get a chance to see some of Africa's greatest wildlife all at once. This is definitely one of the best best time of year to go on safari in Kenya.
This phenomenon involves millions of wildebeest, gazelles, zebras and other animals crossing more than 500 miles in search of food and water. Understanding this animal migration cycle can help you get closer to some of Africa's most beautiful wildlife during your safari. 
Learning about the animal migration cycle will give you an extra edge when planning for this trip and allow you to make the most of it. 
The Masai Mara National Reserve offers an abundance of food and natural resources for animals. July through November is traditionally considered the best time to view the Great Migration. Between July and August, the wildebeest move en masse into Kenya's Maasai Mara, crossing the Mara River in staggering numbers.
In a dry year, the first wildebeest can reach the Mara River (the only decent, permanent source of water in the ecosystem) as soon as early July; in a wet year, it may be as late as mid-August. If you are interested in catching this phenomenon then this is the best time of year to go on safari in Kenya for you. 
What Are The Different Types of Safaris in Kenya?
Kenya is known for its breathtaking wildlife and mesmerizing safaris. Whether you're looking for a private tour or something with more of a group, there are plenty of different types of safaris in Kenya to suit any travel needs. Depending on when you're travelling to Kenya, the type of safari you choose may change. During the high season from November through December, most camps close due to the peak season and wet season making it difficult to access certain areas. However, during the dry months from June through October, Lake Nakuru and Masai Mara are excellent choices for a great Kenyan safari experience. 
Kenya is known for its incredible safari experiences, and there are a variety of types of safaris that can be enjoyed depending on the season and area. During the dry season, a classic game drive safari is a great way to explore the savannahs and spot the Big Five. For a more intimate experience, a walking safari is a great way to get close to nature and observe wildlife in its natural habitat. If you're looking for more adventure, a hot air balloon safari is a unique way to take in the stunning Kenyan landscape. For those who prefer a more relaxed experience, a boat safari is a great way to explore the coastline and observe the incredible birdlife. With so many different types of safaris available in Kenya, there is something for all sorts of travellers – each offering an exciting and unforgettable experience! Every option has a charm of its own and in its own right is the best time of year to go on safari in Kenya. 
How to choose the right safari tour?
Planning a safari in Kenya can be an exciting and rewarding experience, but it is important to consider all the various steps involved in the process. Before you begin, think about what type of experience you want to have and what you would like to see. 
Do you want to explore the wildlife of the savannah, or would you prefer to take a guided tour of the local culture and people? Once you have a good idea of what you would like to do, you can start to think about how you would like to travel. Would you prefer to go on a self-guided tour, or would you rather have a tour guide show you around? You should also consider how much money you have to spend on the trip. All of this will need to be a factor when deciding on your best time of year to go on safari in Kenya.
Depending on your budget, you can choose from a variety of different safari options, such as luxury safari lodges, budget camping tours, or day trips. By taking the time to consider all of these factors, you can make sure that your safari in Kenya is an unforgettable experience.
Step 1: Determine what you want to see
To choose the ideal safari trip, you must first carefully consider what you want to see. This will determine when and where you travel; for example, if you choose a camel safari in the Sahara Desert, you are unlikely to encounter elephants and rhinos. Similar to humans, certain animals have very specific environmental preferences and are only present in a small number of nations. The severely endangered mountain gorilla, which only inhabits the jungles of Uganda, Rwanda, and the Democratic Republic of the Congo, falls under this category. 
Step 2: Select a mode of transportation
Of course, an open-sided 4×4 Jeep is the most common kind of safari transportation. But if you're seeking for a more distinctive mode of transportation, this might affect where you go. Walking safaris are a fantastic way to get close to nature and allow you to really experience the sights, sounds, and smells of the African bush. Another memorable option is a water safari, which is typically conducted in a small boat or perhaps a canoe. Bird enthusiasts may find this to be a particularly good option. You may also go horseback riding or even ride an elephant through some game reserves. You may also choose the famous hot air balloon ride in Serengetti National Park if you are looking for an extra special safari experience. 
Step 3: Select the Level of Independence You Want
Choosing whether you want to travel in a group, on your own, or as part of a private guided tour is the last choice you need to make. Each option has advantages and disadvantages, so it's crucial to choose the one that best suits your personality.
A scheduled itinerary and predetermined activities are a part of group tours. Such tours often lower the overall cost of the trip, which is a key advantage. We have both groups and customized Kenya tour packages from Kolkata to fit your requirement.
For individuals who would prefer to use a competent guide's experience in the bush, private guided tours can be an excellent option. Self-drive safaris, on the other hand, provide total independence for a far lower price. You'll have the freedom to travel whenever and wherever you like. Self-drive trips might not be allowed in some parks, though. Finally, the best time of year to go on safari in Kenya will be a combination of all the factors that we have discussed above. 
Whatever be your choice of safari, one thing is for sure that'll you'll have the absolute best time of your life. With Flying Squirrel Holidays, you get to experience the amazing grasslands of Kenya without any hassles of the safari planning. Book your dream safari today at www.flyingsquirrelholidays.com .