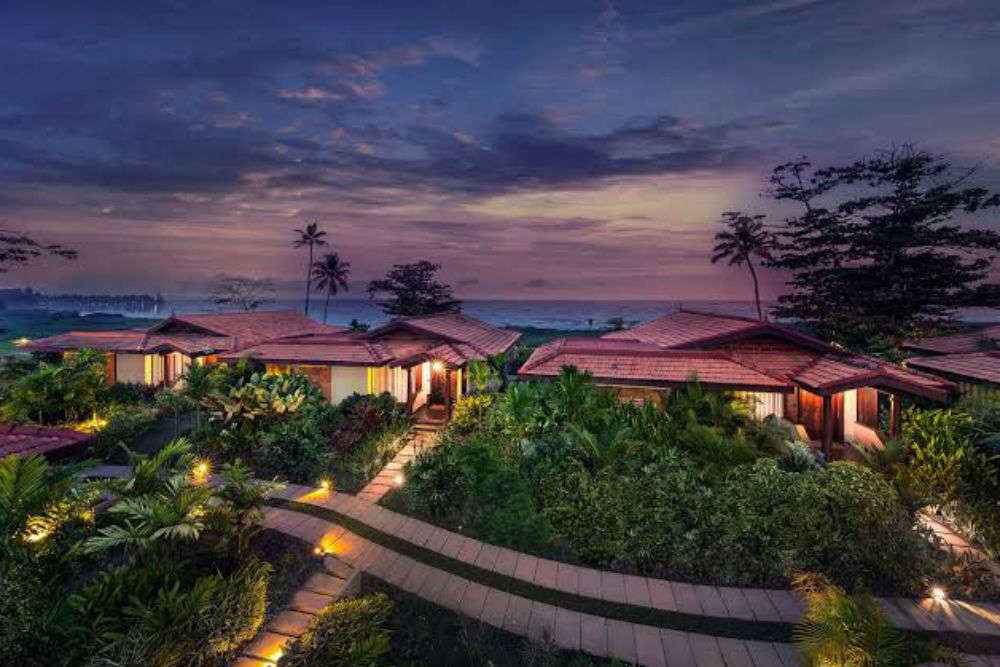 Best Ayurvedic Retreats In India
Posted on By Blog Admin
Ever wondered how to get rid of all stress, depression and angst in your daily life? If you are fatigued with stress, then your solution lies in Ayurveda. An Ayurvedic retreat or spa is the ultimate getaway to bring a balance between the Doshas and your body.
The healing powers of Ayurveda have travelled across the world from India. Today we have some of the best Ayurvedic retreats in India, which have successfully benefited people through the practice of yoga, meditation and rituals of the spa.
Also Read: Top 5 Spiritual Retreats In India || Best Healing Retreats In India
5 Main Benefits of Ayurvedic Retreats
Helps in concentration and clarity of mind
Recharges our energy levels
Boosts immunity and reduces inflammation
Top Ayurvedic Centres in India
1. Swaswara, Gokarna
Located in the lush green terrain of Gokarna in Karnataka, Swaswara looks like an abode of tranquillity. Overlooking the sea, Swaswara has the best Ayurvedic spa in India. This wellness resort also offers an opportunity for yoga and meditation.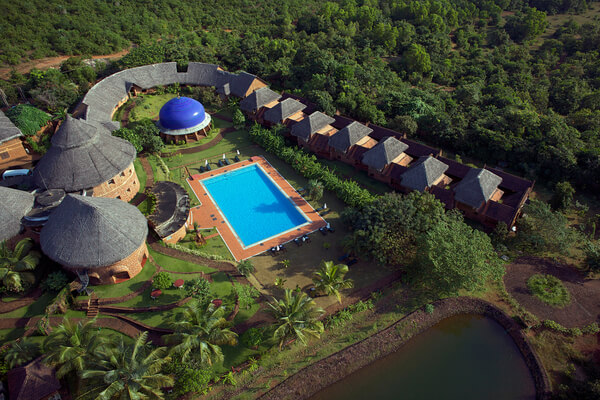 How to Reach
The nearest airport is Dabolim and then it is a 3.5 hours drive to Gokarna.
From the OM beach in Gokarna, you can reach Swaswara, by getting access to a private path.
Programmes/Courses
Being renowned as one among the premier Ayurvedic resorts in India, Swaswara offers amazing Ayurvedic packages for your wellness. They are listed as below:
Ayurveda Rejuvenation
A 7-10 nights programme, Ayurveda Rejuvenation is designed to detox your body from within. Throughout the first 7 nights, guests are introduced to the importance of a healthy lifestyle and cure lifestyle-related bodily ailments through Ayurveda.
The preparatory process includes ingestion of ghee (Snehapana), followed by purging (Virechana)
and finally ends with the Panchakarma treatment (five-fold Ayurveda detox and cleansing therapy)
The five-fold programme includes Shirodhara (pouring of warm medicated oil/water on the head), Kizhyi massage (massage with cloth pouch filled with medicated herbs/rice and oil), Dharas (pouring of medicated oil or water on body) and Basti (medicated enemas).
Ayurveda Panchakarma
A 14-21 nights program, Ayurveda Panchakarma is a strict, body detoxification- combined with dietary restrictions.
Beginning with Snehapana (injection of medicated ghee), then Virechana (purging of bodily toxins) the process will be further continued as per the resident doctor's advice.
Ayurveda Swa Well Being
This programme starts from 3 days to 21 days and includes a combination of Ayurvedic spas, yoga, meditation, diet and art therapies.
Inclusions
Pure vegetarian Sattvic meals, as advised by doctors
Medical consultation for treatment
Massages with oil and herbs
Interactive cooking classes
Fresh fruits, herbal teas, fresh fish cuisines available under Swa Wellbeing programme
Complimentary airport transfer
Price
7 days single occupancy price INR 1, 94, 110
10 days single occupancy price INR 2,77,000
14 nights single occupancy price INR 3,88,220
21 nights single occupancy price INR 5,82,330
Price Start from INR 25,500 onwards
2. Shathayu, Bengaluru
Since it's the foundation in 1901, Shathayu has held its position as one of the best ayurvedic centres in India. Actively believing in the 3 P's (Perfect Mind, Perfect Body, Perfect Spirit) Shathayu Retreat aims to provide holistic healing for all.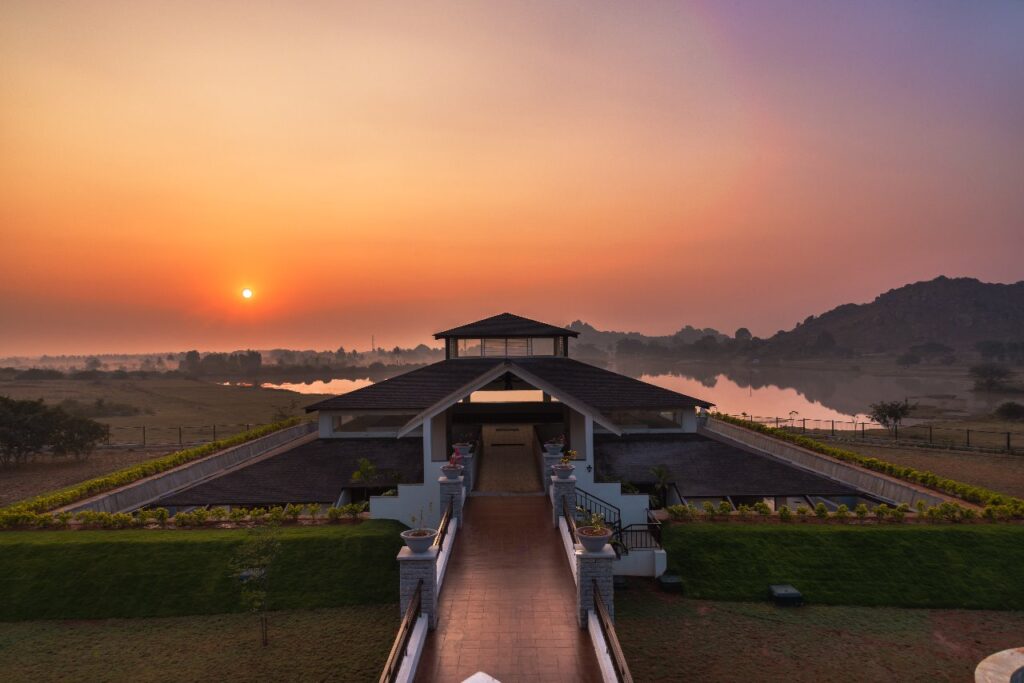 How to Reach
Only 25 minutes drive from Kempegowda International Airport
Programmes/Courses
De-Stress Programme
Known as the signature programme of Shathayu, this 5, 7, and 14-day course aims at complete removal of bodily stress through Ayurveda.
The main activities of this course include Ayurveda therapy, yoga, pranayama, meditation, herbal body-pack, beauty therapy, music therapy, aromatherapy and Shirodhara. The extended programme includes acupuncture alongside all other treatments.
Rejuvenation Programme (REVIVE)
This is a 5, 7, 14 and 21 days program for complete bodily rejuvenation with the help of Ayurveda.
The features of this programme include Nadi Pariksha (nerve test) and Prakruthi analysis, doctor consultation, Pranayama, Yoga, meditation and naturopathy/Ayurveda. Beauty therapy and customised yoga are included in the extended packages.
Panchakarma
The five-fold detoxification therapy is useful for re-achieving balance of the three doshas (the three energies that govern all biological functions) and helpful in regaining vitality and wellness.
The stages are:
Penta Detoxification Technique for purgative treatment
Pre-Panchakarma stage with understanding the client's problems, counselling and charting a holistic cure for the same
The main purgatory Panchakarma under medical supervision
Post Panchakarma phase, where the client will be under observation, en route to healing
Ayurvedic Stress Management
A 7-day course, this stress management course includes the activities of Sarvanga Abhyanga and Sweda with Shirodhara. The benefits of this treatment lie in treating stress, anxiety and bodily ailments arising from this trauma.
Abhyanga Treatment
A healing 90 minutes treatment, the main aim of this treatment is to nourish, revive and rejuvenate body tissues with herbal oil massage and steam bath.
Abhyanga and Sweda (herbal steam bath and scrubbing)
Vishesha Abhyanga and Sweda ( 4 hand scrubbing)
Abhyanga with Patra Pinda Sweda ( Traditional massage and fomentation)
Abhyanga & Pariseka (Traditional massage and pouring herbal decoction on the head)
Inclusions
Freshly cooked vegetarian meals
Head, neck, foot, full body massage
Price
All prices available on request
3. Somatheeram, Kerala
Being the world's first Ayurvedic village that provides a resort-like comfort, Somatheeram provides a unique wellness experience.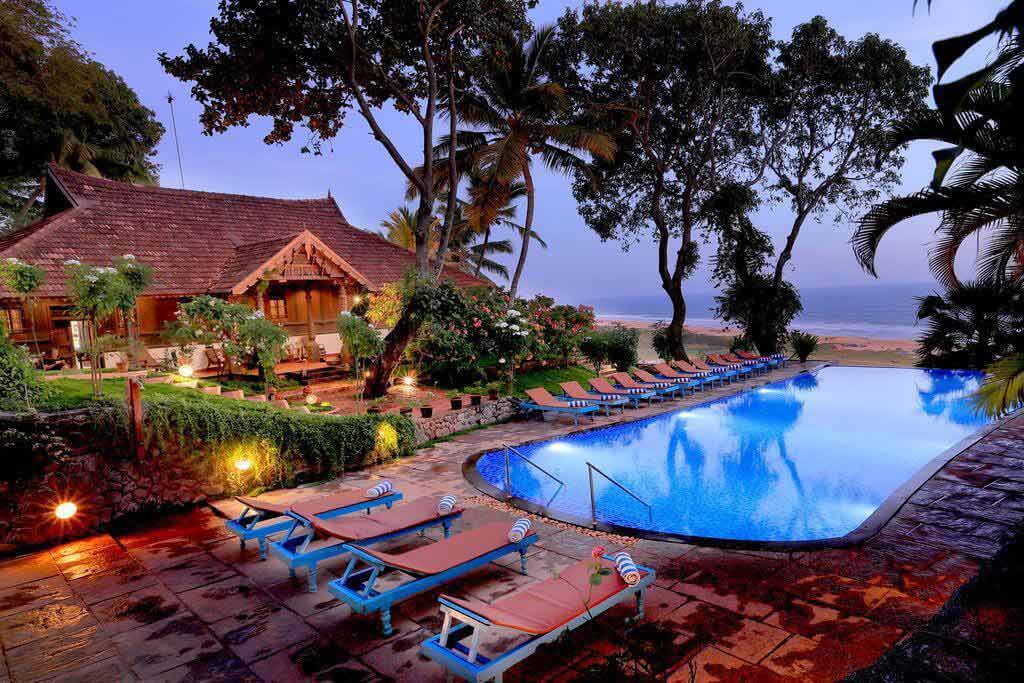 How to Reach
Somatheeram is only 21 km away from the Thiruvananthapuram International airport.
Programmes/ Courses
Pizhichil
A 14-day course of treatment through lukewarm oil
massage Price: 910 Euro
Njavarakizhi
A 14-day course of Induced sweating (Wholly or partially)
Price: 840 Euro
Dhara
14-days treatment which includes herbal oil-based
bathing Price: 308 Euro
Dashamoola Kheera Dhara
Rhythmic pouring of medicated milk over body and
head Price: 35 Euro
Sarvanga Kashaya Dhara
Sedation using a herbal decoction
Price: 35 Euro
Vasthi
Herbal oils are applied on rectum areas; Beneficial for arthritis patients.
Price: 140 Euros onwards
Shirovasthi
14-days treatment of head massage with a pouring of medicated oil Price: 350 Euro
Udwarthanam
14- 28 days treatment using herbal powders for obesity, paralysis and rheumatism Price: 308 Euro
Abhyangam
14-days special oil massage treatment for diabetics
Price: 210 Euro
Nasyam
Herbal oils applied through the nose to treat chronic migraine, headaches etc Price: 98 Euros
Snehapanam
Medicated Ghee application treatment for 14-28 days Price: 182 Euro
Kizhi
Herbal ghee/powder treatment for 14 days
Price: 35 Euro
Dhyanmla Dhara
Bathing with herbal concoctions for 14 days
Price: 560 Euro
Yoni Prakashlanam
Herbal oils or decoction.
issues Price: 10 Euro
Katisvasthi
Lower back treatment with herbal paste
Price: 22 Euro
Urovasthi
Respiratory treatment similar to Katisvasthi
Price: 30 Euro
Thalam
Medicated oil and powder application on the head
Price: 5 Euro
Ksheeradhoomam
Fomentation with medicated cow milk
Price: 7 Euro
Lepanam
Herbal paste application to affected body parts
Price 13 Euro
Marma Massage
Helps stimulate the vital life force
Price: 30 Euro
Lekhaneeyam
Treatment of obesity with herbal paste application
Price: 35 Euro
Karnapoornam
Concoction and fumigation applied through the ears
Price: 7 Euro
Mukhalepam
Herbal face pack application
Price: 7 Euro
Herbal Steam Bath
Price: 14 Euro
Tharpanam
Cleaning processes for the eyes
Price: 7 Euro
Apart from all these, there are other specific Ayurvedic wellness programmes.
These are:
Rejuvenation Therapy (Ayurveda Panchakarma and Rasayana Package- 1)
This includes body massage both with hand and foot, with medicinal oil and cream, at a time by two masseurs, followed by a medicated steam bath and internal medicines. The duration of the course is from 7 to 14 days, each day lasting from 90 minutes to two hours.
The aim of this course is to rejuvenate and uplift your mind and soul, help in toning your skin and accentuating your positive health for a prolonged period.
Body Purification Therapy (Ayurveda Panchakarma and Rasayana Package- 2)
This is a 15-day package aimed at attaining a proper balance of Vata, Pitta and Kapha for complete physical and mental purification. The main procedures of treatment include body massage, Snehapanam, Nasyam, Virachanam(Medicated purgative), Snehavasthi, Dhara, Pizhichil, Njavarakizhi, Karnapooranam, Tharpanam, Sirovasthi, Steam Bath, and internal herbal medicines.
Slimming Programme (Ayurveda Panchakarma and Rasayana Package- 3)
A 21 and 28 nights package, this slimming program makes use of herbal powder and oil for treatment. Apart from this, an integral part of the program includes herbal tea, juice and proper diet specific to the treatment.
Stress Management Programme (Ayurveda Panchakarma and Rasayana Package- 4)
This is a 14 nights package with the aim of recharging and rejuvenating your soul by through Ayurveda, Yoga and meditation. The procedures include Rejuvenation massage and therapy, dhara, njavarkizhi, thalam, herbal steam bath, herbal pack application and intake of herbal medicine.
Beauty Care (Ayurveda Panchakarma and Rasayana Package- 5)
This is a beauty enhancement programme through natural methods. Beauty oils and cream massages and fruit and herbal juices are applied as packs for the face and body. This programme improves skin quality and enhances muscle toning.
Anti-ageing Programme (Ayurveda Panchakarma and Rasayana Package- 6)
This 28 days treatment is to enhance your inner as well as outer well being, body positivity, graceful ageing and overall wellness. The procedures include body massages with special oils and herbal juices. Then there is njavaratheppu massage ( Massage with rice pudding), naranmgakizhi, karyasekam with medicated oil or decoctions or milk, snehapanam, virechana, ksheeravasthy, snehavasthy thalapothichil, Shirodhara, head massage with special herbal juices, thalam, srubhath, herbal bath, steam bath and Rasayana intake along with specially prepared diet.
Inclusions
Daily Ayurvedic treatment
Vegetarian meals with Ayurvedic benefits
Everyday meditation classes
Complimentary half-day boat tours in the Backwaters ( for 14-day packages and more)
Doctors at all stages of treatment
Tariff rates and accommodation will vary as per season and type of booking.
4. Carnoustie Ayurveda and Wellness Resort, Kerala
A beautiful beachfront retreat in the heart of Kerala has been awarded by Forbes as one among the '5 Top Wellness Retreats for Ultimate Renewal' in 2017. No wonder that this wellness centre in the midst of the backwaters has been the ultimate choice for all.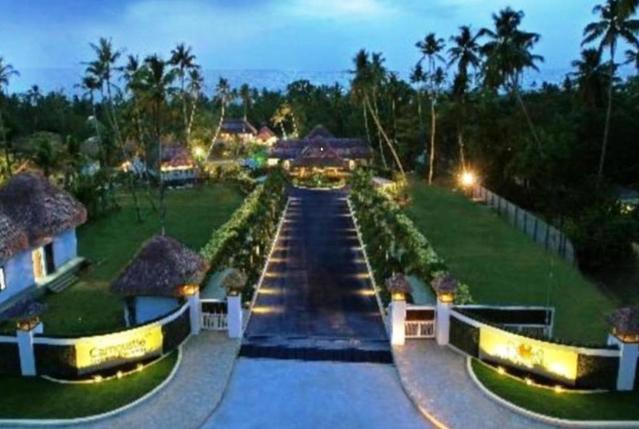 How to Reach
The nearest airport to Carnoustie Ayurveda Retreat is Cochin International Airport and the distance between them is about 60 km.
Programmes/Courses
Carnoustie Ayurveda Programme
Combining the goodness of Ayurveda and Yoga, the Ayurveda programmes of the resort are directed towards generating healing and overall mental positivity.
Rejuvenation
It is important that we rejuvenate our senses so that we can lead our lives full of happiness and prosperity.
The Rejuvenation programme includes the following:
Abhyangam (Ayurvedic massage)
Shirodhara (Pouring medicated oil/water over the forehead)
Podikizhi (Fomentation with medicated powder)
Ksheera Dhara (Pouring milk over the forehead)
Thalapothichil (Applying medicated pack on the head)
Ayurveda Facial
Foot Reflexology
Shirobasti/ Thalam (Retaining medicinal oil on the head)
Njavarakizhi (A healing procedure by which the entire or part of the body is made to sweat)
Vasthi (Blood purification therapy)
Meditation ( For activation and Chakra balance)
Detox
Considering the fact that our hectic lifestyles and work pressure have a combined negative impact on our wellbeing, detoxing our system can have a positive outcome. Under the effective guidance of experts at Carnoustie, various detox programmes like below are available to specifically deal with your issues:
Snehapanam (clarified butter infused with medicinal herbs, added to Sneha/oil)
Abhayangam (traditional body massage with oil)
Podikizhi (Fomentation)
Elakizhi ( herbal or medicinal plant tied up in cloth bags and used in massage)
Virechanam ( An excellent detox treatment)
Snehavasti (lubricating herbal oil for joint pain relief)
Kashayavasti (Honey, rock salt, medicinal oil and herbs for curing migraine, chronic aches, acidity and neurological disorders)
Nasyam (For detoxing the brain cells)
Shirodhara (Pouring medicated oil/water over the forehead)
Njavarakizhi (A healing procedure by which the entire or part of the body is made to sweat)
Pizhichil (Massage in lubricated medicinal oil, followed by medicated steam bath)
Detox diets and tea
Yoga
Pranayama
Hydrotherapy
Mud Pack Therapy
Acupressure
Pranic Healing (No Touch healing)
Reiki (Activating the Body for natural defence)
Marma massage (Stimulating vital life force)
Healing
Since chronic stress has become a part of our daily lives, it shows on our feature and affects our mind. Over a prolonged period of time, stress and negativity can destroy the core of our Chakra balance. The following healing programmes can alter the negatives in the following ways:
Manipur Chakra meditation to aid in digestion
Yoga Nidra meditation for relief from psychosomatic disorders
Anti-ageing meditation
Prana-Mantra (for clearing emotional blockage)
Anti-ageing
Ageing cannot be stopped completely since it is a natural process, but the speed can be considerably slowed down.
At Carnoustie, anti-ageing treatment is done with acupressure, Marma massage, naturopathy, Pranic Healing, meditation and yoga.
Weight Loss
Carnoustie believes in the care and nourishment of Ayurveda to promote proper weight balance with respect to the body structure. Without the side effects of crash diets and medicine, it is only Ayurveda that can be the cure for obesity. The weight loss programs are:
Udwarthanam (Deep tissue massage with herbal powder)
Udgharshanam (Dry brushing massage using raw silk gloves)
Podikizhi (Ayurvedic Fomentation)
Elakizhi (Rejuvenating with fresh herbs/medicinal plants)
Shirodhara
Swedanam Therapy (sweat-inducing way to weight loss)
Dhyanmla (cereal and vinegar mixed with essential oil and dripped in a constant stream)
Pizhichil (Massage in lubricated medicinal oil, followed by medicated steam bath)
Virechanam detox treatment
Snehavasti
Kashayavasti
Detox diet and tea
Marma massage
Yoga
Yoga is connecting with our inner selves, appreciating our physical and mental positivity and enhancing our self-growth. At Carnoustie, the following are the yoga programmes for self-enrichment:
Hata Yoga (Invoking mental peace and harmony through Yoga and Pranayama)
Prenatal Yoga (mental focusing, increasing body flexibility and gentle breathing techniques before childbirth)
Ashtanga Yoga (An eight-fold yoga technique that includes Yama or abstinence, niyama or discipline, pranayama or controlled breathing, pratyahara or withdrawal of senses from negativity, Dharana or concentration, dhyana or meditation and samadhi or absorption)
Restorative Yoga (Slow and steady positive stretching that benefits overall physical well being)
Postnatal Yoga (Low impact yoga to heal the body from the stress associated with childbirth)
Therapeutic Yoga ( Yoga therapy is when specific Yogas are addressed to specific ailments)
Kriya Yoga (Yoga postures that less carbon dioxide content in the body and supplement more oxygen)
Inclusions:
Aryavaidyasala for yoga and detoxing
Dining at Ida (multicuisine restaurant) and Chimaera (seafood restaurant)
Individual Ayurvedic diet and free medicines
Morning yoga sessions by the beach
Cycle rides around Fort Kochi
Experiencing the heritage and architecture of Fort Kochi
Enjoying Kerala's ancient art and dance forms
Visiting the Kumarakom Bird Sanctuary
Cruise on Carnoustie houseboat
Price
The tariff will vary as per villa chosen and the duration of stay (7, 14 or 21 nights). These package rates will be valid until September 2020.
Rejuvenation & Body Detox packages
INR 189000 onwards
Stress Management INR 175000 onwards
Anti-ageing INR 207900 onwards
Weight Loss programmes INR 723800 onwards
5. CGH- Ayurveda, Palakkad
CGH Ayurveda was founded with the idea of blossoming good health in cohesive harmony with nature. With a complete belief in the therapeutic miracle of Ayurveda, CGH is helping numerous people to attain a physical, emotional and spiritual balance.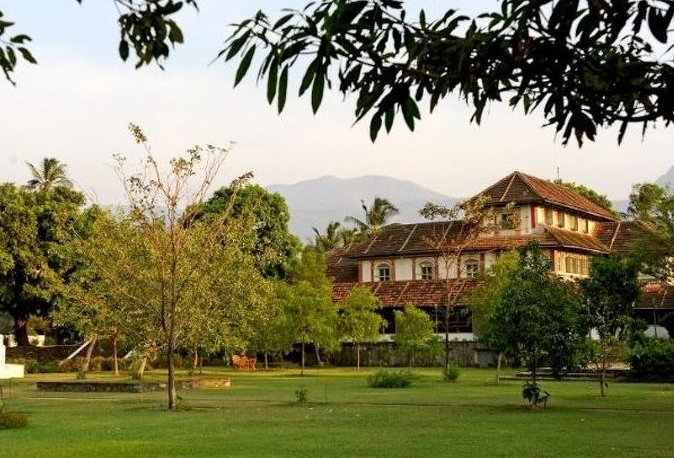 How to Reach
You can get down at the Coimbatore International Airport and the destination is 75 km from there.
Programmes/Courses
Complete Detox
An intensive cleaning treatment, Complete Detox is the healing of the body with the combined effect of Ayurveda, meditation, yoga, medicine and Sattvic diet
Panchakarma Chikitsa
Following the five steps of Panchakarma, the body is made to undergo the following procedures:
Vamana ( Induced vomit)
Virechana (purgation)
Kashayavasti and Snehavasti (2 enemas) &
Nasya (nasal ingestion of medicine)
The duration of this program is 21-28 day
Shodhana Chikitsa
Starting with Purvakarma (preparing the body for detoxification), Shodhana Chikitsa uses some of the Panchakarma procedures.
To complete this course, a minimum of 28 days is required
Stress Management
Stress management is the programme for relieving the ill effects of strain, fatigue, insomnia for a better, healthier life
Manashanti Chikitsa
The first programme under Stress Management is 'Manashanti Chikitsha' which means 'mental peace'. This is completed in three stages as follows: Poorvakarma- preparatory phase, Shodana
cleansing or eliminating phase
Samana- corrective and rejuvenation phase
Weight Management
Due to our current lifestyle and irregular dietary habits, most of us are struggling with weight issues.
By increasing body metabolism through Ayurveda, medicine, yoga, Satsang and proper diet, your body would be free from excess cellulite and the related diseases.
Sthoulagnya Chikitsa (Excess Weight Treatment)
This is a 14-28 days weight management course if you are suffering from obesity.
This has 4 main stages:
Rookshana (Pre-Preparatory Stage)
Poorvakarma (Preparatory Stage)
Shodhana (Purification)
Samana (The Final Stage)
Healthy Ageing
The aim of healthy ageing treatment lies in building up your immunity, which helps to further regenerate new cells and tissues.
Our healthy ageing treatment is as follows:
This is also a prolonged treatment of 21-28 days for healthy skin.
The body is prepared for treatment with the process of Snehanam or oil massage. The next step is Swedanam or therapeutic sweating. The process ends with the Panchakarma technique for rejuvenation.
For Specific Ailments
Treatment will be as per the client's requirement
Price
Will be provided as per request
Checklist for visiting Ayurvedic Retreat
Small locks for your closet
Documents of your current medical records
Towels and Bathrobes (All retreats provide these, but you might carry them with you if you so require)
FAQ for touring Ayurvedic Retreats
1. What is an Ayurveda Spa?
Ayurveda aims at healing and preventing diseases, strengthen the immune system of the body and delay the ageing process.
Since Ayurveda talks about the three Dosh (Vata, Pitta and Kapha), an Ayurveda spa treatment brings them together and creates a harmonic balance between them through the use of essential oils and baths.
2. Is Panchakarma safe for pregnant ladies or elderly?
While it is true that Panchakarma therapy indeed benefits one's health it is not advisable for pregnant women, elderly or people who are very unwell.
For booking your wellness trip, dial +91-33-4052-5777 or write to us at connect@flyingsquirrelholidays.com