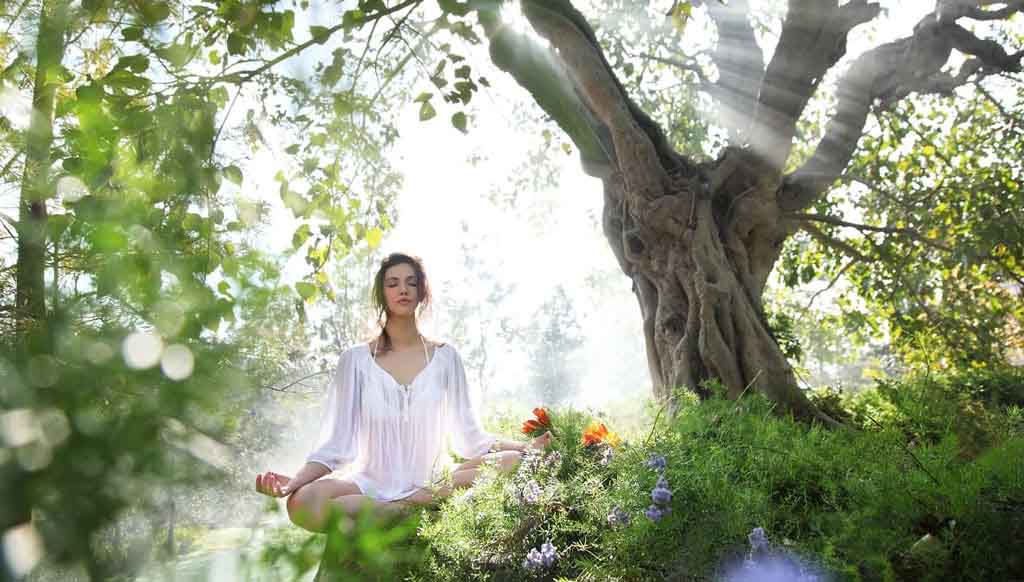 Best Healing Retreats In India
Posted on By Blog Admin
What are Healing Retreats? Introduction to Self-Healing
Our hectic lives have an impact on our mental and physical wellbeing. Toxic experiences, such as digital overload, work stress, relationship issues and even physical injury can affect our mind and body in different ways. If these issues are not healed, it will go a long way in hampering our overall well-being in future.
Self-healing refers to the process of detoxifying our mind and soul through chanting, meditation, yoga, and stress-relieving treatments. A healing retreat helps us to be more positive, face our fears with confidence and develop an overall positive approach to life.
India is home to some of the best self-healing retreats in the world. These are nestled in the lap of nature and run by experienced instructors to offer us a life-changing experience.
Why should you go to a Retreat for Self-Healing?
The true measure of wellness goes well beyond a fancy spa or herbal skincare regimes. Healing retreats blend both physical as well as spiritual treatments, with interactive sessions of art, culture and cuisine. 
From calming your mind through meditation to rejuvenating your spirit with holistic activities or taking help from Panchakarma therapy to heal your pressure points, a healing retreat offers different programmes for soul cleansing.
Best Retreats for Self Healing, India
India, the birthplace of yoga and Ayurveda has several amazing Healing Retreats set against breathtaking landscapes, ranging from the Himalayan mountains to the serene beaches of Goa and Kerala or the green valleys around Pune. 
Since healing retreats require a calm and serene space, India's geographical diversity has helped in the growth of wellness tourism.
The listing below are 5 wellness retreats around India
Blue Mango Retreats, Spiti Valley
Somatheeram Ayurveda, Kovalam
Art of Living Ashram, Bengaluru
Ananda Retreat, Himalayas
1. Blue Mango Retreats, Spiti Valley
Set amidst lush green valleys, their healing programmes of this retreat include yoga and chanting.

You can also enjoy interactive activities like nature walks, soothing spas and healthy, yet tasteful, Sattvic meals. The time spent here infuses your mind and body with positivity and spirituality. The serene retreat offers you the ultimate soul therapy you are looking for.
How to Reach
The Blue Mango Retreats are in Kaza, Spiti Valley, Himachal Pradesh. 
Take a flight from Chandigarh to Kullu Airport at Bhuntar and then it's a 5-hour journey by car via the Leh Highway.
Programs/Courses
The Blue Mango Retreat offers 6 days of spiritual retreat for individuals or groups.
A few self-healing programs that they offer are:
Powerful Om chanting with Tibetan meditational music. The vibrations of the Om music helps soothes tired nerves and relieves stress and helps you connect with nature.
Meditation sessions guided by traditional spiritual practitioners
Classes scheduled on full moon nights to tap moon's energy for delightful meditation sessions
These are outdoor sessions, and you benefit from the healing powers of nature.
Developing spiritual, mental and physical growth through Yoga exercises.
Also called Regressive Therapy or Past Life Therapy, Soul Therapy is a process of reconnecting you to your past and transporting them from your unconscious to conscious state.
Enjoy music for emotional and spiritual development. The process may involve singing or generating rhythmic movement of the body along with music.
Inclusion
Fresh organic produce for healthy meals every day
Comfortable accommodation
Fresh meals cooked by a team of Vedic food experts
Regular Yoga and chanting
Price
Available on request
2. Somatheeram Ayurveda, Kovalam
An acclaimed Ayurvedic healing centre located in the beautiful beachfront of Kovalam, Somatheeram is an ideal healing retreat.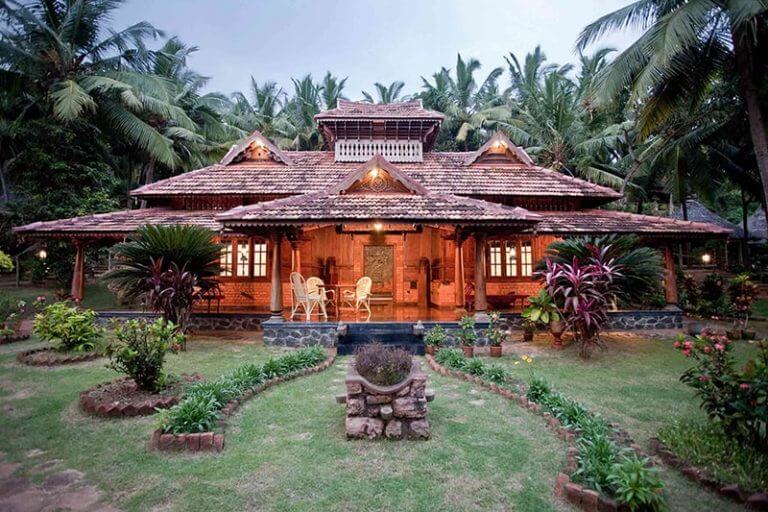 How to Reach
Somatheeram Ayurveda Village is only 20 km from the Thiruvananthapuram Airport. It will take you around half an hour from the airport to reach your retreat by car.
Programs/ Courses
Body Purification Therapy
An exceptional 14-days program for your health and healing, Somatheeram uses the benefit of Ayurveda to regain your Vata, Pitta and Kapha balance. This program includes body massages, purgative treatments, detox diets, everyday yoga among many other inclusions.
Rejuvenation Program
A wholesome 14-days anti-ageing program, this package will revitalize you using sweat therapy (Swedana Karma), oil therapy (Snehana Karma) and Panchakarma.
Body Immunisation Program
To slow down the wear and tear of your body cells for a prolonged period, the 14-nights Body Immunisation program is the best bet. With Ayurvedic therapy, yogas and a holistic diet plan, you can develop more antibody against ageing and lifestyle-based diseases.
Inclusion
Swimming sessions at the pool
Everyday Yoga and meditation sessions
Open-air stage for cultural activities
Mehendi designing sessions
Cruising on the Backwaters
Price
Available on request
3. Art of Living Ashram, Bengaluru
Art of Living Ashram, blessed by Sri Sri Ravi Shankar is a divine place to heal your soul. From surrounding yourself by the bounty of nature to taking part in the quietness of the retreat, a visit here can be a life-changing experience.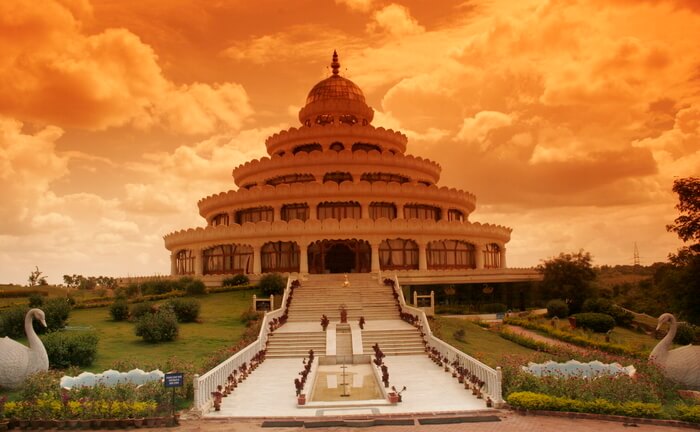 How to Reach
From Bengaluru airport, you have to reach Banashankari by Airport Shuttle bus. From Banashankari, you can take any private bus/ taxi/auto to reach the Art of Living Ashram.
Programs/Courses
Currently, multiple healing courses are there which goes beyond our usual mundane lives to let you experience extraordinary peace and renewed vitality through guided meditations and Yoga.
You can choose your own program among the ones mentioned, to suit your requirement of self-healing.
Sri Sri Tattva Panchakarma
This program is currently availed at the Bengaluru centre only.
The main aspect of this healing therapy lies in diet, detox therapy, yoga and meditation.
Wellness Programs
Yogasanas to aid in physical fitness along with inculcating knowledge about life through Vedas
SpineCare Yoga
This course is specifically aimed at building correct posture in us. Thus the SpineCare Yoga is essential if we want to increase our bodily strength and efficiency.
Pran (Program for Release Against Addiction)
Any kind of toxic addiction can have a negative impact on our lives.
This can range from alcohol to drug addiction to even self-harm.
The program will take care of our mental disturbances, calm us from inside with yoga and steady our mind to guard itself against addiction.
Inclusion
Nature's Trail (A walk through the herbal garden, Radha Kunj garden, Goshala, etc)
Beginning the day with Satsang and Sadhana
Panchamrut- The Sattvic restaurant
The Maharaja Villa- The wellness centre
Vishala Kitchen ( for Indian and continental cuisines)
Vishalakshi Mandap (centre for meditation)
The Divine Services (a provision store)
Madhurya ( a store for traditional artefacts)
Sri Kriti (a boutique selling hand made products by rural women and traditional craftsmen)
Sri Sri Panchakarma Centre ( centre for traditional Keralian Panchakarma treatment)
Price
Available on request
4. Vana Retreat, Dehradun
A quiet retreat in the heart of the hilly Dehradun, Vana has the perfect combination of care, support and experience to uplift your well-being.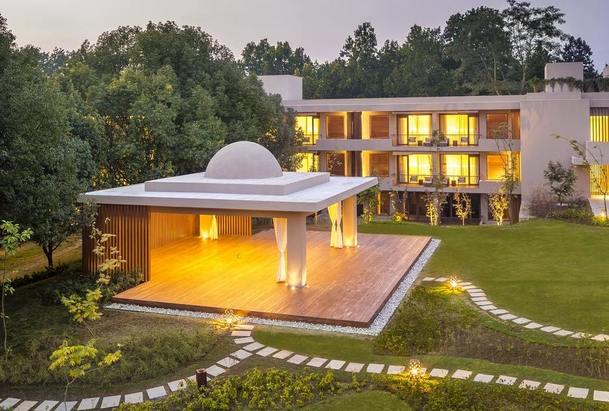 How to Reach
Take a flight to Dehradun. Vana Retreat is 1-hour drive away from the airport.
Programs/Courses
Vana Ashrama
A minimum of 5 nights package, the Ashrama program introduces you to meditation for an overall well-being and soul healing.
Vana Wellness
This 7 nights program takes care of your mind and body's wellness on an equal level and encourages your overall well being.
Vana Lifestyle
Focusing on the four pillars of a stress-free life- wisdom, wellness, learning and giving, Vana Lifestyle is a gift of goodness to your well being.
Inclusion
Primarily vegetarian food, with vegan and gluten-free options available
Apparels and accessories to be used within and outside the Vana premises
Daily yoga and meditation classes
Individual wellness treatment with wellness weight nights each week
Arrival and departure wellness consultants
Price
Available on request
5.  Ananda Retreat, Himalayas
Surrounded by dense forests on one side and overlooking the beautiful Ganges valley, Ananda Retreat is a fascinating healing retreat in the Himalayas.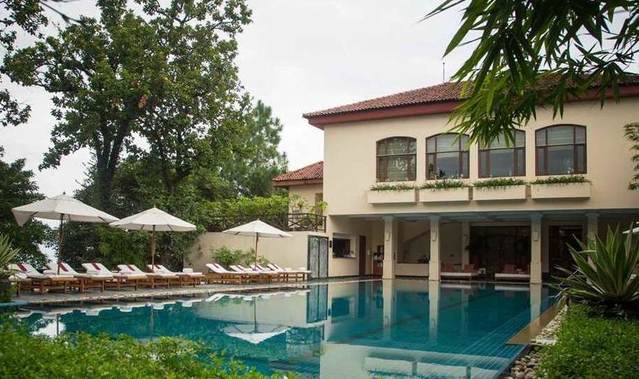 How to Reach
Take a flight for Dehradun, Uttarakhand from Delhi. It will take 45 minutes by flight followed another 40 minutes drive to the Ananda Retreat.
Programs/ Courses
Activ-Fitness
As the name suggests Activ-Fitness is a 3 or 5 night introductory as well as a comprehensive 7 and 14 nights program about indoor workouts and outdoor treks or yoga.
Ayurvedic Rejuvenation
Designed for everyone's personalised needs, Ananda has organized its Ayurvedic Rejuvenation programs. The combination of Panchakarma treatments, sattvic diet and yoga, you can boost their spirit and immunity cycle.
Panchakarma Therapy
Through a prolonged 21-night program and travelling through three major stages, you can go through a revitalizing Panchakarma treatment.
Holistic Detox
Ananda has a detox starter pack for 5 nights and a detox holistic package for 7, 14 and 21 nights.
Dhyana Meditation
This program is a very effective method used at Ananda where you can attain self-realisation through 'Pratyahara' (leaving aside materialistic ideas), 'Dharana' (focusing mind towards self-awareness) and 'Dhyana' (deep meditation)
Yogasana
A comprehensive program spanning 7 and 14 nights, Yogasana courses aim at the therapeutic benefit it provides to the human body
Yogic Detox
Through Asana and Pranayama, the detox program prepares the human body for the traditional process of cleansing. The duration of this course package ranges from 7, 14 and 21 nights.
Stress and Weight Management
Stress Management programs are comprehensive activities having a 7 and 14 nights duration that incorporate various yoga asanas, pranayama exercises, Ayurvedic therapies, aromatherapy, Reiki etc
Weight management is a popular program among the guests here as Ananda provides a natural and effective way towards losing excess weight. The common procedures include detox therapies, diet, exercise and meditation.
Renew
This is a physical healing program by allowing your body to release stress from muscles and joints.
The Renew programmes have a duration of 3, 5, 7 and 14 nights.
Rebalance
The Rebalance program aims at healing your body from stress with various yogic kriyas, meditation and pranayama. Their introductory packages are of 3 and 5 nights, while their comprehensive program package is of 7 and 14 nights.
Customized Programs
These customised programs are meant to deal with the eradication of certain chronic ailments by addressing your issues through yogic and Ayurvedic approach.
Inclusion
Ananda Rejuvenation Spa Cuisine meals (breakfast/ lunch/ dinner), per night per person
Morning tea and fresh fruit bowl each day
The option of taking part in wellness activities like pranayama, meditation, weekly treks, Vedanta discussions, cooking etc
Personal fitness consultants available
Progress checks with doctors and spa therapists
Individual wellness consultation for comprehensive programs (programs lasting for 7+ nights)
Group wellbeing consultation for introductory programs ( programs lasting for 3/5 nights)
Price
Available on request
Checklist for visiting an Indian Healing Retreat
Slippers for beach sessions, hiking shoes for outdoor travels
Torch for lights in case of a power cut.
Loose comfortable clothes
FAQs on Wellness Retreat
1. Why should I go on a wellness retreat?
A wellness retreat should get you away from the toxicity of urban lives, and cleanse you from within with Yoga, meditation and other stress-relieving activities.
2. What is the difference between a normal holiday and a retreat?
The normal holiday is when you travel with the aim of discovery/adventures/customs. But the thing remains that even with a recharge button on, you aren't recharging. You keep travelling from one destination to another, rushing through the scheduled plan.
With a retreat, you have absolutely no rush. You detoxify, de-stress, and gain the confidence to face your inner self. You take your own time and pace to relive the moments. That is the essence of a true retreat.
To book a wellness retreat, you have to get in touch with us at connect@flyingsquirrelholidays.com
or call us at +91 3340525777.