Why I Love Eastern Europe
Posted on By Blog Admin
Eastern Europe (also East Europe, the eastern part of the European continent) is an amazing warehouse of culture, history and architecture.The magic of Sound of Music, the Viennese Waltz, the Blue Danube and Mozart !Exciting and constantly surprising, surreal, shrouded in mystery and isolated from the rest of the world till the lifting of the 'Iron Curtain', at the first opportunity I took a tour of Eastern Europe and discovered a world of historic and magical cities and mind blowing scenery !
Eastern Europe's dramatic past is tangibly present in its amazingly preserved palaces, haunting castles, magnificent churches and grand plazas. Travelling in Eastern Europe makes for a wonderful experience. Falling into a conversation with locals at a cafe or even the local trains is commonplace. You could end up sharing food and drinks with them, listening to folk songs, learning a new card game or maybe even be invited home for dinner and be treated to the local delicacies such as the Hungarian goulash or the delicious Polish dumplings !
What also sets the Eastern end of Europe apart is its rich heritage of folklore and festivals. Eastern Europe is a region that encompasses many different cultures, ethnicities, languages, and histories.Anything but grey and severe, this is a region of exciting and unexpected landscapes. Take a ride on the blue Danube in the late afternoon and watch the lights come on at dusk… magical ! Some of the best of Europe's grand old capitals Classic Vienna, picturesque Prague, are all waiting to be explored.To cross Prague's medieval Charles Bridge at dawn, marvel at Krakow's well preserved Main Market Square, hearing Liszt in his native Hungary, visit Mozart's modest home in Salzburg… these are just a few of the cultural and architectural highlights one can savour in Eastern Europe. Cities such as Prague, Budapest, Vienna, Krakow and Warsaw groan under the weight of their heritage. It's not all about culture though – the people you'll meet in the region's many small towns and charming villages are just as much of an attraction.
Poland
Poland is a culturally rich, easy-to-get-around destination and a traveler's dream, big cities and small towns tucked into every corner of the country, each with a unique heritage to share.As we drove along the peaceful and charming countryside, on our way to Auchwitz ….now so quiet and ordinary, I realized why this site had been chosen. So peaceful and serene except for the shoes…kept for more than 70 years, as a grim reminder of where we were standing.

Warsaw
warsaw is Poland's capital city and is a thriving, modern destination which has been carefully reconstructed to its pre-war state of elegance.However, it is Krakow which is Poland's most popular destination.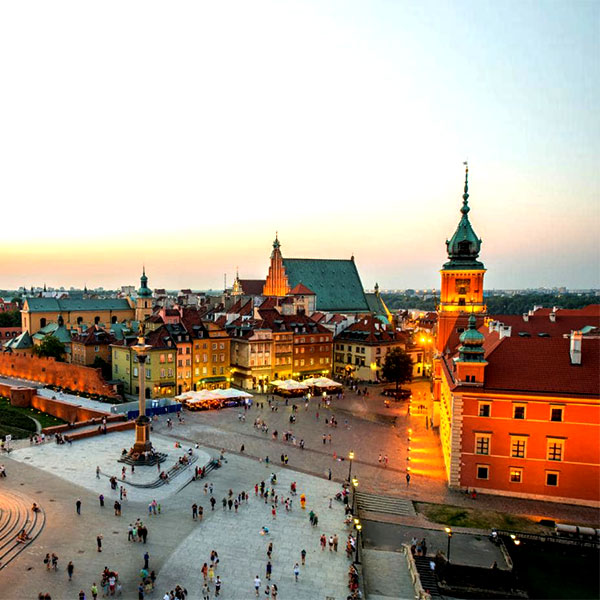 Budapest (the twin cities of Buda and Pest)
Budapest is a paradise for explorers.The city has innumerable hot springs, so 'taking the waters' has been a Budapest experience since the time of the Romans… you can choose among Turkish-era, art nouveau and modern establishments. There's a lot more to Hungarian food than goulash, and it remains one of the most sophisticated styles of cooking in Europe. Budapest hasa reputation as a food capital and despite a period under communism, the city is once again commanding attention and soare Hungary's excellent wines. You have to love Budapest, the faded city, for all the right reasons – architecture (especially art nouveau), romance (particularly the views from the bridges) and sticky apricot jam !Architecturally, Budapest is a treasure trove, with enough baroque, neoclassical and art nouveau buildings to satisfy everyone.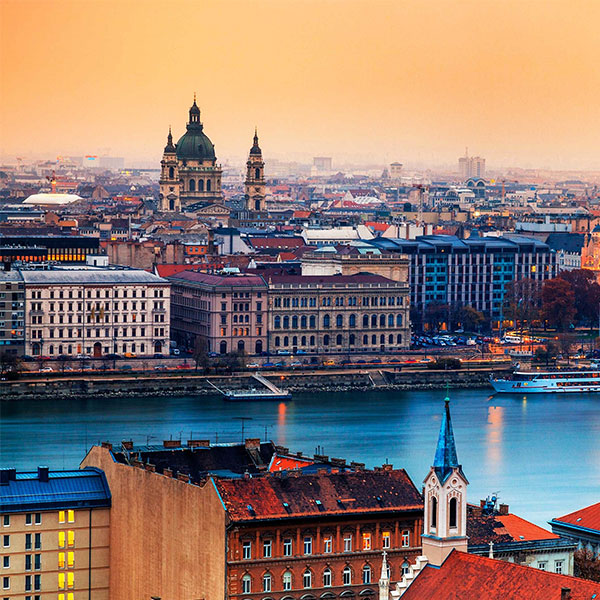 Prague
With its fairytale castles, delicious pastries, astronomical clock that is over 600 years old and hot chocolate will mesmerize you ! It is overflowing with tourists and is a buzzing city. It's Neo-Gothic and Art Nouveau architecture drips with details and glowswith the beauty of past centuries.

Vienna
Its quality of life, which has made Vienna a top in world city rankings for years, is best explored when you forget time. I changed my travel plans and returned to Vienna on my way back, so mesmerized was I with this beautiful city at all times of the day and night !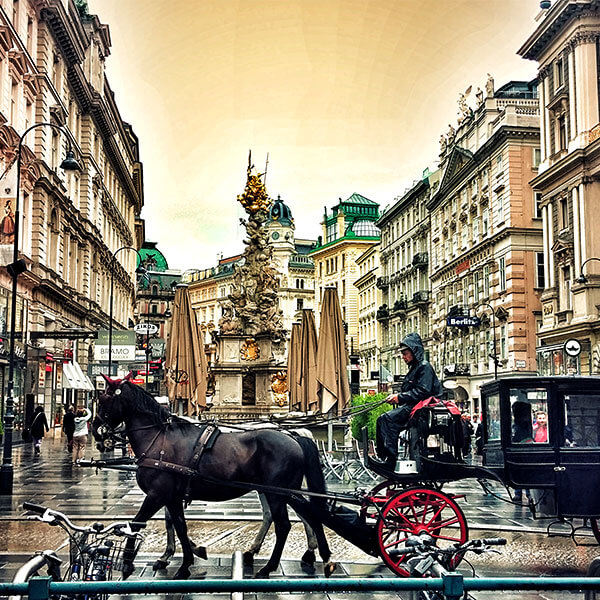 Vienna's quality of life unfolds in original and social places and events. In it's cafes, shops, street markets, festivals, concerts, operas and balls, and the city centre itself. Visit the Schonbrunn Palace and gardens.Vienna concerts are magical under the stars … try and fit one in. Consider having breakfast in the cafe around the corner, sausage stands and restaurants and local hangouts. Use the tramway or one of the local city bikes to explore Vienna.
Salzburg
Burrowed below steep hills looks much as it did when Mozart lived here 250 years ago. Beyond Salzburg's two biggest money-spinners – Mozart and The Sound of Music – hides a city with a burgeoning arts scene, wonderful food, manicured parks, quiet side streets where classical music wafts from open windows, and concert halls that uphold musical tradition 365 days a year. Everywhere you go, the scenery, the skyline, the music and the history send your spirits soaring.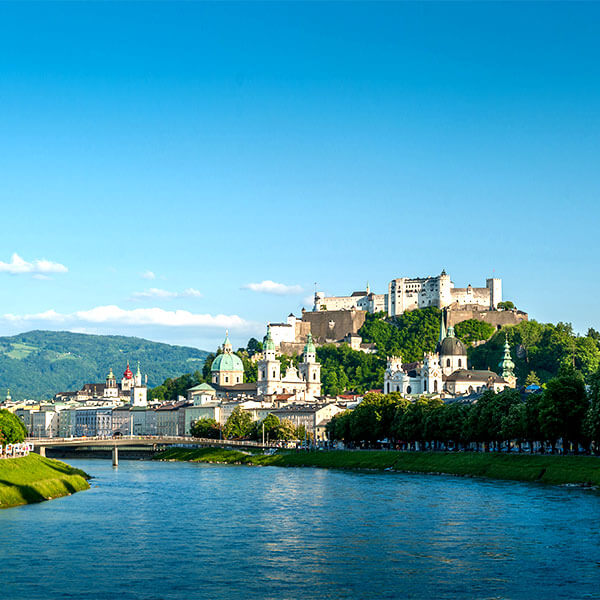 These are not the soaring towering towers of New York City or Dubai or Mumbai … but these countries set your spirit soaring … there is a quality here of life, of history, of fairy tales, magical and soul-stirring … enjoy!