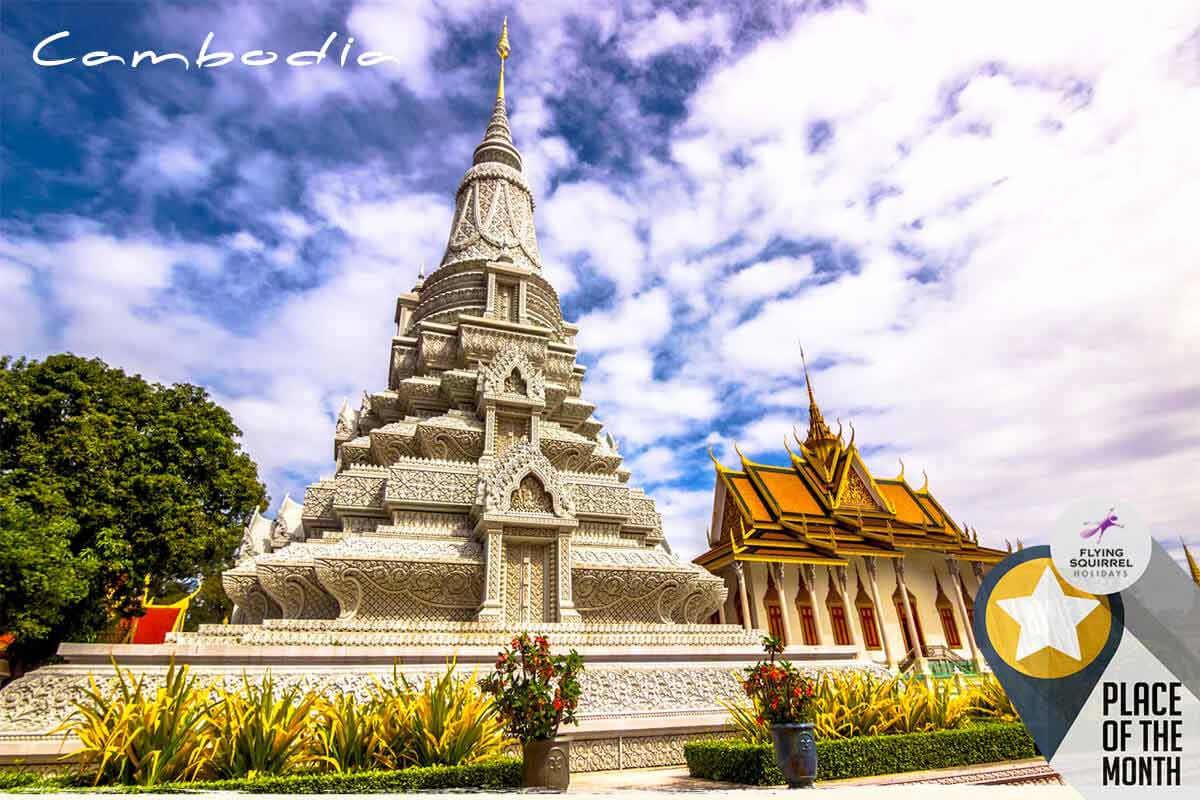 Tour of Cambodia – things you can't miss out
Posted on By Blog Admin
Bordered by the Dangrek Mountains in the North, the Elephant and the Cardamom Mountain in the west and south-west and the Ratanakiri Plateau and Chhlong highlands in the east, Cambodia portrays gorgeous scenic natural beauty.
Her gorgeous landscape that merges with the Central Highlands of Vietnam, is dotted with ancient temples, vibrant cities, picturesque beaches and more. The lifestyle of Cambodia's people is greatly influenced by the Tonle Sap lake, the Bassac river systems and the Mekong river.
One of the greatest attractions in Cambodia, Angkor Wat has been recognized as the largest religious monument in the world and is a UNESCO World Heritage Centre, frequented by millions of travellers each year helping Cambodia tourism to grow. Once the elegant capital city of the Khmer Empire, Angkor is nestled amid tranquil forests and exotic farmland near Siem Reap in Cambodia.

When is the ideal time to plan a holiday in Cambodia?
Cambodia is a warm country. If you prefer to beat the heat on your holidays, travel to Cambodia during the months of October to March. Winter is the perfect season to spend a joyous holiday in Cambodia.
Flights to Cambodia from Kolkata
Travelling down to Cambodia isn't much of a hassle.
Cambodia has two main international airports in Phnom Penh and Siem Reap airport.
There are flights by Air Asia, Thai Airways, Cathay Pacific, Singapore Airlines, Vistara, Malaysia Airlines and so on flying for these airports.
Where to stay in Cambodia?
5-star hotels in Siem reap
Park Hyatt
Sofitel Angkor Phokeethra Golf and Spa Resort
Zannier Hotels Phum Baitang
Le Meridien Angkor
Anantara Angkor Resort
5-star hotels in Phnom Penh
Raffles Hotel Le Royal
Rosewood Phnom Penh
Sofitel Phnom Penh Phokeethra
The Great Duke
Sokha Phnom Penh Hotel
How to acquire the visa for Cambodia?
With an Indian passport, you are entitled to avail visa on arrival at the airports in Cambodia. You can stay for a maximum of 30 days after paying the visa fee of UD$20. You must have confirmed return air-tickets for India and confirmed hotel vouchers for your stay in Cambodia to show at the concerned department in the airport. Your visa on arrival remains valid for the next 3 months as well.
Must-see attractions in Cambodia
Angkor Wat Complex – ancient ruins of elaborate architectural brilliance, the capital city of the Khmer Empire
Phnom Penh City – a vibrant Cambodian cityscape
Siem Reap City – a city preserving the age-old culture and traditions of Cambodia
Sihanoukville – scenic beach city for water sport lovers
Mondulkiri – ideal for jungle lovers; a pristine province with beautiful waterfalls, wildlife sanctuary and so on

6. Rattanakiri – a must-visit place for environmental activists, noted for its eco-tourism projects
7. Kampot – a great place for gourmets to try out exotic seafood delicacies
8. Kratie – scenic beaches, enthralling water sports and a chance to spot Dolphins are what in-store at Kratie

9. Kampong Thom – a picturesque town on the banks of the Stung Saen River
10. Battambang – a beautiful city on the banks of the Sangkae River
11. Preah Vihear – an ancient Hindu temple dedicated to Lord Shiva with breathtaking views of Dongrek Mountains
12. Kirirom National Park – a must-see attraction for nature and wildlife lovers, the place has some stunning waterfalls and wildlife
13. Banteay Chhmar Temple – one of the most intriguing temples of the Khmer Empire, a historic site to explore
14. Banteay Srei – a 10th-century temple dedicated to the Hindu god Shiva with intricate carvings and set along the extensive forest area
15. Koh Ker – another interesting temple to explore

16. Bokor Hill Station – stop by for a relaxing view to sooth your eye
17. Silver Pagoda – paved with silver tiles, an awe-inspiring site to explore
18. Tonle Sap – spend some time in this lake area to enjoy local Cambodia food, observe its shopping scenario and for a glimpse at its people's lifestyle
Must-do things in Cambodia
Explore local arts & crafts
Go on a helicopter ride
Enjoy cruising and boating
Go for cultural explorations
Golfs and driving ranges
Enjoy rejuvenating massages & spa
Soak in the natural beauty & wildlife
Practice meditation with monks
Take a local cooking class
Go for scuba diving
Enjoy cycling and biking
Go for adventure activities such as hiking
Explore eco-tourism hubs
Must-try delicacies of Cambodia
Nom Banh Chok: breakfast delicacy made of thin rice noodles topped with a green fish gravy with lots of fresh bean sprouts, banana flowers, cucumbers and a wide array of green vegetables.
Num Pang Pate: a breakfast sandwich stuffed with meat and fresh vegetables, Num Pang Pate is a great palette cleanser.
Fish Amok: perfectly delicate fish pieces cooked in a rich and creamy curry of ginger, turmeric, lemongrass and coconut milk.
Lap Khmer: a spicy preparation of beef slices marinated in lime juice, shallots, garlic, fish sauce, basil, mint, bell peppers and lots of chillies.
Banana Blossom Salad: stir-fried banana blossom topped with fried shallots, garlic, lemongrass and lime juice.
Khmer Red Curry: chicken, beef or fish serves as the main source of protein in the dish while the curry is prepared with potatoes, coconut milk, lemongrass, and a special Cambodian ingredient, kroeung.
Bai Sach Chrouk: grilled pork marinated in coconut milk and garlic.
Lok Lak: prepared with stir-fried thin slices of beef or pork in a brown sauce served with rice and green salad.
Kaw: braised chicken or pork is dipped in a thick sauce made of fish sauce, caramelized palm sugar and pepper topped with an egg. Tofu and bamboo shoots are also often added by some chefs.
Kampot Pepper Crabs: a spicy seafood delicacy, quite popular in the coastal town of Kep. Though you will find savoury preparations of crabs in Phnom Penh and Siem Reap as well.
Red Tree Ants with Beef: a must-try for those who love to experiment with exotic new flavours. Prepared with stir-fried beef slices, shallots, basil, garlic, ginger, lemongrass, chillies and lots of different sized red tree ants served on a bowl of white rice.

Tarantula & Ang Dtray-Meuk: Again, for the curiously experimental foodies, try out deep-fried tarantula. An excellent source of protein, wash down with a cold glass of beer.

Do try out the grilled squids as well, locally known as Ang Dtray-Meuk.
A brief itinerary to Cambodia
Day 1: Arrival at the 'pearl of Asia' – Phnom Penh
Begin your holiday with arrival at Phnom Penh Airport. Enjoy the day at leisure. In the evening, walk along the riverfront promenade dotted with shops and cafés. You can even visit Wat Phnom, a scenic man-made hill.
Overnight stay at the hotel in Phnom Penh.
Day 2: Phnom Penh – city tour
Post breakfast, ride on a cyclo-pousse (a local mode of transport encouraging drivers to lead a life free of tobacco), for a city tour. Visit pristine Preah Borom Reajea Ve'aing, the Royal Palace and Preah Vihear Preah Kéo Morakot or the Silver Pagoda and the sacred Emerald Buddha. Then, admire the thousand-year-old artefacts of the Khmer Empire at the National Museum. Stop at Phsar Thmey to the Central Market to buy souvenirs.
Overnight stay at the hotel in Phnom Penh.
Note: Visitors to the Royal Palace should be dressed formally covering shoulders and knees as well.

Day 3: Visits to Siem Reap and Angkor Wat
Post breakfast check out of the hotel and board your flight to Siem reap.
Or, early morning, check out of the hotel and drive to Siem Reap. On the way, stop at the picturesque town of Skun. Those who love to experiment with exotic delicacies, try the local delicacy -Deep-fried Spiders. There are more attractions on your road trip. Stop at Kompong Thom town, visit Sambor Prey Kuk Temples nestled in the forest and the famous Naga Bridge.
Upon arrival and checking-in at your hotel, enjoy the rest of the day at leisure to discover the Temple City. Explore its local eateries, check out local markets and so on.
Overnight stay at the hotel in Siem Reap.
Day 4: Visit Angkor Wat
After breakfast, set out for Angkor Thom, the famous Angkor Wat and the 172-Avalokiteshvara Multiple-Faced Bayon.
Overnight stay at the hotel in Siem Reap.
Note:  During your visit to the Angkor Temples, visitors should be dressed formally covering shoulders and knees as well.
Day 5: Explore local culture and customs
Early in the morning, enjoy a bicycle trip with the Khmer people, visit a local market and have lunch cooked by the locals in a traditional wooden house.
After lunch, ride on a buffalo cart to the Ta Prohm Temple. Explore the temple and head back to the hotel.
In the evening, enjoy a sunset over the tranquil ambience of Srah Srang Royal Basin.
Overnight stay at the hotel in Siem Reap.
Day 6: Morning cruise, flight for Sihanoukville
Early in the morning, embark on a traditional wooden boat for a mini-cruise to immerse yourself in the way of life by the floating villages on the Great Tonlé Sap Lake, and where traditional fishing techniques are still being used. It is effectively a unique biosphere world, slightly out of time that you will discover and on the brink of being classified as a natural wonder site by UNESCO.
Board your flight to the coastal city of Sihanoukville. Arrival followed by transfer to the hotel and check-in. Rest of the day at leisure. Overnight stay in Sihanoukville.
Day 7: Leisure day to enjoy the beaches in Sihanoukville
Post breakfast head to the beach for sunbathing and enjoy various water sports. Enjoy the day at leisure as you wrap up your Cambodian holiday.

Day 8: Wrapping up your Cambodian holidays, begin your homeward journey
Have breakfast and checkout of the hotel. Fly to Phnom Penh International Airport for your flight back home.
One of the most scenic South-Asian countries, Cambodia makes a perfect holiday destination for Indian travellers. Cambodia is well connected with flights from major Indian cities and offers you a visa on arrival for hassle-free holiday planning experience. With picturesque locations, elegant sunsets, gorgeous beaches, tranquil ambience, warm locals, exotic cuisine, marvellous architecture, splendid religious sites, shared history and more, Cambodia has a lot to explore on your holidays.
Festivals of Cambodia
Meak Bochea Day – February
Khmer New Year (Chaul Chnam Thmey)- April
King Norodom Sihamoni's Birthday – May
Visaka Bochea Day (Buddha's Birthday) – May
Royal Ploughing Ceremony (Pithi Chrat Preah Neanng Korl)- May
Ancestors' Day (Pchum Ben) – September
Independence Day – November
Water Festival (Bonn Om Touk)- November
Angkor Festival – November/ December
Sea Festival – December

National holidays in Cambodia
New Year's Day – 1 Jan
Victory Day – 7 Jan
Meak Bochea Day – 19 Feb
International Women's Day – 8 Mar
Cambodian New Year – Apr
Labour Day – 1 May
King Sihamoni's Birthday – May
Vesak – 18 May
National Day of Remembrance – 20 May
Royal Ploughing Ceremony – 22 May
Children's Day- 3 Jun
Queen Mother's Birthday – 18 Jun
Constitution Day- 24 Sep
Pchum Ben Day – Sep
Commemoration Day of King Father, Norodom Sihanouk – 15 Oct
Paris Peace Agreements Day – 23 Oct
King Norodom Sihamoni's Coronation Day – 29 Oct
Bon Om Touk- Nov
Independence Day – 11 Nov
Human Rights Day -10 Dec
A vacation is the best way to refresh one's body, mind and soul and hence must be planned based on individual preferences. While planning your holiday in Cambodia lookout for travel companies in your city specializing in customized holidays. We also offer the same. You can get in touch with our holiday specialists and convey your idea of an ideal holiday. We might take a day or two to come up with a suitable itinerary for you and your family based on when you wish to go on a holiday, your flight and hotel preferences, choices of meals, attractions you wish to explore and more. Itineraries are also prepared to keep a note whether you want a relaxed scheduled or one totally action-packed.
Write to us at connect@flyingsquirrelholidays.com or call us at +91-33-4052-5777. If you stay near Southern Avenue, Kolkata drop-down at our office at 122A, first floor, Southern Avenue, Kolkata-700029.
Happy Travelling!