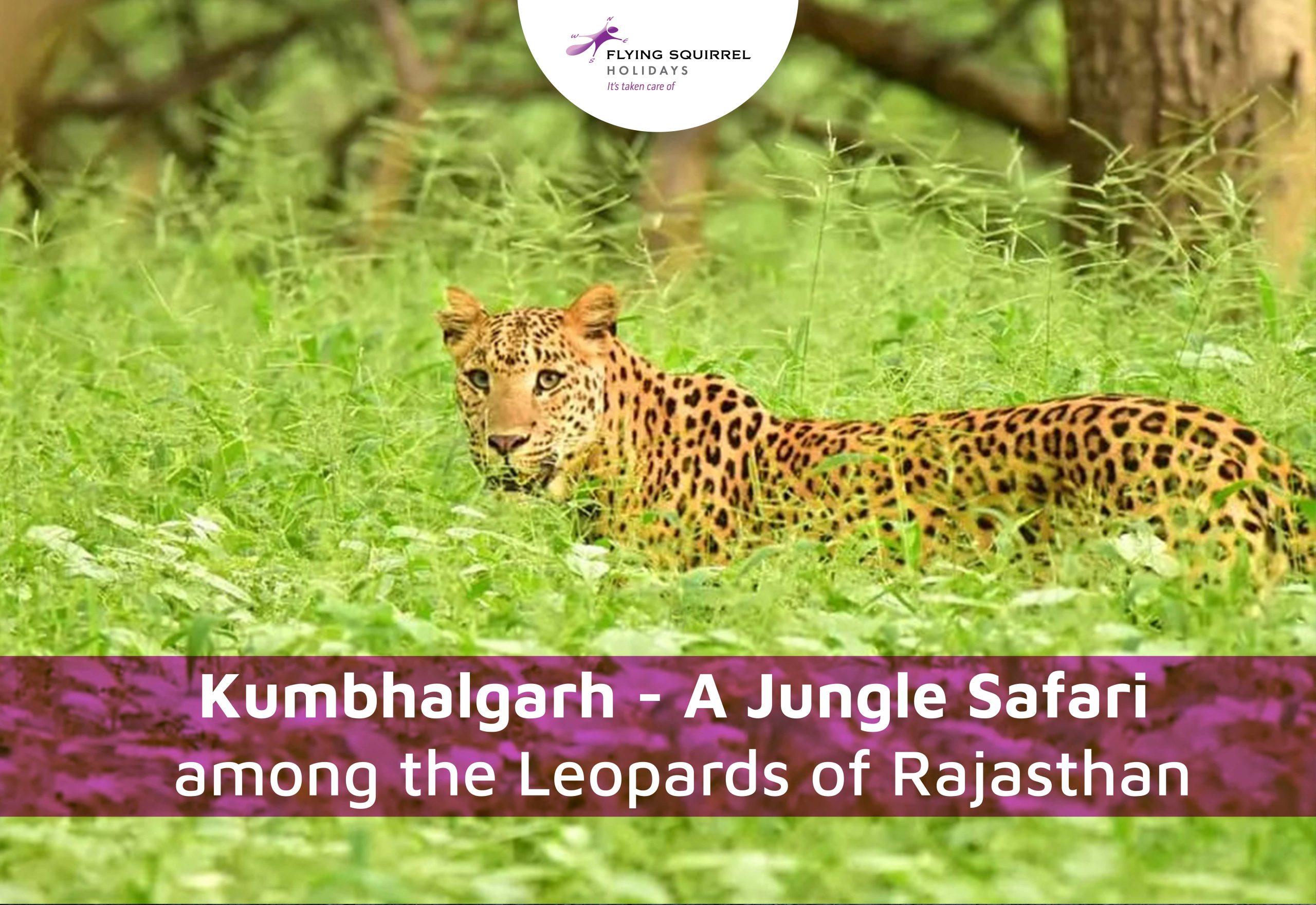 Kumbhalgarh – A Jungle Safari Among the Leopards of Rajasthan
Posted on By Blog Admin
Attention all adventure seekers and nature enthusiasts! Are you ready to embark on a journey of a lifetime? Flying Squirrel Holidays welcomes you to the breathtaking Kumbhalgarh Jungle Safari in Rajasthan, where you will experience the thrill of the wild like never before.
As a premium travel expert, we pride ourselves on curating the most exclusive and luxurious experiences for our clients. Kumbhalgarh Jungle Safari is no exception. Located in the heart of the Aravalli range, this jungle safari is a paradise for wildlife lovers. The Kumbhalgarh Wildlife Sanctuary covers an area of 578 square kilometers and is home to a diverse range of flora and fauna, including leopards, sloth bears, Indian wolves, and many more.
One of the main specialties of this jungle safari is the opportunity to spot the elusive Indian leopard. With Flying Squirrel Holidays, you will have a chance to go on a leopard safari with experienced guides who will take you deep into the jungle to witness these magnificent creatures in their natural habitat. You can also choose to go on a night safari, where you can witness the jungle come alive with nocturnal animals.
Apart from the leopard safari, there are plenty of other activities to indulge in. You can take a trek to the Kumbhalgarh Fort, which is a UNESCO World Heritage Site and boasts of stunning architecture and panoramic views of the surrounding jungle. You can also take a jeep safari or a horse safari to explore the jungle and its hidden gems. For the adventurous, there are options for rock climbing and rappelling as well.

How to reach for Kumbhalgarh Jungle Safari? 
To reach Kumbhalgarh Jungle Safari, you can fly to Udaipur, which is the nearest airport. From there, it is a scenic drive of approximately 2 hours to reach the jungle safari. Alternatively, you can also take a train to Falna, which is the nearest railway station, and then drive for about 1.5 hours to reach the destination.
Best Time for Kumbhalgarh Jungle Safari 
The best time to visit Kumbhalgarh Jungle Safari is from October to March when the weather is pleasant and the chances of spotting wildlife are higher. However, if you want to witness the lush greenery of the jungle, then monsoon season (July to September) is the best time to go.
Culture Activities you can't miss
When it comes to experiencing the rich cultural heritage of Rajasthan, Kumbhalgarh Jungle Safari has a lot to offer. Here are some cultural activities you can indulge in during your visit:
Puppet Shows: Puppet shows are an integral part of Rajasthani culture, and you can witness some spectacular performances at Kumbhalgarh Jungle Safari.
Folk Music and Dance: Rajasthani folk music and dance are lively and colorful, and you can enjoy some authentic performances during your stay.
Cooking Classes: Learn to cook some delicious Rajasthani dishes with local chefs and savor the flavors of Rajasthan.
Camel Rides: Experience the traditional mode of transportation in Rajasthan with a camel ride through the scenic landscapes of Kumbhalgarh.
Visit to Local Villages: Take a tour of nearby villages to witness the rural lifestyle and interact with the locals.
When it comes to food, Rajasthan is famous for its spicy and flavorful cuisine. Some must-try dishes include Dal Baati Churma, Laal Maas, Gatte Ki Sabzi, and Ker Sangri. You can also indulge in some sweets like Ghewar, Malpua, and Rasgulla.
Places to Stay near Kumbhalgarh Jungle Safari 

Accommodation options at Kumbhalgarh Jungle Safari cater to both luxury and budget travelers. Here are some options:
Luxury Accommodation:
Aodhi Hotel: A luxurious heritage hotel located within the Kumbhalgarh Fort with spectacular views of the jungle.
The Haveli Resort: A boutique hotel with traditional Rajasthani architecture and modern amenities.
Kumbhal Palace: A luxurious resort with a spa, swimming pool, and beautifully landscaped gardens.
Budget Accommodation:
Kumbhalgarh Safari Camp: A tented campsite located in the heart of the jungle with basic amenities.
Hotel Kumbhal Castle: A budget hotel with comfortable rooms and an in-house restaurant.
Rawla Jojawar: A heritage property located in a nearby village with traditional Rajasthani architecture and simple yet comfortable rooms.
No matter what your preferences and budget are, Flying Squirrel Holidays can curate a personalized itinerary for you that caters to your interests and ensures an unforgettable experience at Kumbhalgarh Jungle Safari.
Why choose Flying Squirrel Holidays to go for Kumbhalgarh Jungle Safari?

Flying Squirrel Holidays promises to provide you with a luxurious and unforgettable experience at Kumbhalgarh Jungle Safari. From the finest accommodations to the most personalized services, we will ensure that every aspect of your trip is curated to perfection. Contact us now to book your dream jungle safari and get ready to embrace the wild side!
Choosing Flying Squirrel Holidays for your Kumbhalgarh Jungle Safari experience is the best decision you can make. Here's why:
Expertise and Experience: Flying Squirrel Holidays is a premium travel expert with years of experience in crafting customized itineraries for discerning travelers. Our team of experts has extensive knowledge of the destinations we offer, including the Kumbhalgarh Jungle Safari. We know the ins and outs of the jungle, and we can tailor your experience to your preferences and interests.
Personalized Service: At Flying Squirrel Holidays, we believe in providing personalized service to our clients. We take the time to understand your needs and preferences and curate an itinerary that meets your expectations. From luxury accommodations to unique experiences, we ensure that every aspect of your trip is tailored to your requirements.
Exclusive Access: As a premium travel expert, Flying Squirrel Holidays has exclusive access to some of the most luxurious and unique experiences in Kumbhalgarh Jungle Safari. We can arrange for private leopard safaris, exclusive dining experiences, and other activities that are not available to the general public.
Safety and Security: Your safety and security are our top priority at Flying Squirrel Holidays. We work with trusted partners to ensure that you have a safe and comfortable experience in Kumbhalgarh Jungle Safari.
Hassle-free Planning: Planning a trip can be stressful, but with Flying Squirrel Holidays, you can leave all the details to us. We take care of everything from flights and accommodations to activities and transfers, leaving you free to enjoy your vacation.
Flying Squirrel Holidays offers expertise, personalized service, exclusive access, safety and security, and hassle-free planning for your Kumbhalgarh Jungle Safari experience. Contact us now to start planning your dream trip.