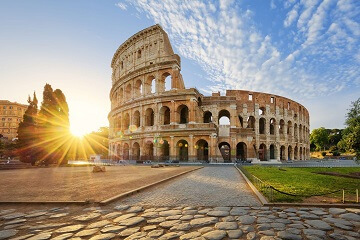 6 Reasons Why Europe Should Be On Your Summer Holidays Checklist
Posted on By Blog Admin
Still planning your summer holiday destination? Visit Europe. Summer is around the corner and what better place to enjoy your holidays than Europe. It's time to beat the scorching heat and have fun in the sun! It is often noticed among people residing in the tropical zones prefer to travel far north during their summer vacations. And, thus Europe became the hotspot for summer holidays in recent years offering travelers an absolutely blissful vacation. The diversity of European landscapes, mouth-watering cuisines, architectural brilliance, rich history, splendid flora and fauna and more combine to make Europe a perfect summer getaway.

Here are 6 reasons why Europe should be on your summer holidays checklist and you must get in touch with the best tour operator for customized holidays to Europe :
The Beaches:
From secluded coves and idyllic golden expanses to dramatic coasts and glamorous party beaches, there's absolutely nothing you can't find in Europe.
The Mountains:
The Swiss Alps speckled with majestic snow-capped peaks, scenic villages, charming chalets, and dazzling, crystalline lakes.
The art, architecture and history:
From the Renaissance allure of Italy and the eye-catching Moorish remains of Spain to the splendid Gothic cathedrals of England and Central Europe, Europe has the greatest variety of architectural styles in the world. Each corner of Europe has its fair share of castles waiting to be explored. Europe is famous for its charming old town squares that have given birth to cities like Prague, Amsterdam, Warsaw, Bruges, Tallinn, Krakow, Nice, or Rome.
Shopping scene:
French perfumes, Italian artisans, colorful flea markets, elegant open-air shopping villages – Europe is the ultimate shopping destination. Whether you are looking for bespoke designer creations or something from the local market, European cities are the place to look for. Already picturing yourself on the fashion streets of European cities? Call the best tour operator for customized holidays to Europe.
Delectable cuisine:
One reason why travelers visit European cities is because of the mouth-watering delicacies the place has to offer to the visitors. When in Europe, enjoy authentic Italian, French, Belgium, German and other delicious cuisines and local wines.
Vivacious nightlife:
The pulsating nightlife attracts the party lover to European cities. Home to some of the party capitals of the world, Europe is unbeatable for nightlife.

Fascinating, isn't it? Wish to plan your trip today? Make sure to get in touch with the best tour operator for customized holidays to Europe for a completely customized, hassle-free trip planning. To get in touch with the holiday specialists of a best travel agency for tailor-made holidays to Europe, call at +91-33-4052-5777.