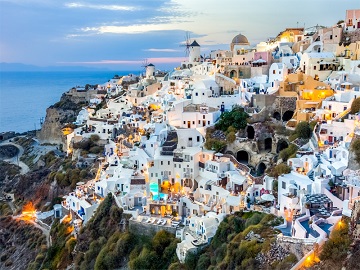 10 Offbeat Locations To Explore In Greece
Posted on By Blog Admin
Celebrating rich history in its ancient temples, amphitheaters and villages, Greece and the Greek Isles are absolute wonders to the curious traveler. Explore ancient ruins, swim in the Aegean Sea, relax on the idyllic beaches, satiate your taste buds with local delicacies, and enjoy a spectacular sunset, there is enough and more to do in Greece to make your holiday simply amazing. Get in touch with the best tour operator for customized holidays to Europe to plan an exciting itinerary. For those seeking to explore offbeat wonders in Greece, not keen enough to book pre-planned holiday packages to Greece.


Here are our 10 specially handpicked ones for you, check out:
1: Nafplio
The little seaside metropolis, Nafplio is one of the less frequented locations in Greece with a perfectly romantic charm to entice your senses. Wondering what to do in Nafplio? Marvel at the architecture, explore the captivating winding streets of the town, stroll along the esplanade and dine on some of the finest seafood.
2: Necromanteion of Ephyra
Though the Oracle of Delphi features as one "must-see places in Greece" but a few are aware of the Oracle of the Dead, the necromanteion, an ancient temple consecrated to Hades, the God of the Underworld. The Necromanteion of Ephyra, located in Epirus, on the banks of the river Acheron includes a few underground chambers. A visit to the necromanteion can definitely be an interesting experience.
3: Fairytale castle of Agrilis
There's a fairytale castle located in the town of Agrilis that's worth a visit if you are seeking to explore offbeat locations in Greece. An amalgam of fairytale concepts and Greek mythology, the castle has a drawbridge and huge statues in its courtyard replicating the characteristics of a medieval castle.
4: Lemnos
This small island in the northern Aegean, Lemnos is home to the dormant Miocene volcanos, Lemnos features spectacular volcanic rock formations made of petrified lava. Lemnos also has a desert in its lush interior. Lemnos is a magical place where the three continents of Europe, Asia and Africa meet. Lemnos is also home of the only European desert. On the north side of Lemnos, in an area called Gomati, visitors have the chance to witness a unique and unexpected sight, a small desert full of sand and dunes constantly changing shape.
5. Paros
If you're looking for great beaches, good food, a hint of glamour and great value for money then look no further than the Greek island of Paros. The cosmopolitan town of Naoussa has loads of great seafood restaurants and tavernas and is near an array of fine, uncrowded beaches. A quick ten-minute ferry ride takes you to tiny Antiparos, which has more great beaches.
6: Lake Vouliagmen
Mysterious Lake Vouliagmeni is just 15 miles outside Athens. A pristine thermal spring-fed lake filled with healing waters and a breezy al fresco restaurant, that's the extraordinary natural setting of the lake.
7: Plaka in Athens
Though the Parthenon and the Temple of Zeus are the most visited sites in Athens, the Plaka district deserves special mention. This little suburb of Athens is located just below the Acropolis and is a splendidly beautiful spot. Stroll among the cobbled streets and take in all of the handicraft shops and restaurants.
8: Pittaki Street, Athens
From an underground district into a dynamic night hub, filled with some great bars and cafes, vintage shops, and street art open-air museums, Pittaki Street is cool and quirky. It is known for its unique light arrangement which gives the street an eerie and magical appeal.
9: Santorini

From its volcanic beaches and whitewashed houses to its incredible sunsets and scenery, Santorini is most definitely one of the best places to visit in Greece. Take a dip in the turquoise waters, walk around the beautiful villages and dine in the fine restaurants, Santorini will steal your heart.
10: Mykonos

Known as the Aegean Sea's most famous Greek Island, Mykonos is quite energetic, and lures a diverse crowd that indulges on its lively and stylish nightlife. There are dozens of activities available on its beaches, including parasailing, horseback riding, windsurfing, jet-skiing and skiing.
Bewitched? Can't wait to contact the best tour operator for customized holidays to Greece, plan your itinerary, pack your luggage and travel all the way to explore the exotic locales of Greece? You can get in touch with our holiday experts and discuss further. Call us at +91-33-4052-5777.