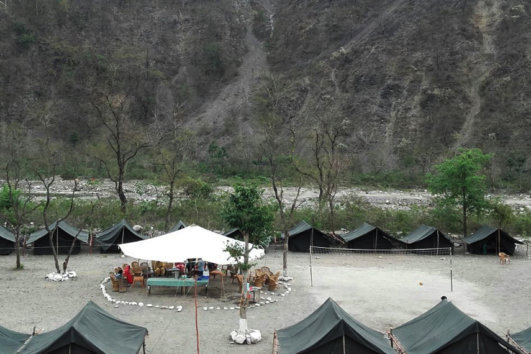 Shivpuri Camping: The Perfect Adventure Camp in India
Posted on By Blog Admin
If you love a spot of adventure, then Shivpuri in Rishikesh in the north Indian state of Uttarakhand is the place to be.
From river rafting to camping under starlit skies to exciting bonfires, this is a destination for the intrepid traveller.
Shivpuri tourist place offers more than 30 campsites, including luxury camps adventure sports like white water rafting in river Ganga, camping, paintball, bonfire, bungee jumping, flying fox, beach volleyball, rock climbing, rappelling and trekking activities. Plan a Shivpuri Camping and immerse yourself in a range of activities.
Best time for camping in Rishikesh
The best time for camping in Shivpuri, Rishikesh is late September to mid-November and early March to early May.
Is camping safe in Rishikesh?
Rishikesh is indeed one of the safest places for camping. The local government and tourism bodies have well maintained the dignity and environment in the place. However, it is important to take all necessary precautions wherever you are camping and must check local travel advisory.
How far is Shivpuri from Rishikesh?
Shivpuri is in the Uttarakhand state of India and it is around 19 kms away from Rishikesh by road. It is located on the way of the National Highway, which passes from Rishikesh to Patisira.
If you are travelling from the famous Lakshman Jhula, Shivpuri will be around 16 kms away from there.
What are the things that could be carried for camping in Shivpuri, Rishikesh?
Here are the things that you need to carry for Shivpuri Camping are:

Warm clothing
Sweatshirt
Sunglasses
Sunscreen lotion & lip balm
Sneakers or river shoes
Waterproof camera
Extra plastic bag
Towel
How to reach Shivpuri?
The nearest airport to Shivpuri in Dehradun. There are flights from Dehradun from most of the Indian cities. It is situated on the banks of the river Ganga and is 19 km away from Rishikesh and 16 km away from Lakshman Jhula. There are many taxi services available from Dehradun airport to Shivpuri.
Best time to visit
The best times for Shivpuri tourism are late September to mid-November and early March to early May.
List of campsites in Shivpuri perfect for adventure.

You will be astonished to see what these camps have to offer. The lists of the camps that are perfect for the holiday are:
1. Shivpuri Beach Camp
One of the most famous beach camps in Shivpuri, this offers camping and river rafting facilities. Shivpuri beach camp is located near a clean white sand beach and welcomes the visitors with immense joy. It enjoys a picturesque location in the Himalayan foothill just across the Ganges River. You will enjoy nature at its purest on the shore of the river with the campfire and other thrilling activities.


Accommodation Facilities
The camps provide accommodation in tents on a double or triple sharing basis.
The prices start from INR 2,000 + GST per person for one night.
List of activities
You can indulge yourself in the number of adventure activities like river rafting, beach camping, jungle walks, mountaineering and jungle trekking.
About the Food
Enjoy pure vegetarian food, served in a buffet for lunch and dinner. Your breakfast would consist of hot tea, coffee, bread, butter and fresh jam. You also get to enjoy a hot beverage with some local bakery and snacks every evening.
Other Camp Facilities
Running water with hygienic washroom.
Daily evening bonfire.
Doctor on call.
Travel desk.
Riverside guided trek in the forest.
2. Camp 21
The camp is situated on a quiet sandy beach of river Ganga in Shivpuri. It's a long beach with no rocks and pebbles near the camps. It offers thrilling activities like cliff jumping, body surfing and more. You can enjoy a wide range of activities for your adventurous holiday.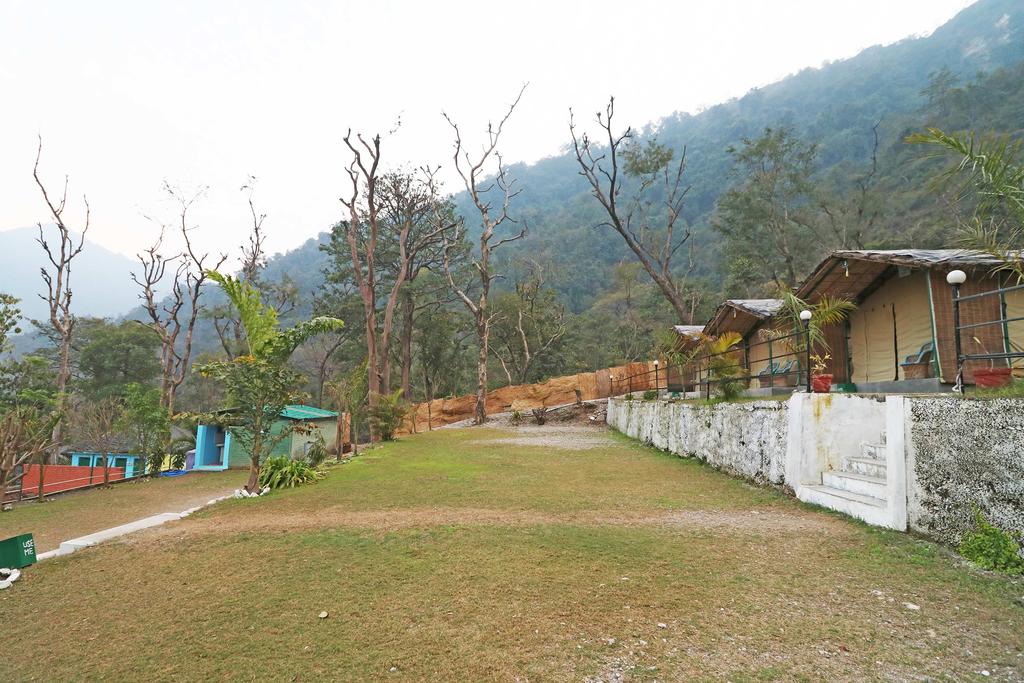 Accommodation Facilities
There are 18-20 tents consisting of small and big tents which can accommodate up to 6 persons.
Prices start from INR 1,000+GST per person for one night.
List of activities
You can enjoy the Neergarh Waterfall and a wide range of activities like beach walk, jungle walk, volleyball, bonfire, body surfing and cliff jumping.
About the Food
They provide breakfast, lunch and dinner. In breakfast, you get stuffed parantha or poori sabji and bread butter/jam, etc. Lunch is a delicious plate of seasonal vegetables, dal, rice, raita and more. Evening snacks include fried crispies or pakoras, peanut masala, followed by a dinner of egg curry, dal, paneer dish, jeera rice, etc.
Other Camp Facilities
Camps provide folding beds, linen, quilts or blanket and pillow.
Hygienic washrooms.
24-hour water supply.
Hot water available on demand.
Electricity, mobile, camera, laptop charging points available in the common area.
Large dining area.
3. Camp Majestic
Camp Majestic is a famous luxury camp in Shivpuri with a beautiful river view location. The camp offers excellent hospitality, meditation facilities and amenities. If you are seeking for some adrenaline-pumping activities then this camp is a place to book a stay.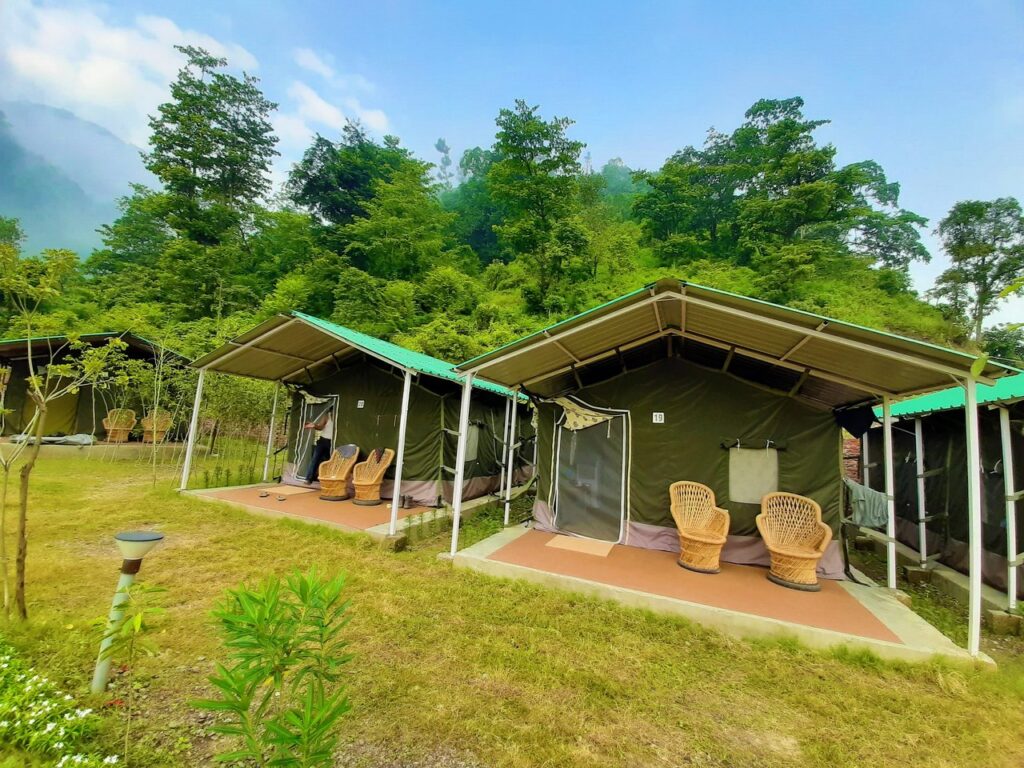 Accommodation Facilities
Camp Majestic has the facilities of 16 luxurious camps with double beds or triple beds in each tent to make you feel at home.

Prices start from INR 2,499 + GST per person for one night.

List of activities

You can experience camping, hiking, bungee jumping, cliff jumping, trekking, rock climbing, kayaking, yoga, beach volleyball, rappelling, mountain biking and backpacking.

About the Food

They provide breakfast, lunch and dinner. You will find a blend of several cuisines like north Indian, south Indian etc in buffet style keeping in mind everyone's tastes.

Other Camp Facilities

Car parking area
Attached washroom facilities
Swimming pool
Bamboo hut designed dining area
Air coolers
Travel desk
Daily newspaper
Power backup
4. Cradle of Life
Camp Cradle of Life is one of the best camps in Shivpuri and a luxury campsite on the bank of the Ganges in Shivpuri. The name of the camp symbolizes the early beginnings of life. The narrow streams flowing from the pristine Garhwal Mountains give a favourable view to the place. The guests can enjoy bonfire night with their loved ones under the glittering stars.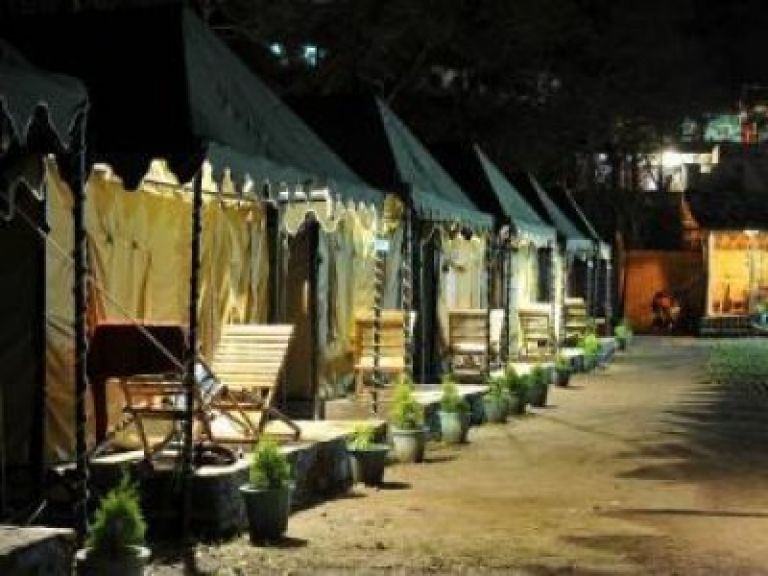 Accommodation Facilities
The resort provides accommodation in 18 Swiss cottages in the natural vistas of Shivpuri.
Prices start from INR 2,000 + GST per person for one night.
List of activities
The activities they provide are white water rafting, rappelling, trekking, jungle safari, paintball, rope courses, zip line, yoga and meditation, bird watching, star gazing, trails and nature walks.
About the Food
The resort serves mouth-watering Indian, Continental and Chinese cuisines. Fresh vegetables are used for healthy cooking and the special menu is prepared every single day to offer multi-cuisine dishes to its guests.
Other Camp Facilities
Spacious cottages, attached washroom with running water.
Electricity with 24 hours power backup, hot water on demand, library, garden.
Multi-cuisine restaurant, RO purifier.
Music nights, car parking facility.
5. Camp Crossfire
This picturesque luxury camping site is covered with a deep Sal forest. Camp Crossfire offers a luxury camping accommodation in Shivpuri. The camp offers you luxury services in the midst of the jungle where you can enjoy the beautiful serenity of the place and also enjoy the recreational activities.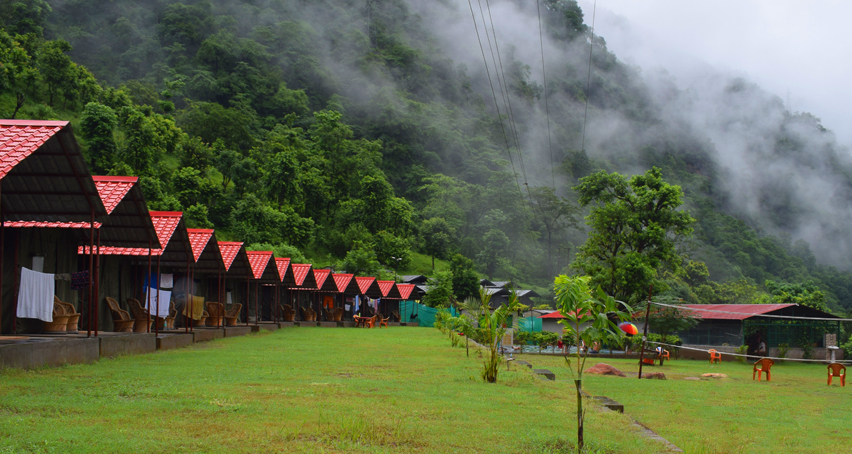 Accommodation Facilities
The camp provides 25 luxury Swiss tents with luxurious amenities.
Prices start from INR 1,800 + GST per person for one night.
List of activities
They provide activities like river rafting, kayaking, rock climbing, rappelling, Burma Bridge, waterfall trekking, bird watching, and other team-building activities.
About the Food
They offer breakfast, lunch and dinner. They provide exotic Indian food mainly north Indian which can be relished by the visitors.
Other Camp Facilities
Hygienic attached washroom.
24 *7 reception help, housekeeping and power back up.
Daily English and Hindi newspaper.
Doctor on call.
Travel desk.
A sample itinerary of Shivpuri Camping
Day 1: Arrival at the camp. Enjoy hot delicious buffet lunch in the camp. After lunch, proceed to rock climbing. In the evening play badminton, volleyball etc. Take evening tea and enjoy a bonfire with snacks. Have dinner and overnight stay at the camp.
Day 2: Wake up early and enjoy a cup of tea and then some nutritious breakfast. Head to enjoy the Shivpuri river rafting. Back to the camp. Have lunch and spend some time in and around the camp. Take evening tea and enjoy a bonfire with snacks. Have dinner and overnight stay at the camp.
Day 3: Get up early and refresh with a cup of tea. After breakfast, check out from the beach camp. Depart with some sweet memories.
Things to pack for the camping
Warm sweatshirt.
Sunglasses.
Sunscreen lotion.
Sneakers or river shoes.
T-shirts.
Tips for camping in Shivpuri
Follow the words of the instructor.
Always wear a life jacket during the activities.
Wear comfortable clothes.
Carry an insect spray.
Take a comfortable flip flops with you.
FAQs for your Shivpuri Camping in Rishikesh
1. What type of camps should I choose?
There are luxury camps and regular camps to choose amongst the beach camps and the jungle camps. The only difference between the luxury camp and the regular camp is that the luxury camp comes with high-end facilities making it more expensive. If you prefer just to enjoy the sound of the jungle by treading inside, then jungle camps should be your choice irrespective of being a luxury or regular one.
2. What is the difference between a beach camp and a jungle camp?
Beach Camps involve rafting and rappelling. On the other hand, the Jungle Camps mean the travellers stay closer to the Jungles and get an opportunity to explore the surroundings through the walk, trekking, cliff-hanging and participate in adventurous activities.
3. What are the camping tips for kids?
Children should stay close to their parents.
4. Will I get food at the campsite?
Yes! There's food available at all campsites – in some cases it's included within the price, in others, you can purchase the food at the site. Food is usually made with local ingredients and of local cuisine.
5. Are the campsites safe?
All the campsites are usually located on private properties and safe from wild animals. But do take precautions wherever you camp and check local travel advisory.
Rishikesh is indeed one of the safest places for camping. They maintain the dignity and environment in the place. The local tourism bodies call Rishikesh safe for camping.

Shivpuri Camping – An ultimate destination for camping lovers

Camping combined with various activities is the ultimate outdoor experience. Camping can be done alone or in the company of friends and family. Deserts, beaches and even national parks make for splendid camping destinations. Spending time in the great outdoors, gazing out at the stars and being close to nature can heal the body and soul. Be it an adventurous holiday or a peaceful one, camping should be on the bucket list of every adventure lover.

Gear up for this adventurous camping to Shivpuri and for Rishikesh Shivpuri camping packages all that you need to do is get in touch with us at connect@flyingsquirrelholidays.com or call us at +91 3340525777.