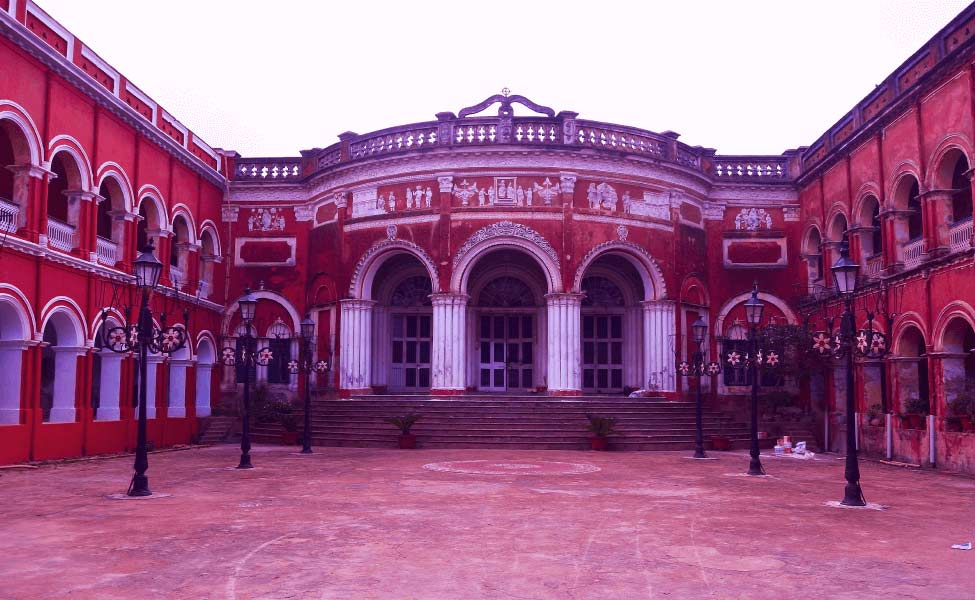 8 Rajbari Resorts Near Kolkata to Taste Royalty in 2021
Posted on By Blog Admin
Under the British Raj, Kolkata (then Calcutta) was a melting pot of various cultures. The rich landed gentry of Bengal and the nouveau riche of the city lived in sprawling mansions that were built after Europe's Greco-Roman heritage.
These buildings near Kolkata or the Rajbari resorts near Kolkata boasted of Corinthian pillars, dotted with balustrades of delicate grill-work, and had marble statues carefully placed in them.
Long after the British left India, some of these historical places of Kolkata were restored and today is an essential part of the city's tourism.
Let's learn about the rajbari stay near Kolkata where you can enjoy the taste of royalty in your short staycations. 
Rajbari Resorts near Kolkata in 2022
Here are some beautiful Rajbaris of West Bengal open to the public. Be prepared to enjoy the Bengali hospitality in these premium heritage stays.
Bari Kothi Heritage
Amadpur Rajbari
Mahishadal Rajbari
Belgadia Palace
Rajbari Bawali
Itachuna Rajbari
Jhargram Palace
Cossimbazar Rajbari
Rajbaris in and around Kolkata for photography in 2022
These Rajbari Resorts near Kolkata are restored and transformed into heritage stays in West Bengal and are immensely loved by tourists, historians and photographers alike.
Bari Kothi Heritage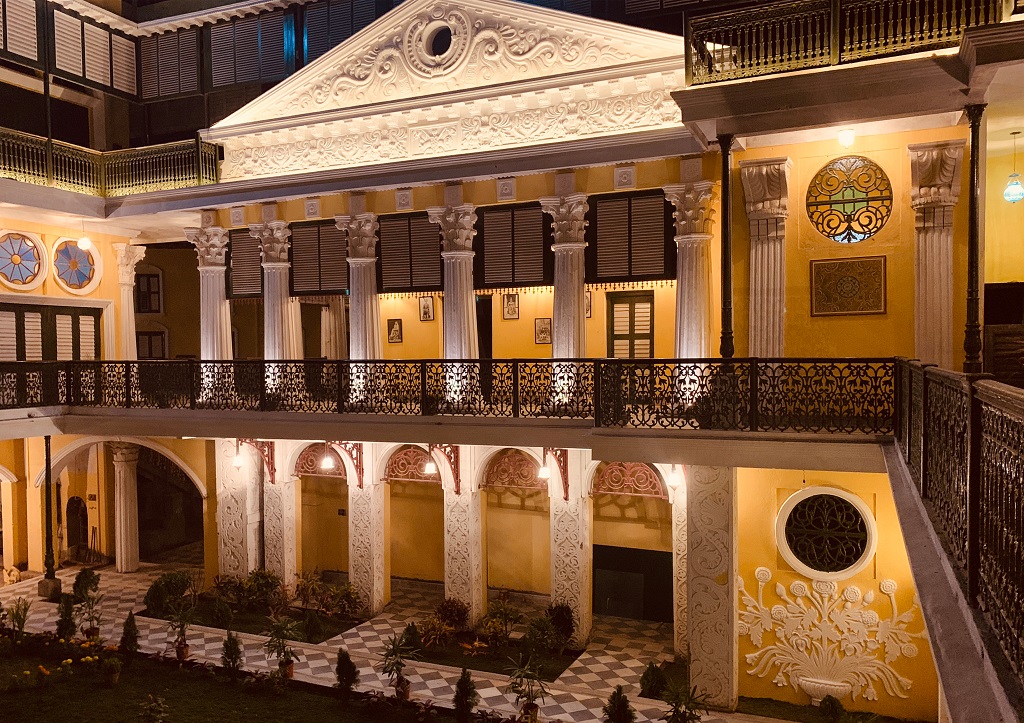 Located around 6 hours from Kolkata and set amidst the regal backdrop of Murshidabad and the majestic Bhagirathi River, the Bari Kothi mansion is an architectural wonder that was owned by the Dudhoria Raj family of Azimganj in the late 1700s.
A mix of Greek, Roman and French architecture, the palace will mesmerize you with its majestic art and architecture. This heritage hotel will promise you of a luxurious experience as you learn more about the vibrant culture of Murshidabad and embrace the renowned Sheherwali Heritage, traditional way of life and cuisine.
If you are passionate about discovering the historical elements that an ancient town has to offer, enjoy photography and local architecture, then a getaway to this place is a must.
Main Attractions
Story Telling- A special session hosted for guests to convey the story of the palace to them in order to connect them with the place, architecture, and objects.
Sunset- Stroll along the Ghat, sipping a cocktail, and watch the sun dip in the river. You can also enjoy a boat ride there.
Tea on the Ganges- Enjoy the finest tea by the riverside with the beautiful sounds of the flute playing in the background.
Cultural Evenings- Enjoy live Baul & Fakiri music, Raibeshe dance, and more.
Sightseeing- Visit 250 years old Charbangla terracotta temples, Palace of 1000 doors, mosques, and local markets.
Lunch on the Ganges- Relish a hot and scrumptious lunch on a boat while discovering the beauty of the river Ganges.
Heritage Walk- Go for a walk early morning and visit nearby places like Hazarduari Palace, Imambara Palace, Footi Mosque, Katra Mosque, and terracotta temples.
Textile Tour- Buy fine quality silks and muslins and get to interact with locals at Tantipara village and Islampore.
Bird Watching- Explore the fauna of the region like red avadavat, barn swallow, red turtle dove, common tailorbird and more.
Local Art- Learn and create art and craft such as pottery making, shola art, kantha stitching and block printing.
Accommodation
Bari Kothi provides accommodation in luxurious suites with traditionally decorated interiors and furnished in antique décor. There are 15 luxurious heritage suites categorised as Heritage Suites, Royal Heritage Suites and Maharaja Heritage Suites.
Amadpur Rajbari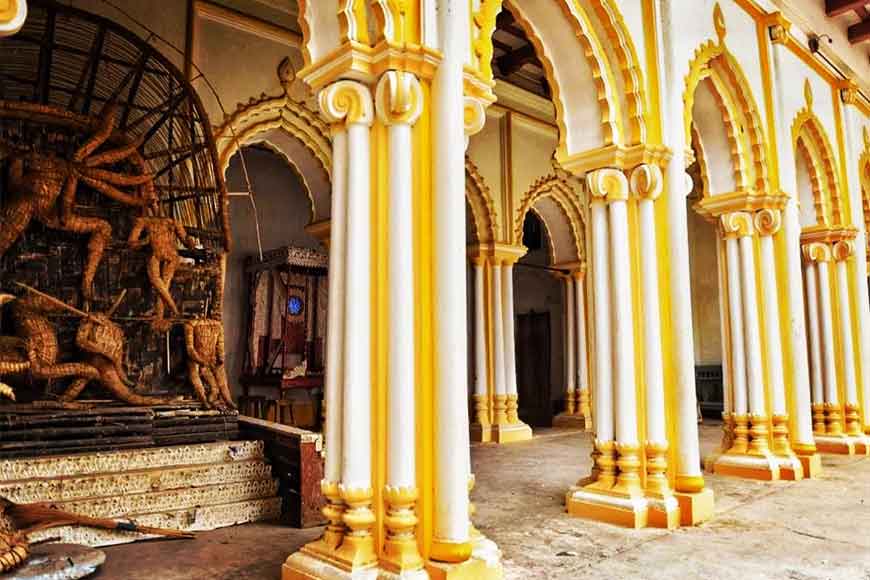 This heritage stay in the village of Amadpur is about two hours from Kolkata by car. High ceilings, lovely verandahs and ancient furniture adorn this historical building.
There are twelve terracotta temples more than five centuries old, beautiful orchards and lakes perfect for photography. There are natural pools for a refreshing dip and nature is evergreen here. There's a Baithkkhana, Dol Mancha and Shiva temple nearby. The Rajbari has been celebrating Durga Puja, Kali Puja and Dol Jatra in a traditional way since generations.
Relish the traditional Bengali cuisine cooked in a typically homely way with hand ground masala paste. The most popular dishes are posto bora, shukto and labhra with fish, mutton and chicken and local mishti doi. Overall, Boro bari will fill you with immense joy.
Main Attractions
Nihshanka Ashram- Visit this ashram to see its thousand year old banyan tree.
Tomb of Narahari Baba- You can visit this place to see how Narahari Baba used to meditate in an underground cavern with two Bengal tigers by his side.
Ghat- You can spend some quiet time at the lake side Ghat behind the Dol Mancha.
Durga Bari- It's a 350 year old building where the Choudhuri family hosts religious festivals.
Terracotta Temples- Visit the twelve terracotta temples to admire the architecture.
Accommodation
The Amadpur Rajbari offers four spacious rooms with attached washrooms with prices beginning from INR 2,500 per night (inclusive of breakfast) for doubles.
Mahishadal Rajbari

Less than three hours drive from Kolkata, the Mahishadal Rajbari also known as Phool Bagh, is one among the handful of former palaces of Bengal that have opened their doors to visitors.
The Garg family are the rulers of Mahishadal, when the lineage of the earlier rulers, the Upadhyay family, came to an end owing to the lack of a male heir. They opened a museum in 2012 to ensure that the palace remains peaceful which soon became one of the major attractions for local visitors and for those visiting the nearby tourist and picnic spots in winter.
Many religious festivals are organised here including Jagannath Rathayatra and Durga Puja, both more than 200 years old. The palace has been a favourite with filmmakers and a lot of leading Bengali films have been shot here. The rooms of the palace offer a glimpse into the lifestyle of the former rulers. While staying here do not forget to take a peek at the dining hall, which contains a lovely fresco panel on its walls narrating the story of Shakuntala.
It can be a nice retreat for those looking for a place to paint, write or capture beautiful shots. So, if you are looking for a peaceful weekend, away from the humdrum of urban life, the Phool Bagh Palace is an ideal place.
Main Attractions
Lal Kothi- Located behind the palace, you can visit this house of the rulers fronted by the lake.
Dadhi Baman temple- Dedicated to Lord Rama, seek blessings in this temple.
Rangibasan Palace- This is the old palace where the family used to live before the new palace came up.
Madangopal Temple- Situated near the old palace and dedicated to Lord Krishna, this temple is an example of Bengal's traditional architecture.
Agricultural fields- You can take a walk near the palace and look at the countryside marked with agricultural fields and fish ponds.
Accommodation
The Rajbari has two well appointed rooms with attached washrooms. One room consist of double bed starting from INR 4,000 per night and the other room consist of six extra beds starting from INR 7,000 per night excluding taxes and including breakfast.
Belgadia Palace

If you have been dreaming about a trip that allows you to live like royals and enjoy photography, then Belgadia Palace in Odisha should be in your list. This palace belongs to two sisters, Mrinalika and Akshita M Bhanjdeo who are the second and third daughters of Praveen Chandra Bhanjdeo, the 47th ruler of the Bhanjdeo dynasty.
The royal sisters opened the doors of the palace for its guests to enjoy stay and experience their roots and past and wonderful aspects of the state of Odisha.
Situated in Mayurbhanj, Odisha around 5 hours away from Kolkata by car, this Victorian style double storied palace was established in 1804 that sits atop a hill.
The palace is nestled amidst lush green hills and cascading waterfalls. It is built in the classical Western style of Doric- Corinthian column which is an amalgamation of Greek and Victorian architecture.
You have plethora of photography and sightseeing options as it offer visitors easy access to wildlife parks, temples, colonial heritage tours, waterfalls and also the opportunity to interact with the tribals.
Main attractions
Organic Farm- It provides raw material for fresh array of local cuisines in the palace.
Tribal Villages- Visit the villages nearby to witness the old art of Odisha and learn art such as chhau, which is martial arts dance form.
Kichakeswari Temple- The temple in khiching which is known for being built entirely of chlorite slabs.
Waterfalls- Visit Barheipani Falls and Jaranda Falls for astonishing waterfalls.
Wildlife- Visit Simlipal National Park to witness wildlife.
Heritage- Visit Rani's Dharamsala, a palace built in the 1930s and consists of multiple courtyards.
Spa- Rejuvenate yourself in the spa at the palace.
Games Room- You can indulge in various games like billiards and more.
Accommodation
With a total of 5 deluxe rooms and 4 boutique style suites, the palace offers luxurious experience to its guests. Immersed in traditional royal design, the rooms and suites consist of vibrant walls, lavish curtains, velvet upholstery and luxurious washrooms.
The Narayanhity Suite or the pink suite is named after the royalty of Nepal because of the family's strong ties with the country. The other suites include The Shahzada Suite, The Bengal Renaissance Suite and The Crown Suite.
The prices of the rooms start from INR 7,000 per night. There are also some pet friendly rooms if you want to take your pets along.
Rajbaris in and around Kolkata for Wedding in 2022
Dreaming about a Grand wedding with a royal touch- sounds good?
So pick one of these grand mansions and Rajbaris near Kolkata for a lavish wedding. Here are a few you can choose from.
Rajbari Bawali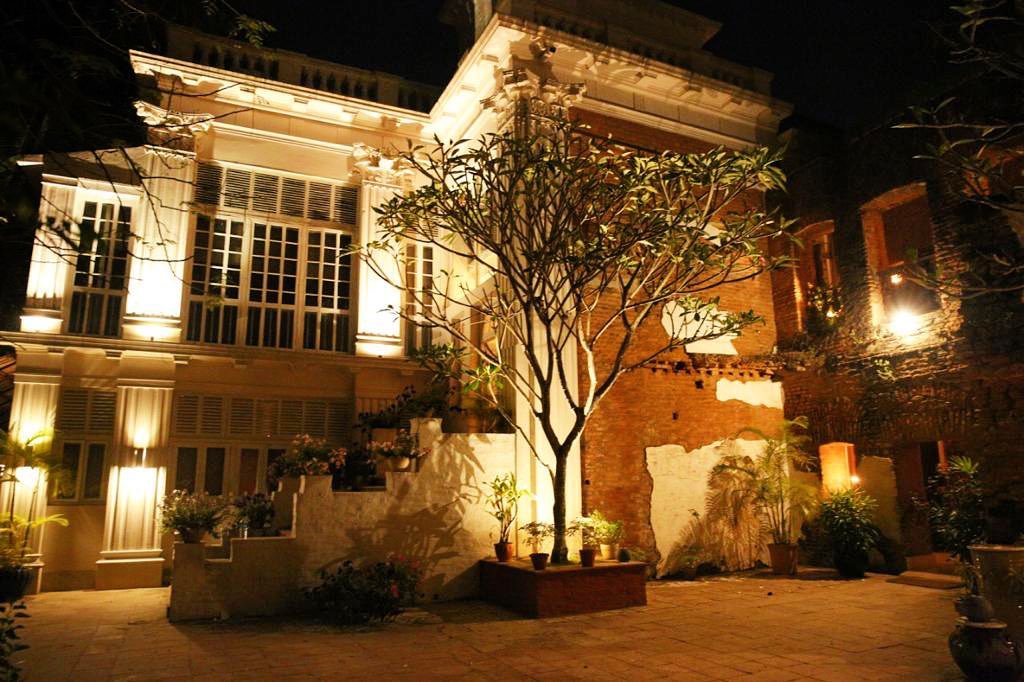 Located around two hours from Kolkata in a small village of Bawali, this Rajbari building is steeped in history and is a great piece of architecture. The sprawling heritage property once belonged to the Mondal family, a Zamindar of erstwhile Bengal.
The palace was inhabited for more than 40 years and is now taken up by Kolkata based businessman Ajay Rawla and turned the ruined mansion into a heritage hotel. The architectural structure of the building, an impressive dining area and heritage items add to the experience of a royal and indulgent past of Bengal.
The Rajbari has been restored to its former glory and charm, and modern luxurious amenities have been added. The Rajbari's lawns are perfect for saat pheras.
The Chokher Bali room is stacked with antique woodwork and artefacts from centuries back making this palace resort perfect for an extravagant royal wedding.
The Bawali's kitchen can also take care of your wedding feast. From pre-wedding shoots to a promised experiential stay amidst nature, Rajbari Bawali is a treat you can give yourself and to your guests.
Main Attractions
Village walk- Enjoy a walk around the village to get an insight into rural Bengali life.
Swimming Pool- Take a dip in the clean blue waters of the pool and sip a drink in the poolside bar.
Spa- Enjoy the spa facilities in the resort.
Bicycle Ride- A cycle ride around the Rajbari is a fascinating and fun experience.
Boat Ride- Take a boat ride on the Ganges. Watch the sunset from the river.
Temple- Visit the ancient Navratna Gopinath temple built around the same time as the Rajbari.
Bengali Cuisine- The cuisine is mainly dominated by fresh water fish, prawns, mustard, poppy seeds and rice.
Accommodation
There are 30 rooms and suites categorised as Classic Heritage, Notun Bari, Zamindari Suite, Royal Suite and Dak Bungalow with elegant and wooden furnishing. The price of the rooms starts from INR 6,000 per night.
Air conditioner, bath products, tea and coffee maker and wardrobe are available in all rooms.
Itachuna Rajbari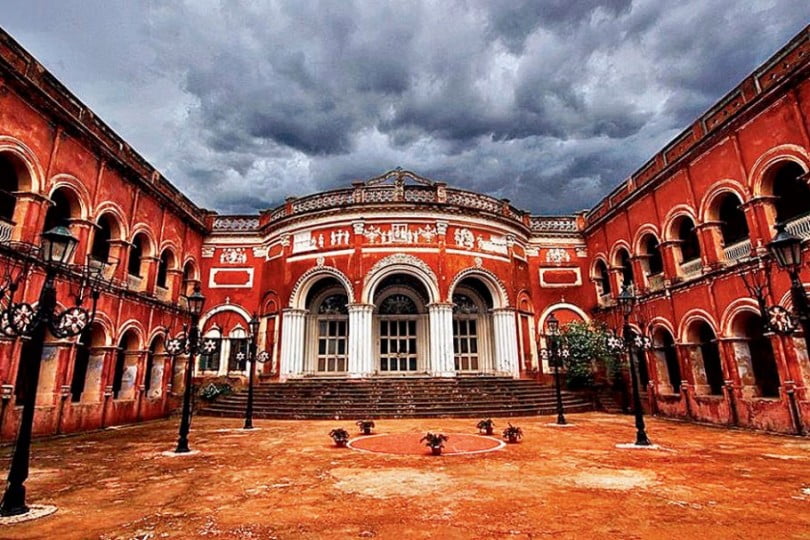 Located barely two and a half hours from Kolkata, the Itachuna Rajbari also called the Bargi Danga is a well preserved Rajbari that has now been transformed into a heritage hotel.
Bargi comes from the Marathi word Bargir. Bargis were Maratha soldiers who have a history of attacking and looting Bengal countryside. One of this Bargis was the Kundans and they settled in Bengal and came to be known as the Kundus.
The Kundu family built for themselves the Itachuna Rajbari. The red and faded yellow colours of the main building and the cute mud huts make the ambiance of the place quite interesting.
This 200 year old magnificent palace with five courtyards, and its antique caskets, ornate wooden décor and framed writing from the past make for an ideal setting for an opulent wedding. You can relish the food cooked by the cook whose family has been in the service of the royal family for generations.
Main Attractions
Music- If you love music, they can provide for a Baul singer to keep you entertained.
Outdoor Activities- You can enjoy activities like flying kites, gardening, fishing and barbeque.
Temples- Seek blessings in famous temples like Jateswar Shiv temple, Mahanad Kali Bari and the terracotta temple of Debipur.
Pandua Tower- Do not miss the view of the Rajbari from this 125 feet high tower.
Accommodation
They have several options for you to choose with interesting names for rooms like Boro Boudi, Choto Boudi, Thakuma, Boro Pishi, Kaka Babu and Jatha Mashai. You can also opt for the cosy mud huts namely Aparajita, Madhabilata, Kanaklata and Jhumkolata with modern facilities.
The prices of the rooms start from INR 1,500 per night. Free Wi-Fi is available with doctor's facility for emergencies.
Jhargram Palace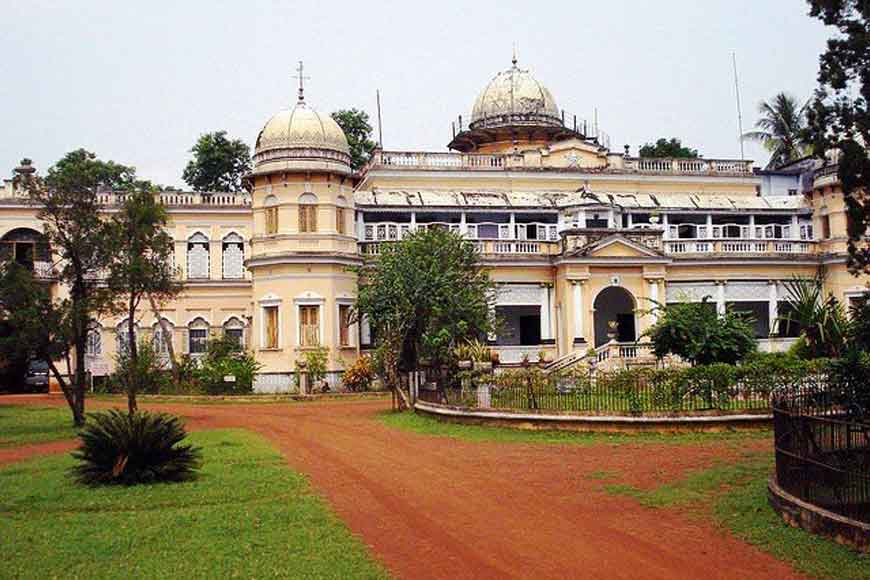 The Jhargram Palace is located around four hours away from Kolkata and is home to the royal family of Malla Deb. The palace has interesting historical background that shows how truly Bengal is a melting pot of all cultures.
Surrounded by a beautiful lawn and picturesque garden, the palace is a magnificent structure styled with ethnic and Italian architecture style.
Now turned into a heritage resort, the palace definitely fits the bill for your grand exotic wedding. This magnanimous palace with vaulting domes and courtyards boasts of architectural influences and screams of vintage splendour.
If royal destination is the theme of your wedding then the Jhargram Rajbari is a good place to consider.
Main Attractions
Village Walk- You can go for a walk and experience the life of the farmers and rural Bengal closely.
Boating- You can enjoy boat rides in the Khandarani lake.
Museum- Explore the museum built by the ruler.
Camping- You can enjoy camping at the premises and personalised barbeque.
Waterfalls- You can enjoy the Ketki waterfalls.
Accommodation
There are 30 room options available varying from Royal Suite, Executive Suite, Royal Guest House, Family Deluxe, Premium Deluxe and Classic Deluxe. Each suite offer amenities like air conditioner, attached washroom, almirah, geyser and toiletries.
The prices of the room start from INR 1,600 per night.
Cossimbazar Rajbari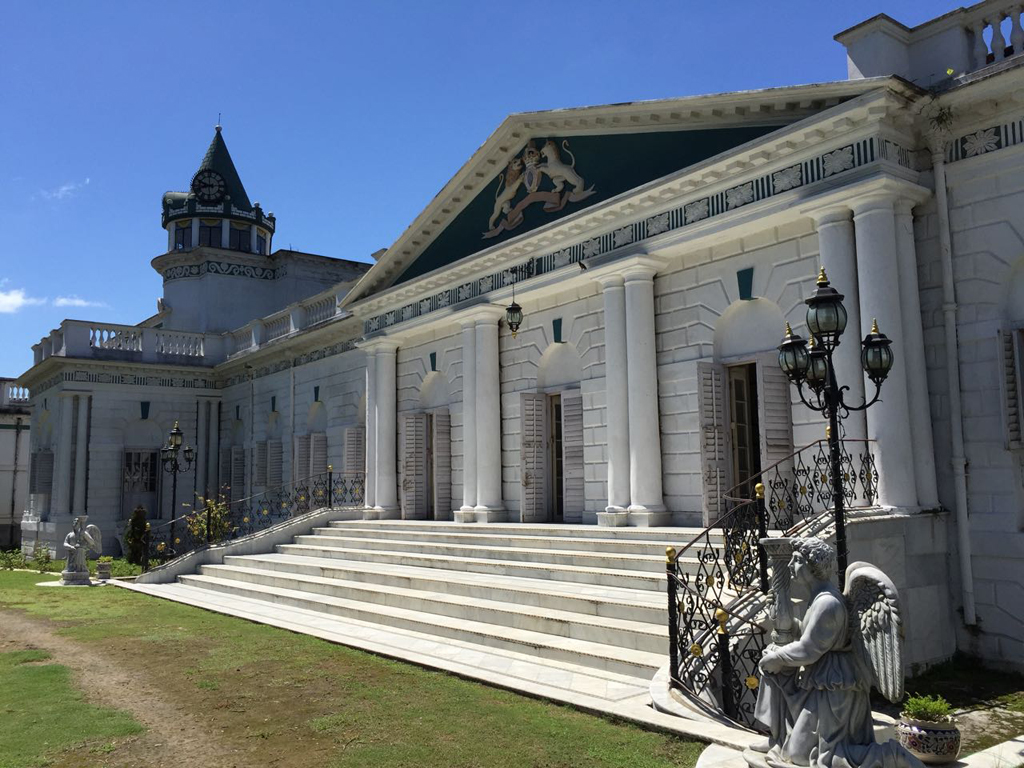 Located around 6 hours away from Kolkata by the Ganges in the historic city of Murshidabad, lies the sight of the resplendent colonnaded façade founded by the Roy's in 1700s.
After being shut for several years, the family decided to go for the restoration of the palace in the early 90s. The palace was then rebuilt into parts and expanded through new buildings, temples, offices, gardens and tennis courts etc.
Post renovation, the Roy's converted some of the rooms into guest rooms and some have been converted into a walk through museum with everything from antique furniture to animal trophies.
The bedrooms, central ballroom and dining room are perfect glimpse of European and Indian architecture. The luxurious bedrooms with paintings, chandeliers, dressing tables and Victorian era furniture are perfect for luxurious stays and wedding ceremonies.
The dining rooms have a 20 feet dining table. There are many sightseeing options too like ancient factories, tennis courts and gardens. Winters or Durga Puja are the best time to visit when the family holds the annual rituals at the hall with an open courtyard in marble called 'Chandimandap'.
Main Attractions
The Sabha Ghar- A massive five arched hall divided into two sections with beautiful decorations on the cornices, walls, frescos and carvings of floral motifs in plaster.
The Malkhana- A strong room which was built in earlier days which houses the treasury, arms and artillery.
The Clock Tower- It presents wonderful 360 degree view around the palace.
Radha Gobindo Mandir- A temple decorated with ancient carved stone pillars and arches, it houses the family's deity Sri Sri Radha Gobindo Jew Deb Thakur and other deities on a beautifully carved singhasana.
Lakshmi Mandir- This is the first ancestral house of the Roy's where Ajodhya Ram Roy had come down to settle in Cossimbazar in early 1700s.
Ashutosh Shiv Nath Mandir- It is a beautiful Shiva temple where daily puja is performed.
Nagalingam- A very rare tree originating in Africa is found here. It produces a unique flower and emits enchanting fragrance.
The Front Gardens- It consists of a beautiful fountain on the marble, the interior gardens and ponds.
Old Library- It is a beautiful garden retreat in front of the interior gardens.
Factories- Visit these ancient factories founded in the 1700s by the East India Company.
Accommodation
There are 30 bed rooms categorized into king suite, deluxe queen suite and executive suite which consist of a traditional, high, four poster beds with clothes rack, an old fashioned dressing table, air conditioner, ancient 'tana pakha' or hand pulled fans and 24*7 front desk.
Kolkata is an interesting city with so many places to visit around. These Rajbari Resorts near Kolkata will enthral you with their charm and peaceful ambience and make your visit an awesome one.
So if you are looking for a peaceful getaway, photography spots or a grand location for wedding, head to these amazing resorts near Kolkata.
Flying Squirrel Holidays are one of the best-customized Travel planners in Kolkata; get in touch with us at +91 33 40525777 or write to us at connect@flyingsquirrelholidays.com to get a hassle-free travel experience. We will guide you through planning your next staycation.
Image Rights: Creative Commons