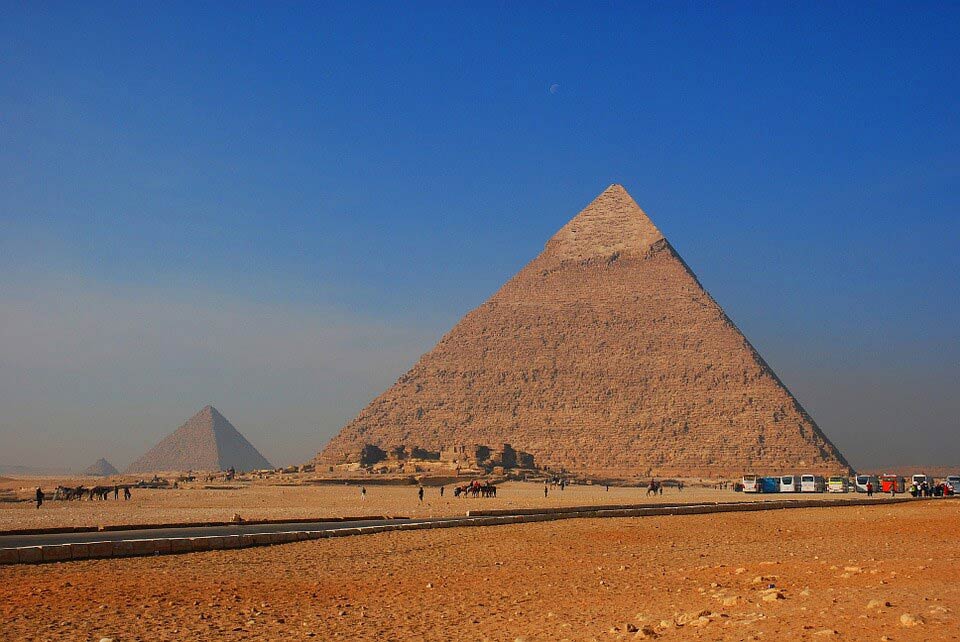 Plan Your Egypt Tour Package From India
Posted on By Blog Admin
A Complete Tour Guide For Indians To The Land Of The Pharaohs – Egypt
Labelled as the cradle of civilization, Egypt is a land that captivates travellers with its interesting temples, pyramids, and sphinxes. A unique land that charms you with man-made architecture as well as its natural beauty, Egypt is a place that should find a place on every explorer's bucket list.
Egypt has puzzled scholars for a very long time. Its architectural beauty with precise accuracy, the intricate designs, and unique ideas leaves every traveller gaping in awe. If Egypt is one of your dream destinations then this Egypt tour package from India will make your fascination true by delving into the deep culture and history of the land of pharoahs.
What is the best time of the year to visit Egypt?
Though Egypt is a year-round destination, September to April is a good time to visit Egypt.
Is Egypt cheap or expensive?
Egypt is a value for money destination. It can be a luxurious holiday too as the finest hotels and cruises are available in the land of the Pharaoh.
How much does it cost to go to Egypt?
The cost depends on various factors like  the type of hotel you choose ( budget to luxury), local transportation, local sightseeing experiences chosen for your tailormade itinerary.
What to wear in Egypt?
Since Egypt is a conservative country, you should wear decent clothes and resist from wearing short skirts and shorts.
Do I need Visa for Egypt?
Yes, Indians need Visa for visiting the country. Indian tourists can get a visa for 90 days but they are allowed to stay only for 30 days, starting from your arrival date.
How long is a flight to Egypt?
It takes around 8 hours to reach Egypt by air from major Indian cities in India.
How to reach Egypt from India
Egypt is located in the north-eastern part of Africa. It has the Mediterranean Sea to the North. To the east lie the Gulf of Suez, the Red Sea and the Gulf of Aqaba. The Sinai Peninsula is located in Southwest-Asia and connects both the continents.
There are several flights from the popular cities in India to reach Egypt. Cairo International Airport is the primary airport in the country where the flights from India fly into. 
If you choose to book the Egypt tour package from Kolkata then most of the flights from Kolkata are routed to Cairo with a layover in Abu Dhabi, Dubai, or Qatar.
Things to do in Egypt
Cairo, Luxor, Giza, Aswan, Alexandria, Sharm El-sheikh and Hurghada are the popular tourist destinations in Egypt. Here are some of the mesmerizing attractions that are an absolute must-do when in Egypt.
The Egyptian pyramids

No trip to Egypt can be planned without a visit to the Egyptian pyramids. In fact, that is what Egyptian holidays are all about. 
Visit the Pyramid Complex in Giza which is located around 18 km from Cairo.

These monumental tombs were constructed some 4,500 years ago.

The Great Pyramid of Giza is one of the Seven Wonders of the World. 

The Pyramids of Giza are dedicated to the three pharaohs. 

The smallest is the Pyramid of Menkaure. The next is the Pyramid of Khafre.

The Great Sphinx of Giza is made of limestone bedrock and this is the largest and the oldest statue of Sphinx. The Sphinx is believed to be a mythical creature that has a human's head and a lion's body.

The Cheops Pyramid or the Pyramid of Khufu is

the oldest and largest of the three pyramids in the Giza pyramid complex. It is also considered to be the oldest of the Seven Wonders of the Ancient World.

Next to the Pyramid of Giza lies the Valley Temple and is popular because it is here that the process of mummification took place.

Visit the Step Pyramid of Zoser located in Sakkara.

See the great Statue of Ramses II and the Alabaster Sphinx of Memphis at Egypt's ancient capital-Memphis.
The Egypt tour packages from India will cover these glorious Egyptian ruins.
Nile cruise

The second on the places to visit in Egypt list should be a cruise on the Nile River. 
The Nile River holds a special place in the history of Egypt. 

Egypt has been believed to be the gift of the Nile River. 

The ancient civilization of Egypt thrives around the River Nile and the River also gave Egypt its fertile land, electricity, and food. 

To see Egypt more closely a cruise down the River Nile is a must on your

Egypt holiday packages

. 

The cruise lets you appreciate the landscape of Egypt.
Tour the attractions of Cairo

The "City of Minarets" has a number of attractions for you to explore.
The Egyptian museum is an art gallery and stores artefacts that are more than 4000 years old.

Salah El-Din Citadel overlooks the city of Cairo and is 800 years old.

Mohamed Ali Mosque is a sight that lets you appreciate the extensive usage of marble and the unique design of the mosque.
Tour the attractions of Alexandria
Founded by Alexander the Great, Alexandria is a city that is sure to dazzle you.
Alexandria Library is the most popular attraction in Alexandria. It is one of the most advanced and largest libraries in the whole world.

Visit the Catacombs which are an art piece that shows the influence of the Egyptian culture on the Greco-Roman Period.

Pompey's Pillar is the largest monolith column built outside Rome.

Gape at the fusion of Islamic and the Greco-Roman architecture at the Citadel of Qaitbay.
Beach destination in Egypt



Sharm El Sheikh is a popular beach destination in Egypt.
Soak in the incredible views of the Red Sea.

See the corals when you go scuba diving or snorkelling to explore the life that exists beneath the sea.
White Desert National Park 

The White Desert National Park is the place where you can see the formation of chalk rock. This is located in the Farfara depression.
A sample itinerary for Egypt
We have a number of packages to Egypt from India. You can choose the package based on your interest, the places that you wish to visit and the number of days that you want to travel. We can also help you to customize your Egypt package.
This is a 7 nights and 8 days trip to Egypt where you get to see the attractions of Cairo and Alexandria. Embark on a Nile Cruise to sail through the history of Egypt.
Day 1 – Reach Cairo airport and get transferred to the hotel.
Evening- Visit the Light Show at the Pyramids.
Day 2 –  City tour. – Visit the 3 Pyramid areas – The Great Sphinx, the Temple of the Valley, and the Institute of Papyrus and the Natural Perfume shop.
Day 3 – Full day excursions of Alexandria.
Day 4 – Transfer to the Cairo International Airport for your flights to Aswan.
Board the Nile cruise.
Overnight stay onboard the cruise.
Day 5 – Full day Nile Cruise with stops at the Kom Ombo Edfu.
Day 6 – Nile cruise
Visit the Temple of the God Horus.
Sail to Luxor and pass through the Esna Lock.
Arriva at Luxor and visit the Luxor temple.
Day 7 – Breakfast on board the Nile Cruise and disembarkation.
Assist and transfer to see the Karnak temple.
Transfer to Luxor airport to take a flight back to Cairo.
Overnight stay at Cairo
Day 8 – Transfer to Cairo International Airport to take the flight back home.
Tips when travelling to Egypt
Here are a few tips that would help you when travelling to Egypt.
Visa – You need to apply for a tourist visa to go to Egypt from India. There is no visa on arrival for Indians to Egypt. You get a tourist visa allowance 90 days. However, you can stay in Egypt only for 30 days or less. A single-entry tourist visa will cost you Rs. 1900 and it takes 2-3 business days to get processed.
Currency

– The currency of Egypt is Egyptian Pound or Ginee.1 Egyptian Pound can roughly be bought for 4.5 rupees. MasterCard, Diners Card and Visa Cards are also accepted, however, it is preferable to carry some currency along with you because the small hotels and restaurants deal in cash only.

Weather

– Egypt has a bright and hot climate for the maximum part of the year. The winters are mild and the average temperature is around 20 degrees and the night-time temperature goes a little below 10 degrees. The summer days usually have a temperature of 35 degrees and are humid.

Transport

– The fastest travel option in Egypt is the metro. There are also buses, micro-buses and private taxi services available for commute. You can try out the river bus to travel through the Nile River.

Safety

– Egypt is a safe country to travel. There is hardly any incidence of crime or violence here.

Etiquettes

– Egypt is a conservative country. It is important to dress in a conservative manner. In Egypt, you should leave some food on the plate when you have finished eating as an indication that you are not hungry and have eaten well. It is standard to tip waiters and taxi drivers.

Festivals

– Sun Festival in February and October, Sphinx Festival in May, Eid Al Fitr in May as per the Islamic Calendar are some of the popular festivals celebrated in Egypt.

Mobile network and sim card

– The four major mobile service providers are Orange, Vodafone, WE and Etisalat. You can buy a sim card at the Cairo International airport itself.

Power plugs – You need power plugs and sockets or C and F type.

Taxi

– There are three kinds of taxis in Cairo, The black and white taxis which do not have a meter, the white taxis which have air conditioning and meter and the yellow taxis that can be called on the phone.
Embassy 
The Indian embassy address in Egypt:
5, Aziz Abaza Street, Zamalek
Cairo 11211, Egypt
TELEPHONE: (+20) 2-2736 3052/(+20) 2-2736 0053 / 6051
Checklist to travel to Egypt
There are some essential items that you should not miss when travelling to Egypt.
Travel documents

– Passport, visa, travel insurance, tickets, medical documents and other relevant ID cards

Money

– Credit card, local currency, US dollars

Clothes

– Conservative clothes, comfortable walking shoes, sunglasses and hats

Electronics-

Camera, mobile phone, travel adapter

Health and hygiene

– Medications that you are on, basic medical kit, women hygiene items, sunscreen, toiletries
List of some star hotels in Egypt
5 star hotels in Cairo
Fairmont Nile city – INR 8500 per night
Sofitel Cairo Nile El Gezirah – INR 8300 per night
5 star hotels in Hurghada
Baron Palace Sahl Hasheesh – INR 11600 per night
4 star hotels in Cairo
Novotel Cairo airport – INR 4600
Radisson Blu Hotel Cairo Heliopolis – INR 6400
4 star hotels in Hurghada
Meraki Resort – INR 7300
3 star hotels in Cairo

Cleopatra hotel- INR 3700
New Garden Palace hotel – INR 2500
3 Star Hotel in Hurghada

Marina Star hotel – INR3500
FAQs for your Egypt travel
 1. What are the accommodation options in Egypt?
There are many accommodation options in Egypt suitable for all budget travellers. Even in the high seasons, you can get something off your budget in the popular cities in Egypt. Cairo, however, is expensive as compared to the other cities in Egypt.
There are choices of hotels that range from one star to five-star categories.
Hostels are also an option for budget travellers. However, these have night-time curfew, daytime lockouts and separate rooms for men and women.
You can also choose to stay at a campsite. These have few facilities and are only for the extreme adventurous travellers.
2. Which are the must-try cuisines in Egypt?
Ful Medammes is a popular Egyptian breakfast made using fava beans that are cooked with salt and oil.
Falafel or Ta'meya is made with fava beans and is served in breakfast.
Koshari contains macaroni, rice, lentils, and chickpeas that have caramelized onion.
Mahshi is a vegetarian dish that is stuffed with rice filling.
Shawarma is made using beef or chicken and it is made using Middle Eastern spices.
Macaroni Béchamel is a lasagne with an Egyptian twist.
3. What and where should you shop in Cairo?
A trip to Cairo is not complete without dwindling the gullies of Khan Al Khalili bazaar. This is a souk that has a medieval-style architecture. There are cramped little shops on the streets that sell everything be it soap, powder spices, silk, semi-precious stones, jewellery, wooden camel toys, and many other things.
Egypt – The ultimate destination for all travellers
Egypt is a favourite travel destination for curious travellers. It boasts of a rich culture, iconic attractions, surreal landscapes and cities that are highly dynamic. To experience all of these explore the different Egypt tour packages from India to visit and fall in love with this exotic location.
To experience all of these get in touch with us on connect@flyingsquirrelholidays.com to customise your Egypt tour package.