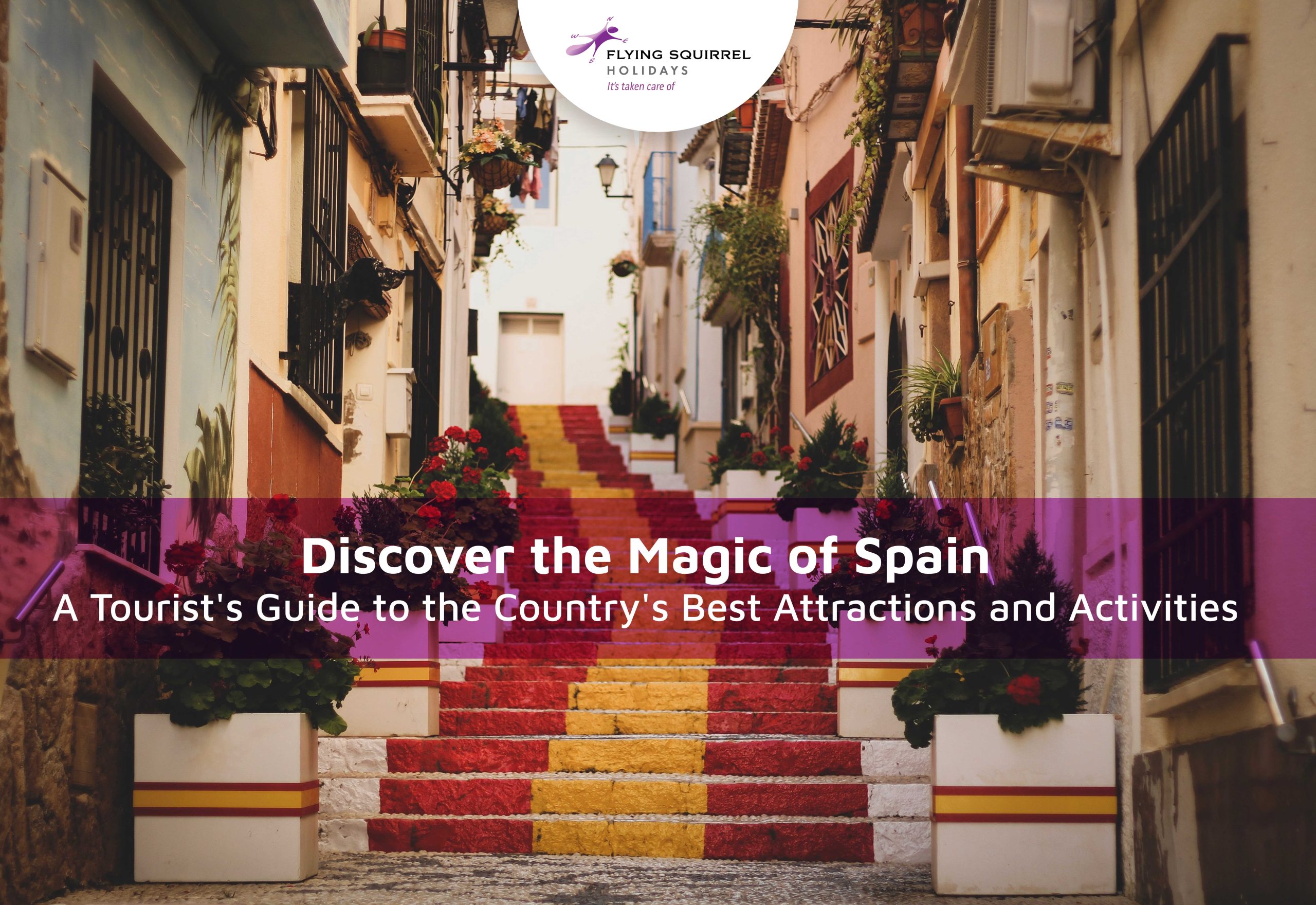 Top Places to visit in Spain : Your Ultimate Travel Guide
Posted on By Blog Admin
Discover the Magic of Spain: A Tourist's Guide to the Country's Best Attractions and Activities
Fine art, iconic architecture, gourmet cuisine, breath-taking views – if any of these topics are of interest to you, then put Spain on your must-visit bucket list. Spain is a peninsula with a flavour uniquely its own – a strange mix of raciness and colours that is difficult to resist. Quaint and fiercely original, even the most jaded mind will be inspired by the fresh and stirring experience of Spain. Our team at Flying Squirrel Holidays has created this guide to help you craft your own unique journey to this magic land.  
From the mystical heights of Sierra Nevada to the seaside paradise of Costa Blanca, Spain's vibrant colours will always catch you by surprise! There are regions of luxuriant green and tropical sun surrounded by mountains of perennial snow. Through the plain, you will catch a river glide among fruit orchards and olive cultivations; in the shaded patios of the city, fountains keep the air cool and fresh, and on the coldest night in winter the temperature is still some degrees above the freezing point. 
This is a country of picturesque vistas and unexpected joys, a country where imagination is alive and thriving, and where the artist and poet find their true home. 
Spain awaits your arrival.
The places in Spain for all your desires!

There are many personas you can assume in Spain. The Adventurer. The Party Animal. The Family Person. The Culturati! Take your pick. From the bustling cities of Barcelona and Madrid to the sunny beaches of the Balearic Islands, there's something for everyone in this beautiful country. 
If you're travelling with your family, there are plenty of options for fun and adventure. The beaches in Spain are some of the most beautiful in the world, with crystal clear waters and golden sands. The Costa del Sol, in particular, is a popular destination for families, with its warm climate, stunning beaches and the plethora of water activities. 
Andalucia, home to the famous Alhambra Palace, is another great place for families to experience together. The city of Seville is also a must-visit destination, with its picturesque streets, beautiful architecture and delicious food.
For young adults, Spain is a paradise of fun and excitement. Spain's urban nightlife is legendary, with cities like Madrid and Barcelona offering some of the best clubs and bars in Europe. Ibiza has become a metaphor for endless partying with its beautiful beaches and electrifying nightlife. Adrenaline junkies will feel at home anywhere in Spain. If you're looking for adventure, there are plenty of opportunities for hiking, cycling and windsurfing.
But Spain is not just about beaches and nightlife; it's also a country with a rich history and culture. From the ancient Roman ruins in Mérida to the Gothic cathedrals in Toledo, Spain is a treasure trove of historical landmarks and monuments. The country is also famous for its delicious cuisine, with dishes like paella, tapas and churros delighting the taste buds of visitors from all over the world.
Spain means holidays. For everyone. 
The Best Places to Visit in Spain  
Barcelona

This is a truly global city intertwining a modern megapolis with its 2000-year-old history. The land of sun, sea and sangria! The astonishing masterpiece of Antoni Gaudi. This vibrant city is known for its stunning architecture, rich cultural heritage and delicious food. Make sure to visit La Sagrada Familia, Park Guell, Casa Mila, Monastery of Montserrat and the Gothic Quarter, where the Romans built their first settlement. 
If you're a foodie, don't miss out on trying some traditional Catalan cuisine like paella and tapas. And top it up with the experience of a flamenco dance performance! The best time to visit Barcelona is from May to June and from September to November when the crowds are few and the weather is mild. 
Gourmet guide
 In Barcelona, go Catalan with a vengeance. Feast on paella, escalivada and crema catalana. Head to Cal Pep or Tickets for innovative and delicious modern Catalan cuisine; and El Xampanyet for classic tapas and cava. For a gourmet dining experience, book a table at ABaC, which has earned three Michelin stars for its innovative and creative cuisine.
Madrid

Madrid means `place of abundant water'! Rightly so. You will need more than 10 fingers to count the number of popular bars in this city. It is the second-highest and second-largest city in the European Union. And the second most sustainable city in the world. If that is not enough, the capital of Spain is also a hub of art, culture, and history. 
Take a stroll through the famous Retiro Park, visit the Royal Palace of Madrid and catch a flamenco show. Madrid is an art-lovers paradise and many visitors flock to the so-called 'Golden Triangle': the Prado Museum, the Thyssen-Bornemiszia Museum and the Museo Reina Sofia. Or just walk around its famous squares and streets to soak in the sun and sights – Puerta del Sol, Plaza Mayor, Puerta de Alcalá, Plaza de Cibeles, Gran Vía or Plaza de España.  
For foodies, Madrid is a paradise with delicious cuisine like cocido madrileño and churros con chocolate. 
The best time to visit Madrid is from March to May and from September to November when the weather is mild and the crowds are smaller.
Gourmet guide
Madrid, you must try the famous Cocido Madrileño, a hearty stew made with chickpeas, vegetables and meats. Head to Botín, the oldest restaurant in the world, for roasted suckling pig (a dish that Ernest Hemmingway wrote about in glowing terms when he visited back in the 1920s) and La Vaca y La Huerta for delicious organic meats. If you prefer luxury, get to DiverXO, which has earned three Michelin stars for its creative and avant-garde cuisine.
Costa Blanca

 Imagine 200 kms of stunning white beaches, charming villages and pretty resorts. Peppered with picture-postcard towns like Calpe, Altea and the charming Javea. For foodies, Costa Blanca is a paradise with delicious cuisine like paella and arroz a banda. The best time to visit is in the summer when you can soak up the sun and enjoy the warm Mediterranean waters.
Gourmet guide
While in Costa Blanca, you must try the fresh seafood caught daily along the coast. Head to Restaurante El Portal in Calpe for delicious fish dishes and Restaurante La Cova Tallada in Javea for grilled octopus and lobster. For a memorable dining experience, book a table at Quique Dacosta in Denia, which has earned three Michelin stars for its gastronomic cuisine.
Seville

 It is the historical heart of Andalusia and home to some of the country's famed traditions like flamenco and bullfighting. This picturesque town is globally renowned for its exotic mix of Moorish, Christian and Jewish architecture and history, as well as some of the most divine tapas found in southern Spain.
While you are there, don't forget to add to your must-visit list the Alcazar of Seville, the Cathedral of Seville, the Santa Cruz area, a stop at the unique wooden Setas de Sevilla viewpoint and an opportunity to admire the beautiful tiles at the Plaza de España, among other highlights.
For the gastronome, Seville is a must-visit with dishes like gazpacho and pescaíto frito. The best time to visit is in the spring when the city is filled with orange blossoms and a riot of colourful flowers.
Gourmet guide
 In Seville, you must try the traditional Andalusian cuisine, such as gazpacho, salmorejo, and pescaíto frito. Head to Casa Robles for delicious tapas and Montaditos, and El Rinconcillo, the oldest bar in Seville, for classic dishes such as rabo de toro and croquetas. If you are big on gourmet cuisine, you must raid Abantal, which has earned a Michelin star for its delectable dishes. 
Granada

This stunning city in the south of Spain is a study in contrast. You can ski in the morning and sun bathe at the beach in the afternoon. Its history is shaped as much by Moors as by the Renaissance. And like all other prominent cities of Spain, it is famous for its stunning architecture, rich history and delicious food. 
Don't miss out on visiting the stunning Alhambra Palace, the Generalife Gardens and the Granada Cathedral. If food is your thing, Granada is a must-visit with dishes like tortilla de Camarones and albondigas on offer. The best time to visit Granada is from March to May and from September to November when the weather is mild and the crowds are thin.  
Gourmet guide
In Granada, you must try the traditional Andalusian dishes such as tortilla de Sacromonte, habas con jamón and piononos. Head to Los Diamantes for fresh seafood and tapas, Bodegas Castañeda for authentic flamenco and delicious grilled meats, and Restaurante Chikito for traditional Spanish cuisine. Carmen de San Miguel is the upmarket place for you, which has earned a Michelin star for its delicious cuisines. 
Ibiza

  The synonym for night life, Ibiza is a stunning island in the Mediterranean Sea famous for its beaches and laid-back vibe. Whether you're looking to party or relax on the beach, Ibiza has it all. Don't miss out on visiting Es Vedra, a stunning rock formation that rises out of the sea, and the medieval castle of Ibiza. The best time to visit Ibiza is during the summer months from June to September when the weather is warm and sunny, and the island is buzzing with activity. This is also the time when the world-famous clubs and parties are in full swing, making it an ideal time for those looking for a lively nightlife experience.
Gourmet guide
Ibiza is renowned for its fresh seafood, so be sure to try some of the local dishes such as grilled octopus, paella and black rice. For a taste of the island's traditional cuisine, head to Can Caus, where you can enjoy authentic dishes in a beautiful outdoor setting. Another must-visit spot is Sa Punta, where you can enjoy Mediterranean cuisine with stunning views of the sea.
The Balearic Islands

Somebody described these islands as impossibly pretty. Once you have visited them, you would tend to agree wholeheartedly. This group of Mediterranean islands is all about stunning beaches, crystal-clear waters and vibrant nightlife. Whether you're looking to party or relax on the beach, the Balearic Islands have it all. Once you are done with Ibiza, there is a lot more left to explore on the islands. 
Prominent on the tourist map are the secluded Cala Boix beach and Playa S'alga in Formentera, Deia and Es Trenc in Majorca, Macarella and S'albufera natural park in Minorca. The best time to visit the Balearic Islands is during the summer months from May to September when the weather is warm and sunny, and the beaches are at their best. However, if you prefer a quieter and more relaxed atmosphere, the spring and autumn months are also great times to visit.
Gourmet guide
More and enough to gorge on in the Balearic Islands.  Try sobrasada, a cured sausage made with paprika and pork. Yum! If you are going the gourmet route, head to Es Fum, a Michelin-starred restaurant in the St. Regis Mardavall Mallorca Resort. Here, you can indulge in some creative Mediterranean cuisine.
Now, that's a Plan!
Anyone can continue to talk about the endless attractions of Spain, but at Flying Squirrel Holidays, we thought of creating an `ideal' travel plan to Spain to help you visualise what your Spanish excursion may look like. It crafted to provide every experience that you may desire, but with enough time to absorb them in between. For people on a specific mission – be it visiting your favourite Spanish teams' home stadium or hiking on a particular trail – a call to our expert team of organisers can help you to create your dream vacation. 
Day 1-2: Madrid
Land in Madrid, the vibrant capital of Spain. Spend your first day getting acquainted with the city's rich cultural and artistic heritage. Visit the Prado Museum, where the works of Spanish masters such as Velasquez and Goya are displayed among carefully crafted displays that take you through the history of Spanish fine art. A walk through the iconic Plaza de Cibeles will give you a taste of the architecture that you will learn more about through your journey. Unwind during the evening, indulging in a delicious dinner of tapas and wine. On the second day, discover the evolution of the city's grand architecture, from the opulence of the Royal Palace to the modern Santiago Bernabéu Stadium, the home of Real Madrid. In the evening, take a private guided tour of the city's hidden gems and rooftop bars, before retiring to your luxurious hotel.
Day 3-4: Seville
A high-speed train ride will take you to Seville, the jewel of Andalusia. Spend your first day exploring the city's historic landmarks like the Alcázar palace, the Cathedral and the Giralda tower. In the evening, enjoy a sunset boat ride down the Guadalquivir River, followed by a dinner of traditional Andalusian delights. On the second day, take a private tour of the ruins of Italica, a Roman settlement recently opened to the public. In the evening, enjoy a private flamenco performance accompanied by some delectable wine tasting.
Day 5-6: Granada
Travel to Granada, home to the iconic Alhambra palace, a UNESCO World Heritage Site. Begin by  exploring the stunning gardens and palaces of the Alhambra, followed by a visit to the Generalife gardens. In the evening, enjoy a private flamenco recital in a traditional cave house, accompanied by a dinner of local specialties. On the second day, take a private tour through the city of Cordoba to discover Spain's unique Moorish and Roman heritage.
Day 7-8: Valencia
Onwards to Valencia, the birthplace of paella and a vibrant cultural hub. Start off by exploring the city's historic center, including the Central Market and the City of Arts and Sciences. In the evening, indulge in a gourmet dinner of paella and local wine. On the second day, take a private tour of the city's stunning natural parks – the Albufera wetlands and the Turia Gardens. In the evening, enjoy a sunset cocktail at a rooftop bar, before retiring to your plush hotel.
Day 9-10: Barcelona
Step off the train in Barcelona, the cosmopolitan capital of Catalonia. Experience the city's iconic landmarks, the Sagrada Familia and the Gothic Quarter. In the evening, indulge in a gourmet dinner of Catalan specialties, accompanied by local wine. On the second day, catch a flavour of the city's vibrant neighborhoods, Gracia and El Born, and discover the city's rich artistic heritage. Football fans will not want to miss a visit to Camp Nou, the home stadium of FC Barcelona. In the evening, enjoy your last plate of tapas, accompanied by a tasting of Catalonia's finest wines.
Day 11: Departure
Say goodbye to Spain as you travel to your next destination, filled with unforgettable memories of this incredible country. 
Why travel with Flying Squirrel Holidays?
Why choose Flying Squirrel Holidays? We have a simple answer to that question. Because we understand you, not just your travel needs. Your need to balance adventure with safety. You search for the unknown and the familiar. You want luxury at the best price. You have a mind of your own but are willing to listen to experts. You wish to explore the unknown but prefer to always have help at hand. Most importantly, you expect a dream vacation in Spain. And need a reliable vacation planner.
We deliver all that and much more.
At Flying Squirrel Holidays, we promise the unforgettable. And deliver each time. And no better destination than Spain to keep that promise. 
As your preferred travel partner, Flying Squirrel Holidays makes sure of the following:
Personalised service: At Flying Squirrel Holidays, we believe that every traveller is unique and deserves a personalised travel experience. We work closely with our clients to understand their preferences and interests, and tailor our itineraries to meet their specific needs.
Expert advice: Our team of travel experts has extensive knowledge of the destinations we offer and are passionate about creating unforgettable travel experiences for our clients. We are constantly researching and exploring new destinations to ensure that we are providing the most up-to-date and relevant information to our clients.
Attention to detail: We believe that the little things matter and strive to provide our clients with a seamless and stress-free travel experience. From arranging airport transfers to making restaurant reservations, we take care of all the details so that our clients can relax and enjoy their trip.
Quality: We partner with only the best hotels, guides and travel providers to ensure that our clients have a high-quality and luxurious travel experience. We also carefully vet all of our partners to ensure that they share our values of sustainability, responsibility and respect for local communities and cultures.
Peace of mind: Travelling can be stressful, but with Flying Squirrel Holidays, our clients can venture forth in peace knowing that we are available 24/7 to assist with any issue or emergency that may arise during their trip.
At Flying Squirrel Holidays, we create unforgettable travel experiences. We love to exceed our clients' expectations and gift them indelible memories. Call us at +91 33405 25777 or +91 83369 78737 to discover how different travel can be when it's all taken care of.