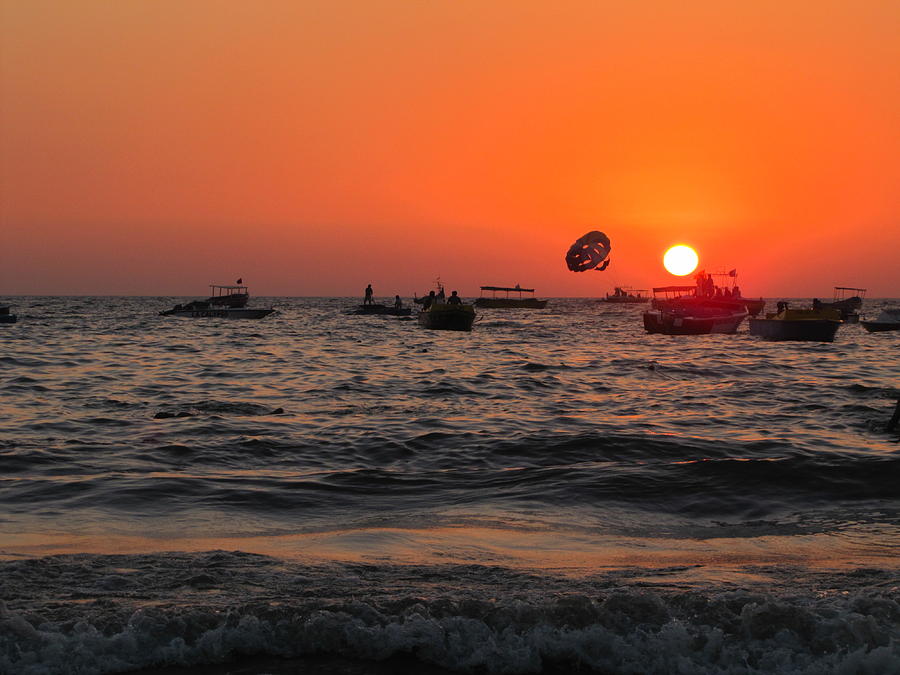 Last Minute Holiday Plans To Goa
Posted on By Blog Admin
What's life without a bit of spontaneity?
If unplanned thrills make us happy, unplanned vacations also bring in sudden joy in our lives.
There's nothing like a trip to the happening and bustling Goa. So even Last-minute Goa holidays can gift you the same thrill, akin to a very planned trip. Even Late deals to Goa promises impromptu happiness because whatever you want to experience, will come as a surprise package.
So, are you ready to enjoy a cool nightlife in Goa, lazing on her exotic beaches, sampling some amazing sea-food or indulging in adventure sports?
Last Minute Goa Trips – Unplanned Happiness in your Backpack
We assure you that you will fall in love with Goa at first sight. Her spirit is magnanimous -a perfect blend of Indian and Portuguese culture. Goa will mesmerize you with her sun, sea, sand and spirituality.
If you love adventure sports, you've options galore. Ride a banana boat or a water scooter, go scuba diving underwater or paragliding above
Goa is a shopper's paradise- Shop till you drop at flea markets here.
If you wish to spend some time in solitude, spend them at one of the pristine churches here.
Last but never the least, Goa offers you amazing cuisines ranging from delicious Bebinca to spicy Pork Vindaloo and amazing curry-rice.
Best Time to Visit Goa
The best time to visit Goa is between November and March when the skies remain clear and weather, balmy.
Flights to Goa
The common airlines flying to Goa are Qatar Airways, Air Emirates, Etihad Airways, Lufthansa etc.
Best Places to Visit in Goa- South and North Goa
South Goa
With secluded beaches and simple rustic environment, South Goa is your getaway to tranquillity.
1. Bogmalo Beach
Not so busy, the Bogmalo beach has miles of sandy shores, offering stunning sunset views.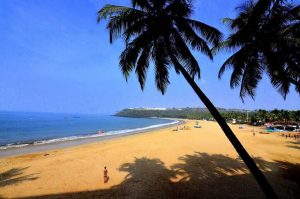 How to Reach
Take a prepaid taxi or a cab to reach Bogmalo from Dabolim.
Things to Do
Experience electric bike rides
Playing roulette at Casino Pearl
Relax at the coconut-tree laden Hollant beach
Beachside souvenir shopping
Enjoy some foot-tapping live music on the beach
Last Minute Hotel Deals
Heritage Village Resort and Spa Goa- Avg. price £53/night
Royal Orchid Beach Resort and Spa- Avg. price £50/night
Kenilworth Resort and Spa- Avg. price £85/night
Restaurants
Joets Bar and Restaurant- Simple beachside restaurant offering authentic Goan, Chinese and North Indian fare
Claudi's Corner- Friendly staff and simple Goan cuisines
Tony's Beach Club- Simple beachside shack providing a great view of the Bogmolo beach
2. Majorda
Beautiful Majorda is also known for its serenity like Bogmolo.

How to Reach
From the airport, it's a 30 minutes drive.
From Panjim it takes around 30-35 minutes.
Things To Do
Visiting aromatic spice plantations at Ponda
Enjoying watersports at Utorda beach
Unwinding at Tea House and Lobby Bar
Dig into Goan yumminess at Martin's corner
Visiting Mae De Deus Church
Last Minute Hotel Deals
Belleza by the Beach- Avg. price from £50/night
Bollywood Sea Queen Beach Resort- Avg. price from £33/night Jasmin South Goa- Avg. price from £47/night
Restaurants
Martin's Corner- Tourist's favourite over the years, famed for seafood and classic Goan, Indian as well as Tandoor cuisine
Sam's Goan Shack- Offering a great array of seafood and chicken items
The Camron Restaurant- With 20+ years of experience, they're tourist's favourite
3. Varca
If you are willing to spend quality time, away from the usual crowd and noise, then Varca is a perfect getaway.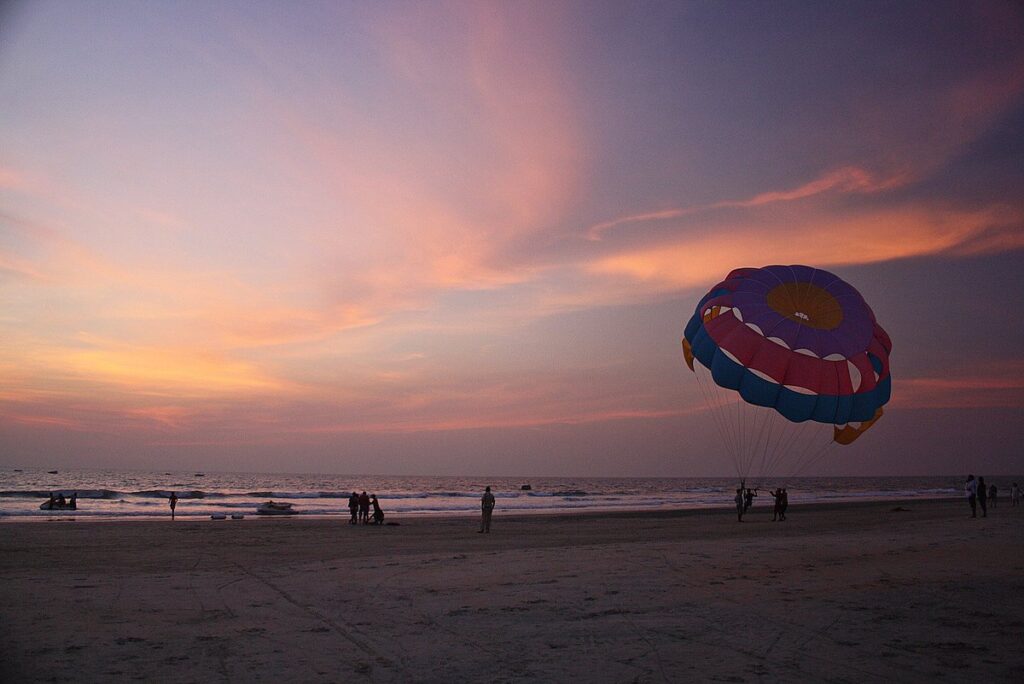 How to Reach
You can hire a cab from Dabolim airport or from Panjim for Varca.
Last Minute Hotel Deals
Trip Thrill Silva Apartment Hotel- Avg. price from £31/night
Colona Jose Menino Resort Hotel- Avg. price from £31/night
Regents Resort Varca Beach Hotel- Avg. price from £41/night
Things To Do
Visit our Lady of Gloria Church
Try hitting the jackpot at Zuri White Sands Casino
Enjoy long solitary walks, or swimming with your loved ones at Benaulim beach
Shop till you drop at Margao Market
Explore the pre-Portuguese era fort offering an amazing bird's-eye view of the scenic Cabo De Rama beach.
4. Palolem
With white sands and glowing sun, Palolem is fun during daytime. Then make for some happening nights at their 'Silent Noise' discos!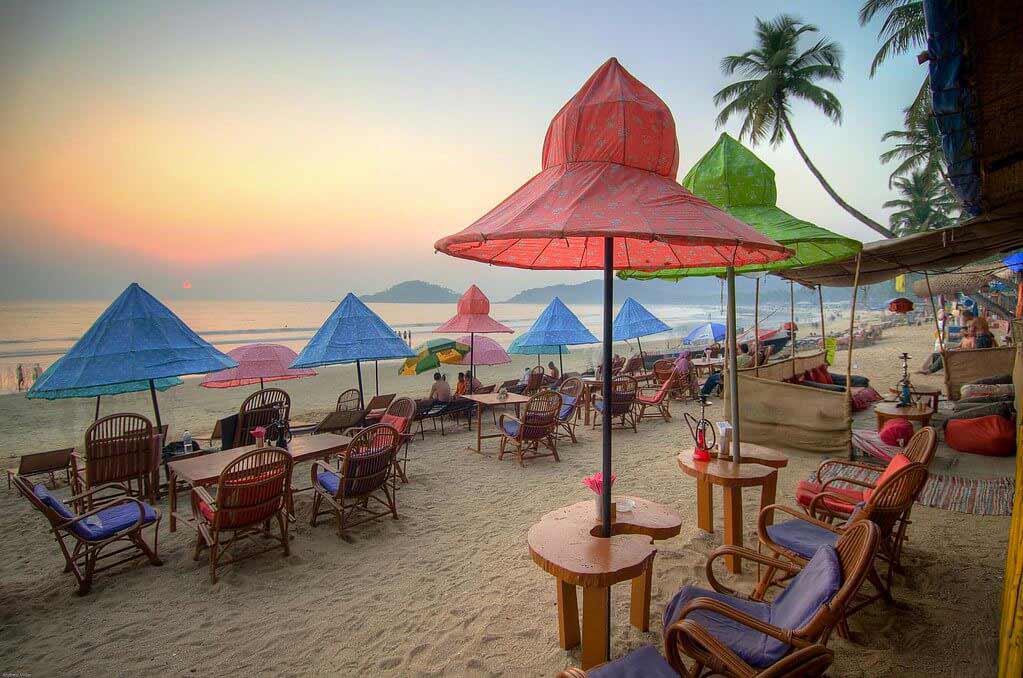 How to Reach
Avail fixed price taxis from the Dabolim airport to reach Palolem.
Things to do
Wildlife spotting from the treetop tower
Relaxing on the beach or going for a swim
Experiencing a drop-in Yoga class at one of the retreats
Relishing a classic South-Indian thali at a restaurant
Visiting Monkey Island, North of Palolem
Enjoying an Ayurvedic massage
Last Minute Hotel Deals
Palolem Beach Resorts Hotel- Avg. price from £26/night
La Alegro Hotel- Avg. price from £22/night
Shawnels Beach Resort Hotel- Avg. price from £23/night
Restaurant
Magic Italy Authentic Restaurant & Pizzeria-
Run by an Italian family, they serve delicious pizza and pasta.
Dropadi Bar and Restaurant- Offers exotic seafood;
do try their fish Xacuti.
Rian Restaurant Homemade Dishes- Known for simple kid-friendly delicacies
North Goa
Unlike South Goa, North Goa is a reveller's paradise. Sundown here brings music and revelry.
Foodies can relish umpteen choices from seafood to baked confections.
Adventure seekers can enjoy paragliding, parasailing, scuba diving, banana-boats, motor-boats and much more.
All summed up, Goa is a complete package!
1. Panaji/Panjim
From cobblestone streets to colourful colonial buildings, you'll love Panjim's Portuguese charm.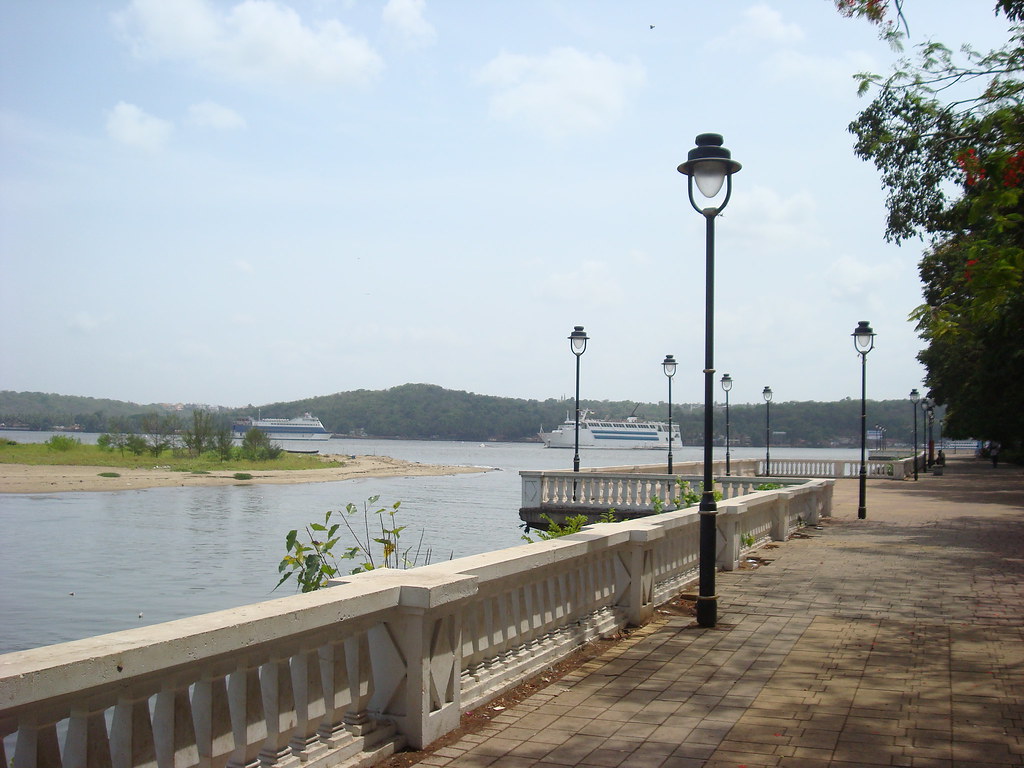 How to Reach
Hire a pre-paid taxi from the Dabolim airport
Things to Do
Visit Basilica of Bom Jesus, The oldest church in Goa, known to preserve the relics of St. Francis Xavier
Visit the baroque styled Immaculate Conception Church
Try your luck at board games and betting at the Deltin Royale Casino or Casino Pride.
Pay a visit to the Kala Academy, a famous hub of art, drama and theatre exhibition.
Last Minute Hotel Deals
Casa De Goa Boutique Resort- Avg. price £66/night
Sol De Goa, Panaji- Avg. price £50/night
Hotel Mondovi- Avg. price £104/night
Ginger Goa- Avg. price- £50/night
Restaurants
Thee Fisherman's Wharf, Panjim- Great seafood, with live music and vibrant ambience.
Viva Panjim- Small street-side eatery at Panjim, serving a classic Goan food
The Black Sheep Bistro, Panjim- Known for unique cocktails, crusted fish and pork ribs
2. Aguada
Aguada is a popular tourist attraction, known for the majestic fort atop a cliff, facing the beach.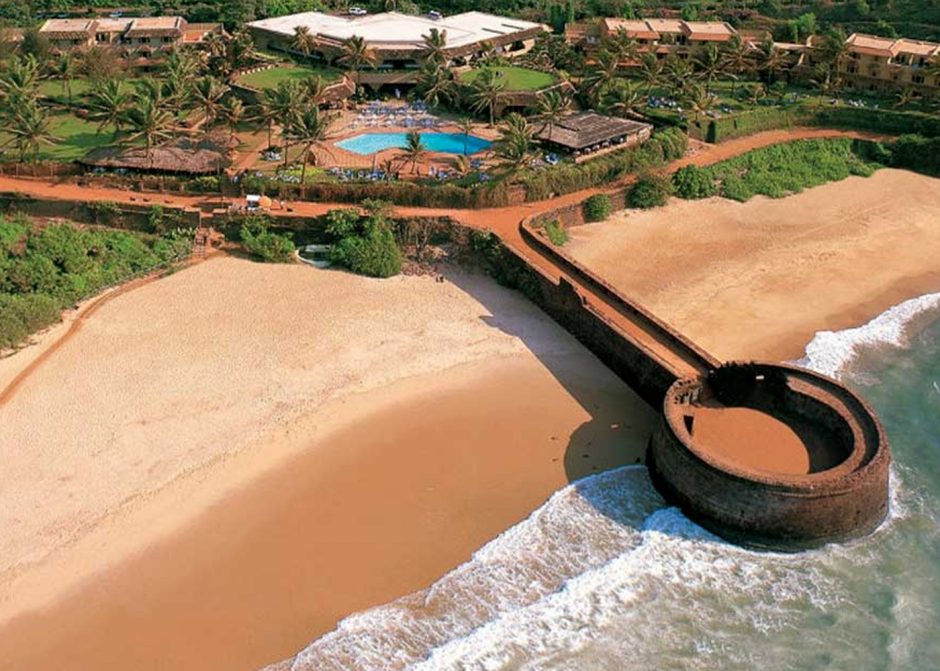 How to Reach
It takes 40 minutes by cab from Dabolim airport.
Things to Do
Climbing Aguada fort for a scintillating view below
Sunset watching & evening strolls by the beach
Enjoying relaxing beach massage
Experiencing scuba diving or motorboat driving
Last Minute Hotel Deals
Santana Beach Resort- Avg. price from £36/night
Highland Beach Resort- Avg. price from £25/night
Golden Tulip Goa- Avg. price from £50/night
Restaurants
Morisco- Sea-facing restaurant, serves authentic Goan, Chinese and continental cuisines
Kokum Restaurant- Sea-facing restaurant, with live kitchen and buffet dining
Earthen Pot- Serves delicious Tandoori cuisines with live music
3. Baga to Sinquerim Stretch
Popularly called the 'Party Beach', the sandy stretch from Baga to Sinquerim is a reveller's paradise.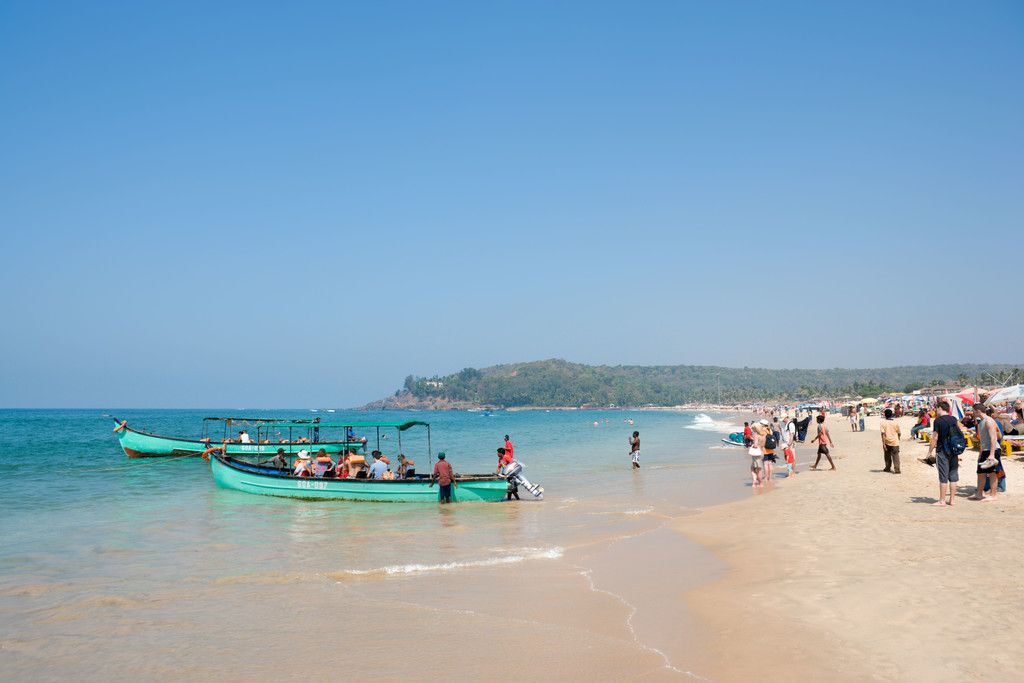 How to Reach
Book a cab to reach Baga from the airport.
Else, book a cab up to Panjim Bus stand, then a four-wheeler to self-drive to Baga.
Things to Do
Enjoying water sports or swimming near Sinquerim beach.
Devouring delicious seafood and cocktails to after a tiring day
Savouring the nightlife of Baga
Last Minute Hotel Deals
Fiesta Beach Resort Hotel- Avg price £25/night
Casa Baga Hotel- Avg. price £40/night
Treebo Trip Linda Hotel- Avg. price £25/ night
Restaurants
Go With the Flow Bar and Restaurant — This is an open-air beachside restaurant serving global cuisines and unique cocktails
Jamies Restaurant – Famous for steak items and sticky toffee pudding Patio 23- An oasis amidst the chaotic Baga, famed for pork ribs
4. Calangute
Calangute is a heavenly place in Western Goa, laden with long sandy coastlines and classic beach shacks.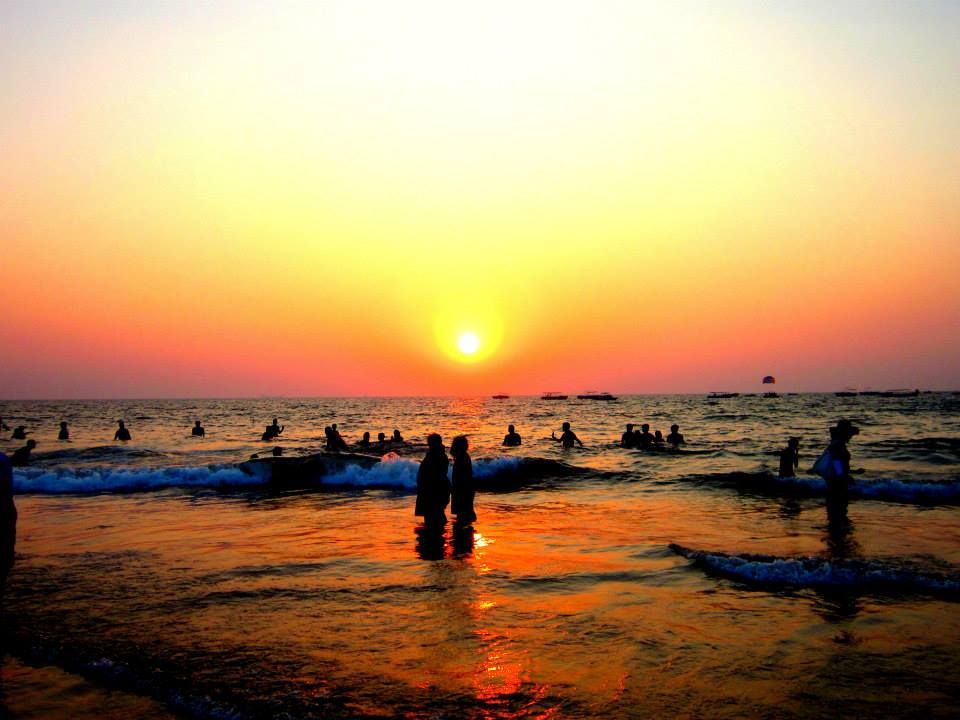 How to Reach
Hire a cab from Dabolim airport to reach Calangute.
Things to Do
Enjoying picnic by the Medicinal Springs
Visiting the Church of St. Alex & seeking blessings
Last Minute Hotel Deals
Highland Beach Resort- Avg. price £25/night
Living Room by Seasons Hotel- Avg. price £34/night
Hotel Calangute Central- Avg. price £97/night
Restaurants
Brittos- Live music accompanying the delicious seafood
Chef Soumyen's Kitchen- Open-air terraced space for European fine dining
5. Candolim
One of the longest beaches in Goa, Candolim attracts major tourists round the year.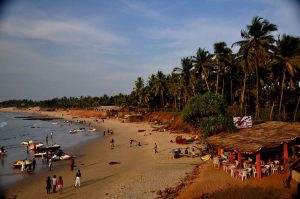 How to Reach
Candolim from Panjim is a mere 25 minutes drive.
Things to Do
Visiting Sinquerim Fort to capture magnificent sunset view
Exploring the 16th century Reis Magos Fort
Travelling to Cocoa Beach, for great seafood and exciting watersports
 
Last Minute Hotel Deals
Country Inn and Suites by Radisson – Avg. price £56/night
16 Degrees North, Candolim- Avg. price £110/night
Sea Breeze, Candolim- Avg. price £26 /night
Restaurants
Bayview Shack- Referred by tourists as the best shack on Candolim beach, famous for their calamari, fish tandoor, crab lollipops and great cocktails.
Banyan Tree Restaurant- A sea-facing luxury restaurant serving Thai delicacies
6. Dona Paula
hammer-shaped landmass dividing the estuaries of Zuari and Mandovi river, Dona Paula is a suburb of Panaji. Main attractions include the Dona Paula monument and Belvedere, a Greco-Roman structure.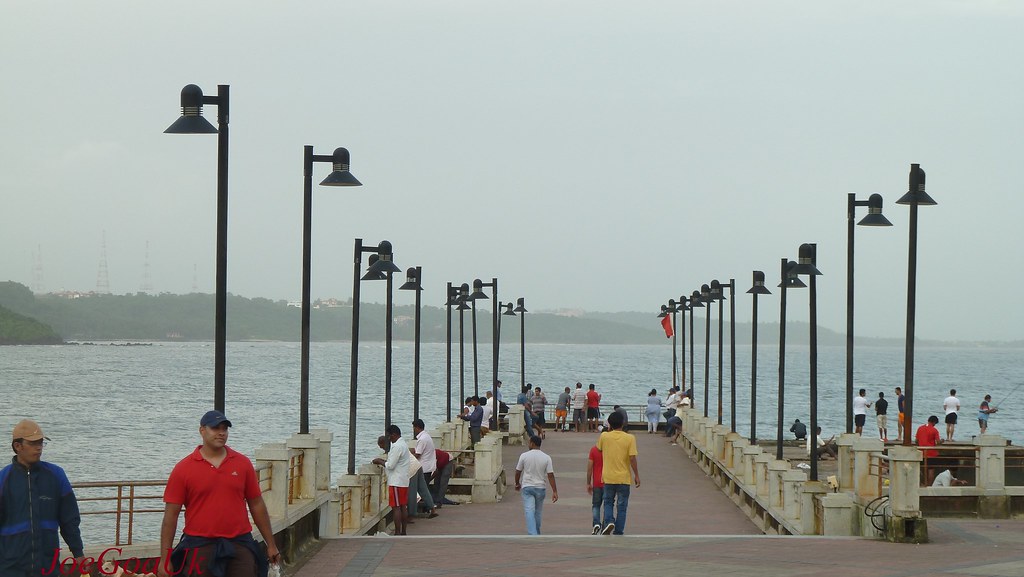 How to Reach
Options include either a motorcycle-taxi from Panjim or ferry. from Mormugao.
Things to Do
Visiting the National Oceanography Institute to learn about maritime ecology
Visiting the tomb of Dona Paula De Menzes at Cabo Raj Niwas
Visiting Cabo Fort for stunning views of the sunset
Last Minute Hotel Deals
Varanda Do Mar -Avg. price £45/night
Vivanta Goa, Panaji- Avg. price £131/night
The Fern Residency Miramar- Avg. price £68/night
Restaurants
Pomodoro, Bistro and Bar- Owned by Vanna and Marco of Oltremarino fame, serves great food and drink
The Goan Room- Known for delicious home-style cooking
Siddhi Pure Veg Udupi Restaurant- Offers hearty vegetarian fare
7. Anjuna
The beach of Anjuna is famed for her vibrant nightlife, attracting scores of tourists, each season.

How to Reach
Hire a cab from Dabolim from Anjuna
Things to Do
Visiting flea market for shopping
Enjoying at Curlie's beach shack, with food & fun
Capturing a bird's-eye view of the Chapora beach from the fort
Playing roulette at the Casino beach
Last Minute Hotel Deals
Fairfield by Marriott Goa, Anjuna Hotel-Avg. price £54/night Capital O 33435 Arbor Casa Ahaana Hotel- Avg price £25/night
The Banyan Soul Hotel- Avg. price £ 29/night
Restaurants
Goa's Ark Restaurant- the Mediterranean and Middle Eastern fare available
Baba Au Rhum- Nice outdoor seating with pizza and craft beer
Café Cantando- Serves great quesadillas and finger-licking Portuguese food
Sample Goa itinerary
Day 1: Arrival at Goa
Hotel check-in
Overnight stay in the hotel
Day 2: North Goa Sightseeing
Visit the Aguada Fort
Relax at Calangute Beach
Travel to Baga Beach
Enjoy sunset at Anjuna Beach
Return to the hotel
Day 3: Sightseeing in South Goa
Visit Basilica of Bom Jesus to pay homage at St. Xavier's relics Travel to Dona Paula Bay
Mandovi river cruise with dance and live music Back to the Hotel
Day 4: Water-sports
Jet skiing, paragliding, banana and speed boat rides at Condolim beach.
Crocodile sightseeing
Birdwatching
Local Shopping
Back to the hotel
Day 5: Grand Island Tour
Boat cruise for Grand Island from Coco beach jetty
Dolphin Spotting at the island
Swimming and snorkelling
Barbecue lunch
Return trip by boat
Overnight at hotel
Day 6: Dudhsagar Falls and Spice Plantations Trip
Travelling to Dudhsagar Waterfalls
Going for trekking trail
Visiting aromatic Spice Plantations
Returning back to hotel
Day 7
Departure after breakfast
Must-Try Cuisines of Goa
Pork Vindaloo- Combining 'alho' (garlic) and 'vinho' (wine), this was a Portuguese spicy curry made of pork, garlic and wine. In Goanese recipes, red wine replaces chilli pepper and spices.
Crab xec xec- Thickened crab curry with roasted coconuts and spices; this is an amazing delicacy to consume with bread.
Prawn Balchao- A spicy dish of pickled prawns, this is an accompaniment to rice or toasted bread.
Sanna- Spongy steamed rice cakes or 'Idli', usually eaten with Goan pork curry.
Goan Red Rice- Also called Ukda rice, this superior variety of unpolished rice is great for soaking thick coconut curries
Chouris Pao- A very tasty Goan sausage bread, Chouris Pao derives from the Portuguese Chourico, a variety of spicy pork sausage.
Feni- Fermented and distilled toddy from the coconut palm, Feni is a popular liquor of Goa.
Bebinca- This is a delicious multi-layered coconut cake
Kingfish- Known also as Viswan, Kingfish is fried in semolina batter or used in Surmai curry.
Travel Tips for Goa
Try to follow the etiquettes associated with visiting the religious places of worship. This includes removing shoes before entering the shrine, turning off your cell phone and covering your head and body.
Keep all documents safe in your hotel room's locker. For more safety, you can upload these in your email and carry soft copies while travelling.
Avoid carrying huge cash for safety against pickpockets and theft. Instead, use plastic money wherever possible. Also, avoid keeping cash or valuables in your hotel room.
Always demand a receipt while exchanging money at certified money exchange counters.
Try avoiding street food if you have a sensitive stomach.
Limit drinking 'Feni', a smooth yet potent Goan liquor.
Keep an eye for signals like 'Photography Prohibited', 'Restricted Photography' or 'No Flash' while clicking pictures.
Indulge in smart shopping without being stubborn at sellers in flea markets or night bazaars. For them, this is the only way to earn a living.
Enjoy Goa's nightlife cautiously. Don't accept drinks from unknown strangers or venture alone towards any remote or unknown area after sunset.
Checklist for Last Minute Goa Trips
A Goa Guide if Google Maps don't work
Waist Bag for carrying all essential documents
Camera
Hand sanitizer or wet wipes
Flip flops or crocs for the beach
Swimming costume/beachwear
Lip balm to protect your lips from the salty sea breeze
FAQs about Goa Trips
1. What are the Best beaches in Goa where I can visit?
Calangute, Arombol, Morjim, Anjuna, Baga and Vagator beaches are the best picks for international travellers. These beaches are famous for their bustling flea markets and happening nightlife. Serene Palolem has many yoga retreats, attracting global travellers.
2. Which is the best Casino in Goa?
Deltin Royale is one of the most
preferred casinos by tourists.
3. Is Goa safe for female tourists?
Yes, Goa is safe for female tourists.
4. How many days do I need to complete the Goa Trip?
You can complete your trip within 7 days.
Are you ready to book that impromptu Goa trip with Flying Squirrel Holidays? With us, "it's taken care
of." For any query about Goa trips, get in touch with us at connect@flyingsquirrelholidays.com or call us at +91 3340525777 for any query.
.