Gangtok Tour Package From Kolkata
Posted on By Blog Admin
Gangtok – A Trip to Serenity
Scenic Sikkim can gift you with rivers and lakes, glorious mountains, blooming orchids, sunshine and snow. Whether planning for a customized Gangtok Honeymoon Package or adventure trips, Gangtok has plenty to offer to the intrepid traveller.
Let Flying Squirrel Holidays be your Gangtok Tour Guide, helping you explore this north-eastern gem. From the best resorts in Gangtok to great food or shopping in Gangtok, we'll help you explore Gangtok like a real insider.
How to Reach Gangtok
Bagdogra airport is the nearest airport to Gangtok you can fly into. From there you can hire a private car or a cab. It takes 5 hours by road. 
Best Time to Visit Gangtok
The best time to plan your Gangtok Itinerary is between September and November or between March and June when the weather is perfect for sightseeing.
Things to Do
Go for a sunrise view of the beautiful Kanchenjunga Mountains
If you are spiritually inclined or are looking for peace and quiet, we recommend you spend half a day at Rumtek, famed for her lush green beauty and the monasteries. Rumtek is just an hour's drive from Gangtok. Here you can seek blessings at Rumtek and Lingdum monastery and also visit the Institute of Tibetology.
Enjoy shopping at MG Marg
Relish local Momos and Thukpa. We would recommend Taste of Tibet for its excellent Tibetan food, especially their Momos and Thukpa and Nimtho, another lovely place for Nepalese and Tibetan cuisines; their Thakkali Thali is a must-try.
 Experience a ropeway or cable car ride, and take in the lovely views of the city
Visit the famous monasteries of Pemayangtse, Ranka and Tashiding
Travel to Tashi View Point to capture the scintillating sunset
Visit the Shingba Rhododendron Sanctuary
Book a visit to the Himalayan Zoological Park
Drive up to the high altitude glacial lake, Tsomgo and proceed to Baba Mandir and then finally to the Nathula Pass in what could well be an adventurous day-trip for you.  
There are several other places you can travel to from Gangtok and it is best to divide the region into the western, southern and northern parts. Here is our shortlist. 
1. Exploring West Sikkim 
You can start with Pelling in the west. Around 120 km from Gangtok, it is located at the foothills of Mt. Kanchenjunga, and famous for its ancient monasteries, rich culture, diverse landscape and of being an adventure hotspot. It is best to spend a few days in Pelling and discover a few hidden gems in the area.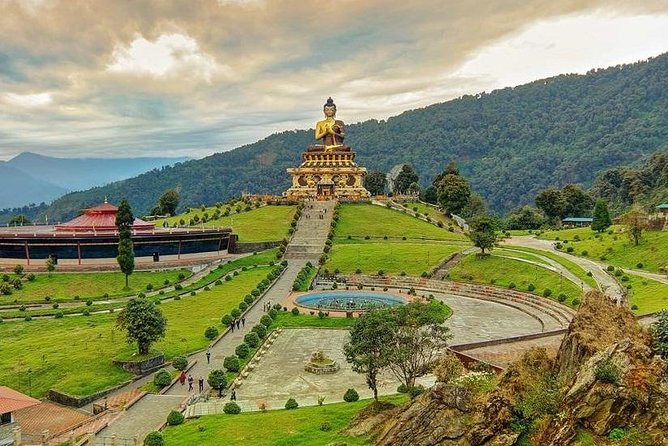 Time from Gangtok: 
It takes 5 to 6 hours' drive from Gangtok.
Things to Do
Make a wish at Khecheopalri Lake
Visit the Pemayangtse monastery
Explore the Darap Cherny village
Climb the Singshore Bridge
Explore the Rimbi Waterfalls and Rimbi Rock Gardens. 
Spend a relaxed evening at the local market 
From Pelling take a day to discover Yuksom. Located in West Sikkim, Yuksom is a popular ecotourism destination and a trekker's paradise.
Things to do in Yuksom
Visit the Tashiding, Dubdi and Kartok monastery
Offer prayers at Khecheopalri Lake
Do visit the Kanchenjunga National Park, home to rare animal species of Himalayas
Travel to the Tashi Teenka for a 360° view of the city
From Pelling, you can also choose to visit Uttarey, a beautiful, yet largely unexplored village in west Sikkim.
Things to do:
Here you have the famous Phangdorgee Falls
Pay a visit to the Alpine Cheese Industries
Trek to the Mainibass Waterfalls
Try angling in river Ishanglay
Watch sheep rearing at Begha Sheep Farm
Visit the Tenzing Hillary Park
2. Exploring south Sikkim
Namchi
It is best to start touring the southern part of Sikkim with the picturesque town of Namchi, famous for the sacred Char Dham (Shiva temple), the towering statue of Guru Padmasambhava, and beautiful monasteries. Namchi takes a 3-hour drive from Gangtok.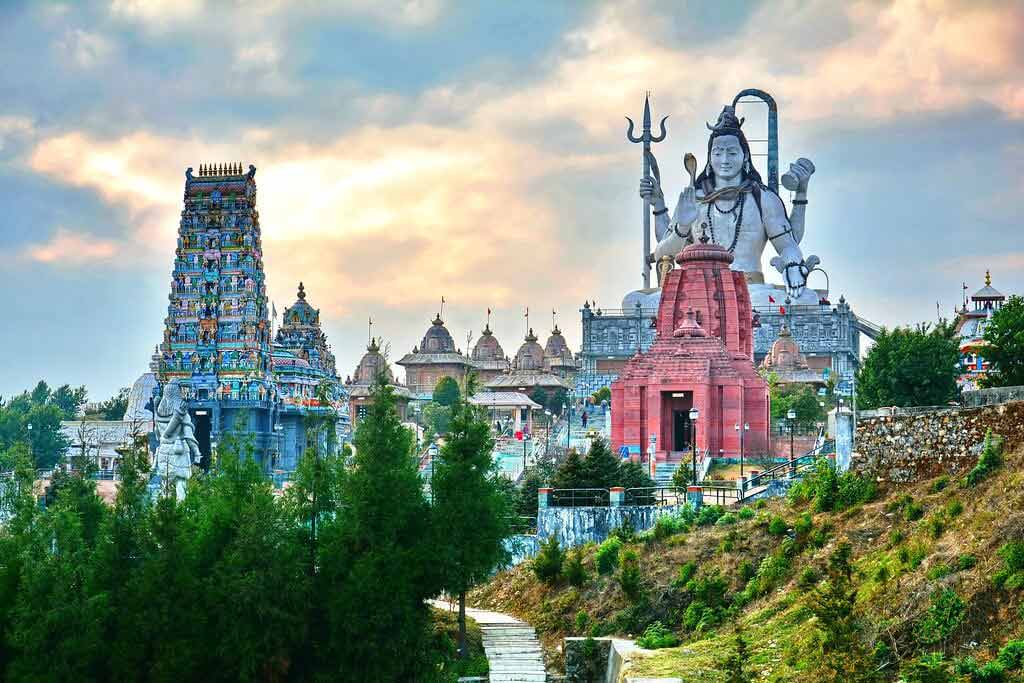 Things to Do
Pay Homage at Samdruptse and Char Dham
Admire the architectural marvel of Ralong and Doling Monastery
Enjoy a ride on the Namchi Ropeway
Visit the forested Maenam Sanctuary
Ravangla
From Namchi, you can visit Ravangla and spend a night at an altitude of 8000 feet. Ravangla is famous for her Buddha Park, the Ralong Hot Springs and lush green Temi Tea Gardens.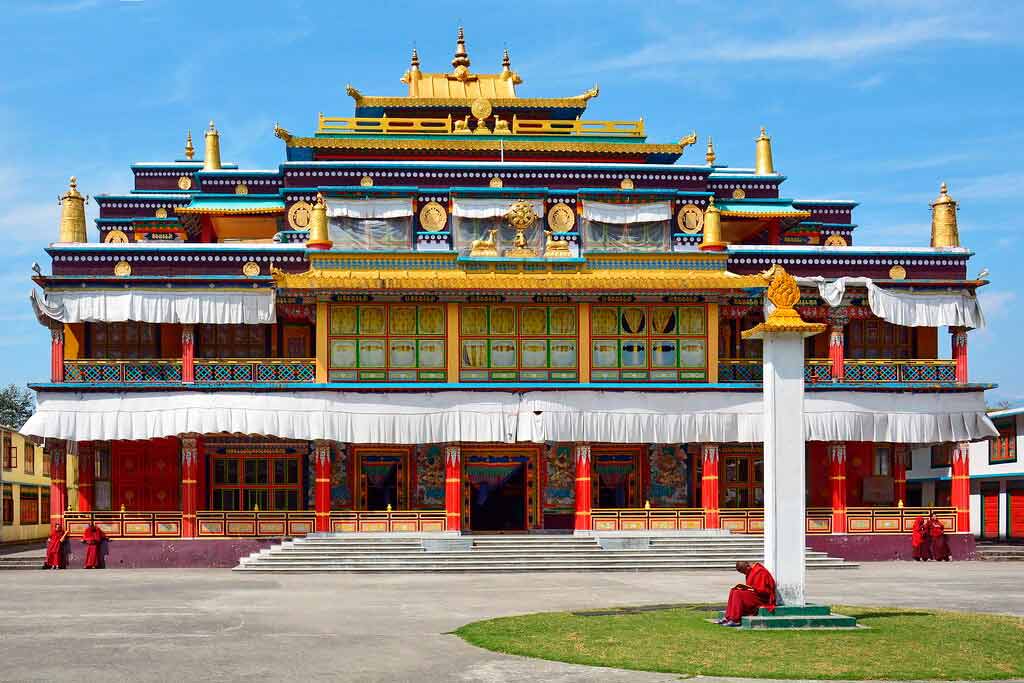 Things to Do
Seek blessings at the Ralong and Doling Monastery
Shop at the KheunPheling carpet centre
Visit the hot spring at Borong
Enjoy rafting at the Rangit Water World
Jorethang
Closely guarded by River Rangeet, the quaint Jorethang is for all who love a rustic life. Be a part of their colourful winter festival, the Maghe Mela or get your fill of adventure activities to make the trip memorable.

Things to do:
Take part in adventure sports like river rafting, angling or fishing on Rangeet
Enjoy a bath in the hot springs
3. Explore the north of Sikkim
Lachen
Your Gangtok Tour Plan will remain incomplete without visiting Lachen in North Sikkim. a famous tourist destination that takes a four-and-a-half to five hour-drive from Gangtok. The name Lachen in Tibetan means 'Big Pass' as it serves as a route to Chopta and Gurudongmar lake.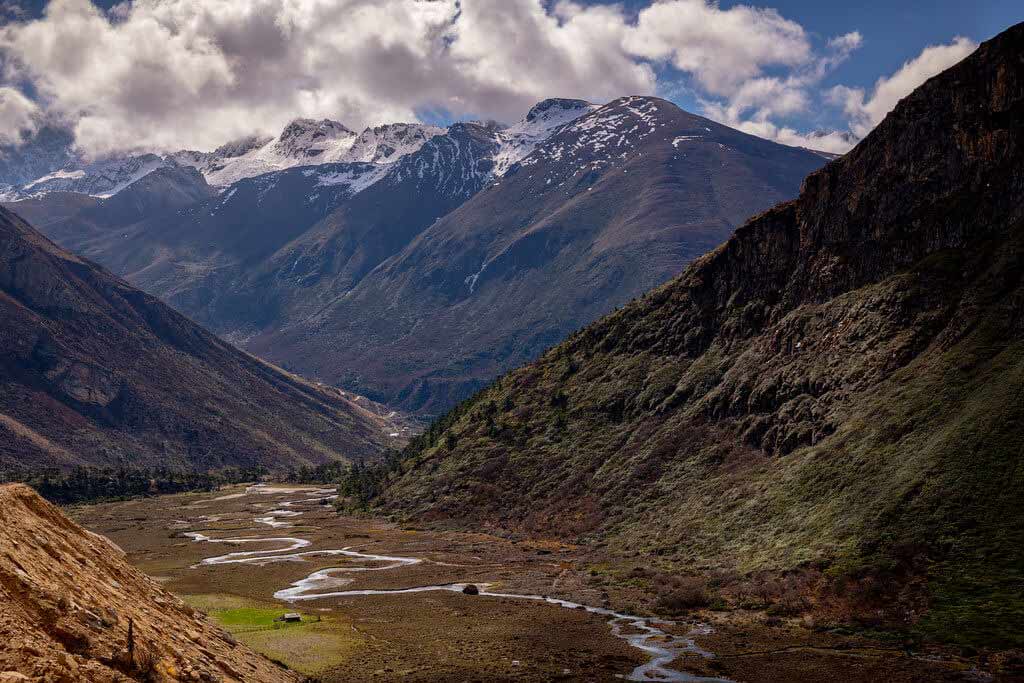 How to Reach
Lachen is around 4 hrs 30 minutes from Gangtok via Singtam-Chungthang Road
Things to do
Visit Gurudongmar Lake at a height of almost 19,000 feet. However, this is open only for Indians.
Visit the Kanchenjunga National Park
Prepare for an adventurous guided trek to Tunganath and Chopta Valley
Admire the architectural beauty of Lachen Monastery in solitude.
Discover exotic floral species at the Rhododendron Sanctuary
Enjoy local handicraft shopping
Lachung
Divided by the Lachung river, this is a hilly village located close to the Tibet border. This picturesque location is known for its waterfalls, pine forests, hot water springs, rhododendron flowers and of course, monasteries. From lachung you can visit the beautiful Yumthung Valley, the hot springs and the rhododendron sanctuary.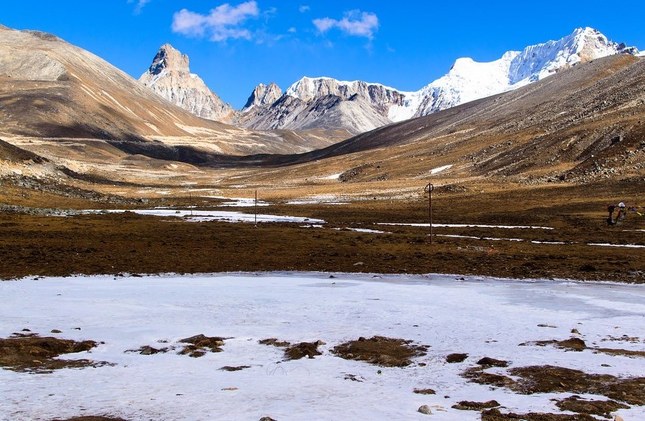 Things to Do
Enjoy a trek to Katao Valley.
Pay a visit to the sacred Lachung Monastery.
Vist Zero Point, the valley of perpetual snow
Enjoy an excursion to the majestic Naga and Bhima falls
Seek blessings at the sacred stone of Nado, at Chungthang
Visit the beautiful fruit orchards cultivating dry fruits, apples and peaches.
Mangan 
A popular town in North Sikkim, and endeared for her vibrant culture, Mangan is known for her music, food festivities and varied handicrafts.

Things to Do
Witness the tallest mountain in Sikkim, Siniolchu
Enjoy a trekking trail towards Singhik Monastery
Visit Rong Lungten Lee, an amazing replica of a typical Lepcha household
We recommend your visiting the small hamlet of Pentok, 2 km from Mangan for an amazing view of Mt. Siniolchu
You can plan a day tour of the Phodong and Phensang Monastery en route Mangan from Gangtok. These monasteries are famous for their intricate murals and frescoes adorning the walls.
Hotels in and around Gangtok
Gangtok
Sterling Gangtok- Avg. price INR 4200/night
The Royal Plaza, Gangtok- Avg. price INR 7300/night
Mayfair Spa Resort and Casino, Gangtok- Avg. price INR 2600/night
Lachen
Floret Sukhim- Avg. price INR 4900/night
Pelling
The Elgin Mount Pandim- Avg. price INR 8500/night
Magpie Pacchu Hill Resort- Avg. price INR 4700/night
Lachung
Summit Sangri Kharpo Retreat and Spa- Avg. price INR 7900/night
Hotel Park Palace- Avg. price INR 6300/night
Gyaltsen Resort- Avg. price INR 5500/night
Ravangla
The Barfung- Avg. price INR 3015/night
Hilltop Rabong Resort- Avg. price INR 2500/night
What to eat in Sikkim
Momo– A trip to Sikkim would never be completed without tasting some yummy momos. Usually stuffed with chicken/pork or vegetables grounded with light spices, they make a heavenly combination with local spiced pickles.
Thukpa– A soupy noodle originating from Tibet, Thukpa is popular among the locals and tourists.
Vegetables are added for good health and taste along with spices.
Thenthuk– A popular Tibetan street food, this is also a filling noodle soup consisting of chicken, vegetables, wheat or mutton. Additionally, chilli flakes are added for a pinch of spiciness.
Chhang– A combination of millet and warm water, this is a dish to be sipped with a bamboo straw and works as a great side dish to accompany Sikkimese main courses.
Sikkimese Tea– Sikkim is famous for her tasteful tea, sourced from the tea garden at Temi.
Masauyra Curry– Regarded as a popular dish of the state, this is a popular local dish of the state.
The main ingredient of the curry is the black gram.
Chambray– Originating from Nepal, Chambray is a traditional rice recipe, consumed with tilko aloo.
Sample Relaxed Itinerary for Gangtok Trip (6 Days 7 Nights)
Day 1 – Gangtok
Arrival at Gangtok
Check in to your hotel
Visiting MG Road for shopping in the evening
Day 2 – Tsomgo Lake & Baba Mandir
Visit the serene Tsomgo Lake
Visit Baba Mandir for paying respects to martyr Baba Harbhajan Singh Return to Gangtok Optional tour around MG Marg in the evening Overnight at Gangtok
Day 3 – Towards Lachen
Breakfast
Halt at Chumthang for Lunch
Check-in at the hotel in Lachen
Optional walking tour around Lepcha Village
Overnight stay at Lachen
Day 4- Lachen-Gurudongmar Lake- Lachung
Drive towards Lachen
Stop to visit Gurudongmar Lake
Check-in at a hotel at Lachung
Visit Lachung monastery in the evening.
Overnight stay at Lachung
Day 5 – Yumthang, Zero Point
Explore the floral valley of Yumthang
Visit Zero Point
Back to the hotel
Overnight stay at Lachung
Day 6 – Lachung to Gangtok
Return to Gangtok
Hotel check-in at Gangtok
Exploring the local markets of Gangtok
Overnight at Gangtok
Day 7- Departure from Gangtok
Transport to Bagdogra Airport after breakfast
Gangtok Travel Tips
Since you would be travelling by flight, please note that Gangtok has no airport. You have to get down at Bagdogra Airport and board a taxi to reach Gangtok City.
Gurudongmar Lake and Nathula Pass permit are not given to foreign nationals, NRIs or OCI's.
Indians are required to provide their passport, voter card, Aadhar card and submit INR 200 for a permit.
You are advised to carry woollens during your trip, as Gangtok and the nearby areas remain cold throughout the year.
There are many monasteries in and near Gangtok. Hence, you are requested to observe discipline and follow the appropriate dress code during the visit.
Gangtok is a great place for adventure activities. Trekking, paragliding, hiking, rafting are just a few among many. However, be sure to book your trip with a licensed operator who will help you with providing requisite safety gears.
Checklist for Gangtok Trip
Visa and passport, ID proofs for foreigners
Snow Boots and hiking shoes
Jackets, light woollens
Earmuffs, gloves, scarves and hoodie-caps are mandatory for winter
Emergency medicines for vertigo, motion sickness, fever, inhaler and a first-aid kit
Camera with chargers and extra lenses
Mobile Phone chargers and adapters
FAQ about Gangtok Trip
1. Is Gangtok safe for female travellers?
Yes, Gangtok is one of the safest travel destinations in India for women.
2. How do I get a permit for the Nathula Pass?
Only Indian nationals are allowed into Nathula Pass, with a proper permit. You can contact us for more details regarding permit submission.
To book your Sikkim holiday trip, get in touch with us at connect@flyingsquirrelholidays.com or call us at +91 3340525777.