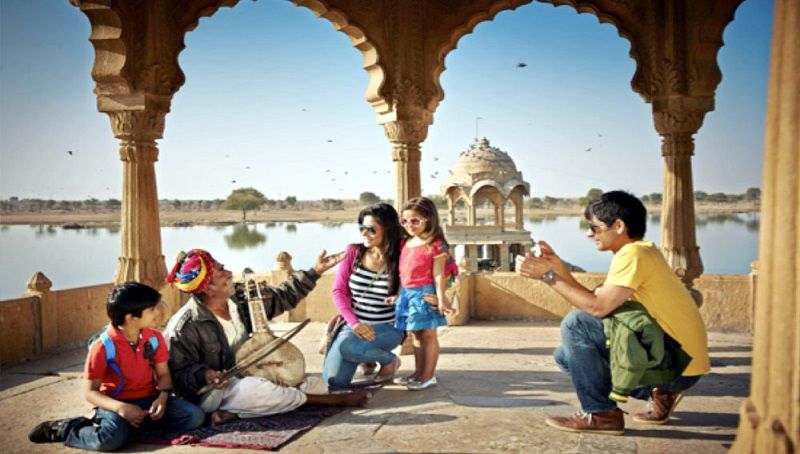 Family Holidays In India
Posted on By Blog Admin
A magnum of places, people, culture, traditions, colours and religion, India is a country that will surprise you with its never-ending allures. The many states in India have unique architecture, scrumptious food, engaging attractions, beautiful wildlife, religious temples and more. And here to let understand the travellers from UK and all across the world why India should be the best choice for family holidays we have compiled the main features of India that shows India is the most wonderful country to visit and the perfect place to vacation.
1. History and Architecture
India is famous for many temples, forts, palaces and monuments that make up the historical places and reflect the splendid heritage and culture of the country. Each historical monument has its own unique story and history to convey. The places have their own identity and this shows us the royalty of Indian Kingdom. The major attractions of historical monuments are its architectural designs. Different historical monuments have a different identity because of the different forms of architectural works by great architects. For history seekers and admirers of architecture, India is the apt place to visit different historical monuments.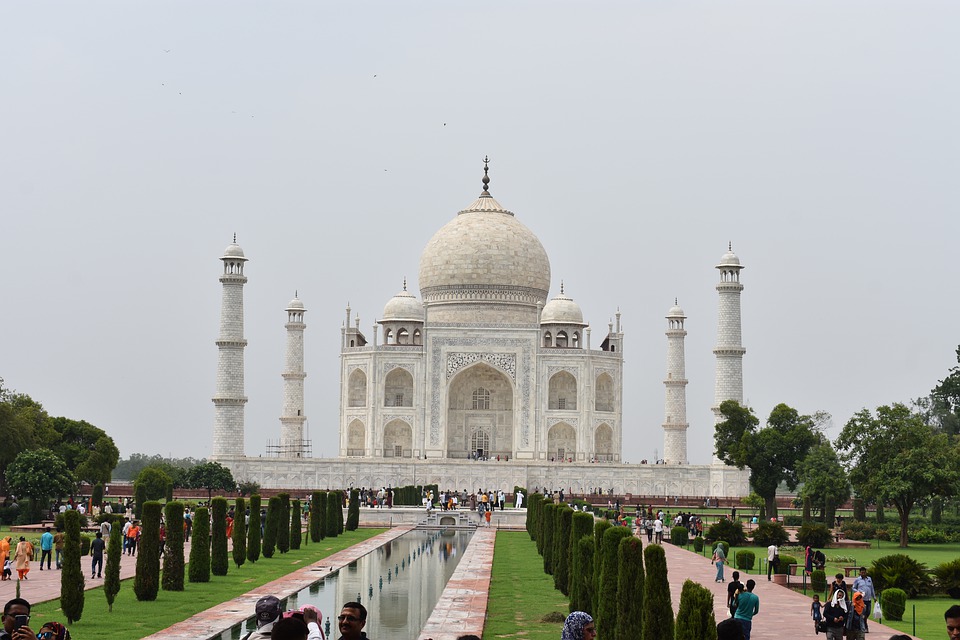 Have a look at some of the famous historical monuments with different forms of architecture which will make you enjoy and admire them:
Taj Mahal, Agra- It is considered to be one of the Seven Wonders of the World. The symbol of love, it was built by Mughal emperor Shah Jahan for his queen Mumtaz. It is completely constructed by the white marble and depicts the Mughal architecture.
Hawa Mahal, Jaipur- Built by Maharaja Sawai Pratap Singh, the structure is made up of red and pink sandstone and has a pyramidal structure. Embellished with 953 tiny windows, it is embellished with gorgeous latticework. 
Victoria Memorial, Kolkata- The white marbled structure was built during the British time in the memory of Queen Victoria to celebrate her 25 years of rule over India. There's a sixteen-foot tall bronze statue of victory mounted at the top of the memorial serves as the grandeur of the entire building.
Khajuraho, Madhya Pradesh- Art in this town is engrained and Khajuraho is known around the world for its stunning temples adorned by erotic and sensuous carvings. The medieval times of architecture of these Hindu and Jain temples depict the innocent form of love. This structure is the finest example of India's artistic and cultural heritage.
Mysore Palace- Known for its Indo- Saracenic style of architecture and also known as Amba Vilas Palace, it is the former palace of the royal family of Mysore. It is renowned for its light and sound show and vibrant Dussehra celebrations. The spectacle of the Mysore Palace is an enchanting sight to behold.
City Palace, Udaipur- The magnificent palace was built by Maharana Uday Singh and showcases the finest elements of Rajput arts and culture. The architecture is a mix of medieval, European and Chinese influences. The palace contains Mahals, courtyards, pavilions, corridors, terraces, rooms and hanging gardens.
Mehrangarh Fort, Jodhpur- One of the largest forts of the country, the fort has opulent palaces such as Sheesh Mahal and Phool Mahal. It is known for its intricate carvings on the walls of the fort, the sprawling courtyards, impressive history, striking palaces, museums and galleries. National Geological Monument, Nagnecha Mataji Temple and Chamunda Temple are the main tourist attractions.
Ajanta and Ellora- Ajanta and Ellora Caves are the finest examples of ancient rock-cut caves. Adorned with beautiful sculptures, paintings and frescoes, they are an amalgamation of Buddhist, Jain and Hindu monuments. The most famous sites in the Ajanta and Ellora caves is the Kailash Temple.  
2. Art and Culture
India is well known for its art and culture all around the world. India is popular for its Indian architecture, sculpture and painting and creates art in caves and temples out of rocks and mountains. India has one of the largest collections of music, dance, folk traditions, rituals, paintings and writings depending on the various places in India. India has the purest form of culture and stunning handicrafts and textiles are carried home with a lot of pleasure by tourists visiting India.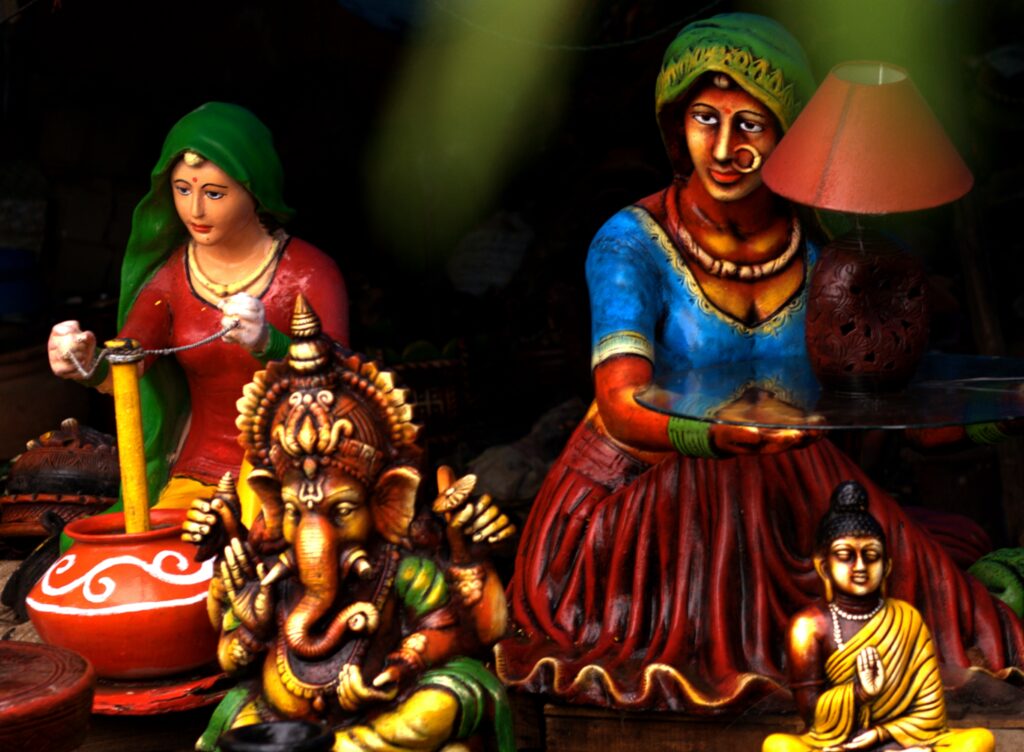 Have a look at some of the best art and culture celebrated in India:
Handicrafts- India's rich tradition is manifested by the huge variety of handicrafts made all over the country. Handicrafts depict the identity of the people who make it and these carry the magnetic appeal of exclusiveness, beauty and style. Some examples of famous handicrafts made in India are Kashmiri woollen carpets, Zari embroidered fabrics, silk fabrics, wooden work, semi-precious jewellery, metal jewellery, dokhra, terracotta. Murshidabad is known for its silk. Other handicrafts are stones, pearls, fabrics, carvings made of stone etc.
Tribal Ornaments- Baandha, Phuli, Suta and Bali are some of the decorative ornaments famous with the tribal women in Chhattisgarh. The different tribes they follow to make the ornaments are tribes of Bastar in Madhya Pradesh, Banjara tribes in Rajasthan, Santhals of West Bengal, tribes of Garo, Khasi in Meghalaya etc.
Sculpture- The Indian tradition and culture are reflected in all the art present in the country. Some of the sculptures which show workmanship and strength are The Ashoka Pillars, Sanchi Stupa, Ajanta Caves and Kailasa Temple etc. 
Paintings- The traditional Indian paintings depict a love for nature and its forces. Most famous paintings include Cave Painting, Madhubani Painting, Miniature painting, Mughal Painting, Mysore Painting and Rajput Painting etc.
Textiles- The textile tradition in India is varied and rich and has a flourishing trade with many other countries on account of its textile products. Some of the renowned textiles in India are Baluchari Sarees, Banarsi Sarees, Bhuvanagiri Silk, Kanjivaram Sarees, Murshidabad silk and Mysore Silk etc.
Literature- Indian Literary tradition is the oldest in the world. Indian literature includes religious, epic and lyric, dramatic poetry, narrative prose and poetry. Some of the famous literary works are The Purana, Classical Sanskrit Literature, Literature in Pali and Prakrit, Medieval Literature and Modern Indian Literature etc.
3. Wildlife 
India is well known for its endangered and rare wildlife all over the world. India's wildlife is both rich and varied. A major part of Indian land is covered with forests. Indian wild forest and national parks are home to many species of wild animals, birds and reptiles. If someone wants to know the nature and its habitats from near then he must live in the forest for a few days. If you want to see the real wildlife then you must spend some time for night safaris to feel true majesty of the wild. India is a perfect place for wildlife enthusiast who wants to see wild animals in their natural habitat.

Here, have a look at some of the best wildlife safaris in India:
Jim Corbett, Uttarakhand- One of India's best-known wildlife parks, this park is famous for wild Tigers. Besides tigers, there are Serow, Goral, Himalayan Tahr and several other fascinating wild species.
Ranthambore National Park, Rajasthan- It is the royal home to tigers. The tigers capture the interest of wildlife photographers. There are other wildlings like Sloth Bears, Wild Boars and Sambar etc.
Sundarbans National Park, West Bengal- It is a UNESCO World Heritage Site and a marshy land with dense mangroves and Tigers. It is one of the largest mangrove forests in the world. It is also famous for the crocodiles. Apart from the Royal Bengal Tiger, bull sharks, Leopard Cats, Wild Boar and Indian Grey Mongoose are also found in abundance here.
Gir National Park, Gujarat- This is the only park where you can find the Asiatic Lions. The forests of this park are best explored on a jeep safari. Apart from the Lions, you can also witness Leopards, Jackals, striped Hyenas and India Fox. The park is also home to several birds and reptiles in the forests.
Periyar National Park, Kerala- This Park offers a lush environment for its inhabitants. There are plenty of tigers to see who enjoy the park for its tropical species. The species to see are elephants, leopards, deer, snakes and reptiles.
Bandhavgarh National Park, Madhya Pradesh- It has a spectacular collection of flora and fauna. The park is majorly inhabited by white tigers but is also home to other wild species like Cheetahs, Langurs, Bison and Sambars.
Kanha National Park, Madhya Pradesh- This picturesque national park was an inspiration behind Rudyard Kipling's classic jungle book. The park is famous for its wide diversity of wildlife. The place is the perfect home to counts of Barasingha, the Swamp Deer. The most striking features of the region are the open grassy meadows, where blackbuck, swamp deer, sambhar and chital are found.
4. Railway Journeys
Trains are more about a journey full of experiences than just a mode of transportation. Luxury trains are the epitome of travel and the best way to see the country. It showcases the country's nature, variety and colour, particularly over long journeys. Luxury rail journeys in India offer unparalleled ways to explore the true essence of Indian culture. It provides a hassle-free and sophisticated way to discover India.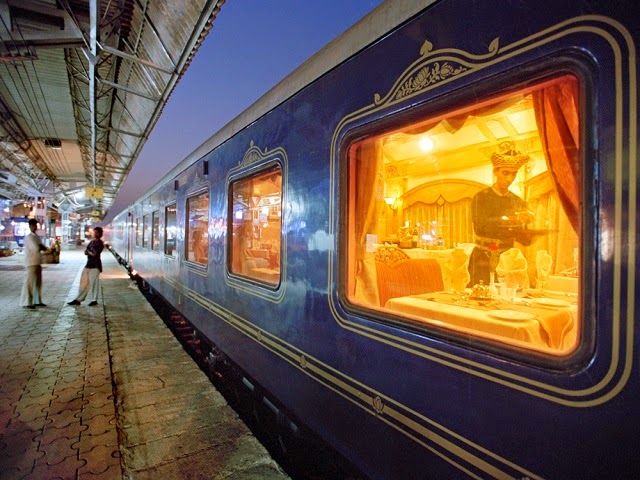 Let's explore the most luxurious trains in India that let you travel like royalty:
Maharajas Express- Maharajas Express is one of the five most luxurious trains in the world and is luxurious beyond imagination. You can witness palaces, forts and heritage properties. The luxurious train offers private lounges, bedrooms, lavish washrooms and a plush dining area. It is operational from October to April.
Royal Rajasthan on Wheels– This luxurious train takes you through the rich heritage of Rajasthan. Travel through the stunning palaces and fortresses and experience the Rajput culture and hospitality. It offers private and luxurious cabins, all the modern facilities of a luxury hotel and fine-dining experiences. The interiors of the cabins depict the history of Rajasthan. Royal Rajasthan on Wheels is operational from October to March.
The Deccan Odyssey- The train is designed to reflect the lives of Maharajas of ancient India. It is like a 5-star hotel and takes you to some stunning cities and landmarks. The train offers private cabins, multi-cuisine restaurants, lounges, spa services and many other art amenities. The Deccan Odyssey is operational from October to April.
The Golden Chariot- The Golden Chariot travels through the most beautiful natural wonders the country has to offer. You can enjoy the scenic routes and enjoy the facilities that the train offers. The train has royal interior chambers, bars, restaurants, mini gym, spa and other 5-star facilities. The Golden Chariot operates from October to March. 
5. Hospitality 
Indians follow the adage "Atithi Devo Bhava" which means Guest is God. It dictates the respect that is granted to guests in India. Hospitality includes the hotels, restaurant and resorts providing services for travellers and tourists. The hospitality in India is very strong and hotel facilities will make you feel at home.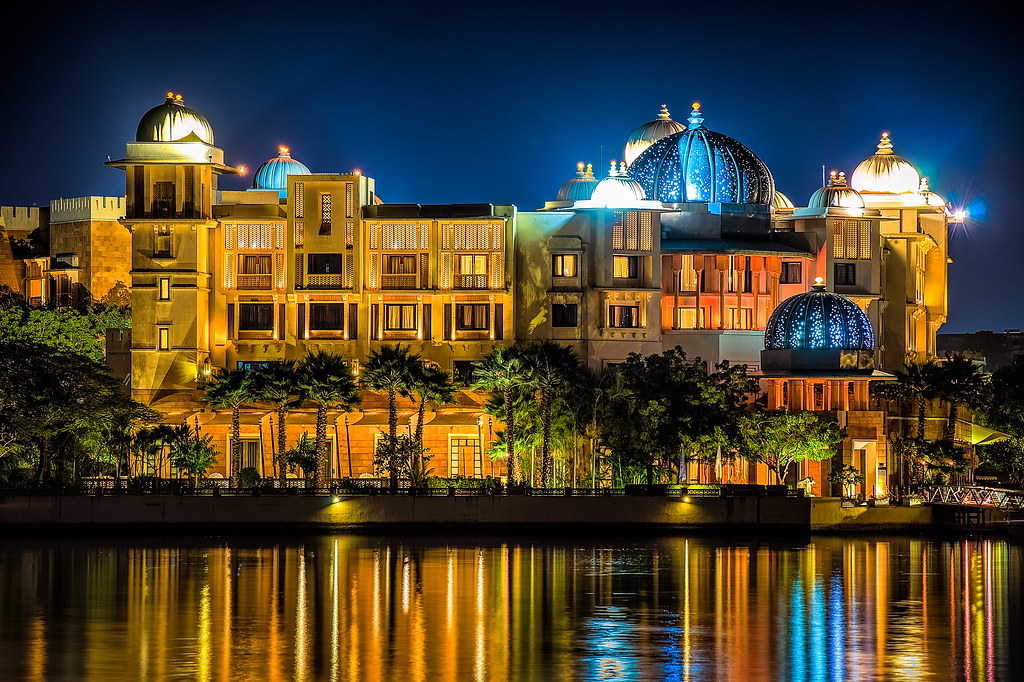 Let's have a look at some of the best hotels to stay in India:
Umaid Bhawan Palace, Jodhpur- prices starting from INR 27,000 per night.
The Oberoi, New Delhi- prices starting from INR 17,000 per night.
The Leela Palace, Udaipur- prices starting from INR 23,000 per night.
Rambagh Palace, Jaipur- prices starting from INR 43,000 per night.
Taj Lake Palace, Udaipur- prices starting from INR 50,000 per night.
Taj Falaknuma Palace, Hyderabad- prices starting from INR 32,000 per night.
The Oberoi Grand, Kolkata- prices starting from INR 8,000 per night.
6. Festivals
India is a land of festivals and every Indian celebrates many festivals wholeheartedly throughout the year. Every festival is unique in its own way and truly depicts the rich culture and traditions of India. India is the only country where every religion and community celebrates their culture. Festivals bring harmony and happiness in each and everyone's lives. 

Check out the list of the most famous and celebrated festivals of India with their importance:
Diwali- The Grandest festival of lights, it is a festival celebrated by the Hindus. The country celebrates the return of Lord Ram to Ayodhya after 14 years. During this festival, people light diyas, decorate their houses, wear new clothes, distribute gifts and burn crackers. 
Holi- The vibrant festivals of colours, Holi is one of the most famous festivals of India. On the eve of Holi, people Holika Dahan takes place where all the negativity is burnt in a bonfire. The next day people apply dry as well as wet colours to each other, some carry water guns and coloured water-filled balloons and also grooves on the music. It is the festival celebrated all across the world with happiness. 
Durga Puja- The festival celebrates the victory of Goddess Durga over Mahishasura. It is the festival celebrated mainly in Bengal. Huge and beautiful Durga idols are made and placed in specially made artistic Pandals. It's a 10-day festival in which people dress in traditional attires and go pandal-hopping, praying and feasting.
Eid-Ul-Fitr- The holy festival of Ramadan consists of month-long fasting. It is one of the major festivals in India celebrated by the Muslim community. People dress up in fine clothes, attend a prayer, visit friends and relatives and exchange sweets. 
Christmas- One of the most awaited festivals in India, it celebrates the birth of Jesus Christ. All the churches are lit up and people visit the churches to seek blessings. The children's wait for this festival as they expect to receive surprise gifts from Santa.
7. Cuisines
Indian cuisine is known for its large variety of dishes. There are a variety of cuisines and each style of cooking varies from region to region. India is famous for the multi-cuisine dishes available in various restaurants. Each state has different cuisine and it would be quite interesting to travel around the country and tasting the different cuisines.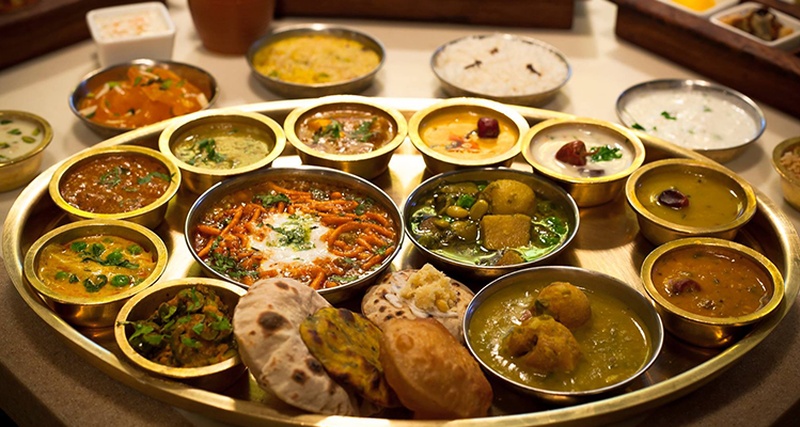 The cuisines are divided into a variety of types and each comes with a different flavour:
North Indian Cuisine- North Indian Cuisine is the cuisine of Punjab. It consists of both vegetarian and non-vegetarian dishes. The spice content is really high and various spices are added to get the perfect flavour. This cuisine is enjoyed by the people of all communities. The most famous dishes include Chole Bhature, Naan, Chicken Butter Masala, Parathe and Rajma Chawal etc.
Bengali Cuisine- People use panchphoron in their dish which includes a mixture of five spices like mustard, fenugreek seed, cumin seed, aniseed and black cumin seed. Bengali cuisine is appreciated as it involves a perfect blend of sweet and spicy flavours. The most famous dishes include Chingri Macchh'er Malaikari, Bhapa Ilish, Muri Ghonto, Shukto, Aalu Posto and Bhaja etc.
Gujarati Cuisine- It is all vegetarian and contains high nutritional values. Gujarati Thali is very popular all around the world. The cuisine has a lot to offer and is cooked in a very unique way. The most famous dishes include Dhokla, Khakra, Thepla, Gujarati Kadhi, Khandvi and Fafda etc.
Rajasthani Cuisine- The cuisine is primarily vegetarian and consists of a variety of dishes. The spice content is quite high but the food is equally tasty to have. Rajasthani food is well known for its spicy curries and delicious sweets. They mostly use ghee for cooking most of the dishes. The most famous dishes include Dal Bati Churma, Laal Maas, Mawa Kachori, Mohan Maas, Pyaaz ki Kachori and Gatte etc.
Awadhi Cuisine- The Awadhi Cuisine is famous in Lucknow known for its vegetarian and as well as non-vegetarian dishes. They are known for their amazing desserts too. The cooking style and dishes of this city is inspired by the Mughals. The most famous dishes include Murg Musallam, Seek Kebabs, Tunday ke Kebabs, Biryani, Makkhan Malai and Basket Chaat etc.
Mughlai Cuisine- The cuisine is a mix of culinary styles and recipes of North India and Central Asia. It was evolved in medieval India during the Mughal Empire. The Mughlai cuisine is generally spicy, rich and includes a lot of spices. Some of its signature dishes include Biryani, Mughlai Paratha, Murg Masallam, Kebabs, Malai Kofta and Rezala.
8. Adventures
If you are bored with the usual daily grind of life, the best thing to do is to go for a vacation and try some of the thrilling adventures in India. Consisting of high peaks and mountains, fascinating rivers, getting close to wild animals, India is filled up with some adventurous locations that are worth experiencing.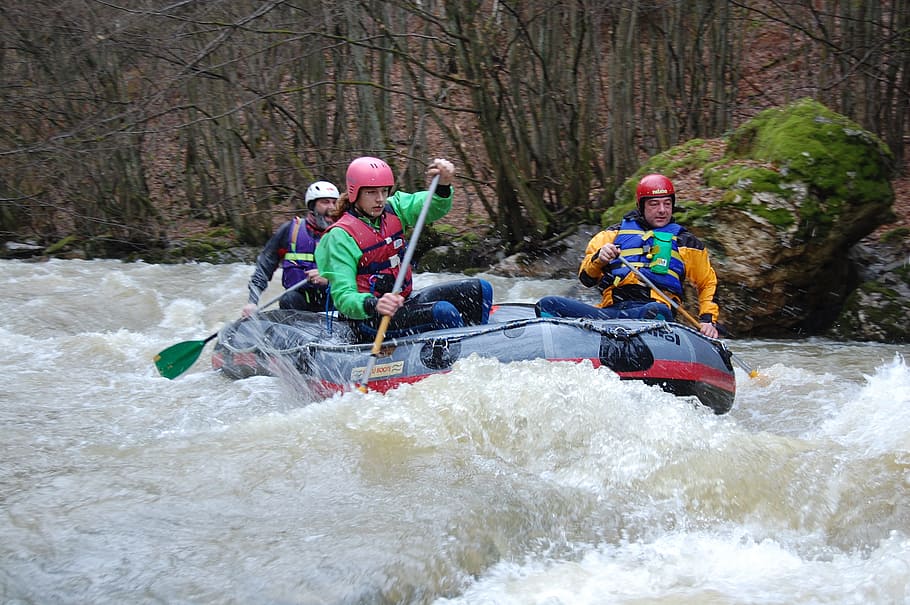 Here is the plethora of options for your adventurous trips:
Parasailing in Kerala- You get to sail from the height of 300 ft. It would be a thrilling experience to watch the blue Arabian Sea and enjoy the aerial view of the Payyambalam Beach in Kerala. 
Skydiving in Mysore- Go for skydiving and fly like a bird. Mysore is the best place to try this adventure with a fascinating view of the blue sky and extreme greenery sprawled across the valley.
Rock Climbing in Madhya Pradesh- Satpura Mountain offers remarkable rock climbing to the tourists. You must definitely try this once in your lifetime.
Bungee Jumping in Rishikesh- Get high with this thrilling adventure where you get to jump from a height of 83 meters. Take delight in this adventure and experience this in Rishikesh.
Scuba Diving in Barren Islands- Dive into the crystal clear water and witness the fascinating water creatures. The Barren Island in Andaman and Nicobar Islands offer Scuba Diving experience. 
White River Rafting in Rishikesh- This sport is known to be the most exciting and thrilling adventure. Rafting is a great way to exercise while having fun. The summer sport is fun and nice and all you need is an activity related to the water to take temperatures down.
9. Nature
India is the land of attractions and offers some of the best landscapes in the world along with amazing natural wonders and sceneries. India is the most popular destination for surreal experiences. There are several natural wonders of this country which will surely leave you enchanted and surprised.

Tea Gardens- One of the heavenly abodes in India, the tea garden is one of the most beautiful things the country has to offer. With its aroma and captivating smell, the tea garden is just irresistible. With colonial bungalows and greenery of local flora and fauna, tea gardens are some of the most scenic sites for tourists. Popular tea gardens in India are Glenburn Tea Estate in Darjeeling, Nilgiri Tea Plantations in Tamil Nadu, Kanan Devan Hills Plantation in Munnar and Jorhat Tea Bungalows in Assam etc.
Kerala Backwaters- It refers to the peaceful and picturesque palm-lined network of lagoons, lakes, rivers and canals. The backwaters are used by locals for transport, fishing and agriculture. The lush green landscape, diverse wildlife, houses and villages make the journey more beautiful.
Dudhsagar waterfalls, Goa- The astonishing waterfalls is created by the Mandovi River and located in the Bhagwan Mahavir Wild Life Sanctuary on the border of Goa and Karnataka. It's the most powerful falls and offers one of the most spectacular natural phenomena in the country.
10. Beach
India is surrounded by ocean and the country has some incredibly scenic beaches that offer everything from solitude to parties. Goa is the most famous beach destination in India. Beaches are the place to feel freedom, relax and enjoy the every moment of your life. You can experience various water sports on these beautiful beaches like kayaking, snorkelling, scuba diving and more.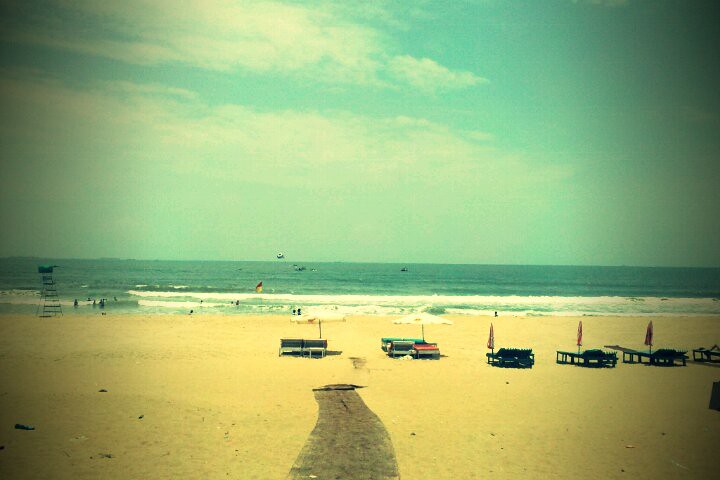 Some of the best beaches in India are:
Varkala, Kerala- The mesmerizing beach with a seemingly endless paved stretch of cliff bordered by shacks on one side. It is an excellent place to rest and rejuvenate.
Palolem, Goa- This is the most picturesque beach and enclosed by a thick forest of coconut palms in Goa. It attracts a lot of tourists every year. This is the liveliest beach in the area.
Tarkarli, Maharashtra- It is a paradise for beach lovers. With countless beaches, one can spend their whole day walking and lazing around and enjoy the various adventurous sports. Experience diving and snorkelling in Tarkarli Beach.
Paradise Beach, Pondicherry- This beach is adorned with the golden sand, this famous beach is always swaying with the cold sea breeze. This is one of the best beaches to visit in Pondicherry.
Baga Beach, Goa- Baga Beach is the most popular beach in Goa. The beach is famous for its nightlife with some very famous clubs like Brittos, Titos and Mambo. The shacks are crowded in the late evening with some music and mouthwatering food. There is also a range of water sports to try as well.
11. Shopping
Street markets are a boon for all those who love to shop. You can shop in the fresh air and at reasonable prices. It is a perfect blend of everything required for shopping by the people. You can get the authentic items of the particular state which attracts a lot of tourists. The local culture and latest fashionable things make the markets hit and attractive among domestic and foreign travellers.

Here is a list of markets which you must definitely visit if you like to buy fancy things:
Arpora Saturday Night Market, Goa– This is the most happening market in Goa. It opens after 6 in the evening and it is lit with beautiful lights and music which attracts the tourists. You can purchase jewellery, clothes, beer, handicrafts and home décor. 
Sarojini Market, Delhi- This market is best for street shopping in the capital city. Learn good bargaining skills before visiting the market. You can purchase clothes, bags and shoes for the latest fashion at cheap prices. 
New Market, Kolkata- Fill your bags with the best and cheapest material at this market in Kolkata. This is the most famous market to shop during Durga Puja as well as during normal days. It offers a wide range of clothes, jewellery and make-up.
Baapu Bazaar, Jaipur- This city has one of the best street shopping markets to offer to its tourists. The things that you can purchase here are bedsheets, Jaipur jutti, salwar suits, ethnic jewellery and home décor at very affordable prices. It is also famous for its ayurvedic digestives and the natural henna. 
Colaba Causeway, Mumbai- This market helps to keep your wardrobe up to date without hurting your wallets. It is always packed with local people and tourists. Colaba Causeway offers garment store to stylish handbags and shoes, jewellery and local food. 
Tips when travelling to India
Currency- The currency of India is Indian Rupee (INR). 1 pound can roughly be bought for 92.71 INR. It is preferable to carry currency with you.
Safety- Keep your passport and other documents safe. Take safety precautions while visiting different places in India.
Mobile network and sim card- The major mobile service providers are Airtel and Vodafone. You can purchase a sim card at the airport itself.
Power plugs- You need power plugs and socket of C and D type.
Checklist for your travel to India
Travel Documents- Passport, Visa, travel insurance, tickets, medical documents and relevant ID cards.
Money- Indian Rupee. 
Electronics- Mobile phone, camera and travel adapter.
Health and Hygiene- Medications that you are on, basic medical kit, women hygiene items, toiletries, insect spray, hand sanitizers.
India- Best Destination to Vacation with Family
The reasons to admire India are unending. There is much more beauty in India than anyone can imagine. No other country in the world can offer such a rich culture and diversity like India. The admirable architecture, splendid art, nature, wildlife and authentic food together makes India an incredible travelling destination on the planet. Book that long-awaited trip to India and make each moment count with your loved ones on a fun-filled vacation. 
Get in Touch
Book your family holiday package in India, all that you need to do is get in touch with us at connect@flyingsquirrelholidays.com or call us at +91 3340525777.