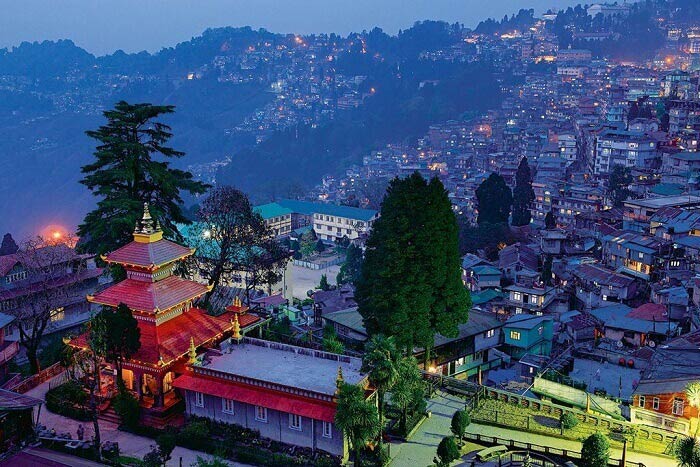 Darjeeling Gangtok Tour Package From Kolkata
Posted on By Blog Admin
Darjeeling Gangtok Tour Package from Kolkata
Trip to Darjeeling and Gangtok
Darjeeling and Gangtok are two of the most charming hill stations of eastern India. Darjeeling is the 'Queen of Hills' while Gangtok is serene and picturesque. 
In this double-delight holiday, we start with Gangtok and discover the hidden gems in Sikkim's beautiful capital. If you are looking for spiritual connections, the monasteries here will guide you. And those of you who love shopping can look for antique silver and Tibetan souvenirs at MG Marg, while foodies can sample delicious Sikkimese fare at the local restaurants. Nature lovers can spend hours looking at the mesmerizing peaks of Kanchenjunga from Ganesh Tok or Hanuman Tok viewpoints, while adventure enthusiasts can go up to Nathu La pass, an important pass on the crossroads of the Indo-China border. The hill station is dotted with beautiful walking trails, with ample flora and fauna. From Gangtok, you can easily access favourable spots like Pelling, Ravangla, Aritar, Chungthang and Legship.
After Gangtok, Darjeeling will only heighten your pleasures. It a perfect collage of mountains, orchards and lofty pursuits as you try to get the glimpse of the mighty Kanchendzonga. During your stay in Darjeeling make sure you go for a guided tea plucking and tasting tour at one of the many tea gardens in the hill station. On these tours, you will taste different varieties of the Darjeeling tea, the enchanting brew of the Himalayas. 
A trip to Darjeeling is incomplete without a ride on the famous toy train of Darjeeling that dates to the 1880s and has been awarded the UNESCO World Heritage status. It takes you through pictorial regions including the engineering marvel, the Batasia Loop. Stop by at the Himalayan Mountaineering Institute by Tenzing Norgay, visit the Lloyd Botanical Gardens, the iconic Ghoom Monastery, enjoy a view of the majestic Kanchenjunga and more.
Don't miss sunrise at Tiger Hill, or a visit to the bustling Mall Road. Darjeeling will gift you memories to last forever. The hill station is also a gateway to scenic Kalimpong or Chalsa with its tea gardens and adventure parks.
Travel routes
You fly into the Bagdogra airport and drive to Gangtok. 
In the second part of the trip, we take you to Darjeeling from Gangtok via Pelling in a private car. 
Best Time for a Darjeeling-Gangtok Tour
The best time is between April and June and September – November.
Those who wish to experience snowfall here can plan for a trip between December and February. 
Places to visit from Gangtok
1. Pelling
A small scenic town, Pelling will greet you with her lush greenery, amazing wildlife, splendid waterfalls and beautiful monasteries. Don't miss the majestic Rimbi & Kanchenjunga Waterfalls, or the Sewaro Rock Gardens here.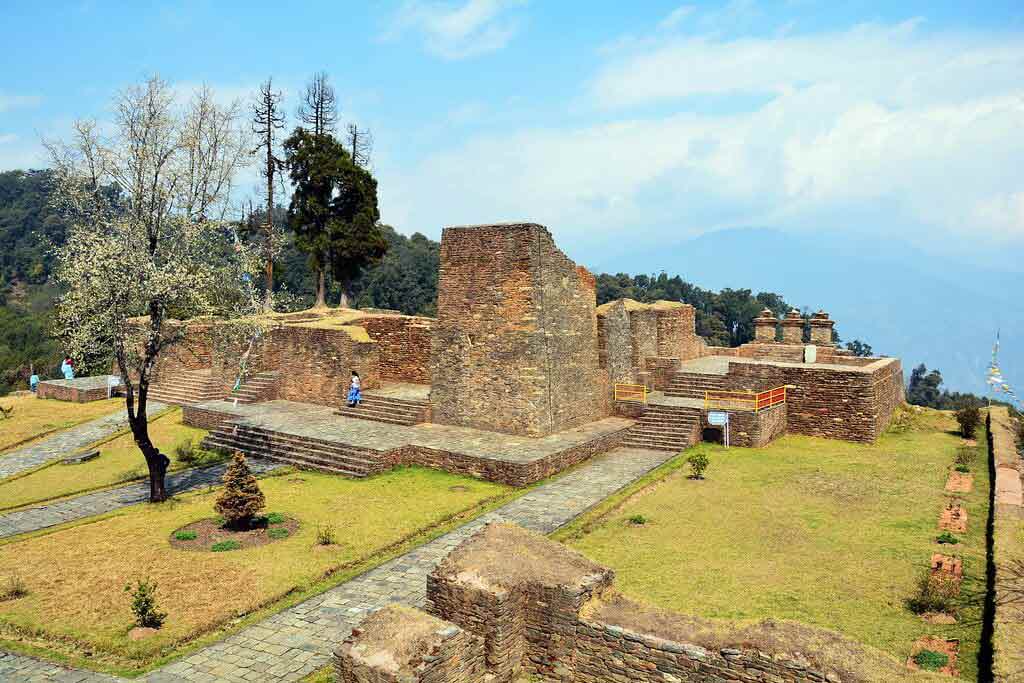 How to Reach
You can reach Pelling in about 4 and a half hours from Gangtok by cab. 
We recommend: 
Darap — the culturally and pristinely rich village, 6 km from Pelling. Indulge in adventure activities like bird watching, swimming in nearby streams or go hiking through the forested areas. You could also visit the Lepcha house and Limbu temple here.
Kaluk – great for a day trip. Kaluk will offer you stunning views of Kanchenjunga, trekking and Yak rides near Teesta river.
2. Ravangla
Ravangla stands on a hilly ridge, bordered by lush greenery. Her expansive tea gardens, ancient monasteries and cascading waterfalls make this an interesting place to spend a couple of days. When in Ravangla, visit the Ralong and Doling monastery, enjoy the sunrise at Reyong View Point and visit the Temi Tea Gardens.

How to Reach
You can reach Ravangla in around 2 hours from Gangtok by cab.
We recommend: 
Doling Gompa — an excellent spot for trekking. A premier tourist spot in Ravangla, this monastery is located on an elevated area with an excellent backdrop of mountains and lush greenery. For the trek, take the Barfung retreat through forests to reach the monastery.
Kewzing village — You can plan an overnight trip to Kewzing village, known to be a paradise for birdwatchers. Relish a night stay at the popular homestays here in the lap of nature.
3. Aritar
Blessed with abundant natural beauty, Aritar is known for her forests, beautiful lakes, waterfalls and a scintillating view of the mountain peaks. Offering something for every kind of traveller, Aritar can turn into your spiritual retreat, leisurely getaway or an adventure hotspot.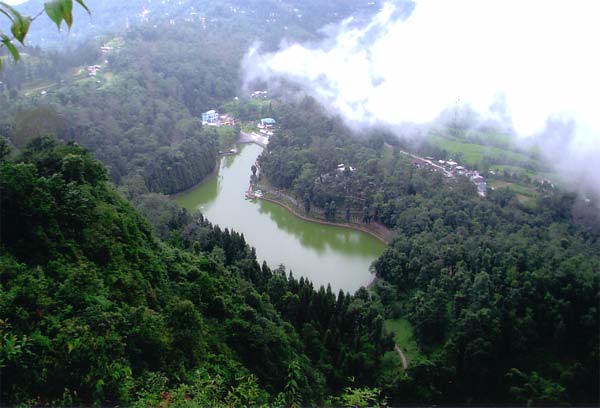 How to Reach
Aritar is just a 4-hour drive from Gangtok.
We recommend
If you love trekking, plan to visit the nearby Lungchuk Valley, for the day. Also, follow the nature trails of Chujachen and Lokdara.
Enjoy the sunset at Lake Lampokhari, one of the oldest in Sikkim
4. Chungthang
A popular town in North Sikkim, the picturesque Chungthang lies at the confluence of river Lachung & Lachen. Considered to be blessed by saint Padmasambhava, Chungthang feels gifted with enviably rich biodiversity.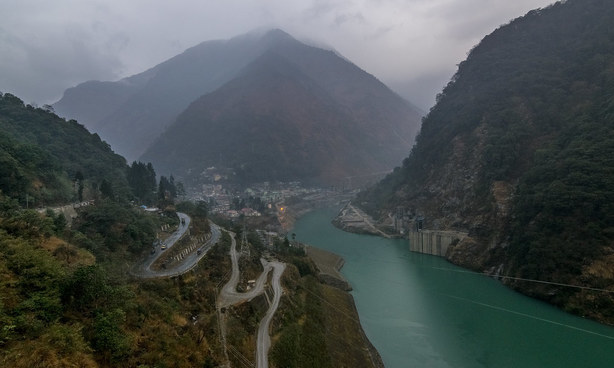 How to Reach
The preferred route to Chungthang is a taxi ride from Gangtok which takes around 3 hours 30 minutes.
We recommend 
Lachung and Lachen — The routes from Chungthang bifurcates towards two scenic spots, Lachung and Lachen. En route Lachung, you can stop at Naydo (bearing Guru Padmasambhava's footprints) and Chungthang monastery. On arrival, stay overnight at Lachung, visit Yumthung Valley and Zero Point the next morning before returning to Gangtok in the evening.
Alternatively, if you wish to travel towards Lachen from Chungthang, stay overnight at Lachen, visit Gurudongmar Lake, KalaPatthar mountains and Yumthung Valley before departure.
Places to visit from Darjeeling
1. Chalsa
Explore the beauty of lesser-known Chalsa, at the foothills of Himalayas. This picturesque hamlet of West Bengal is a great place to unwind. It is home to the Gorumara National Park.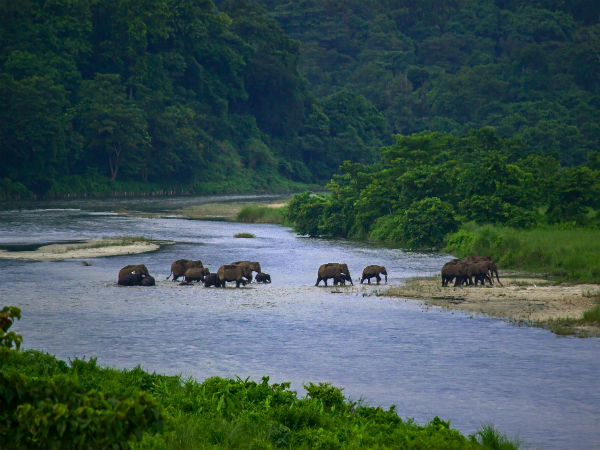 How to Reach
The quickest option is to hire a cab from Siliguri to reach Chalsa
Things to Do
You can visit Buxa Tiger Reserve to spot the endangered Bengal Tigers.
Also, try booking a wildlife safari at Chapramari Wildlife Forest.
Travel to Raidak, the lush green riverine meadow.
Plan travelling to Bindu, the beautiful hilly village close to Bhutan border.
Enjoy the adventure of camping, angling and fishing at Chalsa.
2. Kalimpong
Located 4000 metres above sea level, Kalimpong boasts of abundant flora and fauna, a view of the serene snow-capped peak and amazing weather. In short, Kalimpong has everything a backpacker needs for a great trip.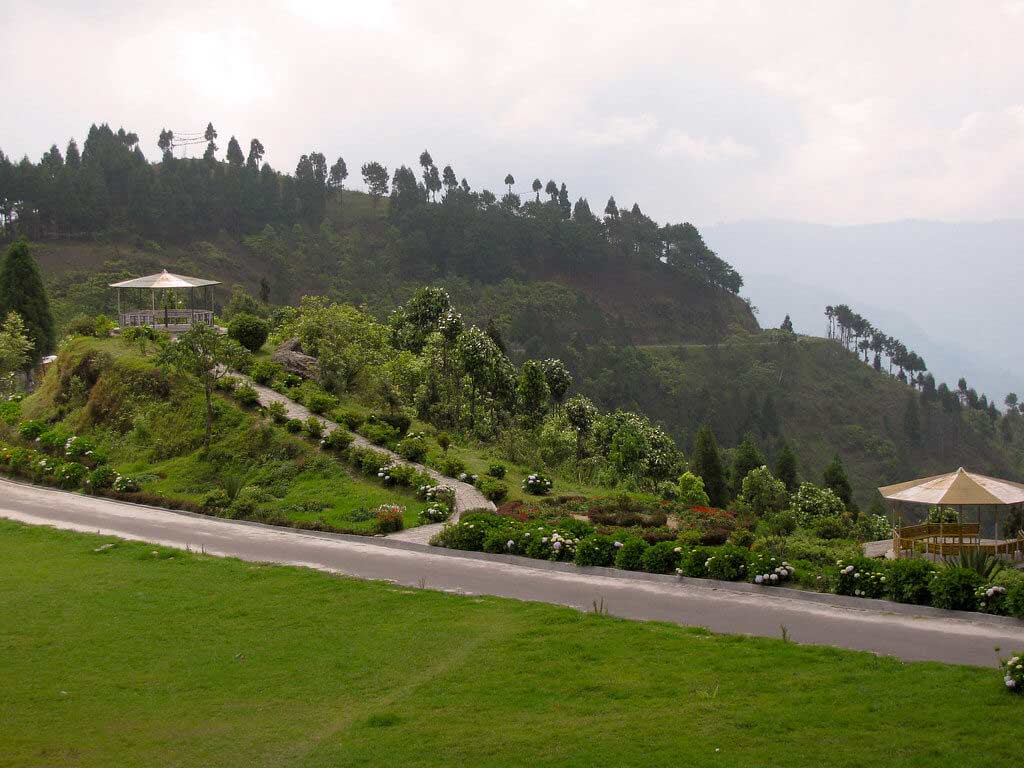 How to Reach
Book a cab from Siliguri town to reach Kalimpong in one hour and a half.
Things to Do
Visit Lepcha Museum or the Zang Dhok Palri Phodang monastery to learn about the cultural heritage
Plan a picnic at one of the pine forest areas
Enjoy sampling delicious momo, thukpa and noodles
Plan visiting the Neora Valley National Park or the Rishi Bankim Chandra Park for wildlife spotting
Take day trips to Loleygaon (2.5 hrs) and Lava (1hr) from Kalimpong. Feel the thrill of canopy walks and hanging bridge at Loleygaon and visit the Lava monastery before heading back.
3. Mongpong
A charming village on Teesta's banks, Mongpong is perfect for a day-out from the rush of Darjeeling. With options like paddle boating.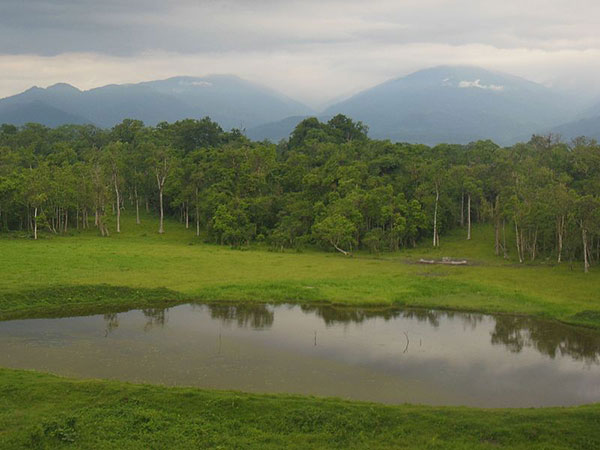 How to Reach
Mongpong is just an hour's drive from Siliguri
Things to Do
Visit the famous Mahananda Wildlife Sanctuary for spotting rare migratory birds like Brahmini ducks and pelicans
Try rafting on river Teesta
Travel to Odlabari, famous for their tea estates
Plan a picnic to Kalijhora, 8.7 km from Mongpong
You can travel to Murti, for an outing on the riverside
Hotels in and around Gangtok
Gangtok
The Royal Plaza Gangtok- Avg. price INR 7300/night
Ridan Boutique Hotel- Avg. price INR 5000/night
Sterling Gangtok Orange Village- Avg. price INR 4500/night
Summit Namnang Courtyard and Spa- Avg. price INR 4200/night
Pelling
The Elgin Mount Pandim- Avg. price INR 8400/night
Magpie Pachhu Village Resort- Avg. price INR 5900/nght
Ravangla
Buddha Retreat (Yangthang Group) Avg price INR 4850/night
Kewzing
Bon Farmhouse by Vista Rooms- Avg. price INR 6000/night
Zhang Zhung Homestay- Avg. price INR 2500/night
Aritar
Lampokhari Village Resort- Avg. price INR 4500/night Neora Valley Retreat- Avg price INR 4000/night
Hotels in and Around Darjeeling
Darjeeling
The Elgin, Darjeeling- Avg. price INR 8400/night
Mayfair Darjeeling- Avg. price INR 8200/night
Sanderling Resort and Spa- Avg. price INR 7500/night
Sinclairs Darjeeling- Avg. price INR 7200/night
Kalimpong
The Elgin Silver Oaks- Avg. price INR 8500/night
Mayfair Himalayan Spa Resort- Avg. price INR 5500/night
Chalsa
The Riverwood Forest Retreat, Doars- Avg price INR 9500/night
Sinclairs Retreat, Doars- Avg. price INR 4760/night
Must-Try Cuisines of Gangtok and Darjeeling
Sikkim
Phagshapa– A must try a dish, Phagshapa has pork stew and radish as their principal ingredients.
Thenthuk– This delightfully tasty noodle soup either has vegetables or meat bits to make for asatiating dish.
Sha Phaley– A roadside staple of bread and meat with a unique taste
Chang/Tongba– A strong millet drink of Tibetan origin, consume it in moderation.
Darjeeling
Darjeeling Tea- For authentic roasted Darjeeling Tea, visit the Nathmulls or Gold Tips.
Thukpa– Noodle soup with diced vegetables or meat, this is a filling dish popular among locals
Sael Roti– This is a bread item made from rice paste and spices, consumed mostly during festive seasons.
Gundruk– This is a basic soup where the main ingredients are vegetable leaves like that of mustard and radish, combined with onion, tomato and spices for added taste.
Aloo Dum– Somewhat different from the Bengali variety, Aloo Dum in Darjeeling is spicier and found in all roadside
Top Restaurants
Gangtok
Taste of Tibet– Look no further than Taste of Tibet for Sikkim's best Momos 
Nimtho– A popular restaurant for casual dining, they have great options in Nepalese and Tibetan fare
Darjeeling
Keventers– Nothing matches the charm of a hearty English breakfast and hot chocolate with a great view of Darjeeling
Glenarys– Another great place for delicious pastries, pies, brownies and Darjeeling tea in a classic ambience
Revolver– Visit here for sampling authentic Naga cuisines
Kunga– Known for great Tibetan fare
Nathmull's– Few among the best cafes in Darjeeling known for their tea
Relaxed Darjeeling Gangtok Itinerary
We suggest that you cover Gangtok first and then spend a day or two in Darjeeling as a part of your itinerary as the former has more places to explore.
Day 1: Arrival at Gangtok
Arrival at Bagdogra Airport
Transfer to Gangtok
Hotel Check-in
Overnight Stay at Gangtok
Day 2: Gangtok Sightseeing
Breakfast
Visiting Tsomgo Lake
Visiting Baba Mandir
Visiting Nathula Pass
Returning at Gangtok
Shopping at Mall Road
Overnight at Gangtok
Day 3: Gangtok Sightseeing Tour
Tashi View Point
Ganesh and Hanuman Tok
Ranka Monastery
Rumtek Monastery
Banjhakri Falls
Cottage Industry
Dro Dul Chorten
Institute of Tibetology
Horticulture Centre
Handicraft Centre
Back to Hotel
Overnight at Gangtok
Day 4: Gangtok to Pelling
Transfer to Pelling
Hotel check-in
Overnight at Pelling
Day 5: Pelling Sightseeing
Darap Village Tour
Kanchenjunga Waterfalls
Sewaro Rock Gardens
Rimbi Waterfalls
Khecheopalri Lake
Lunch
Pemayangtse Monastery
Rabdentse Ruins
Bird Sanctuary
Overnight at Pelling
Day 6: Pelling to Darjeeling (4 hours)
Arrival at Darjeeling
Hotel check-in
 at Darjeeling
Day 7: Darjeeling Sightseeing
Sunrise at Tiger Hill
Ghoom Monastery
Batasia Loop
(post-breakfast City Tour)
Natural History Museum
Himalayan Mountaineering Institute
Zoological Park
Tibetan Refugee Help Centre
Ropeway
Tea Estate
Peace Pagoda
Tenzing Gumbo Rock
Day 8: Departure from Darjeeling
Checklist for Sikkim-Darjeeling Trip
Visa and Passport for foreign nationals
Ear Muffs, scarves, shawls
Camera with charger and lenses
Mobile phones with charger or adapters
Light or heavy Woollens as per season
FAQs
1. How many days are ideal for Gangtok- Darjeeling Tour?
A relaxed 7 days tour is ideal for this.
2. What are the best items to shop during the tour?
You can shop for Tibetan carpets, handicrafts, souvenirs and tea.
For booking Darjeeling Gangtok tour packages, get in touch with us at connect@flyingsquirrelholidays.com
or call us at +91 3340525777