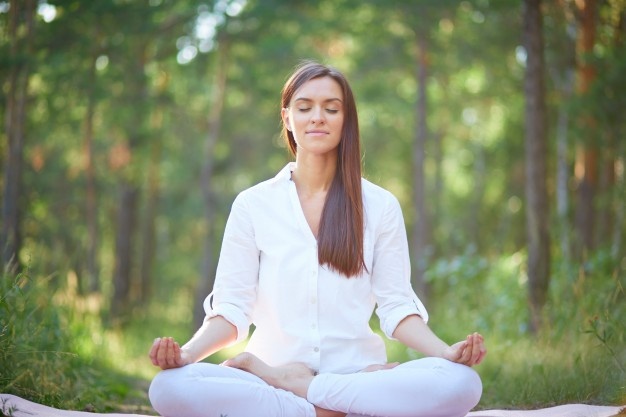 Meditation Retreats in India: 7 Destinations for the Ultimate Peace
Posted on By Blog Admin
Have you often wondered what can be done to beat stress and depression in life? Meditation can be your answer to that ever eluding inner peace. For years the art of mindfulness or meditation has helped man to develop greater consciousness, and attain inner bliss.
There are various forms of meditation practised including:
mindfulness meditation
spiritual meditation
mantra meditation
transcendental meditation and more.
The best way to be introduced to the art of meditation is to go on a retreat where experts can initiate different techniques in a relaxed manner. And, when it comes to meditation retreats in India, the land of Ayurveda, yoga and meditation deserves special mention. India's high spiritual energy has helped meditation centres and resorts to grow along the scenic regions closer to the Himalayas in the north, as well as near the beaches in the south.
How much does a meditation retreat cost?
The cost depends on various factors like the type of retreat you choose, type of package you choose,  number of days you spend there, choice of rooms etc. These are the factors that will help you know the complete cost of what it will take for you to plan your holiday. Starting prices can be from $800-$1000 per person for a 5-7 nights retreat.
Where can I do a silent retreat?
Reconnect with your soul at these best silent retreats in India:
Ananda in the Himalayas, Uttarakhand
Tushita, Dharamshala
Dhamma Bodhi, Bodh Gaya
Ashiyana Yoga Retreat, Goa
Osho International Meditation Resort, Pune
Art of Living Ashram, Bangalore
Isha Yoga Center, Coimbatore
Aurobindo Ashram, Pondicherry
What to wear during meditation?
Wearing loose clothes such as flowing robes, pyjamas, and pants with elastic waist band are ideal clothes to wear during meditation.
Here are India's top 7 destinations for meditation retreats:
1. Rishikesh
2. Goa
3. Bodhgaya
4. Himachal Pradesh
5. Kerala
6. Karnataka
7. Uttarakhand
1. Rishikesh
Nearest Airport: Delhi.
Best time to travel: October to March.
The vibrant 'birthplace of yoga', Rishikesh is nestled in the foothills of the Himalayas where the Holy Ganges meets the beautiful Chandrabhaga River. The gorgeous backdrop, perfect weather and scope to practice the age-old traditions of yoga and meditation under the guidance of well-versed yogis (mystic sages), acharyas and gurus (spiritual leaders), lure travellers from all over the world to Rishikesh. The Beatles came to Rishikesh to practise transcendental meditation and music.
Over the years, as the town began to attract international travellers, yoga and meditation centres began opening doors, welcoming tourists and students of yoga and meditation to learn the different techniques. We have listed here a few noteworthy ones to choose from for your meditation retreat.
Parmarth Niketan
With over 1000 rooms in its eight-acre campus, Parmarth Niketan in Rishikesh offers extensive yoga and meditation programmes by skilled professionals.
The place hosts various yoga and meditation retreats throughout the year, including the annual International Yoga Festival where the masters present different techniques, such as that of:
Kundalini Yoga
Power Vinyasa Yoga
Iyengar Yoga
and Kriya Yoga.
Here you can practice meditation under the guidance of masters who help you in stress management and teach you how to develop greater consciousness and concentration.
Duration – A 7-day retreat is ideal. But there are retreats that extend up to three months as well.
Package price: Retreats start from Euro 300 approximately.
Vedansha Institute of Vedic Science and Alternative Medicine
Vedansha is reputed for its 8-day Vipassana meditation retreat which includes daily mediation sessions, pranayama, kriyas, mantras, yoga asanas and more.
Enjoy gorgeous views of the Himalayas from the rooms, enjoy healthy vegetarian meals and the solitude during your meditation retreat at this institute.
Duration: Ideally go for the 8-day retreat, but there are meditation programmes that extend up to 3 months as well.
Package price: Retreats start from Euro 350 approximately.
2. Goa
Airport: Goa International Airport
Best time to travel: October to March.
Though Goa is mostly recognized as a beach destination among international travellers, it has quite a few noteworthy yoga and meditation resorts that host such retreats. These places also offer a wide range of wellness treatments including yoga, reiki and meditation, among others. Explore our top picks for you!
Purple Valley Yoga Retreat, Goa
Tucked away in the Assagao, Purple Valley is a peaceful haven near the white sandy Anjuna beach for a rejuvenating yoga and meditation retreat.
The refreshing smell of frangipani and the melodious chirping of birds make the ambience of the yoga shala at Purple Valley perfect for your daily early morning yoga sessions.
Programmes are dedicated solely to Ashtanga yoga and meditation. The retreat offers vegetarian buffet meals in an open-air terrace and additional recreational activities include visits to the spice plantations, open-air movie nights and more.
Duration – Ideally go for a 10-day retreat.
Package price: Retreats start from approx. Euro 1100
Anahata Retreat, Goa
Imagine practising meditation and yoga overlooking the sea in a scenic natural setting. That's what Anahata Retreat welcomes you to.
Enjoy yoga sessions that empower you physically and emotionally, twice a day. These are based on hatha yoga practices, meditation, breathwork and yoga Nidra. Each session has a different flavour and the intensity ranges from complete relaxation to meditative surrender. Explore the spa therapies offering a range of treatments, including reiki, shiatsu, Shirodhara and hot-stone therapy.
Duration– ideally a 10-day retreat.
Package price: Retreats start from Euro 850 approximately.
3. Bodhgaya
Nearest Airport: Bodhgaya Airport in Gaya, Bihar.
Best time to travel: Pleasant year-round.
This is where Buddha attained enlightenment. The spiritual energies are high in Bodhgaya and it has always been a popular place for meditation retreats in India. Check out some of its most celebrated meditation retreats:
Insight Meditation Retreats
The 9-day Vipassana retreat inside the Thai Monastery in Bodh Gaya, will cleanse your soul of all negativity and take you to higher realms of spirituality. The retreat is held every February. Seats to this retreat are limited, so make sure you book in advance.
Duration of a retreat – We recommend you to take at least the 9-day retreat.  You also have the option of other extensive retreats to choose from.
Package price: Retreats start from Euro 350 approx.
International Meditation Centre
The International Meditation Centre organizes vipassana meditation courses for a period of 10 days throughout the year. Vipassana literally means "insight" which the retreat will make you practice through age-old meditation and yoga techniques.
Duration: Ideally go for the 10-day retreat.
Package price: Retreats start from approx Euro 350.
4. Himachal Pradesh
Himachal's idyllic natural beauty, its scenic mountains, flower gardens and pleasant weather are known to heal tired minds. It is home to India's renowned yoga gurus offering lessons on the ancient practices of yoga and meditation.
Nearest Airport: Delhi and Chandigarh.
Best time to travel: Anytime during the year
Here are some of the best centres for a perfect meditation retreat in Himachal:
Saptrashmi Yoga, Dharamsala
Meditation retreats at Saptrashmi helps you to:
organise your lifestyle
strengthen your digestive system
cleanse body toxins
regulate blood flow
prevent or cure certain diseases without medicines
increase your body immunity
and attract inner peace of body, mind and soul.
Duration: Ideally go for a 7-day retreat, but there are programmes that extend for 3 months as well.
Package price: Retreats start from approx Euro 300.
Tushita Meditation Centre, Dharamshala
Tushita is a Buddhist meditation centre that allows you to succumb into the realm of salvation. Popular among international travellers, the centre specialises in various meditation processes that help you transcend into a peaceful state of mind.
Duration of a retreat – Ideally you can go for a 7-day retreat. There are retreats for 3 months as well.
Package price: Retreats start from approx Euro 300.
5. Kerala
Nearest Airport: Kochi.
Best time to travel: October to March.
Kerala's scenic backwaters, exotic beaches and natural beauty provide a great ambience for yoga and meditation. Home to many yoga gurus or trained yoga professionals, Kerala houses some renowned yoga resorts dedicated to offering the best yoga and meditation retreats. Well acquainted with the science of yoga and Ayurveda, these resorts offer customized retreats based on individual requirements.
Kalari Kovilakom, CGH Earth
The 200-year-old palace of Kalari Kovilakom has now been converted to one of the most recognized yoga, Ayurveda and meditation centres of Kerala. It offers retreats to enhance mindfulness, create a therapeutic engagement of the senses and an inward integration of the body, mind and spirit. Yoga Nidra, for example, is an ancient meditation technique, that provides deep relaxation and helps in de-stressing individuals.
Duration – Ideally book a 7-day retreat. There are retreats continuing for 3 months as well.
Package price: Retreats start from approx Euro 6350.
Bodhi Ayurveda and Yoga Retreat, Kochi
The 10-day retreat at Bodhi includes daily cleansing kriyas, yoga and meditation classes. You'll also have a personal consultation with an Ayurvedic Doctor, receive detailed recommendations for the ideal diet, yoga and exercise based on your individual body constitution and four rejuvenating Ayurvedic massages.
Ayurvedic vegetarian meals are included in the programme.
Duration – Ideally opt for a 10-day retreat. There are retreats continuing for a month as well.
Package price: Retreats start from approx Euro 850.
Somatheeram, Kovalam 
Somatheeram is a beautiful Ayurveda resort located in Chowara, Kovalam near Thiruvananthapuram, the capital of Kerala.  It is just 21 Kms from the Trivandrum International Airport. Somatheeram is noted for its Ayurveda and yoga programmes offering the best of traditional practices.
The focus is on the importance of Ayurvedic therapies for both curative and preventive treatments of body, mind and soul. Yoga works on the level of one's body, mind, emotion and energy; it provides a holistic approach to health and well-being.
Ayurveda treatments comprise therapies/massages, healthy Ayurveda diet and herbal medicines, all put together in a disciplined manner under the supervision of experienced and qualified doctors and therapists.
Duration – Ideally go for a 7-day retreat. There are retreats for 14 days, 21 days, a month and more.
Package price: Retreats start from approx Euro 850.
6. Karnataka
Karnataka has the winning blend of urban luxury and scenic natural beauty. It is home to many beautiful Ayurveda and medical centres that could range from luxurious meditation resorts in Bengaluru to tranquil wellness retreats in Gokarna.
Nearest Airport: Bengaluru.
Best time to travel: October to April.
SwaSwara, Gokarna
You will find this resort on the pristine Om beach in Gokarna. The retreats at SwaSwara offer holistic yoga practices and luxury spa therapies focused on rejuvenating not just the mind, but also the body.
Enjoy your stay in a traditional Konkan villa, modern yet austere, amid acres of greenery, with a yoga deck of your own. While the practice of Ayurveda and an organic cuisine will recharge your body, a regimen of yoga, meditation and art therapy will refresh the mind.
The yoga retreat at Swaswara includes consultations with doctors and yoga instructors, therapeutic massages, group and private yoga sessions, meditation, art therapy, nature trails, interactive cooking classes and healthy organic meals.
Duration – You can go for a 7 day, 14 days, or a 21-day programme.
Package price: Retreats start from Euro approx 1200.
Shathayu, Bangalore
The charming Ayurveda yoga retreat offers you expert guidance under trained teachers to heal your mind, body and soul. Yoga sessions at the retreat involves the best practices of yoga asanas, pranayama, breath-work, guided meditation and more.
Experts at Shathayu say that yoga therapy has a strong success rate in curing digestive problems, gynaecological disorders, lifestyle disorders, musculoskeletal disorder, endocrine disorders and more.
Duration of a retreat – Ideally opt for a 10-day programme.
Package price: Retreats start from approx Euro 500.
7. Uttarakhand
Nearest Airport: Delhi and Chandigarh.
Best time to travel: September to April.
The grandeur of the Himalayas add to Uttarakhand's natural beauty, making it the perfect backdrop to meditate. Here are some of the exotic yoga and meditation resorts to choose from:
Ananda in the Himalayas 
Ananda in the Himalayas offers different types of meditation and tried and tested "shuddhi kriyas" or ancient yogic practices intended to purify one's body and mind.
One of the most beautiful and luxurious yoga resorts in India with a pleasant ambience in the lap of the pristine Himalayas, Ananda is a perfect choice for a yoga and meditation retreat.
With a view of the spiritual town of Rishikesh and the Ganga river valley, Ananda is situated on a 100-acre erstwhile royal palace estate offering retreats that integrate traditional Ayurveda, Yoga and Vedanta with international wellness experiences.
During a yoga vacation, you can opt for the traditional hatha yoga or go for tailor-made yoga sessions crafted as per your needs.
Duration of a retreat – Ideally a 7-day retreat. There are retreats continuing for 3 months as well.
Package price: Retreats start from approx Euro 2200.
Vana, Dehradun
Enjoy a yoga retreat in the scenic beauty of sal forest and flower gardens at the Vana refreshing your senses. Vana offers you a retreat that integrated pranayama, meditation and yoga asanas for a holistic experience. Morning yoga sessions are conducted in a temple while evening sessions are held in private studios. Known for its Tibetan meditation and culinary lessons, Vana is a popular choice for yoga retreats in India.
Duration– Go for at least a 10-day programme.
Package price: Retreats start from Euro1850 approx.
Besides these that we have mentioned, there are many more meditation retreats to choose from in India. For personalized guidance to help you select the right one for you, you can consult our wellness experts.
Other notable meditation retreats in India are Ashiyana Yoga Retreat in Goa, Yoga Vidya Mandiram in Rishikesh, Osho Meditation Resort in Pune, Krishnamachar Yoga Shala in Mysore, Auroville in Pondicherry, The Art of Living International Centre in Bengaluru, Vipassana International Academy in Igatpuri and more.
What's in it for me? This is what happens in a meditation retreat?
Ideally, a meditation retreat is conducted for a minimum of 7 nights and 8 days.
As a participant, you will have a pleasant and relaxing room to yourself.
There will be vegetarian or organic meals, and the greater part of your day will be spent with professionals who will conduct yoga and meditation sessions at least twice a day.
There will also be doctor consultations and Ayurveda treatments or therapies.
Meditation retreats also incorporate recreational activities, such as pottery sessions, forest walks, forest bathing, cooking demonstration, visit an art gallery, local sight-seeing tours, bird watching, boat rides, trekking and more.
Wellness Retreat by Flying Squirrel Holidays
Flying Squirrel Holidays conducts its special wellness retreat once a year in association with a renowned wellness consultant at an exotic resort in India.
With a different theme each year, our wellness retreats are handcrafted to offer you an unparalleled experience.
Explore Kundalini meditation, chakra balancing, and Sadhana practised through chants, introspective reflection and mindfulness, body movements and breathwork.
Our wellness retreats are designed delicately to blend yoga, meditation and Ayurveda therapies. You will love the organic meals that are planned for you and be a part of live cooking demonstrations to adapt the same in your lifestyle.
You also get to enjoy various recreational activities during your meditation retreat with us that ease the mind and relaxes the soul.
For details and consultation with our wellness holiday experts, dial +91-33-4052-5777 or write to us at connect@flyingsquirrelholidays.com
Image credits
People photo created by pressfoto – www.freepik.com