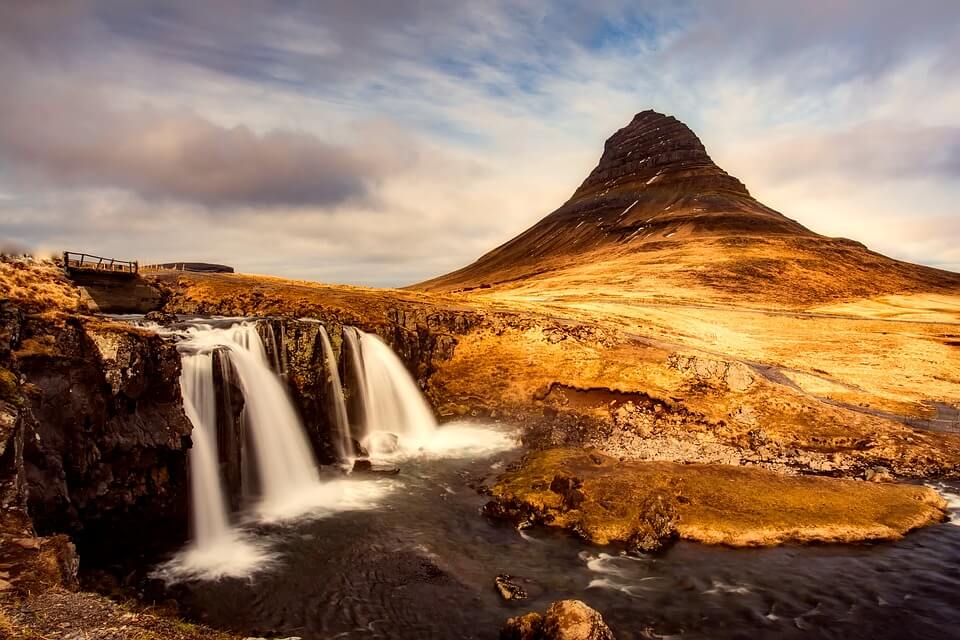 Adventurous Trip To Iceland From India
Posted on By Blog Admin
With its mysterious underground ice caves, towering volcanoes, lava fields and wonderful thermal baths, Iceland is a treat for the traveller. It's also known as the land of "Fire and Ice", and its crisp clean air, cinematic landscapes and the play of light and darkness in nature will leave you transfixed.
And with the list of best places to include in your customized Iceland package from India, your vacation is sure to transform into the most magical journey of all time.
What is the best time to visit Iceland?
The high travel season to visit Iceland is from May to August. During these months, the temperatures are pleasant and the days are long.
How far is Iceland from India?
Most international flights to Iceland arrive at the Keflavik International Airport. There aren't any direct flights from cities like Kolkata, Delhi or Mumbai in India but connecting flights from many cities like Dubai, Abu Dhabi, Paris and Amsterdam are available. It takes around 11 hours by flight to reach Iceland from major cities in India.
How much does an Iceland trip cost?
The cost depends on various factors like the type of vehicle chosen for local transportation, the hotels you choose, the length of your stay and local attractions you wish to experience. While customizing your holiday package you will get to know the complete cost of your Iceland tour.
What is Iceland famous for?
Iceland is known for having the most extreme geological contrasts. It is also known as "The Land of Fire & Ice", and rightly so as it is home to some of Europe's largest glaciers and the most active volcanoes in the world.
Does an Indian need visa for Iceland?
Indians require the Schengen Visa for visiting Iceland. It is authorized by the Embassy of Denmark in India. It costs around $110and is processed in 15 days post registration. You can apply for the Visa through the link https://www.vfsglobal.com/Iceland/India/
Most fascinating destinations for Iceland tourism from India

Reykjavik

Akureyri

Selfoss

Jokulsarlon

Skaftafell

Vestmannaeyjar

Arnarstapi

Icelandic Cruises

Mesmerizing Northern Lights
Here are some of the places for yoour Iceland holiday package:

1. Reykjavik
The capital city of Iceland, Reykjavik is among the cleanest, greenest and safest cities in the World. Reykjavik has a vibrant cultural and design scene, with plenty of exciting adventure tours, vivid nightlife, modern museums, world-class restaurants, galleries, shops, bars and clubs for you to explore throughout your stay. You must visit Reykjavik to experience some of the breathtakingly natural wonders such as the famous Blue Lagoon, The Northern Lights or the Golden Circle- where you'll witness geysers, waterfalls, rift valleys and more.

Things to do in Reykjavik
Reykjavik has a lot to offer during the day as well as night.
Visit and shop at the Town Centre.

Visit Blue Lagoon.

Visit the well-known Hallgrimskirkja Church.

Boating in Tjornin

Explore the Arbaejarsafn

Dip in the Ellidaar hot springs

Visit Aurora Borealis for northern lights

Experience the midnight sun

Dine at Perlan

Best Time to Visit
You can visit anytime as every season has its own benefits. Visit between November and February if Northern Lights are the only reason for your visit. Visit in July or August if you would like to hike and camp or visit in early May to get a little bit of every kind of weather and experience.
Where to stay? Our Recommendations
Midgardur by center hotels- starting from INR 9,000 per night.

Skuggi Hotel- starting from INR 9,000 per night.

Fosshotel Reykjavik- starting from INR 9,000 per night.

Storm Hotel- starting from INR 8,500 per night.

Alda Hotel-

starting from INR 10,000 per night.
Attractions at a Glance:
National Museum of Iceland- for the architecture.

Hallgrimskirkja Church – visit the famous Cathedral.

Harpa Concert – for best concerts.

Tjornin- for boating.

Aurora Borealis- for northern lights

Perlan- the best place to dine at.


Town Centre- for shopping.
2. Akureyri
Akureyri stands strong as Iceland's second city and it's a wonder that the city generates this much buzz. Expect cool cafes, quality restaurants, a handful of art galleries and even some late night bustle.
With its relaxed attitude and extensive food and accommodation choices, it's a natural base for exploring and seeing the growing number of cruise ships calling by.
Things to do in Akureyri
Visit Akureyri Church

The Botanical Garden

Hlidarfjall Skiing mountain

The beer baths


Kjarnaskogur forest

Best Time to Visit
The summer months between mid of May to August are a good time.
Where to stay? Our recommendations
Hotel Kea- starting from INR 7,000 per night.

Icelandair Hotel- starting from INR 6,500 per night.

Hotel Akureyri- starting from INR 4,000 per night.

Hotel Kjarnalundur- starting from INR 6,500 per night.

Hotel Nordurland-

starting from INR 5,000 per night.
Attractions at a Glance:
Fjord Eyjafjordun- For Whale watching.

Botanical Gardens- to admire the nature.

The Christmas house- to wander around.

Godafoss- for waterfalls

Akureyrarkirkja- for the Church.

Hlidarfjall- for skiing.


Akureyri Museum- for the architecture.
3. Selfoss
Selfoss is a town in Iceland with its own distinct style, charm and points of interest. It has a variety of shops, services, many restaurants and fast food places.
Things to do in Selfoss
Kerid Crater

Selfoss Geyser

Hike the Seljalandsfors Falls

Trekking at Landmannalaugar- Thorsmork


Snorkelling at Thingvellir Park.

Best Time to Visit
The best months in Selfoss are July and August.
Where to stay? Our Recommendations
Hotel Geysir- starting from INR 9,000 per night.

Hotel Grimsborgir- starting from INR 23,000 per night.

Hotel Selfoss- starting from INR 7,000 per night.

Lambastadir Guesthouse- starting from INR 6,500 per night.

Arctic Nature Hotel-

starting from INR 5,000 per night.
Attractions at a Glance:
Gulfoss falls- for the waterfall.

Kerid Crater- for the volcano.

Ulfljotsvatn Lake- for the amazing lake.

Thingvellir National Park- for the nature.


Seljalandsfors falls- for the hiking.



4. Jokulsarlon
Jokulsarlon is one of the Iceland's natural crown jewels. Thousands of people are drawn to Jokulsarlon all year around. An incredible amount of photographs capture the lagoon's stunning beauty and it has even become one of Iceland's most popular filming locations.
Things to do in Jokulsarlon
Glacier Lagoon

Diamond beach

Fjallsarlon iceberg lagoon

Visit ice cave in Vatnajokull


Boat tour at Amphibian

Best Time to Visit
To experience the icebergs in their full glory, visit during summer between May to July.
Where to stay? Our recommendations
Fosshotel Glacier Lagoon-

starting from INR 10,000 per night.

Hotel Smyrlabjorg-

starting from INR 10,000 per night.

Hali Country Hotel-

starting from INR 9,500 per night.

Gerdi Guesthouse-

starting from INR 7,000 per night.
Attractions at a Glance:
Glacier Lagoon- the speciality of Jokulsarlon. 

Iceland Golden Circle- for waterfalls.

Blue Ice Cave- an astonishing place.
5. Skaftafell
Skaftafell, the jewel in the crown of Vatnajokull National Park is a breathtaking collection of peaks and glaciers. It's the country's favourite wilderness- people come here to marvel at thundering waterfalls, twisted birch woods, the tangled web of rivers, the brilliant blue-white Vatnajokull with its tongues of ice and dripping down mountainsides. At Skaftafell, take advantage of the fabulous hiking on the heath and beyond.
Things to do in Skaftafell
Go to Skaftafell for Hiking.

Svartifoss 

Go to Svartifoss Trail for trekking

Visit Hundafoss waterfalls for amazing waterfall.

Explore the Vatnajokull National Park.

Visit the Morsardalur Valley. 

Best Time to Visit
Hikers consider July and August as the best time to visit Skaftafell.
Where to stay? Our Recommendations
Hotel Skaftafell-

starting from INR 10,000 per night.

Hotel Klaustur-

starting from INR 10,000 per night.
Attractions at a Glance:
Svartifoss Falls- for beautiful waterfalls.

Hundafoss Falls- for waterfalls.

Morsardalur Valley- for the scenery.

Vatnajokull National Park- admire the nature.
6. Vestmannaeyjar
Owing to its existence to the underwater volcanic eruptions, Vestmannaeyjar is a distinct archipelago located on the southern coast of Iceland. Fishing and farming are chief economic activities. Comprising of famous volcanoes like Helgafell, and Eldfell, the islands of Surtsey and Heimaey are the best ones to be explored when in Iceland.
Things to do in Vestmannaeyjar
Go to Heimaey island for boating.

Go puffin watching.

Saeheimar Aquarium

Relish a delicious lunch at the famous Gott Restaurant.

Best Time to visit
The best months for all round outdoor activities are from June to August.
Where to stay? Our recommendations
Hrafnabjorg Guesthouse-

starting from INR 4,500 per night.

Hotel Eyjar-

starting from INR 8,000 per night.

Lava Guesthouse-

starting from INR 4,500 per night.

Ofanleiti Guesthouse-

starting from INR 4,500 per night.
Attractions at a Glance:
Eldheimar- explore the museum.

Saeheimar Aquarium- for the nature.

Heimaey Island- for boating.

Storhofdi- take a scenic view of the Peninsula.
7. Arnarstapi
Located at the foothills of Mount Stapafell, Arnarstapi is quaint, little fishing town that serves as a great offbeat destination in Iceland. Encircled by the village of Hellnar and Breiðavík farms, Arnarstapi is undoubtedly worth a visit.
Things to do in Arnarstapi
Explore Ytri Tunga, the Seal Beach.

Visit the black little church.

Discover the Vatnshellir cave.

Relish delicious fish soup at Gamla Rif.

Visit the Jules Verne monument.

Best Time to Visit
The best time to visit Arnarstapi is from June until September when you will have a very cold temperature but limited till little rainfall.
Where to stay? Our recommendations
Arnarstapi Hotel-

starting from INR 10,000 per night.

Arnarstapi Cottages-

starting from INR 11,000 per night.
Attractions at a Glance:
Jules Verne monument- for the architecture.

Ytri-Tunga – for the beach.

The black little church.

Gamla Rif- for delicious fish soup.
8. Icelandic Cruises
Discover the stunning beauty of the great outdoors on an Iceland cruise. Experience the magnificence of Iceland's natural wonders. A summer cruise around Iceland is an ideal way to appreciate the country's landscapes which include geysers, waterfalls and glaciers. It is a very convenient way to see much of the country because driving from one place to another takes a lot of time. The cruises provide accommodations featuring a unique design, décor and exquisite amenities. An Iceland cruise is relatively affordable, with good values to be had between June and September.
Peregrine Adventures, for instance, has several eight-day Cruising Iceland sailings in summer. The trips begin or end in either Reykjavik or Akureyri and include stops in Siglufjordur, Iceland's northernmost city. Other top cruises including Balmoral which starts from $1542 per person, Boudicca which starts from $2094 per person, Celebrity Cruises, Princess Cruises, Norwegian Cruise Line will, and Oceania Cruises etc. will give you an authentic snapshot of Iceland.

9. Mesmerizing Northern Lights
Enjoy these celestial lights as they dance across the night sky, varying in colour, usually green, but occasionally also purple, red, pink, orange and blue. The best places where we can witness the northern lights are Grotta, Oskjuhlid, Vik, Pingvellir National Park, Asbyrgi Canyon and Aurora Borealis which is the most visited one in Iceland.

To witness the aurora borealis in all their glory in Iceland requires patience, luck, and the following conditions to be met:
You must be looking between September to April.

The night must be as dark as possible.

There should be as little unnatural light as possible.

There should be as little cloud cover as possible.

There must be enough solar activity.
A sample itinerary for Iceland tourism from India
Here's a 5 days itinerary for the trip to Iceland from India
Day 1: Arrival at Reykjavik. Transfer to the hotel. Visit Blue Lagoon, Hallgrimskirkja Church and Sun Voyager statue. Dinner. Overnight in Reykjavik.
Day 2: Arrival in Golden Circle. Visit Thingvellir National Park, The Geysir Hot Springs Area and Gullfoss waterfall. Dinner. Overnight in Golden Circle.
Day 3: Head to the beautiful South Coast. Highlights include Seljalandsfoss waterfalls, Gljufrabui, Skogar Museum etc. Dinner. Overnight in the South Coast.
Day 4: Arrival at Jokulsarlon. Transfer to hotel. Visit Fjadrargljufur Canyon, Svartifoss, Jokulsarlon Lagoon and Diamond Beach. Dinner. Overnight in Jokulsarlon.
Day 5: Breakfast. Transfer to Reykjavik Airport to fly back home.
Which are the must-try cuisines?
Reykjavik's hot dog-

made from a blend of Beef, lamb and pork, it's a very popular dish in Iceland.

Skyr-

If you want to eat like a local, you need to eat Skyr, a thick and creamy dairy product made with yoghurt and cottage cheese.

Lamb-

Icelandic lambs are famous and the dish is prepared stewed with root vegetables or roasted with spiced gravy.

Fermented Shark-

The shark is fermented with vinegar and many other natural ingredients.
Tips when travelling to Iceland
These are the essential tips that you need to know for your Iceland tour from India:
Currency-

The currency of Iceland is Icelandic Krona. One Icelandic krona can be roughly bought for 0.57 Indian rupees. MasterCard or Visa is most widely accepted but it is preferable to carry currency with you.

Transport–

Car, cruise and bus are the best and convenient way to travel to Iceland.

Etiquettes-

You must follow the following etiquettes in Iceland:
Strip and shower thoroughly before entering a hot-pot or pool.

Don't smoke in public places, bars or restaurants.

Don't feel obliged to tip in Icland hotels – it's not customary.
Mobile Networks and sim card-

The major mobile service providers are Siminn, Vodafone and Nova. Siminn has the widest coverage in the country.

Power plugs-

You need power plugs and sockets of F type.

Taxi-

There are two major taxi companies in Iceland, Hreyfill Baejarleidir and BSR.
Embassy-

The Indian Embassies address in Iceland is

Tungata 7, 101 Reykjavik, Iceland
Phone- +354 534 9955
Checklist to travel to Iceland
Travel Documents-

Passport, Visa, travel insurance, tickets, medical documents and relevant ID cards.

Money-

Debit card, local currency, US dollars.

Clothes-

Wear long sleeved undergarments. During winters, wear wool or fleece sweaters.

Electronics-

Mobile phone, camera and travel adapter.

Health and Hygiene-

Medications that you are on, basic medical kit, women hygiene items and toiletries.
FAQs for your Iceland travel
How should you dress?
In the summer, light clothing is often all you need – but always be prepared for both cold and wet weather at all times of the year. The weather can be extremely changeable. And always bring a bathing suit, whatever time of the year you visit. A favourite pastime is year-round outdoor swimming in countless geothermal heated pools and lagoons, with a typical temperature of 25-28°C.
What are the people like?
Quite Scandinavian, exceptionally friendly, highly educated, sophisticated, attractive, honest and very modern. Their ancestors were predominately Norwegian, although some came from the British Isles.
Do Icelanders speak English?
Most Icelanders speak fluent English. In fact, they welcome the opportunity – so never be shy about approaching an Icelander.
Do people tip in Iceland?
While service charges are usually included in your bill in Iceland, you could still tip waiter or guide-10% is usually enough. The truth is that Icelanders receive good wages, and tipping has never been a big part of their culture.
Is Iceland a safe place to travel?
According to the Global Peace Index, Iceland was the safest country in the World in 2019. Violent crimes are extremely rare. 
What is there besides nature in Iceland?
Apart from nature, Reykjavik and Akureyri are one of the liveliest, safest, modern cities some well known beaches like black sand beach and the nightlife and cultural activities have earned an exciting reputation.
Iceland- a mesmerizing destination for all the travellers
Get to experience the wonderful glaciers and northern lights in the Land of Fire and Ice. It has varied and distinctive scenery, a fascinating history, society and friendly people. There is much more to Iceland that you can never imagine and it must be on your "must visit" list. Iceland is the perfect destination for those who are looking for the unexpected as the reality is even more spectacular.
We'll make sure you don't miss out any of these best places in your Iceland package from India. All that you need to do is get in touch with us at connect@flyingsquirrelholidays.com or call us at +91 3340525777.
We help you get the best Iceland tour packages through personalized services according to your budget and preferences.