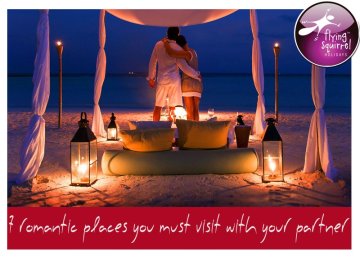 7 Romantic Places you Must Visit with Your Partner
Posted on By Blog Admin
A research commissioned by the U.S. Travel Association reports couples who travel together are a lot more satisfied with their relationships. According to the survey, more than eight in ten (83%) of those who travel as a couple say the romance is still alive in their relationship, and seven in ten (72%) of the couples surveyed believe traveling inspires romance. Nearly two-thirds of couples (63%) surveyed say a weekend getaway is more likely to spark romance than large or small gifts.
So, get in touch with the best travel agency in Kolkata and plan a trip with your partner soon!
Here's a list of 7 romantic places you must visit with your partner, check out:
1 ) Maui, Hawaii
Maui oozes romance in its breathtakingly scenic landscape and serves as one of the most romantic destinations of the world for couples to spend quality time. Of course, one of the most romantic things to do on Maui is to share a tropical sunset. Sip in a glass of wine or champagne at any of the wonderful oceanfront restaurants or lounges on the island or consider a cruise to enjoy the sunset. Among other romantic activities for couples in Maui go for hiking to waterfalls, coastal trails, mountaintops, or bamboo forests; book private boat tours for just the two of you, you can even try out tandem parasailing, horseback riding, zip lining, golfing and more.
2) Greek Isles, The Cyclades
The Greek Isles offers the perfect setting for creating unforgettable memories with a special someone. What makes the Cyclades a perfect getaway for couples are its sandy beaches and aquamarine waters, rich history and culture, gorgeous sunsets and more. The Cyclades are the picture-perfect Greek islands where whitewashed villages tumble down to azure bays. From cruising to winery tours a couple has ample things to do to enjoy a romantic getaway.
3) Bruges, Belgium
In Bruges, couples can take a romantic carriage ride, share a hot chocolate, Belgian style, explore Minnewater park & the lover's bridge, feed the swans in the lake of love, cruise the canals in Bruges, visit the burg central plaza, hold hands on the Bruges ice skating rink in Markt square, enjoy a Belgian beer by the fire, shop for lace and antiques, find a private alcove in Koningin Astridpark and so on.
4) Casablanca, Morocco
Just the thought of Casablanca conjures images of romance. Couples can enjoy romantic moments at Casablanca in many luxurious ways. Stay in a fancy hotel, enjoy a slap-up meal, soak up the city views from Sky 28, relax on the sandy beaches, take an elevator ride through an aquarium, shop till you drop at the Morocco mall, stroll through the Old Medina, relax in the forest of Bouskoura Merchich, take a day trip to admire the city's stunning architectural excellence and more.
5) Bora Bora, French Polynesia
Whether you choose to relax and melt into the life of an islander, or you're up for a thrilling experience of parasailing and swimming with stingrays, Bora Bora is the place for you to experience paradise on earth. Plan a romantic dinner by the sea, stargaze with your partner, swim with sharks and stingrays, experience sunset on a yacht, explore the sights of Vaitape, try parasailing, take a boat ride on the pristine waters, go for a safari adventure, stroll along the white beaches at Matira Beach, climb atop Mount Otemanu and so on while you make the most of your holiday with your partner.
6) Buenos Aires, Argentina
Plan a candle lit dinner followed by a Tango show. If you enjoy watching tango, then learning to dance tango takes it to a whole new level. Take your loved one on a helicopter ride, go for an evening stroll in Puerto Madero. While gondolas are forever associated with Venice's charms, Buenos Aires also offers romantic boat rides. Take one to spend great time with your partner.
7) Gulmarg, India
Gulmarg is undoubtedly one of the most picturesques destinations in India offering a romantic break through for couples. Check out some interesting activities for couples in Gulmarg. Trekking in Tangmarg and Khilanmarg, skiing in snow covered slopes of Mountain Apharwat and Khilanmarg, golfing in world's highest golf course- Gulmarg Golf Club, Heli Skiing, gondola rides, trout Fishing in Ferozeshah Nallah, visit Khilanmarg, Mountain Apharwat, Alpather Lake, LienMarg, Ningli Nallah, Water Meet; take Pony ride to Strawberry valley, Leopards Valley, Kongdori, Khilanmarg and more.
Thus, all you need to do is pick a destination of your choice, look for the best travel agency in Kolkata offering customized holiday trips at affordable deals and get going! Getting assistance from the best tour and travel agency in Kolkata will make things a lot more easier and even better if you can personalize your trip itinerary with experts.