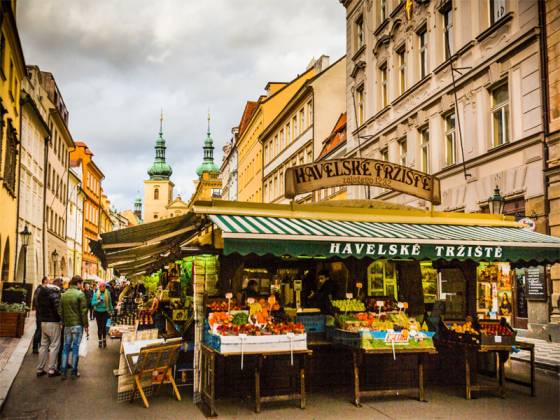 7 Places In Prague To Eat Under US $100
Posted on By Blog Admin
Prague is one of Europe's picturesque cities and an absolute gastronomic delight for travelers to explore. If you're on a budget crunch, savoring local delicacies at an amazingly affordable price won't be a difficult deal, when in Prague. The stunning city not only houses posh hotels and bars, but has an array of local eateries to offer you an insight into Czech culinary culture and that too without hurting your pocket. While planning your Prague holidays with the best tour operator for customized holidays to Europe, just ensure you get to dine at some of Prague's local restaurants.
Here's a list of 7 absolutely economical dining options shortlisted for our readers, check out:
1. La Piccola Perla
Address: Perlová 412/1, 110 00 Staré Město
A cosy place serving authentic Italian and Mediterranean dishes, La Piccola Perla is not just budget-friendly but is noted for its food quality as well as quantity. Highly recommended on the menu is the pasta preparations priced at US$8. Make sure you reserve a table before you go.
2. U Magistra Kelly
Address: Šporkova 521/5, 118 00 Malá Strana
If you truly wish to savour Prague's local delicacies, U Magistra Kelly is one of the best places to go to. This cosy restaurant will charm you with its delicious aromas. We definitely suggest you to feast upon its incredible Czech dishes. High on our recommendation are the potato and pork dumplings and the goulash.
3. U Glaubicu
Address: Malostranské nám. 266/5, 118 00 Malá Strana
If you're looking for authentic cuisine in a traditional setting, U Glaubicu offers you exactly that and more! It's an absolute delight to visit this beautiful eatery in Prague and spend great time with good food. This little gem is often packed with customers, especially travelers, so you'll need to book in advance to avoid disappointment. Just remember this while planning your tour with the best tour operator for customized holidays to Europe.
4. Creme De La Creme
Address: Husova 12, Prague 110 00, Czech Republic
Are you on gluten-free diet? Well, then head towards Creme De La Creme. A well-decked cafe offering budget meals. The menu featuring everything that's part of a locality's daily meal offering you an insight into the native cuisine.
5. Hany Bany
Address: Veleslavínova 5

Hany Bany is a pub offering drinks at great prices. A favorite among both locals and frequent travelers to Prague, Hany Bany has a vivacious ambiance serving delectable local delicacies. Try out the vegan quesadilla, falafel burger, burrito and chicken nuggets.
6. U Bansethů
Address: Táborská 389/49
Another popular pub is the U Bansethu serving flavorsome local dishes and beer for absolutely affordable prices. Recommended for travelers who are keen to try native dishes for a good price. Baked duck is definitely a must-try delicacy.
7. Norbert's Donuts
Address: Seminarska 175/2
As the name suggests, it's mostly about donuts. Relish the local delicacies in various flavors at the Norbert's Donuts. This is the place to be if you're craving for desserts yet pocket-friendly. Visitors to the place are often amazed by the artful decor, tempting desserts and its pricing.
So, here it is, a specially chosen list of 7 most affordable eateries in Prague.
So, before booking your Europe tour package from India, chalk out an itinerary in which you get to visit these amazing places to satisfy your taste buds without spending lavishly. To get in touch with the holiday specialists of a best tour operator for customized holidays to Europe, call at +91-33-4052-5777.