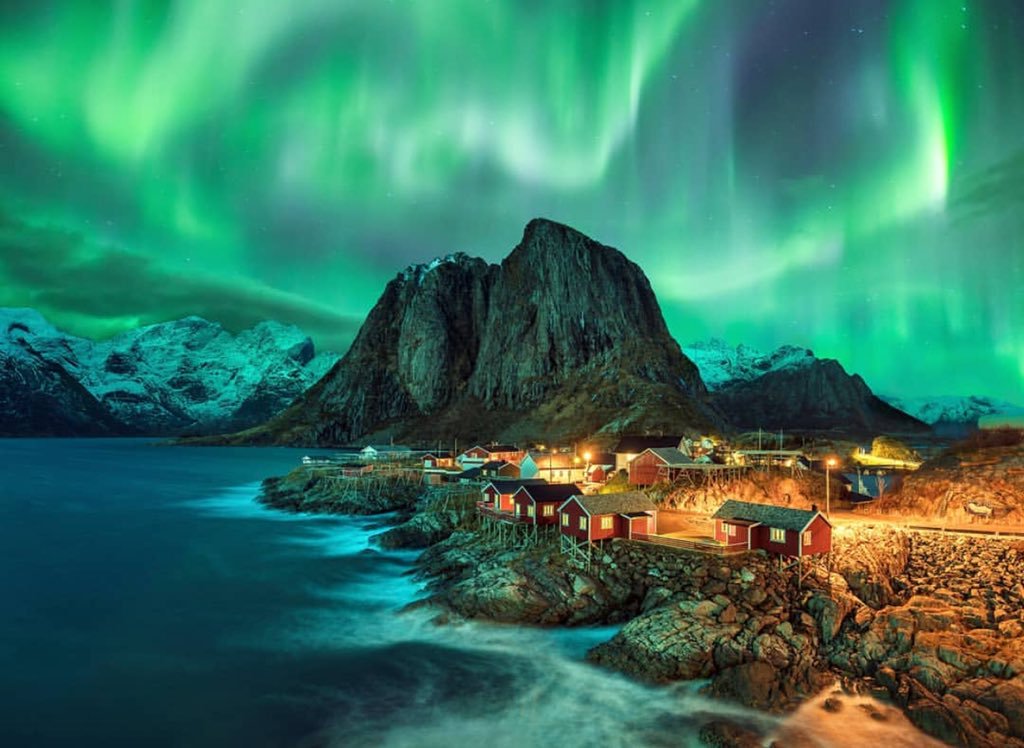 Northern lights Guide For Indians
Posted on By Blog Admin
The colourful dancing lights across the night skies of the northern hemisphere are the Northern Lights or what is known as the Aurora Borealis. This otherworldly experience, when charged particles from the sun get trapped in the Earth's magnetic field can be best viewed from Norwegian or Icelandic skies.
So here are the two countries – Norway and Iceland — that are the best places to see Northern Lights. And to make this dream of yours a reality, we have chalked out an outline of how to go about it.
Embassy
Best Time to See Northern Lights in both Norway and Iceland
Since this is a natural phenomenon, much is dependent on solar activity, hence it is difficult to predict the exact timings of the Northern Lights. But here is a rough estimate of its appearance in the two countries.
Best time to see Northern Lights in Norway

January to March-These are the 3 most favoured months for Aurora hunting because these are the times when the nights are longest and darkness prevails better than any other time.
September to October– A beautiful time to see the Auroras without a harsh wintry chill. You would be glad to know that you can see two Auroras at one time, enveloping the sky in two different colours.
November and December– With the arrival of winter and the massive snowfall, shorter daylights often bring you the opportunity to view the Aurora.
Best time to see Northern Lights in Iceland

The best time is between October and April initially, and then they start appearing from the end of August to May.
Visa Applications for Norway and Iceland
Visa Application for Norway
You will require a Visitor's Visa which permits you to stay for 90 days in Norway and other Schengen countries.
Visa Fees
The visa fee is 80 Euros for adults. Children under six years do not pay a fee. Children from the age of 6-12 years shall pay a visa fee of EUR 40
Visa application for Iceland
For Iceland trip too, you would require a Schengen Visa.
Visa Fees:
The Visa fees are 60 Euro.
For more details regarding visa application to the Nordic countries, please get in touch with us.
How to travel to Norway and Iceland
How to travel from India to Norway
The common airlines operating with direct flights between India and Norway are Qatar Airways, Lufthansa, Emirates and Etihad Airways.
How to travel to Iceland from Norway
The cities of Oslo and Bergen in Norway have nonstop daily flights to Reykjavík, while the flights from the other Nordic cities have one-stop flights. You will reach Iceland in about 2 hours and 41 minutes to from Norway.
Top 5 Places to Visit each in Norway and Iceland
Norway

The Oslo region- The Norwegian capital boasts of amazing hotels, plush restaurants, well-preserved museums for urban travellers. Combine that with dense forests surrounding the region where you can pursue adventure sports like skiing, hiking, cycling etc.
Tromso and the Land of the Northern Lights– A host of attractions lie in Tromsø, such as whale watching, or going after the Northern lights. The Varanger peninsula is a bird watcher's haven.
You can also go crab fishing and dog sledging in Kirkenes or even spend a night at an ice hotel.
Lofoten and Nordland– With famous mountain peaks, amazing fjords and simple fishing villages, Lofoten and Nordland are a must travel in your list.
Western Fjords, Bergen– Norway's second-largest city in size, Bergen, has the vibe of a small town, with an urban character.
The Geirangerfjord Area– Norway's most famous fjord makes this an amazing tourist spot and a perfect ground for adventure.
Iceland

Thingvellir National Park– located on the Reykjanes Peninsula, Thingvellir National Park is a well known geothermal spa
Seljalandsfoss- This is a gigantic 200-foot waterfall and a huge tourist attraction
Jökulsárlón– Famous glacial lake with floating icebergs
Blue Lagoon- Like Thingvellir, this is another geothermal spa with an outdoor lagoon.
Gulfoss Falls– This is one of Iceland's most iconic and beloved waterfalls, found in the Hvítá river canyon in south-west Iceland.
Hotel Accommodations (Norway & Iceland)
Hotels in Norway
Thief Spa- Avg. Price: INR 25, 750/ night
Bergen Børs Hotel- Avg. Price: INR 13,800/ night
Hotell Refsnes Gods – by Classic Norway Hotels- Avg. Price: INR 10, 600/ night
Clarion Hotel Admiral- Avg. Price: INR 10,500/ night
Radisson Blu Plaza Hotel- Avg. Price: INR 9500/ night
Hotels in Iceland
Hotel Rangá- Avg. Price: INR 23,500/ night
Hotel Keflavik- Avg. Price: INR 20,180/ night
Ion City Hotel- Avg. Price: INR 15,300/ night
Hilton Reykjavik Nordica- Avg. Price: INR 10,050/ night
Radisson Blu Saga Hotel, Reykjavik- Avg. Price INR 7200/night
Things to Do- Norway
Travel to the Arctic Circle and savour the Northern Lights Tour in a cruise
Enjoy exploring the UNESCO World Heritage site of Geirangerfjord
Get awed by the majestic Artic Cathedral, with beautiful glass façade
Don't miss the spectacular road trip through the rugged Atlantic Ocean road.
Tour the medieval Archeshus Castle for a sneak-peek into Artic history
Travel to Mount Floyen for a beautiful view of Bergen below
Take a cruise on the Hurtigruten ferry to explore the lesser-known parts of Norway
Enjoy a train ride from Oslo to Trondheim with Bergen Railways
Take part in and be a witness to the Northern Lights Festival
Things to Do- Iceland
Enjoy a horse ride along Iceland's south coast
Stay mesmerized by the beautiful Dynjandi waterfalls in the Westfjords area
Spend some quiet time at the Rauðasandur beach, laden with pink sands
Explore the Viking World Museum and travel back in time
Enjoy swimming in the geothermal spa of The Blue Lagoon
Observe the tectonic plates between North America and Europe at Þingvellir Plain
Enjoy hiking at the Hornstrandir Nature reserve, dominated by sea cliffs and waterfalls.
Travel to the Snæfellsjökull National Park for their signature glacier and expansive lava fields
Enjoy crossing Svalbard on a husky sleigh ride
15-Days Travel Itinerary for Iceland and Norway
Day 1:
Arrival at Oslo
Welcome dinner at the hotel
Day 2: Oslo
Stop 1: Visit the National Theatre (home to Ibsen's famous plays)
Stop 2: The Parliament
Stop 3: Visit the Royal Palace (the residence of Norwegian monarchy)
Stop 4: Trip to the Frogner Park to witness sculptor Gustav Vigeland's amazing artistry
Stop 5: The City Hall (famous for the Nobel Prize ceremony award each year)
Day 3: Oslo, Heddal, Vemork and Telemark
Stop 1: Visit the medieval aged wooden church at Heddal Stave Church.
Stop 2: A guided trip to the UNESCO heritage site of Vemork (celebrating the heroism of Telemark heroes)
Stop 3: A stroll through the villages of Telemark
Day 4: Telemark, Låtefoss, Hardangerfjord, Bergen
Stop 1: From Telemark towards the lush green Hardangervidda mountain plateau
Stop 2: Twin waterfalls at Låtefoss
Stop 3: Go across Hardangerfjord by ferry for fruit orchards at Steinstø
Stop 4: Towards Bergen after lunch
Day 5: Bergen, Voss and Stalheim
Stop 1: Explore the colourful Bergen
Stop 2: Exploring the beautiful Voss by Lakeside, riding the Flåm train towards Stalheim
Stop 3: Arriving at Stalheim
Day 6: Stalheim, Sognefjord, Nærøyfjord, Fjaerland, Loen
Stop 1: Cruise at rivers Sognefjord and Nærøyfjord
Stop 2: Visit the Norwegian Glacier Museum and watch a panoramic movie
Stop 3: Spend some time at the Lake Jølster and the spectacular Våtedalen Valley at Fjaerland
Stop 4: From Nærøyfjord, Back at Loen
Day7: Loen
Take an adventure ride on the cable car, Loen Skylift above Mt. Hoven
Day 8: Loen, Geirangerfjord, Dalsnibba, Lom, Lillehammer
Stop 1: A cruise over lake Geirangerfjord
Stop 2: Watch Mt. Dalsnibba from the Geiranger Skywalk
Stop 3: Visit the Stave Church at Lom
Stop 4: Arrival at Lillehammer, the host for the 1994 Winter Olympics
Day 9: Lillehammer, Eidsvoll, Oslo
Stop 1: A guided trip about Norway's cultural history at Lillehammer. Trip to Maihaugen, the Open-air museum here
Stop 2: Drive towards picturesque Eidsvoll
Return to and celebratory dinner at Oslo
Day 10: Towards Reykjavik, Iceland
Arrival at Reykjavik from Oslo
Day 11: Reykjavik, Thingvellir, Geysir, Gullfoss, Kirkjubæjarklaustur
Stop 1: Visit the Rift valley at Thingvellir
Stop 2: Hot springs at Geysir. Bread tasting (made from the heat of geothermal springs) at a restaurant here along with other local delicacies
Stop 3: Trip to Gullfoss waterfall
Stop 4: Back at Kirkjubæjarklaustur
Day 12: Kirkjubæjarklaustur, Skaftafell, Jökulsárlón lake
Stop 1: Skaftafell National Park
Stop 2: Explore Jökulsárlón lake (Site for a James Bond Movie)
Day 13: Kirkjubæjarklaustur, Skogafoss, Seljalandsfoss, Hellisheiðarvirkjun, Reykjavik
Stop 1: Drive alongside the scenic Skogafoss-Seljalandsfoss waterfall
Stop 2: Geothermal power station at Hellisheiðarvirkjun
Stop 3: Back at Reykjavik
Day 14: Reykjavik
Stop 1: Whale watching
Stop 2: Trip to Blue Lagoon
Stop 3: Special Dinner at Hotel
Day 15: Departure from Reykjavik
Must-Try Cuisines of both Norway & Iceland
Kjötsupa (Traditional lamb meat soup)
Made with bits of lamb meat and traditional Icelandic vegetables, Kjötsupa is a traditional soup consumed during the colder months.
Plokkfiskur- A fish item, Plokkfiskur is a cod or haddock stew, mashed or scrambled whole or with potatoes.
Pylsur – Iceland's Hot Dog
Though this is like hot dogs you have in other parts of the world, the ones in Iceland are pretty pricey. They almost cost like 7 USD.
Skyr- You mustn't miss tasting this iconic Yoghurt, when in Iceland. This extremely popular item is now exported to other parts of the world.
Brennivín- Also locally known as svartidauði, Brennivín is a liquor made from fermented grain or potato mash and flavoured with caraway.
Rúgbrauð – Dark Rye Bread from a Hot Spring
A popular in this country, this bread is usually consumed with fish side dishes.
Homemade Ice-creams- These staple desserts here and you would rank them high in terms of taste.
The last on this list, this is one Icelandic food that serves as a traditional food for the locals. If you are on the lookout for unusual food, you can try out this smoked sheep's head.
Travel Tips
The country's biggest attractions include an abundance of flora and fauna. From fjords, forests and mountains to waterfalls and lakes, your trip should go beyond visiting two or three major cities.
So our travel tip for you would not be to rush between cities and rather enjoy a relaxed itinerary.
Climatic conditions and even local weather vary East-West or from North to South. So even mildly frosty weather in one area can lead to heavy snowfall in another, which is why you must be aware of the local weather conditions of the places you plan to visit.
Checklist
Woollen stockings, pullovers, gloves, caps, earmuffs
Wind and waterproof jacket
FAQs
Norway:
1. Is Norway Expensive?
Norway is considerably expensive since it is a wealthy country. But this country offers you great services to make your experiences memorable.
2: How many days should I spend in Norway during a trip?
To tour Norway, your trip timeline should depend on your budget and schedule. Take a note of the places you'd like to travel and fix your approximate budget. The rest will fall in place accordingly.
3: Are credit cards widely used in Norway?
Visa and MasterCards are accepted and in use throughout Norway.
4. How many hours of daylight will I find?
In Winter, the Southern part of the country which includes Oslo and Bergen gets about six hours of sunshine. In warmer June, hours of daylight increases to 19 hours. Further down South, hints of some sunlight lingers on, even during midnight in summer.
As you travel more towards the North however, the difference between Winter darkness and Summer sunlight becomes even more stark. Tromsø and Alta are two cities in the Northern end of Norway where you will see almost no sunlight from end to November to the middle of January while from May-end to mid-July you will find 24 hours of sunlight.
In Spring and Autumn, you will find that daylight and darkness will be spread more evenly, pretty much like most other countries of the world.
5: How is the food like in Norway?
Since Norway has been a fishing economy for years, you will be able to find an abundance of seafood there. You will find an abundance of cod, salmon and crabs to delight your tastebuds in Norway.
Apart from that, you will love the simple Norwegian fare of waffles and sandwiches at any place in the country.
Iceland:
1. How cold does it get?
Temperature is bearable throughout the year with only a moderate rise or fall. Snowfall in Winter is intermittent only in parts of Reykjavík and the far North.
2. Do Icelanders speak English?
Most Icelanders currently speak fluent English, so it will not be difficult for you to communicate with them.
3. What kind of currency is used in Iceland?
The currency used is the Icelandic króna. You can exchange your currency at banks, airport and currency exchanges. There are plenty of ATMs throughout the country and Visa and MasterCards are accepted everywhere.
4. When is it daylight in Iceland?
If it is summer, you would hardly see sunsets in Iceland, and there is daylight almost throughout. Spring and Autumn mean that there are more hours of daylight while in winters there are only 5-6 hours of daylight.
Embassy
Embassy Details of India in Iceland
Address: Tungata – 7,
Reykjavik, Iceland.
Tel : 00354 – 5349955,
Fax: 00354 – 5349959
Embassy Details of India in Norway
Address: Niels Juels Gate 30, PO Box 4055 AMB, 0244, Oslo, Norway
Chancery Phone No. (+47) – 2411 5910 (General)
Fax No. (+47) – 2411 5912 (General)
Consular Section Phone No. (+47) – 2411 5916 / 2411 5914
Fax No. (+47) – 2411 5929 (Consular Section)
To make your Nordic Trip a reality, all you need to do is get in touch with us at connect@flyingsquirrelholidays.com or call us at +91 3340525777.